What is the secret to a Successful Marketing Career? (At least 1 of them)
See by the time you finish reading this article, two people across India will be placed with a digital marketing job! To give you some perspective of the abundance of supply vs demand.
Coming to demand, across the digital landscape, there are several roles that exist like brand management, or content, or SEO; or even PPC. Further, secondary functions like graphic design or data analysis also play an important role in digital marketing.
There are tons of questions that people have when they want to upskill themselves from say, traditional to Digital.
Many of these revolve around salaries, skill sets, domain knowledge, techniques, strategies and what not! Then there are more fundamental questions like: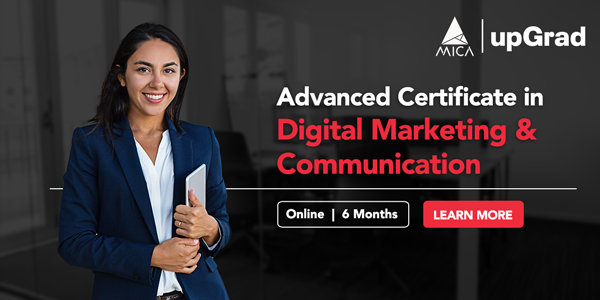 "should I join an agency? A brand or work as a freelancer? " Or "Which digital marketing segment is right for me?" Before any of this, how do you envision your Digital Marketing career growth, the answer lies in the T.
Who is a T Shaped Digital Marketer?
The answer to these existential questions are not simple, some gurus have coined the term a "T Shaped Marketer" which probably makes the closest cut.
Rand Fishkin from Moz mentions 4 very interesting insights of T Shaped Digital Marketers which have contributed to Moz & other organizations.
Being a T Shaped marketer is highly-desirable these days as we've seen in the industry. It means you not only have an in-depth knowledge in one function of marketing (like, paid marketing), but also understand marketing functions overall.
This eventually helps you grow towards an all-encompassing role, not limited to a silo.
Truth be told, most industries are hungry for T Shaped marketers, not just Start Ups!
The Secret Sauce behind T Shaped Marketers?
Well we thought so too, a T Shaped marketer is probably a myth! But at the depths of our research at UpGrad, we realized that at the heart of every successful digital marketer lies 3 essential elements:
Having a data driven approach
Grasping & solving the business challenge
Application & not just digital strategy gyan
Now, once we identified these core elements, we made sure that in our digital marketing program was raised on these 3 pillars. We realized we were not the only ones thinking about T Shaped marketing…
Who else is talking about the [T]?
T-shape marketer is somebody who has a broad understanding of different marketing channels and a deep domain expertise in either 1 or 2 areas. What you typically find in a market are domain experts, people who specialize in one specific area, but what you need is, and that is where the biggest gap is, people who come with broad understandings of different channels and have specializations in certain areas.
– Karan Sarin, Chief Marketing Officer at Razorpay
So let's think out of the box, and argue, why these three elements are required for you to become a digital marketer?
Secret Sauce Element #1 : Solving a business challenge
All Channels, Tools and Strategies are Useless if You Can't Solve a Business Problem
Whether it's a brand you're working for, or an agency, or even as a freelancer; you need to understand how for different business situations; channels & strategies combine to deliver optimum results.
How did we infuse business situations in our Digital Marketing Program? Mere Case Studies would not cut it!
So we identified business challenges across industries, company sizes and their maturity and picked out 15 businesses. These were facing marketing challenges across one or many digital marketing functions.
What did HDFC Life do when their Google Search Channel was proving too expensive? How did layered targeting on Display Channels solve this?
Did a Microsite really transform Thomas Cook's revenue streams with round breaking SEO?
How did persona based creatives help in habit generation for Grofers?
All of these case studies were infused at the end of every one of our program modules. But you can just read a 1 pager about 100 such case studies on say, the lighthouse insights blog!
The difference is, we actually went to each of these brands, sat down with them, understood their challenges & how they solved them. After multiple interactions we then created a custom, detailed case study. These have data tables of campaign performances too.
We've kept the format at an Ivy League standard, meaning, you don't just get the problem & solution to spoon fed to you. Instead, you are given the business challenge with data tables all in videos which recreate the atmosphere the brand was truly facing.
You then need to apply the learning from the module to actually solve the business case. Post submitting your answers, you are graded based on our rubric grading systems and finally exposed to the solution. You get to experience the way that brand applied strategies to succeed.
Secret Sauce Element #2 : All Gyan means Jack is dull!
Digital Gyan is one thing, Applying it for a Real Life Business is what Industries seek
After speaking to hundreds of seasoned digital marketers in the industry, we realized that students can only become job ready if they are experiencing real life marketing campaigns for a business.
We partnered with GentClub, an upcoming e-commerce apparel recommendation engine that picks out outfits for you based on your requirements.
Owing to the digital first nature of the business, it fit perfectly into every avenue of paid and organic marketing. Starting from google adwords, SEO, display marketing, social media marketing, remarketing to content, inbound marketing and much more.
Doing this individually at the scale for hundreds of students was a challenge. So we
focused on the major elements that a student needs to learn. Primarily:
Business goals translating to campaign goals
Competency for all launch elements like – Campaign structure, Targeting, Communication & Settings
Post Launch optimisation drive
If a student is solving the Live Project element of remarketing, he put into the shoes of the marketing manager of GentClub. He will then need to plan remarketing campaigns for GentClub basis their target audience.
Once campaigns are launched, there is an optimisation drive, where all students are given the chance to improve the campaign's elements like creatives, targeting, bids, budget and more, based on the real data of the campaigns.
For the same students need to focus on channel level data, and optimise based on his learning from the remarketing module. If his suggestions are chosen as the final ones to be applied on the marketing campaign, then if improves his grades on the Live Project segment.
Who else is talking about the [T]?
Imagine the alphabet 'T'. There is a stem which goes horizontally and there is a very deep vertical stem. So, you might be a specialist in search engine optimisation or social media marketing or email marketing but you need to understand all the other components of digital marketing as well. So, if you are not a T shaped marketer, and are very comfortable with (at least aware of) tactics other than yours, you will not be able to contribute effectively to the campaign.
Apurva Chamaria, Vice-President & Head – Corporate Marketing, HCL
Secret Sauce Element #3: A Horse with Blinds can only Execute!

Understanding the Marketing Journey: Depth in Strategy is Key
If you are new to marketing, or already a marketing professional in the branding segment, or a domain expert, or someone entirely new to marketing; you need a different approach to understanding channels, buyer personas and digital marketing metrics.
In the beginning you need a website and/or app.
Be it any brand, you would be building a presence, getting quality traffic across different digital channels like Google & Facebook.
Working on your organic strategy with SEO driven content.
Working on repeat user acquisition and finally setting up analytics dashboards to optimise your marketing efforts.
At the heart of all these strategies lies the customer purchase funnel and it's importance. While strategies are created on Digital, the target groups and their journeys across the purchase funnel of attract, nurture, convert & delight are always in focus.
In the end, the student will be in a position to tie all of these digital marketing channels to create a cross-channel digital media plan that solves the brand's multi-objective goals.
Data elements help. One needs clear application driven questions that test business goals' premise, the targeting and communication elements across all digital marketing disciplines. The rubric driven assessment layer vouches to do exactly that with more than 200 questions, that has a mix bag of data tables and comprehensions.
Learn digital marketing courses online from the World's top Universities. Earn Masters, Executive PGP, or Advanced Certificate Programs to fast-track your career.
Best Digital Marketing Courses Online
Extra Seasoning #4: Tools will give you the Reality Check!
The Digital Tool Artillery
Executing channel strategies is only possible if one has clarity on how to use tools over a spectrum of elements in Digital.
These start from goals, targeting options, ad formats, bid and budget flexibilities and also the array of optimisation capabilities that different tools & interfaces allow.
In our Digital Marketing Program there is a resources section that ties to every channel, and showcases exactly how each interface & tool can be used to launch campaigns and derive insights for a given business goal. Some insightful tools like Unmetric for social listening or Hootsuite for social scheduling has benefited students.
In-demand Digital Marketing Skills
This 10 question adaptive test will test your skill quotient across top Digital marketing disciplines. How much did you score?
upGrad's Exclusive Digital Marketing Webinar for you –
What's new in Marketing?
Digital Marketing Free courses to Learn
Popular Digital Marketing Blogs