MBA in supply chain management prepares students for a broad range of managerial, entrepreneurial, and analyst roles. This specialisation allows working in various sectors like education, finance, healthcare, transport, airports, government, hospitality, and more. Furthermore, this specialisation can offer additional courses depending on the selected program.
Pursuing this course and gaining work experience can prepare graduates for managerial roles with decent pay. The supply chain manager's job role demands superior flexibility and versatility. Therefore, the salary is higher than other business-related job roles.
Listed below are a few supply chain management domains with ample job opportunities: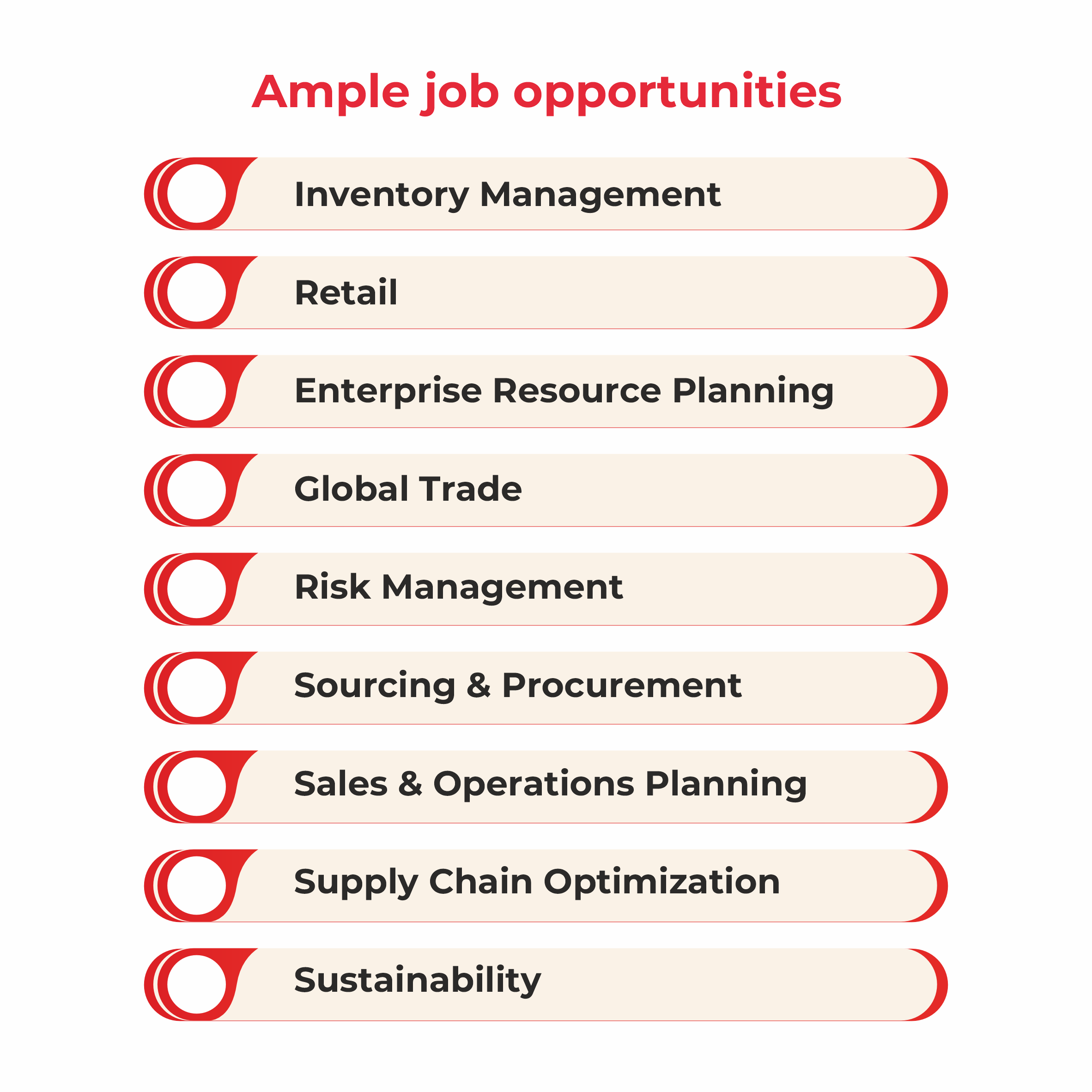 Inventory Management

Retail

Enterprise Resource Planning

Global Trade

Risk Management

Sourcing & Procurement

Sales & Operations Planning

Supply Chain Optimization

Sustainability
List of the most common supply chain management positions:
Project Managers

Industry Analysts

Global Logistics Managers

Operations managers

Transportation Directors

Supply Chain Sales

Supply Chain Consultants

Warehousing Managers

Procurement Analyst/Purchasing Managers

Customer Service Managers

Industrial Production Manager

Purchasing Manager or Purchasing Agents
Now let's understand how graduates of this specialisation can be helpful in each of these job positions:
They are responsible for handling small teams engaged in particular projects. Supply Chain project managers can tackle projects related to the timely allotment of a product, process enhancement in manufacturing settings, investigating or offering major logistics recommendations, and monitoring compliance in a product life cycle.
Nearly 50% of supply chain project managers possess master's degrees. Compared to general project managers, the salary for supply chain project managers is higher (approx. $140,000/year).
They research primary and secondary markets. Several industry analysts work for third-party consulting services researching ways to procure, set up, and use particular products. Essentially, this job role focuses on wider industry trends, and the employment can span various fields like healthcare, manufacturing, chemical sciences, agriculture, IT, etc.
The average salary for industry analysts is approx. $70,000 a year. The given salary varies based on the type of industry.
They typically focus on one of the key facets of supply chain management, i.e., international logistics. Global logistics management can be crucial to attaining business goals for companies that source or deliver their products globally.
A global logistics manager's responsibilities include recruiting local and global logistics operations, forming nation-based acquisition and logistics tactics and protocols, supervising region-specific trends influencing the supply chain, global shipping and distribution, etc.
Based on the business' international logistics needs, global logistics managers may counsel small teams or big branches of businesses. The salary for global logistics managers is approx. $80,000/year.
They hugely depend on the fundamental knowledge of supply chain management. Many supply chain management MBAs are termed operations MBAs. These professionals are responsible for looking after day-to-day operations in the supply chain management of a business.
The common responsibilities of an operations manager include creating crucial strategy and policy decisions, high-level HR resolutions including attracting top talent, examining inefficiencies and implementing solutions, creating partnerships with other organisations, making sure required legal documents are filed, and more.
The significance of operations managers is immense in many organisations. They are one of the rare managerial types bearing a common designation in the 'C Suite' like COO (chief operating officers) holding command below the CEO of a company.
Several organisations provide significant logistical support in the form of rail freight, trucking, air shipping, or usage of waterways. These types of organisations often employ transportation directors.
Their common responsibilities include researching, analysing, and implementing enhanced strategies into a business' transportation network. Pursuing an MBA in transportation management is not mandatory to work as a transportation director. The reason is that the MBA in Supply Chain Management course offers enough training if you aspire to become a transportation director.
The salary for transportation directors is approx. $95,130/year. Depending on the size of the organisation, this number may rise.
The supply chain sales manager fulfils the other side of the operations and sales. The Supply chain sales managers look after the fulfilment of orders. They work as a liaison between supply chain and sales operations. Without this link, several large businesses might find operations and sales management goals interfering with each other, which leads to inefficiencies or incompetence in accomplishing customer orders.
The salary for supply chain sales managers is approx. $108,706/year. It can be higher for experienced professionals.
Identical to industry analysts, the supply chain consultants usually operate their own business or function in a large-scale third-party consultancy. They perform research and analysis to provide supply chain solutions to different other businesses.
Usually, the maximum paid supply chain consultants operate their own business. The average for supply chain consultants is approx. $95,000/year.
Warehousing managers focus on those areas of supply chain management that have not been covered yet. A significant amount of optimisation can happen after product acquisition and manufacturing and before supply and fulfilment. During this stage, the goods existing in a warehouse and the particulars of how products get into the warehouse and leave it become extremely significant.
Graduates of MBA in Supply Chain Management can work as warehousing managers in various industries, from retail to e-commerce. The average salary of warehousing managers is $81,303/year; for experienced ones, the salary is $100,000/year.
This job role features various responsibilities, including analysing and testing vendor products, negotiating contracts with vendors, sharing the organisation's requirements with vendors, and documenting expenses and producing reports. The salary of procurement analysts is approx. $73,424/year.
Graduates with MBA in Supply Chain Management perform a major role in trade-ins, repairs, returns, or goods coming back from customers. They perform necessary processing on these goods. This sub-domain of supply chain management is significant in sectors where several distinct goods are shipped to various consumers. Many large e-commerce firms have branches dedicated to assisting with returns and deliveries.
After completing this specialisation course, candidates can work as industrial production managers. They are tasked with supervising the daily operations of their business' manufacturing. Moreover, they organise activities for manufacturing goods and ascertain that processes are going on efficiently.
Usually, employers prefer graduates with MBA in Supply Chain Management rather than one with a bachelor's degree because MBA candidates possess better technical knowledge of industrial production.
Purchasing agents and buyers purchase products and services to either use or resell for the corporation after assessing vendor types, assessing quality, and transacting contracts. Typically, purchasing managers work as agents or buyers for a few years before accepting a manager role.
The MBA in supply chain management course imparts learning on supply chains that allow the professionals to complete many duties of buyers, agents, or purchasing managers before any job training.
Graduates of MBA in Supply Chain Management obtain myriad opportunities to work in leading organisations in India. List of some popular companies recruiting these professionals every year: