With countless businesses like yours vying for attention and recognition from the same target audience, the last thing you want is to get invisible among the millions of searches on SERPs. While organic marketing efforts through SEO are great, they may not be enough to give your business the limelight it needs to stand out from competitors.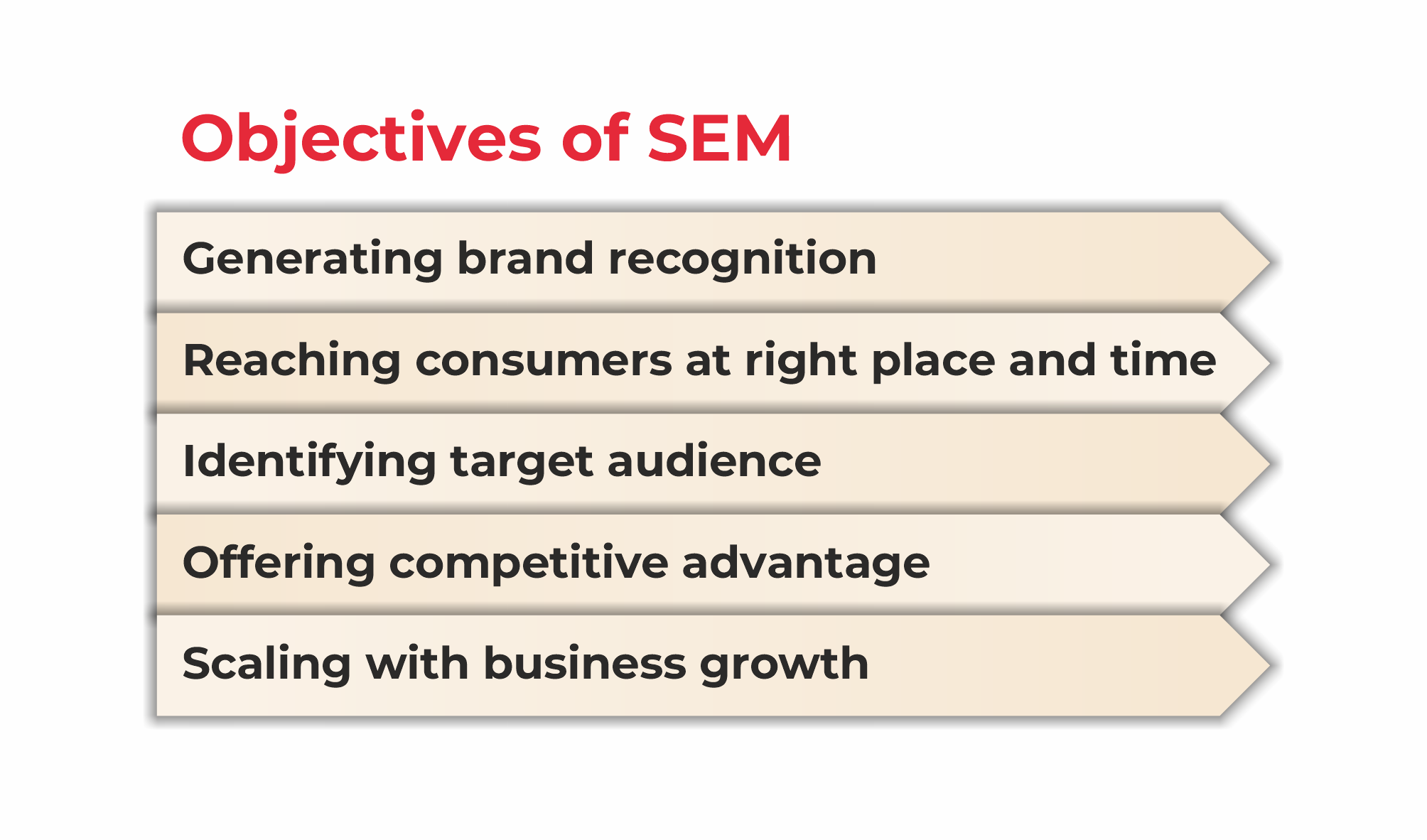 Search engine marketing is one of the fastest and most effective ways to directly reach your target audience by displaying paid ads among search engine results. It takes advantage of the psychology of online shoppers, who are more likely to make a purchase the moment they see relevant ads with at-a-glance information like price and product details. As soon as consumers search for a product like yours, they directly see your ad at a prominent location on SERPs without having to scroll further down.


Let's look at the objectives search engine marketing seeks to fulfill:


1. Generating and reinforcing brand recognition
2. Reaching consumers at the right place and time
3. Tapping the target audience
4. Offering a competitive advantage
5. Scaling with business growth


1. Generating brand awareness and recognition


Since SEM puts ads at the top of search engine results pages, it's easier for consumers to become aware of your brand. With more awareness comes greater recognition and, eventually, a boost in sales. Repeatedly and consistently presenting your brand increases the chances of a prospect becoming a paying customer. Recognition increases familiarity, and people are more likely to engage with brands they are familiar with than brands with a meek online presence.


2. Reaching consumers at the right place and time


A significant chunk of global online search experiences starts with a search engine like Google. Thus, making yourself prominent on search engine results pages is an effective way to reach prospects precisely when searching for something you offer. However, every click on your paid ads may not turn into a sale. Yet, it serves as a crucial touchpoint and takes the prospect further down the sales funnel towards becoming a loyal customer.


3. Tapping the target audience


Unlike traditional marketing strategies, search engine advertising brings you several steps closer to your target audience. Traditional advertising avenues are expensive, and even after spending a fortune on advertising campaigns, you may never be able to focus on your target customers. On the contrary, the users have selected CTR as the bidding strategy but it can be costly if the users are paying for views/ impressions. Moreover, SEM is a sure-shot way to feature on top of SERPs and be noticeable to your audience.


4. Offering a competitive advantage


When done right, search engine marketing can reinforce your SEO strategies. If you already have exceptional SEO strategies with a coveted spot on SERPs, SEM allows you to appear above organic search results with paid ads. With a solid and compelling SEM strategy, you can easily stay ahead of your competitors and establish your market presence.


5. Scaling with business growth


Since SEM is scalable, you can gradually increase your search engine marketing efforts as your business grows. In addition, SEM is flexible, letting you refine your paid advertising campaigns depending on your marketing goals and objectives. You can keep your budget limited and see what works best for your business. Once you identify the best strategies, you can scale your efforts to match your marketing expectations.