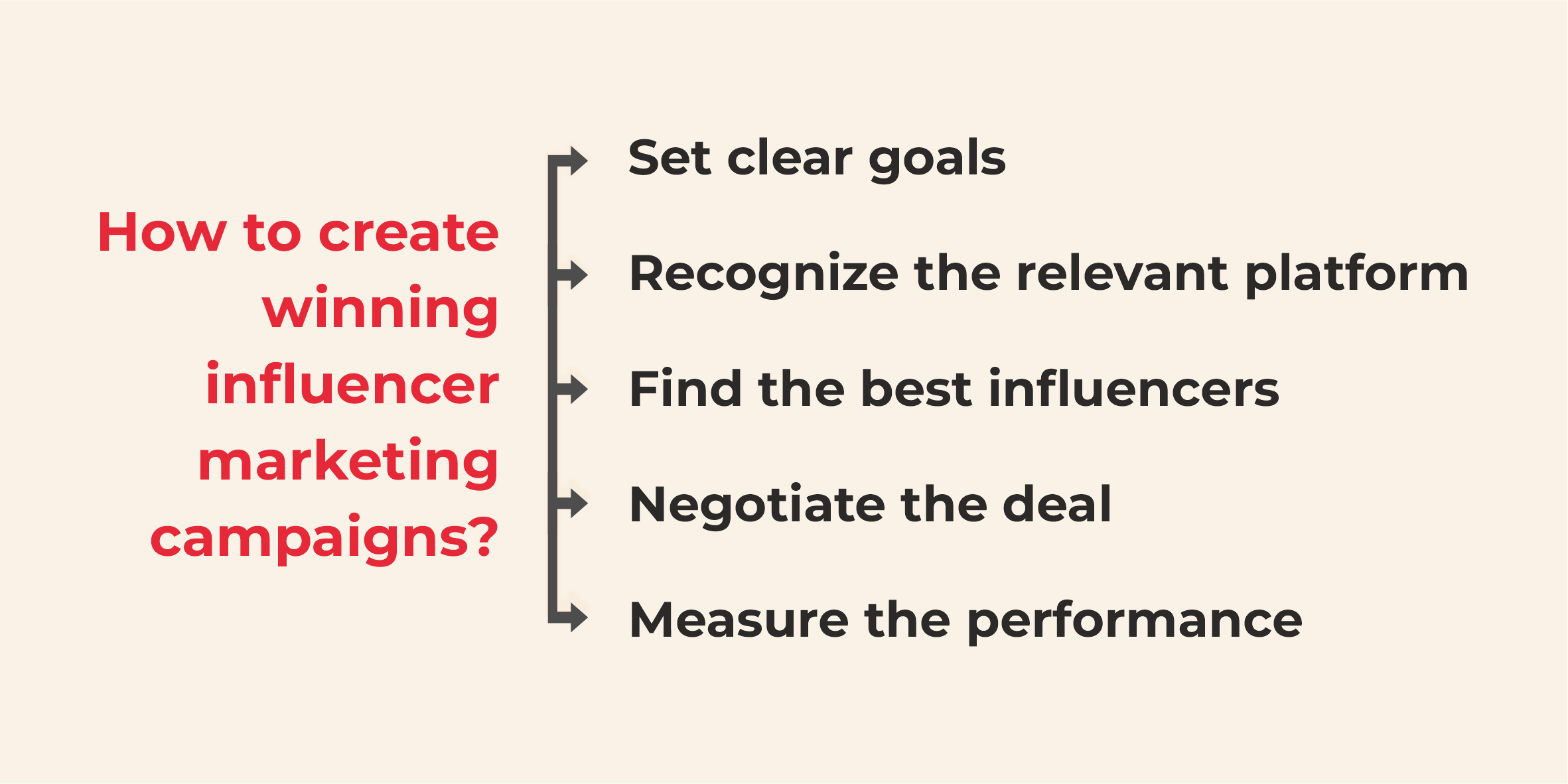 Reports claim young audiences get most likely influenced by influencer marketing served on social media, which should probably be the reason for a brand to incorporate influencer marketing in its promotional strategy. Influencers can largely affect buying decisions only if the brand has created an informed influencer marketing strategy, which demands more than just finding an influencer to post brand content on social media.


Go for influencer marketing by following these detailed steps to create effective influencer marketing campaigns.

1. Set your goals: Understanding and setting initial goals is essential to clarify further steps. Set realistic goals for your brand in the initial stages and slowly take it a step further. Unrealistic goals can hinder growth, so acknowledge your current market stance and set goals. The step also includes setting up your influencer marketing budget.


2. Recognise the relevant platform: Following your set goals, finding the right platform for your content is essential. Recognise your brand and its target audience. Research where most of the target crowd resides and target the same to attract the audience in the implementational stage of your influencer marketing. For example, your food brand might not gain as much attention through the microblogging site Twitter as much as YouTube can garner engagement for it. So, choose a relevant platform to run your influencer marketing campaign.


3. Find relevant influencers: While seeking influencers perfect for your marketing strategy might appear challenging, established marketing goals can help run analysis on influencers and find the perfect match to maximise reach and conversion rates. Consider the following features before collaborating with an influencer for maximum performance.


Relevance of the produced content by the influencer

Audience demographics

Follower size

Amount of engagement received on the content
4. Negotiate and finalise your price: After compiling your goals and marketing plans, connect with influencers and verify details for credibility. Seek analytics before going ahead with the project to comprehend whether their platform extends relevant audience and engagement or not. Negotiate your deal keeping your distinguished budget in mind, and proceed if both parties are on the same page.


5. Measure campaign performance: Influencer marketing doesn't end with finding the right influencer and running the campaign. Analysing the retrieved KPIs of running influencer campaigns is essential to map out further plans for your brand or pinpoint areas to improve strategies. Tracking analytical insights of your campaign helps measure the success rate and analyse if the invested funds are worth it or not.


Influencer Marketing Campaigns


An influencer marketing's success heavily depends upon the type of campaign a brand curates in collaboration with the influencer. Distinct platforms, audience demographics, and content types imply the need to adopt the right type of marketing campaigns in order to target the right audience on the relevant platforms through the right media channel.


Here are some of the most profound influencer marketing campaign types that have garnered great response from audiences and are capable of providing your brand fuel for growth.

Social Media Marketing


With over 3.96 billion social media users, social media marketing is a sure-shot way for brands to reach their target audience. While finding a relevant audience can be a challenge for brands on its own, assimilating influencer marketing to your marketing technique is sure to find an audience relevant to your niche. Social media marketing influencers use content creation and sharing services extended to users for their marketing approach and to generate awareness.


Search Engine Marketing


Search engine marketing or SEM works as a digital strategy to obtain a higher rank on the search engine results page by performing well on several parameters, including better DA rank and compelling content.
Did you know influencer marketing can strengthen your search engine marketing efforts? Influencer marketing allows you to backlink their high-authority website to your own page, leading to a better DA rank for you and, as a result, a high place on the search engine result page.

Affiliate Influencer Marketing


Affiliate influencer marketing is similar to brand collaboration. Still, influencer marketing uses social media extensively to build a loyal relationship with the audience, and affiliate influencer marketing simply centers around referring products to the audience and gaining commission for them. These brand campaigns do not require as much loyalty as influencer marketing though it is an excellent advocate to promote your brand.

Content Influencer Marketing


With over 44% of users leveraging Instagram to accomplish their shopping demands, content influencer marketing sees a bright future in targeting and raising conversion leads. Content influencer marketing uses content creation platforms to produce engaging content and promote brands through the same. Precisely, it enables influencers to create content around the brand and expand brand awareness by sharing brand goals and offering services in a very organic manner.


Social Media Influencers: Who are They?


As the name suggests, an influencer could be anyone with a significant influence on many people, though social media influencers refer to people with extensive social media presence and fame. Influencers use various social content-sharing platforms as a tool to build a reputation and gain loyalty from audience interaction.

Influencers use their subject expertise to generate expansive reach by consistently creating valuable content which informs and entertains the consumer audience. Consistent public interaction is one of the most significant aspects of influencers as such engagements build a loyal relationship with audiences, which later help influencers achieve brand collaborations and successful marketing campaigns.

Influencers have the power to influence a customer's buying behaviour through simple recommendations, making use of the established loyalty with customers. Therefore, influencers are approached by brands to endorse their products by running marketing campaigns in the targeted niche offered by the influencer.