Performance marketing is a form of online marketing in which advertisers only pay for results. This could be in the form of sales, leads, or clicks. In other words, performance marketing is a way to ensure that you are only paying for the advertising that works.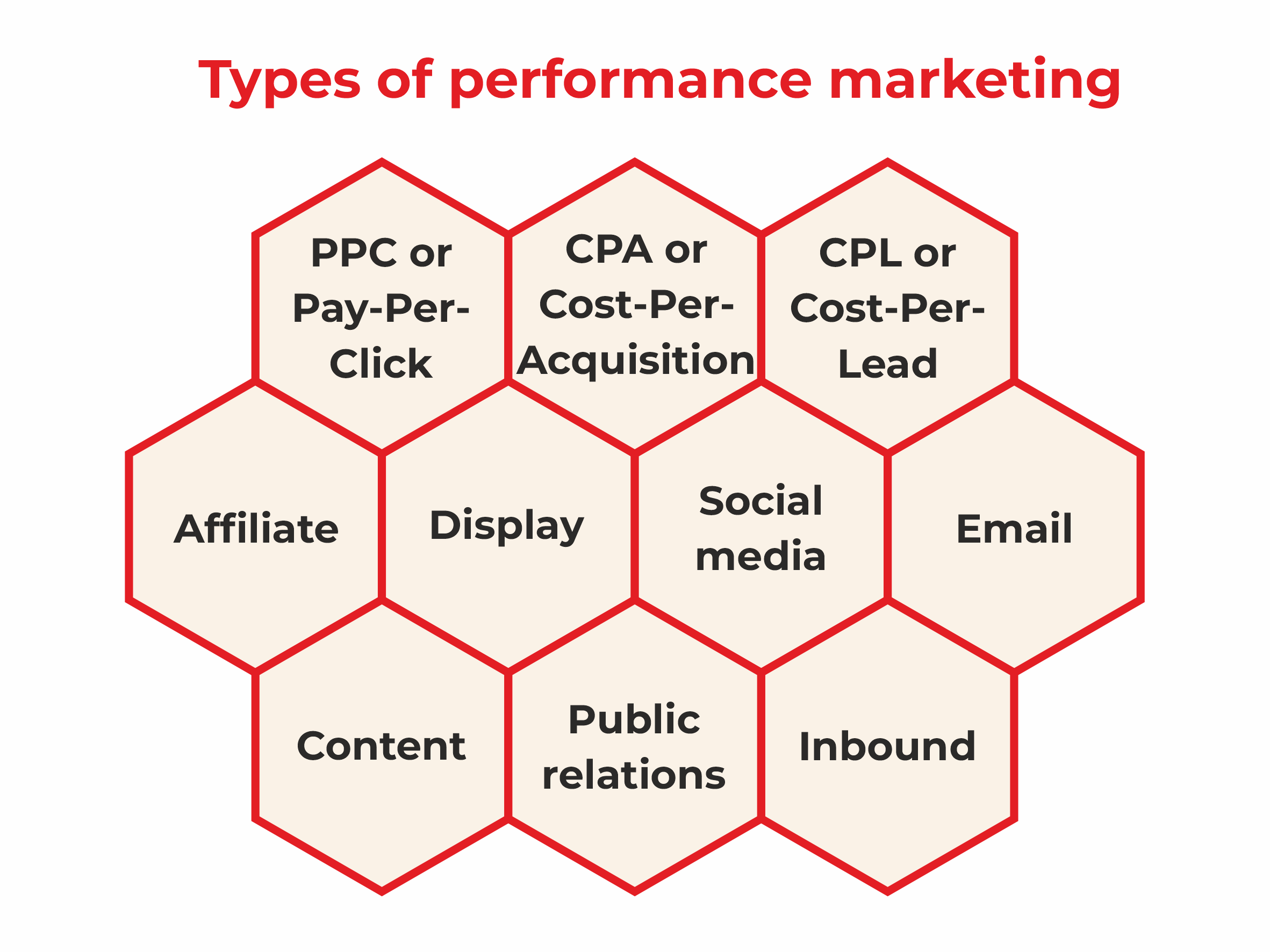 There are several different types of performance marketing, each with its unique advantages and disadvantages. Here's a look at some of the most common:
1. Pay-per-click (PPC) advertising


PPC in digital marketing is one of the most popular forms of performance marketing. Advertisers bid on keywords they think potential customers will search for when looking for their product or service. When the ad is clicked, the advertiser pays a small fee to the search engine.


2. Cost-per-acquisition (CPA) advertising


With CPA advertising, advertisers only pay when someone takes a specific action, such as making a purchase or signing up for a newsletter. It is a more efficient way to spend your marketing budget since you're only paying for results.


3. Cost-per-lead (CPL) advertising


CPL advertising is similar to CPA advertising, but in this case, the desired action is a lead instead of a sale. For example, an advertiser might only pay when someone fills out a form on their website or downloads a white paper.


4. Affiliate marketing


Affiliate marketing is performance marketing in which advertisers pay affiliates (websites or individuals) for each customer they refer to the brand. This is most commonly done by paying a commission on sales or also paying per lead or per click.


5. Display advertising


Display advertising refers to ads displayed on websites, typically in the form of banner ads. Advertisers pay each time their ad is displayed, regardless of whether someone clicks on it. Display advertising can be a great way to raise awareness of your brand or product.


6. Social media advertising


Social media advertising refers to ads displayed on social media platforms, such as Facebook, Twitter, and LinkedIn. Advertisers pay each time their ad is displayed, the advertisers pay even when the ad is clicked.


7. Email marketing


Email marketing involves sending promotional messages to a list of subscribers via email. Advertisers typically pay a small fee for each email sent, regardless of whether it is opened or clicked.


8. Content marketing


Content marketing involves creating and distributing high-quality content (such as blog posts, infographics, and eBooks) to attract and engage potential customers. While content marketing has no direct cost, it can be time-consuming and requires significant effort to produce quality content. Content performance marketing works as quantifiable metrics that facilitates to measure results that affects the business directly such as revenue, online conversion and ROI.


9. Public relations (PR)


Public relations involves managing the relationship between a company and the public. PR can take many forms, such as media relations, crisis management, and event planning. While there is no direct cost associated with PR, it can be time-consuming and requires significant effort to generate positive publicity. It can result in building brand trust, revenue increase, sales increase, boost in website traffic, enhanced online presence. The measurable results allows the purchaser to pay when the goals have been achieved.


10. Inbound marketing


Inbound marketing focuses on attracting customers through compelling content and offers instead of traditional advertising methods. Inbound marketing can take many forms, such as content marketing, search engine optimisation (SEO), and social media marketing.