The concepts of free markets are usually misunderstood. It is not that Free markets have no government intervention. Rather, governments intervene into the free market economy to overcome market failure. Government interventions ensure market stability, distribution of resources, a strong market economy, and legal transactions. When markets fail, governments can also take emergency measures like bailouts.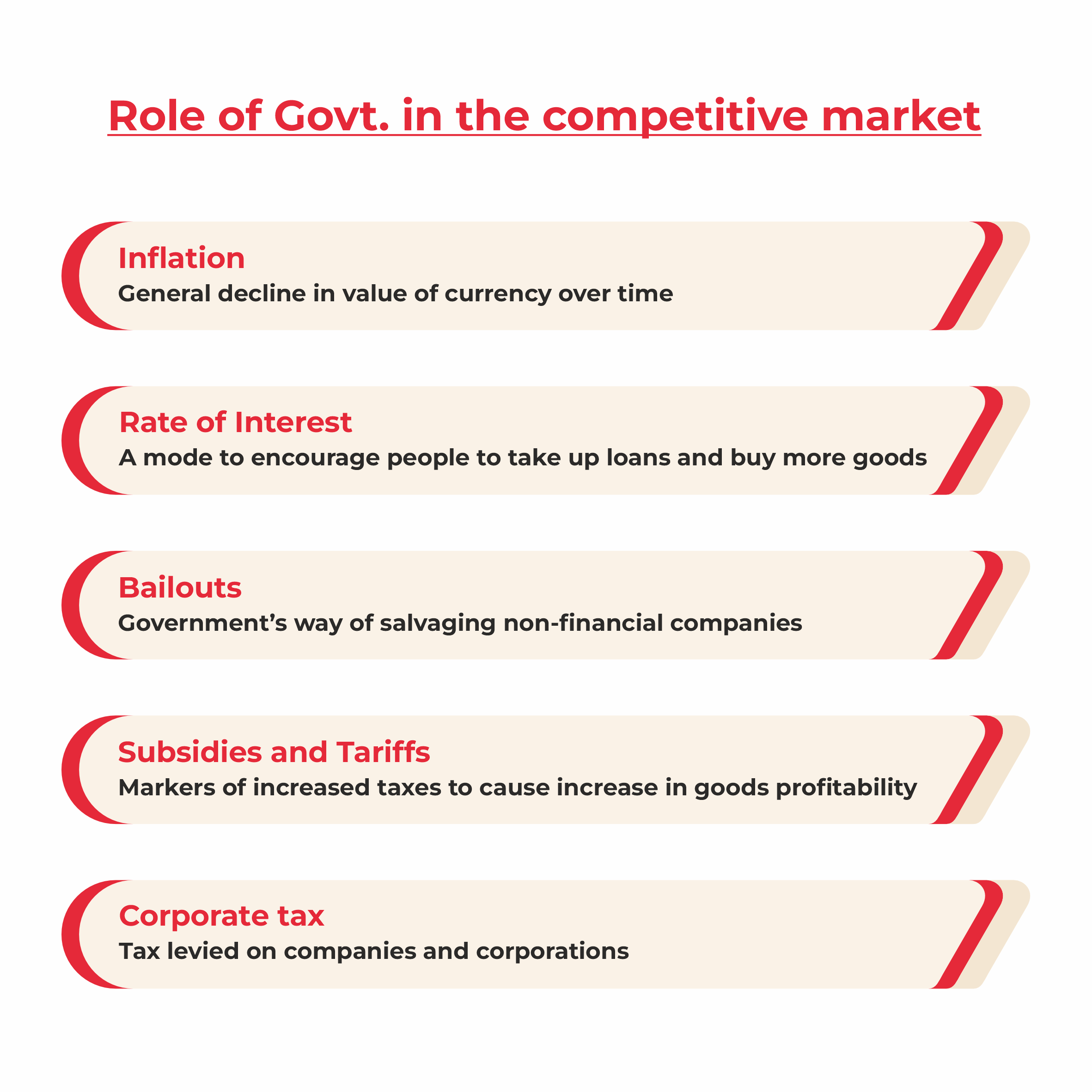 Inflation And Currency
For those investors who end up observing soaring corporate earnings and share prices, the sheer amount of inflationary money initially appears to be absolutely terrific, but eventually leads to a general decline in its value. People who are Bond buyers and savers often bear the brunt of it because savings have no virtual value. The fact that the debtors now have to pay less money to be able to satisfy their commitments is favorable news, but it also exponentially damages those who have initially bought bank bonds based on those loans once again. This also heightens the enticement of borrowing, but if interest rates rise up fast, that allure is ultimately lost.
Rate Of Interest
Interest rates still continue to be a very potent tool although they are generally employed to otherwise combat inflation. This is so because they may end up strengthening the economy by ultimately reducing borrowing rates. The Federal Reserve should consider reducing the interest rates instead of raising them in order to encourage the relevant companies and consumers to withdraw more loans and make more purchases. On the other hand, this might also lead to forming asset bubbles, which is when huge amounts of money are lost in the blink of an eye, rather than gradually as it is the case with inflation. Rates of Interest or ROI is a third way that the government influences the market.
The Maryland legislature increased usury limitations in response to rising interest rates in the 1970s so that more mortgages would be accessible. After four years of arduous work, Apple Computers went public in December 1980, rewarding its founders handsomely for their efforts. Pharmaceutical firms spend millions on marketing fresh medications. How much money do they make back in total? These narratives illustrate the financial justifications for interest payments and the connections between facility and equipment investments, interest rates, and anticipated return on investments.
Bailouts
The American government's readiness to assist struggling industries in the 2008–2010 financial crisis is well recognised. As part of advanced microeconomics theory, prior to the crisis, this reality was well acknowledged. Although the 1989 savings and loan crisis and the 2008 bank bailout were strangely similar, the government has a history of salvaging non-financial companies like Chrysler (1980), Penn Central Railroad (1970), and Lockheed (1971). The remarkable strategy of the government is that it did not bailout these companies based on direct investments based on the Troubled Asset Relief Program(TARP) but did so by the method of loan guarantees.
These corporations would ultimately shut down all operations and functions and eventually sell off their acquired assets to more profitable undertakings, under normal market conditions with the intention to pay off their debts and, if at all possible, shareholders. Luckily, the government uses this authority only to protect the most significant companies, including the ones in the banking, insurance, aviation, and auto industries. Fortunately, the government only uses this authority to protect the most important companies, including those in the banking, insurance, aviation, and auto industries.
Subsidies And Tariffs
From the taxpayer's viewpoint, tariffs and subsidies are the one and the same. A subsidy is when the government levies taxes on the general populace and distributes the proceeds to a particular industry in order to increase its profitability. With a tariff, the government imposes taxes on imported goods to raise their prices, enabling domestic providers to mark their prices. These two activities have an immediate effect on the market.
Financial institutions such as banks have a really strong incentive to offer advantageous terms to companies that get a certain level of assistance from the government. Even if the provided government assistance is the company's one and only source of some competitive advantage, the favorable treatment and enough financing provided by the government will eventually result in the additional money and resources being finally invested in the company.
Other competing industries that are more globally competitive will be impacted by this drain of resource and now shall need to work harder and smarter to get finance. When the government is somehow a company's primary source of income, the influence can and will be more prominent and has been known to result in involved contractors being overcharged and delays in ongoing projects.
Regulation And Corporate Tax
Any absence of any kind of opposition from the business community to the bailout of any specific sectors may explain because they are uncertain of when their home sector would need some kind of assistance. Taxes and regulations are generally a concern for Wall Street, however. This is especially true because while yes, regulations and taxes may end up having a negative effect on profitability, subsidies and tariffs may provide a firm a competitive edge.