MBA in business analytics is a course with a thrust on data and analysis. As such, it has tremendous scope in the fast-changing global business landscape.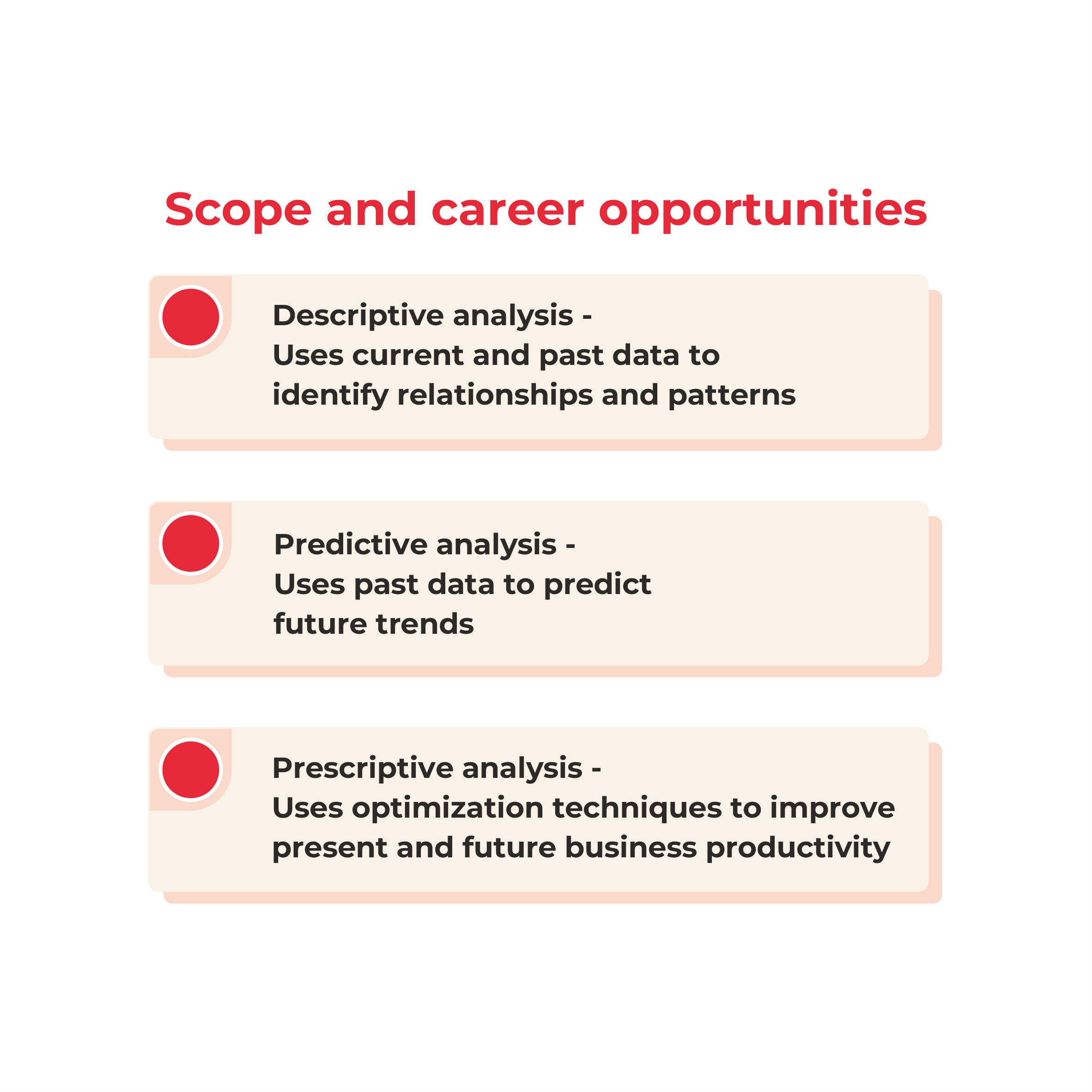 Completing an MBA in business analytics makes you eligible to enter the three fundamental analytical domains: descriptive analytics, predictive analytics, and prescriptive analytics.
Descriptive analytics refers to the simplest form of analytics that uses current and past data to identify relationships and patterns. While descriptive analytics doesn't dig deep into data, it is useful for identifying change over time and supplies trends to drive further analysis and decision-making.
Predictive analytics is a form of advanced analytics that uses historical data to predict future developments. Companies use predictive analytics to investigate data patterns to find risks and opportunities. Predictive analytics uses a combination of statistical modelling, machine learning, and data mining techniques.
We can estimate the scope of an MBA in business analytics to span the following business segments:
Companies can leverage analytics to study customer responses to their marketing campaigns. It involves investigating customer purchasing behaviour trends, their needs and preferences, average income, and other factors that affect buying patterns. Companies can utilise this received data to target their marketing campaigns to the right demographic and curate products that align with customers' requirements.
Top-notch customer experience is the key to business success. Therefore, it is crucial to understand customers' buying preferences, purchasing patterns, and what they expect from a brand. Business analytics enables companies to gain an in-depth understanding of their customers. It allows brands to tailor products and services that maximise customer satisfaction and ensure long-term customer loyalty.
Data science and analytics play crucial roles in business finances. When done correctly, data analysis gives insights into business transactions and forecasts potential future financial scenarios. An analytical approach toward business expenditure facilitates effective financial planning, efficient resource allocation, and improved decision-making. In other words, financial analytics shapes business strategy through data-driven insights.
Business analytics can streamline supply chain processes and help companies reduce overhead costs. It facilitates forecasting the timing and frequency of orders, understanding which products are in demand, and ensuring enough inventory to meet those demands. Analytics allow companies to strategise their supply chain operations while scaling sustainably.
Hiring and recruitment are critical business aspects since the quality of hires directly impacts an organisation's productivity and performance. Thus, companies look for HR professionals with a background in business intelligence and data analytics to promote data-driven decisions in hiring and recruitment. Specialists understanding human resource analytics can leverage data analysis to hire and onboard employees who can be assets to the company.
As far as the career opportunities are concerned, candidates with an MBA in business analytics have good prospects of directly landing senior position job roles like operations analyst, management consultant, and supply chain analyst. Even if a candidate starts with an entry-level position, they can quickly climb up the corporate ladder with the relevant business analytics skill set. A career after an MBA in business analytics is also rewarding in terms of salary prospects, job flexibility, and work-life balance.