The process is not that complicated, and you can create it straightaway. There is no need to have extensive knowledge of the crypto industry either. The steps to develop non-fungible tokens are as under: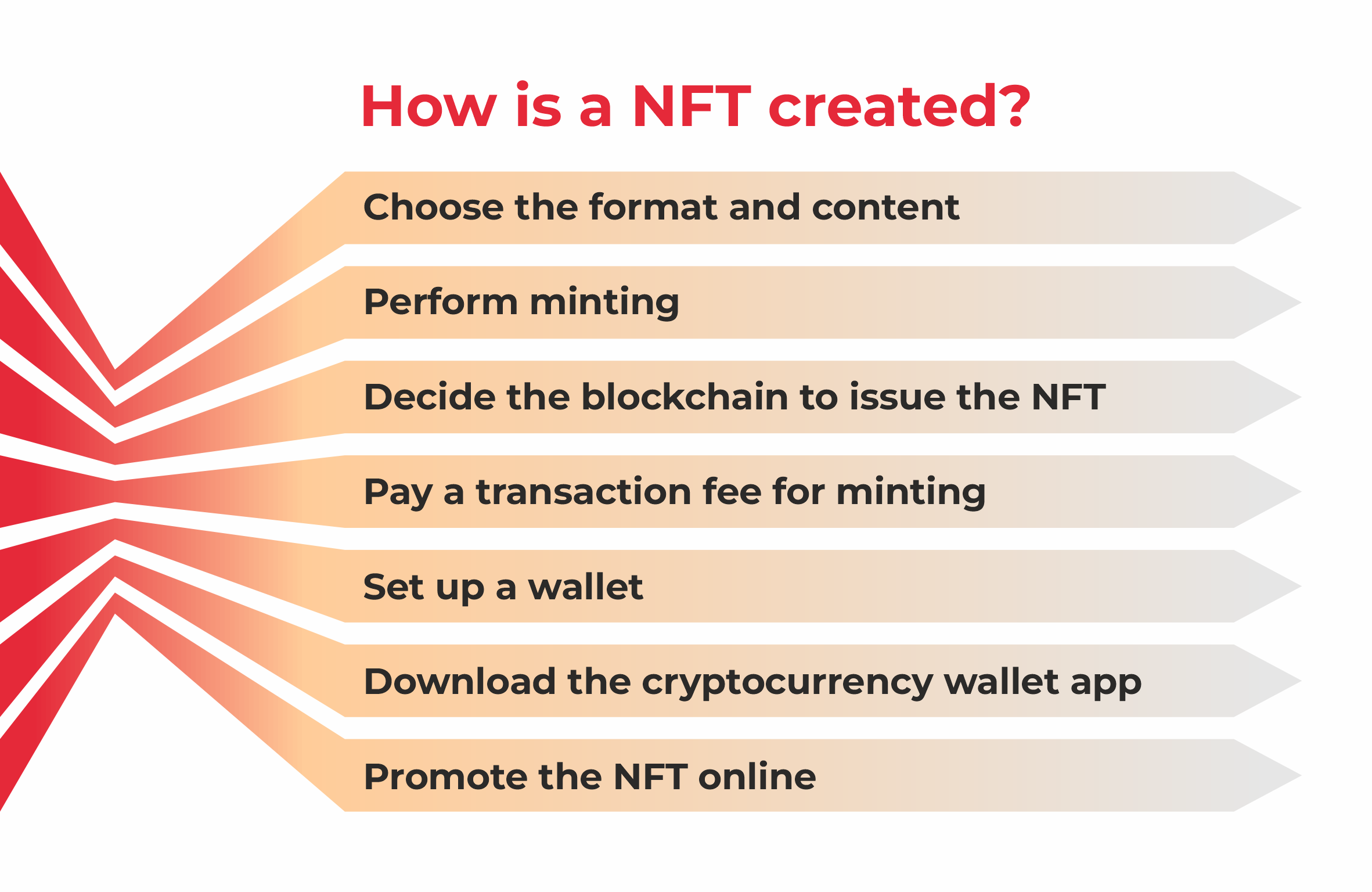 1. Choose the format and content- The non-fungible token can be generated from any multimedia file depending upon the choice of the creators, like a digital photo, a text, a painting or video, audio, etc. Anything digital can be a non-fungible asset, even real estate, and diamonds. Convert this into an appropriate file if it is not already digital. These items, such as portable network graphics PNG, graphics interchange format-GIFs, etc., can be stored.
2. The value depends upon their uniqueness. Several copies or versions of the same item could exist. How many you include will become fixed and cannot be changed later. The process is called minting, which turns a digital item into an asset on the blockchain. They become temper-free and secure. They are represented by a nonfungible token and can now be traded and digitally tracked whenever bought or sold in the future again. Minting will start once you pay the gas fee to the miners for their computing energy and resources spent for validating the NFTs. The gas fee is not fixed and depends on the demand level to create transactions. Your profile shows newly minted NFTs once the transaction is validated.


3. Decide on the blockchain that you want for issuing your NFTs. The development of NFTs started with the Ethereum blockchain though it does not have a monopoly on NFTs.


4. Choose from the other popular NFTs like Tron, Cosmos, Polkadot, Tezos, Biance Smart Chain, WAX, EOS, etc. Ethereum is the largest ecosystem for NFTs. You can use that platform as well to create your NFTs. The choice depends upon blockchain types, supported standards and formats, price to mint, accessibility, etc.


5. Each platform has token standards, marketplaces, and compatible wallet services to list the tokens.


6. Non-curated platforms provide free access to all. The users must pay the transaction fee to mint a token. Raible allows users to mint tokens before selling them, and OpenSea does minting when a token is sold. The curated ones allow certain types of creators.


7. You should set up a wallet and own some crypto to access different platforms, manage your accounts, and sign transactions.


8. Download the cryptocurrency wallet app to personal computers and smartphones to access the sales receipts, etc.


9. Promote your freshly minted NFT creation by adopting a strategy to do so. Public relations, online advertising, crypto podcasts, social media, and newspapers are a few options.