Here are the top 10 career options for international business graduates: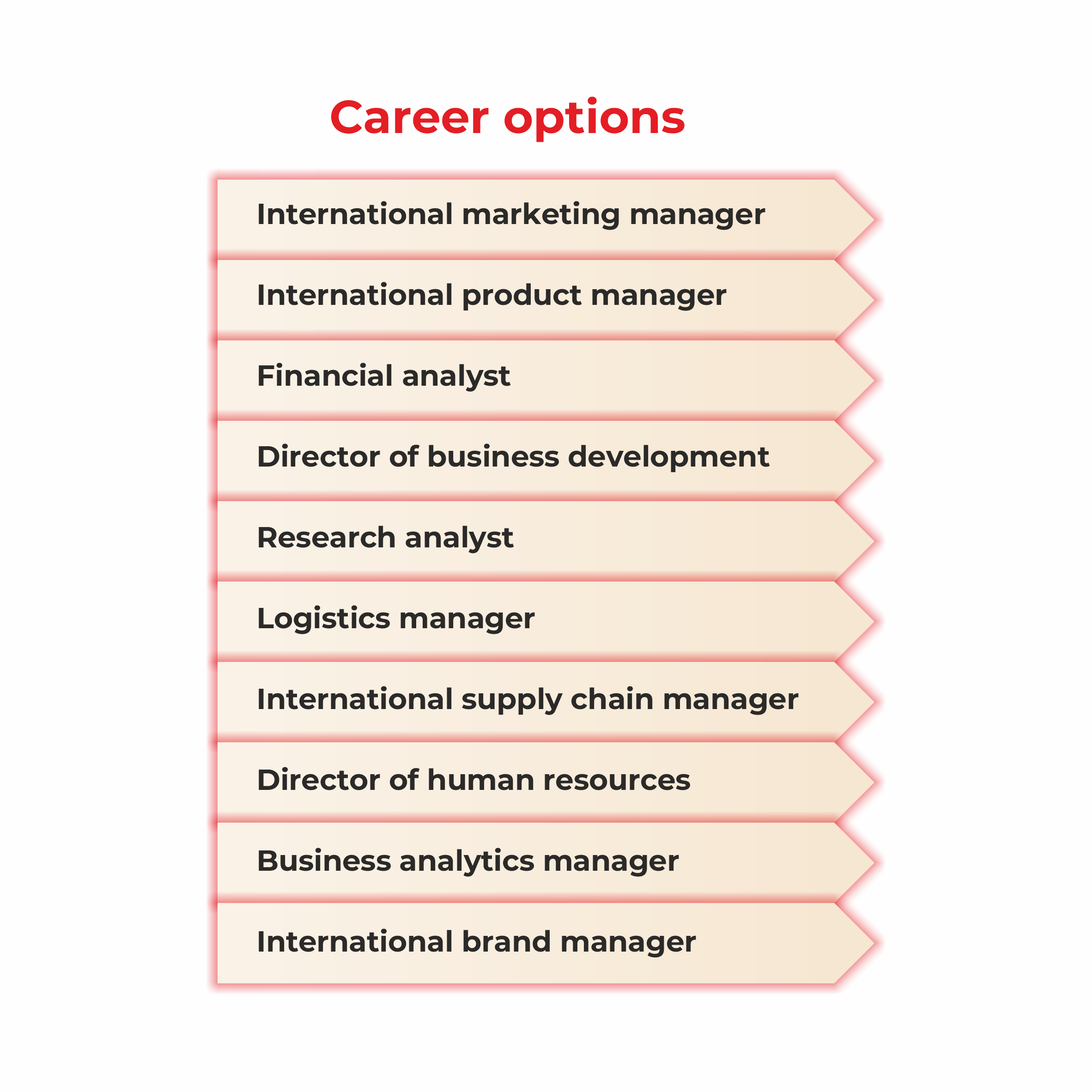 1. International Marketing Manager
International Marketing Manager is a person dedicated to creating and implementing campaigns and marketing strategies for the international market. As an international marketing manager, you must thoroughly understand the different markets and ensure you are marketing your company's products and services to the right people.
International marketers play a huge role in the success of a company's move into international markets. Therefore, they are also compensated according to the importance of the position. The average salary ranges from INR 40,000 to INR 80,000. Furthermore, marketing professionals also have perks like commissions.
2. International Product Manager
An International Product Manager has full responsibility for products and services marketed internationally. Different markets have different standards for product quality. Some markets even have strict product packaging standards. Therefore, it is the responsibility of the international product manager to ensure that the product, packaging, and other quality requirements are suitable for the international market.
The Global Product Manager plays an important role in the product's success. They must have extensive knowledge of international market laws and standards. So such a specialist position attracts a good salary. Currently, the salary ranges from INR 40,000 to INR 100,000.
3. Financial Analyst
International markets operate differently, but they are interrelated. This is quite a complex structure, and it is the job of an international financial analyst to know all of these markets and to prepare investment reports in these markets. They must thoroughly analyse and provide information and predictive models for the different markets in which their company can invest money.
Financial analysts must have good numbers as well as good observational skills. You have to be good to survive in this competitive profile. Currently, the position of financial analyst attracts a salary from INR 30,000 to INR 9 lakh. They also earn big commissions.
4. Director Of Business Development
The Director of Business Development holds the responsibility of attracting more businesses internationally. To do this, they must know the market well, establish the right relationships and plan accordingly. Business Development Manager is a crucial position where the individual ensures growth and development by working closely with the marketing and sales team towards managing the international market.
In addition to good commissions, business development directors receive salaries ranging from INR 30,000 to INR 100,000.
5. Research Analyst
Businesses need market information to succeed in the international market. This information should address market opportunities and risks. And that's where the services of a research analyst come into play. They must research international markets, products, rules and regulations, competitors, and more and provide reports for their business to penetrate the international market.
Research analysts play a significant part in international business. Companies are at risk without their jobs. Therefore, they have compensated accordingly. They receive an average salary of INR 30,000 to INR 9 lakh.
6. Logistics Manager
Logistics is already a tedious job to manage. Now imagine doing it internationally. This difficult but rewarding task is the job of a logistics manager. They must understand the logistics of sourcing products, resources, deliveries, etc. In different countries. The challenge is that each country has different rules and regulations and logistical challenges. Logistics managers need to know them and ensure that everything is delivered on time, from supplier to customer.
As mentioned earlier, being a logistics manager is one of the hardest but most rewarding jobs in international business. Their annual salary is from INR 30,000 to INR 150,000, along with commission opportunities.
7. International Supply Chain Manager
Companies selling goods and products must have good international supply chain managers. They are the people who need to understand logistics and keep everything running smoothly, from sourcing and production to packaging and sourcing.
8. Director Of Human Resources
In international business, there are many HR challenges. Therefore, you need a good HR manager. They are responsible for recruiting the best employees from different locations across the country. They must also know the labour laws of these countries and ensure that operations comply with that country's labour laws. They also have to ensure employees are happy and act as a bridge between different departments worldwide.
Human resource management is crucial, especially in a company spread across multiple locations worldwide. As a result, HR managers earn a salary of 4 to 15 lakh INR.
9. Business Analytics Manager
In international business, business analytics plays a huge role. When a company operates in a new market, it must take all risks and make the right decisions. A business analyst uses technology and software for analysis, industry information, statistics, and other data to present reports and conclusions on which top management can make decisions about that particular international market.
The Director of Business Analytics is a specialist position. You must have strong analytical and predictive skills and technical skills to understand and use analytical software. In this position, you can expect a salary of between INR 80,000 and INR 20,000.
10. International Brand Manager
When a business is international, branding is important, especially when the business is entering a new market. If the company's brand is recognised and trusted, it will save a lot of money on marketing, and its products and services will gain market share much faster. This is the power of branding. The international brand manager is in charge of all international branding activities. They must create positive awareness and an online reputation for the brand. They have to participate in and organise many activities and work with creative people.
International brand managers are among the highest-paid professionals because their work is quite demanding. They earn an average salary of INR 50,000 to INR 180,000.
(via www.csit.edu.in)