Display Ads can come in wide varieties. But the best way to make a display ad work is to follow a few best practices in which it can prove the most effective.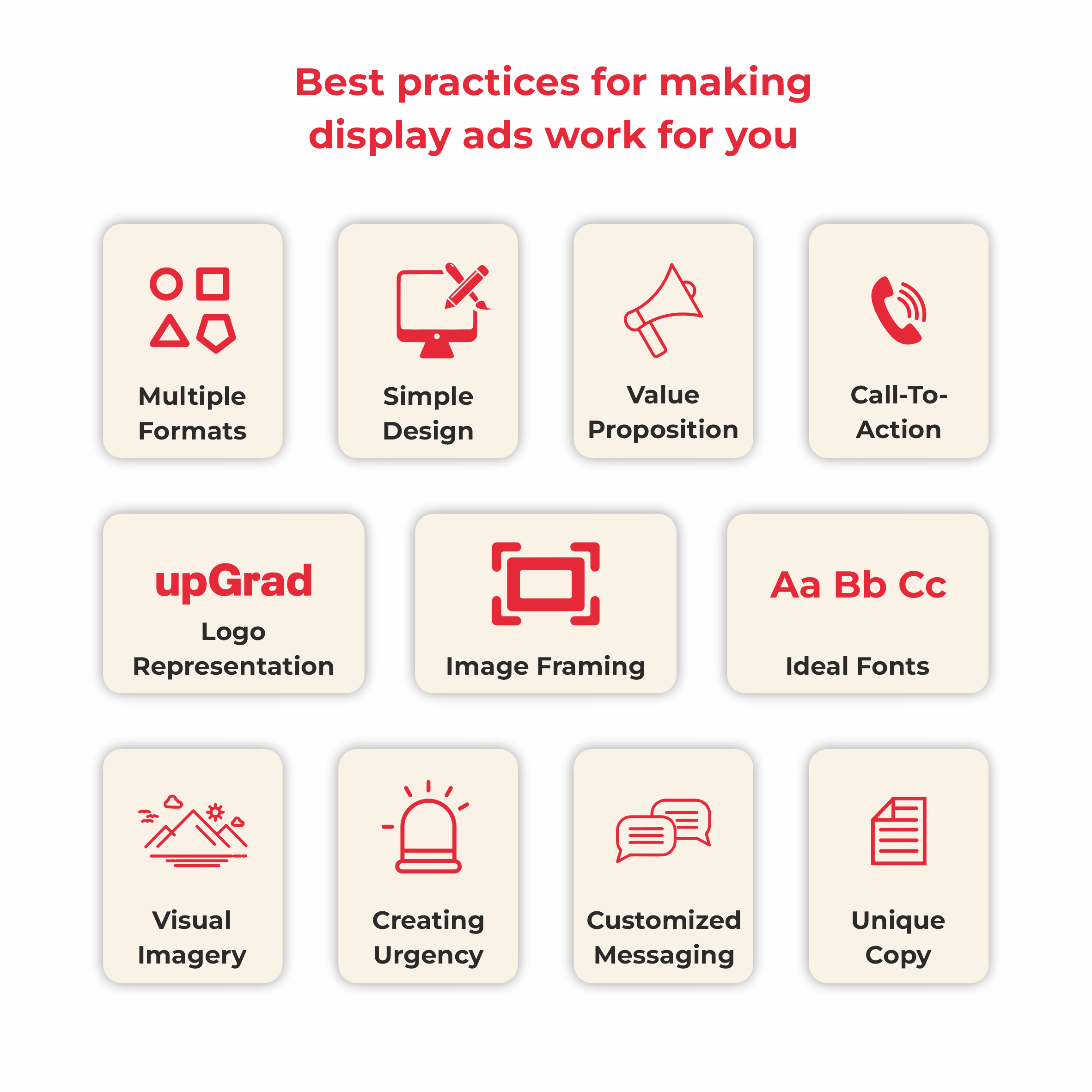 Create Numerous Format

Adding your logo

Presenting a value-proposition

Call-to-action

Engage with simplicity

Image Framing

Choosing the ideal fonts

Using imagery

Urgency

Test your banners

Customized messaging

Use unique Ad copy
Create Numerous Formats - One way to avoid redundancy is to create multiple formats to work with. At this point, there are over 40 display ad formats available on the Google Network. More ad formats increase the chances for more ad impressions, making it a successful ad. One downside of multiple structures is that it takes up a lot of time to focus on different formats, so it is essential to focus on one design at a time. There is also a top 10 banner list from which one can choose.


Adding your logo - The main motive of display advertising is to raise brand awareness. Brands use a logo to showcase their uniqueness. Ideally, a display ad should contain a sizeable logo for anyone to notice. It should appear in a clear format and leave an impression in the minds of potential clients. Adding your logo is one of the best ways to brand the brand.


Presenting a Value-Proposition - A value proposition shows a product's best features and characteristics. What is it that makes a product different than the others? Here is when a value proposition comes into the picture. A perfect product could have a unique feature such as a low discount or shipping prices waved off. This value proposition is what makes the customer fall for the product. If there is no value proposition, it gets harder to attract the customer's interest.


Call-to-action - A call-to-action is one of the most critical parts of any display ad. One can add a button on their display ad that works as a call-to-action feature. This not only makes it interactive but is also appealing to the eyes. One can utilize options such as font and color to make it stand out. Phrases such as 'Learn more' and 'Register here' can be valuable CTAs. The critical idea here is to grab the attention of the customer.


Employ Simplicity - What better way to display an ad than to give a clear idea of what the product offers? A good display ad should tell the customer about the brand and its offers. Keeping a limit on the headline is also a required job. Anything cluttered and the chance for the brand to get noticed is a complex trial.


Image Framing - It has been proven that boxes do the trick in establishing a brand. To do so, one has to focus on a box that provides the necessary information for the customer to process. A box also outlines the ad, making it more prone to visibility outside of the usual content.


Choosing the ideal fonts - One of the most important ways to make a display ad work for you is to employ fonts that are noticeable and don't take a lot of effort to be read. Extremely thin fonts and cursive are some of the no-go areas. These make the fonts highly susceptible to ignorance and decrease the brand value.


Using Imagery - Utilising ineffective imagery may not be the best bet for display advertising as it confuses the targeted audience. Using the right fit for the right product is ideal. For example, the right color can go with the right product. A banner for a lavender-based product can utilize the same color for a matching experience.


Urgency - Developing urgency can be an effective way to market a product using display advertisements. Using phrases such as "Limited Time Offer" and "Shop now" can be an excellent way to kickstart a campaign.


Test your banners - Testing banners is the most needed when advertising with display ads. Testing Static and Animated Banners for better performance only increases the likeability of the ads. Usually, animated banners do better than their static counterparts. We should also note that the animated banner shouldn't distract the audience from the core message offered by the business.


Customized Messaging - We have learned about the different types of ads, such as native ads and retargeting ads. When making an ad, two things need to be kept in mind. The content must showcase the goal of the campaign. Whether it is a prospecting ad or a remarketing ad makes all the difference. A prospecting ad focuses on an ad that has never been put up before. This contains all the new information, whereas a remarketing ad talks aim to attract users that haven't made a conversion yet.


Use Unique Ad copy - An Ad copy must contain a unique message that hasn't been conveyed before. Creative taglines, bold statements, and even jokes can make the change. Certain sections of the targeted audience also appreciate clever puns.