The digital marketing industry is searing hot with opportunities right now as every company and individual seeks to leave a digital impact on the humongous worldwide web. Online spaces have become effective branding, advertising, and marketing platforms, and simultaneously, the need for ninjas who can navigate this space is also on the rise.
Digital marketing is the tool that is helping these businesses gain the highest that they desire. The number of digital marketing jobs is constantly increasing, and a digital marketer's salary stands higher than any conventional marketer of a similar post. Digital marketer salary in India can vary depending on various factors discussed later in the blog.
If you are a part or wish to be a part of this fast-paced, creative, and challenging industry, then read on to know the best job roles in digital marketing and the salary trends. This post is updated in 2023 with the latest salary trends in the Digital Marketing Function.
1) Digital Marketing Manager
Digital marketing managers in IT firms, Internet Companies & Digital Marketing Agencies receive the highest compensation out of all digital marketing managers in other industries. This position requires a higher level of experience, with strong knowledge in digital marketing to appropriately mentor and manage people, and also to lead them well. This job comes with a good amount of experience at various levels like Digital Marketing Lead, Assistant Manager DM.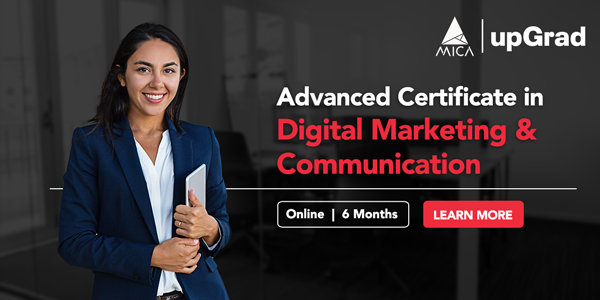 Feeling social media is fun? Know how to make a career out of social media? Learn more
Digital Marketing Manager Job Role & Skills
A DM Manager should be an expert at managing various online marketing functions like SEM, PPC, SEO, Content Marketing, and Email Promotions. These are some of the mandatory skills required to be a digital marketing professional and is a core of the job role. Mentioned below is the list of activities done by the manager on a regular/daily basis.
• Planning, Organising & Executing digital marketing campaigns.
• Managing Paid Marketing Campaigns, budgeting & spends on a monthly/quarterly basis.
• Good understanding of SEO, targeting areas with high search volume, and optimum conversion ratio.
• Executive Social Media Campaign, Organic as well as Paid.
• DM Manager should be an expert in Performance Marketing.
• Measure performance on all digital marketing platforms and analyze against goals (ROI and KPIs).
• Discover market trends and insights, and optimize budget and performance based on the insights.
• DM Manager should be presentable, well-spoken, marketing specialist, and should be updated with the current marketing trends. He should be an expert with numbers, with a good business understanding.
Digital Marketing Manager Salaries in India
The average salary for a Digital Marketing Manager is Rupees 8,09,777 in India. This is for a candidate with a 4 – 8 years range of experience. Some other factors like Industry, Qualification, Digital Marketing Certification, and City of residence play an important part in deciding the salary.
The salary range of a DM Manager is between 4,00,000 to 18,00,000.As mentioned earlier, there are various factors that influence the salary of an individual. For example, the salary of an individual in Tier 1 city like Mumbai is higher compared to a person with similar skills but in a Tier 2 city.
Source – Naukri, Payscale, Glassdoor
2) Pay Per Click Analyst
PPC Analyst or some define it as SEM Analyst, is one of the in-demand jobs for online marketing. Someone who can demonstrate the ability to reap profits equal to or greater than the investment will be quickly hired by the company. This is because after getting results organically, companies want to push their boundaries and try out paid advertising. An individual with a thorough knowledge of campaign creation and the psychology behind consumer clicks can easily get the job he/she wants and with the desired salary.
PPC Analyst Job Role & Skills
• A PPC Executive must have strong technical & analytical skills.
• He / She is responsible for managing Paid Ad Campaigns on Google Ads – Search & Display, Bing & other Ad Networks.
• PPC specialist must also manage advertisement campaigns on Facebook, Linkedin, Quora & other Social Media Networks.
• The core job involves maintenance of keyword bids, monitoring daily & monthly budget and improving quality score
• Along with the above skills, the candidate with knowledge of using analytics tools like Google Analytics or other reporting tools is preferred.
PPC / SEM Analyst Salaries in India
The average salary for a PPC Analyst / PPC Executive is approx Rupees 2,50,000 in India. This is for a candidate with around 1 year of experience. Freshers who have a good understanding of PPC, or someone who has completed a few months of internship, can also draw a similar pay package.
Top Google AdWords Interview Questions and Answers
As the PPC Analyst grows in experience and knowledge, salaries can grow up to Rupees 6,00,000. The next level is a Team Leader or an Assistant Manager. There is a huge demand for efficient SEM/PPC professionals since it involves budget management. Many of the digital platforms moving towards monetization, if you are smart enough to manage Pay Per Click well, the sky is the limit.
3) SEO Specialist
No matter the new digital marketing tactics that spring up, SEO will forever be the evergreen one. A mix of customer-driven search engine optimization and subtle but intentional marketing, Search Engine Optimization is the best way to rope in sustainable, long-term, and high converting traffic. You need experience with SEO tools like SEMrush, Google Analytics, Search Console, among others. It is one of the best roles to be specialized in.
Individually, salaries depend mostly on experience and knowledge. For a beginner, the salary may be on an average scale, but with a better understanding of the subject, the payscale just keeps rising. As a digital marketer, you will be versed in a number of skills which means you will be paid for all of them.
SEO Analyst / Executive Job Role & Skills
• Search Engine Analyst must have a good understanding of Ranking Algorithms.
• He / She is must be proficient with Technical SEO.
• Improving user experience and complying with Search Engine Guidelines.
• Identifying the most appropriate keywords for the business, and creating informational content around those keywords is a part of the job.
• Understanding of various optimization tools like Search Console, Ahrefs, SEMRush, and Similarweb is important. Analytical tools for performance measurement like Google Analytics, Omniture, or Comscore is an added advantage.
SEO Analyst / Specialist Salaries in India
Compared to a PPC Analyst, the salary of SEO fresher is on the lower side. But this is only limited to the start of the career. The average salary for a Search Engine Optimization Executive is approx Rupees 2,20,000 in India. This is for someone with 1 – 2 years of experience range. SEO Interns are paid around 15,000 per month in cities like Mumbai, Bangalore, or Pune.
The digital marketing average salary in India is mentioned below.
Similar to a PPC Analyst, with the growth in skills, salaries can grow up to Rupees 8,00,000. This is for a Manager level professional, with a good sense of Organic Growth. SEO professional with has proved extraordinary growth for the business is drawing a salary of 15,00,000+. The demand for SEO professionals is lower compared to PPC. This is because the majority of SEOs work to optimize the rankings on Google, whereas PPC expert is working on several other platforms like Linkedin, Facebook or Insta.
Best Digital Marketing Courses Online
4) Social Media Marketing
Social Media is how people primarily interact with each other nowadays. Hence, even before building a website or an app, brands start creating a strong social media presence. In fact, many times it is the social media that is driving the business and is followed by a website for an online presence. To drive traffic to their pages and keep the engagement up, organizations hire social media marketers who are well-versed with the gamut of social media. If you have expertise in a specific platform, you can leverage that niche knowledge to your advantage, too. Social Media Marketing also requires knowledge of various SMM Tools like Hootsuite, Buffer, Buzzsumo to name a few.
Salaries depend on the kind of output you can generate. Social Media Professionals directly interact with their users or customers, so they have to enthusiastic, positive and in some cases a good sense of humor works very well. Beginner with these traits can quickly find a place in Social Media Marketing. Experience does matter but it is your enthusiasm that influences your career growth chart.
Social Media Analyst/Executive Job Role & Skills
• Social Media Executive must curate relevant & engaging content to reach the target audience.
• Design, create and execute campaigns on Facebook, Instagram, Twitter, etc.
• Social Media Analyst is the face of the organization on Social Media Platforms.
• The job involves engaging in dialogues & answering queries when required.
• Implementation of a proactive strategy for capturing customer online reviews and ratings.
• Monitor trends in Social Media tools, applications, channels, design, and strategy.
Social Media Executive / Specialist Salaries in India
Salary of Social Media Executive in most cases is on par or higher compared to that of PPC Executive. For a Social Media Fresher or less than 3 years experience the average salary range is Rupees 1,50,000 to 3,50,000 in India. The highest salary for an executive is around 5,00,000 and the next level on the chart is the Manager Position. This field has a high digital marketing salary for freshers as well.
The average salary of a Social Media Manager is 5,60,000 approximately. The higher range of salary is close to 10,00,000 in India. Social Media Professionals are huge demand in Digital Marketing Agencies. Due to the diversity of the function (multiple tools & various platforms), some business functions prefer to outsource the job to expert agencies, where the Social Media professionals have access to all the required tools and expertise to manage the task well.
5) Content Marketing
Content on the internet includes everything – copywriting, blog posts, videos, podcasts, visuals and graphics, campaigns, email newsletters. To oversee these diverse forms of content, a content marketing manager is needed who can lead people with his / her domain expertise, and leadership skills. In some companies, this role is played by SEO but with humongous growth of content on the internet, this job requires a dedicated specialist.
Content Marketing Manager Job Role & Skills
• Content Manager role involves creating, improving & promoting content to achieve our business goals.
• Content Marketing with the objective to raise brand awareness, increasing web traffic, and enhancing conversion goals.
• He/she must be able to oversee all marketing content initiatives to ensure customer engagement, brand consistency, and positive customer experience.
• Candidates are mostly in charge of the website content, blogs, copy, and all communication from and about the business.
• Manage content distribution to online channels and social media platforms to increase web traffic.
Digital Marketing Free courses to Learn
Content Marketing Executive / Specialist Salaries in India
Salary of Content Marketing Executive is higher compared to that of SEO Executive. Since content marketers not only create the content but also promote it, they play 2 roles in a single job. For a Content Marketing Fresher or less than 3 years experience the average salary range is Rupees 2,00,000 to 4,00,000 in India. The highest salary for an executive is around 5,00,000 and the next level on the chart is the Manager Position.
upGrad's Exclusive Digital Marketing Webinar for you –
Webinar with Q&A Session on Digital Marketing
Content Marketing Manager draws a decent pay scale. The median salary of digital marketing in India is Rs 6,50,000 approximately and the top range is close to 1 million rupees in India. There are vacancies for Content Marketing head as well, where the experience required is 8+ years and the salary range is between 10,00,000 to 20,00,000 rupees per annum
Salaries in Digital Marketing with respect to experience
Salaries are mentioned on the basis of experience. The latter determines your role which in turn determines your remuneration. Exceptions, of course, are always there. The digital marketing fresher salary in India and average salary of digital marketing in India are mentioned below.
| | |
| --- | --- |
| Years of experience | Salary (in LPA) |
| Interns | 10K – 15K per month |
| 0 – 1 | 1.5 – 4.0 |
| 1 – 3 | 2.0 – 6.0 |
| 2 – 4 | 3.0 – 7.0 |
| 3 – 5 | 4.0 – 10.0 |
| 5 – 10 | 10.0 – 30.0 |
Learn more: Digital Marketing Tutorial: A Step-by-Step Guide To Become an Expert
6) Copywriter
Persuading audiences with the power of words is one of the oldest tricks of the book. Prior to the dominance of the internet, sales copies used to get published in various newspapers, magazines, or in form of flyers. However, now that everything is getting digitalized and the internet holds the potential of reaching the maximum number of people, experts in the digital marketing industry have started leveraging the power of copywriting. Copywriters carefully curate customized pieces of content that are in form of varied types like product copywriting, website copywriting, social media copywriting, B2B copywriting, etc. It comes under one of the digital marketing highest salary in India.
Copywriter Job Role & Skills
Being able to design and spearhead campaigns
Being able to write clear, attractive copies that stay in alignment with the brand's voice
Accurately interpreting copywriting briefs and understanding the project requirements.
Can collaborate with a team of designers, CS, and others of related fields both on a small and large scale.
Can conduct in-depth research that brings relevant information for the campaign
Edits and proofreads copies as needed
Uses best SEO principles to optimize the reach of the content organically
Copywriter Salaries in India
Salary of a copywriter is evidently lower than a digital marketing manager salary but they can increase their pay by working as a freelancer with multiple companies or by handling international clients. According to the reports of Payscale, the average salary of a copywriter in India is around INR 3.6 lakhs per annum.
A fresher with less than a year of experience can earn around INR 2.9 lakhs per anum. The pay keeps increasing with the years of experience. A seasoned copywriter with more than 10 years of experience can easily earn up to INR 7 lakhs per anum by working in a single company.
One can also shift their career from being a copywriter to being the associate director of creative services of a company.
Indian cities like Gurgaon and Haryana are marked as the hotspots for copywriting jobs as they provide a significant 36.8% more pay than the national average.
Source: Payscale
Factors affecting digital marketer salary in India
A digital marketer salary in India depends on multiple factors that are somewhat interconnected yet play an individual role. Below are some of such factors that may affect the pay of your digital marketing job.
Size of the company
The first and foremost factor that impacts a digital marketing executive salary is the size of the company in which they are, whether it is a domestic or multinational company. Being an entry-level job, digital marketing executives usually stand at the lower end of the pay range, however, it can be a significant amount if one chooses the company wisely.
The bigger the company the better the digital marketing executive salary would be.
Skillset and credibility
Skillsets are what make a person credible in the industry. In the digital marketing industry, everyone is highly result-oriented, therefore having the right skillsets that can help the client generate their desired revenue is very important. It applies to both freelancers and full-time employees.
The better your skillsets are the higher the chances you will be able to deliver the desired results. This will further increase your credibility which is your value as a brand and the market reputation that you have built. If you are respected and well known in your field you will have better opportunities to charge higher both as a freelancer or full-time employee.
Geographical factors
Even though the majority of digital marketing jobs can be performed remotely and are performed remotely, the geographic location of the employer company, or client plays a major role in how much pay one can get. The pay of digital marketing personnel greatly varies from country to country.
In the US a mid-level digital marketer is paid about $7000 per month, whereas, in India, that person would get $1000 per month for the exact same role. Even within the same country, the pay can vary. Such as digital marketing salaries are significantly higher in the metro cities of India like Banglore, and Pune compared to more suburban areas of the country, in spite of putting the same effort and labour.
Therefore, the best way is to live in a place that has a low-cost lifestyle and work for a company or client that is located in comparatively higher-priced areas.
Work experience and Title
Similar to any other industry, in the case of digital marketing jobs, one climbs up the corporate ladder with increasing experience. As one moves up in the digital marketing industry, both their responsibilities and salary increase.
Likewise, the higher your turtle is in an organization, the higher your pay gets. A digital marketing manager salary is significantly higher than an SEO executive's.
Apart from that, digital marketing specialists who carry the ability to lead an entire team of digital marketing personnel, earn significantly more than freelancers who work solo. Getting these job roles a significant amount of work experience and a proven record of capabilities.
Approach
The entire digital marketing industry thrives on a result-oriented approach, therefore, if your approach does not match the vibe or you can not bring the dream results to your clients, chances are that you will not be getting paid much.
Differing from the conventional marketing industry, in digital marketing, each and every progress can be measured, therefore setting KPIs (key performance indicators) and keeping track of them plays an important role. These KPIs also help in assessing the success of any campaign or strategy you have implemented. Hence, the more you utilise such features and become more analytical and result oriented, the more rewarded you will be.
Top skills required in the field of Digital Marketing
Data Analysis
It is referred to as the utilisation of procedures and software and gathering relevant information from various online platforms which are aimed at the target audience. Online transactions are in various forms such as content, footprint, search queries, online transactions, etc.
Content
Content is king. Having a strong digital presence with solid content is one of the best ways to gather the attention of the target audience and beat the competition. The major aim of digital marketing professionals is to engage in high-quality content which is primarily SEO-friendly. This is why the digital marketing salary in India is high and always goes up.
SEO and SEM
One of the major skills to master in the field of digital marketing is SEO and SEM. Google's algorithm is continuously improving and evolving. It is important to put focus on the important keywords and various other techniques which help to master the SEO platform. The technical aspect of SEO and SEM is managed by the technical teams and this is why the digital marketing salary is high.
CRM
Digital marketing professionals should be able to monitor the customer experience which helps companies to understand and address the growing needs of their customers. Digital marketers are also supposed to involve various strategies which are helpful in developing strategies that maxmimises the customer experience.
Design skills
In the world of social media, it is very important to present the material in a creative format. The videos are taking over the internet because they seem to have a high conversion rate, engagement, and SEO rankings. There are various tools in place that allow marketers to develop creative content such as Canva, Photoshop, Adobe Creative Suite ( InDesign, Illustrator, etc.)
In-demand Digital Marketing Skills
Conclusion
These numbers above are not set in stone. The real influencer of your salary is the skills you have, the mastery you have attained over them, and how quickly you grow and make the company grow as well.
If you wish to become a Digital Marketer Checkout upGrad's PG Certification in Digital Marketing & Communication. The best thing about the digital marketing function is that you do not need to be working in the office. Sitting at home, or at a convenient location, you can earn the same amount – if not more – than a digital marketing office-going employee does. Ready to snag a digital marketing job of your dreams?
Popular Digital Marketing Blogs