The importance of digital marketing is highlighted by the fact that India's digital ad market is predicted to touch a whopping US$ 35 billion by 2030. The customer of today has moved from the traditional space to the screen of a smart device. To remain relevant to this audience, it is no longer optional but mandatory to invest in adequately digital marketing efforts. Here are some more reasons why digital marketing is just as important as traditional marketing and how it can help you up your marketing game:
Top 10 Importance of Digital Marketing
1. Customers are spending their time online
In 2021, customers are spending much of their waking time online. The time spent online is spread across search engines, social networking sites, etc. According to a study conducted by Blue Nile Research, approximately 81 percent of customers rely on search and brand websites to compare products before making a purchase decision. Investing in digital marketing enables you to tap audiences regardless of where they are in the buying pipeline and convert them into potential customers.
2. Helps in being easily found
According to a study, approximately 17 per cent of customers rely on social media, blogs, etc. to explore newer products and services. Creating a website and developing a strong social media presence is the first step in building your online presence felt in a cut-throat environment.
Learn digital marketing courses online from the World's top Universities. Earn Masters, Executive PGP, or Advanced Certificate Programs to fast-track your career.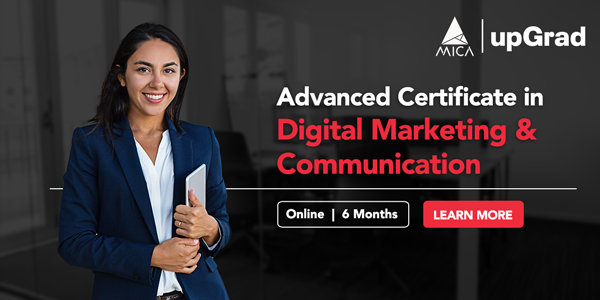 3.Affordable marketing
The importance of online marketing is highlighted by its affordability. It guarantees your money's worth for every rupee spent making it an affordable option even for companies that do not have a generous marketing budget. Developing and advertising digital content like social media content, SEO-content can generate very high traffic and hence, is far more reasonable and value for money as compared to conventional marketing channels like television, radio, OOH etc.
4.Facilitates easy monitoring
Accurate feedback on the performance of the campaigns provides marketers with all the information required to know whether the campaign is on the track to achieving the goals set for the campaign. The wide number of analytics tools in the market enables marketers to track the performance of the campaign in real-time.
Real-time data enables marketers to take corrective action to ensure that the campaign is on track and the objectives of the campaign are met. Not sure about the right content for your campaign? Digital marketing tools allow you to try different permutations and combinations of ad content and allow you to shortlist the right fit for your requirements.
5. Better Targeting
Traditional marketing has its inherent challenges which allow you to target the audience you want to target only to a certain extent. Digital marketing offers marketers the advantage of sifting through large volumes of data to shortlist the specific chunk of audience they would like to target. This, in turn, enables you to target your audience with personalized advertisements that have higher chances of converting into results.
6. Customer Personalization
The importance of digital marketing for the success of a business cannot be undermined. According to a report published by a leading consulting firm, businesses that did not keep the interests of their customers at the forefront or portrayed disinterest in dealing with customers had to deal with customers switching companies which resulted in a loss of approximately $ 760 billion. Personalization of the customers digital experience conveys that you care for your customers and have their best interest in mind which will prevent them from switching to other providers.
7. Helps in ensuring a higher engagement
Approximately 4.2 billion people or 50+ per cent of the world's population use one or more types of social media as of 2021. This gives marketers a ready platform for brands to market their products and deal with customer queries promptly right where the customers are present. Customers tend to build an affinity with brands that are invested in their interests.
8. Helps in serving customers with content that is relevant to them
Relevant, well-curated content is a strong SEO factor and helps in attracting relevant users to your website organically. Organic and content relevant to the customer has a higher power to convince customers to opt for your online offerings over their paid counterparts.
9. Provides smaller brands with a platform
Larger brands have the potential to throttle smaller brands when it comes to marketing due to larger and deeper pockets. This is where digital marketing steps in and can provide smaller brands with a level playing ground in the form of brand visibility provided it is done correctly. Therefore the importance of digital marketing for the success of a business, especially a small business, has become critical.
10. Enables interaction with mobile customers
According to data, approximately 50 per cent plus of worldwide data is generated through hand-held devices excluding tablets. However, a large chunk of all email campaigns aren't optimized for hand-held devices. Investing in mobile updates will help in targeting and converting this segment of the audience.
Best Digital Marketing Courses Online
If you wish to up your digital marketing game, pursuing the right program will go a long way in boosting the skills required to succeed in the competitive workplace.
Digital Marketing Free courses to Learn
The upGrad and MICA PG Certification in Digital Marketing & Communication course take on a holistic approach to digital marketing. By the time you finish with us, one thing is for sure – your horizon of knowledge will expand significantly and you'll learn to think and act like a true digital marketer. With so many perks and benefits, why should you go someplace else?