To understand the importance of effective communication, you need to know about the different types of communication. Broadly, these are: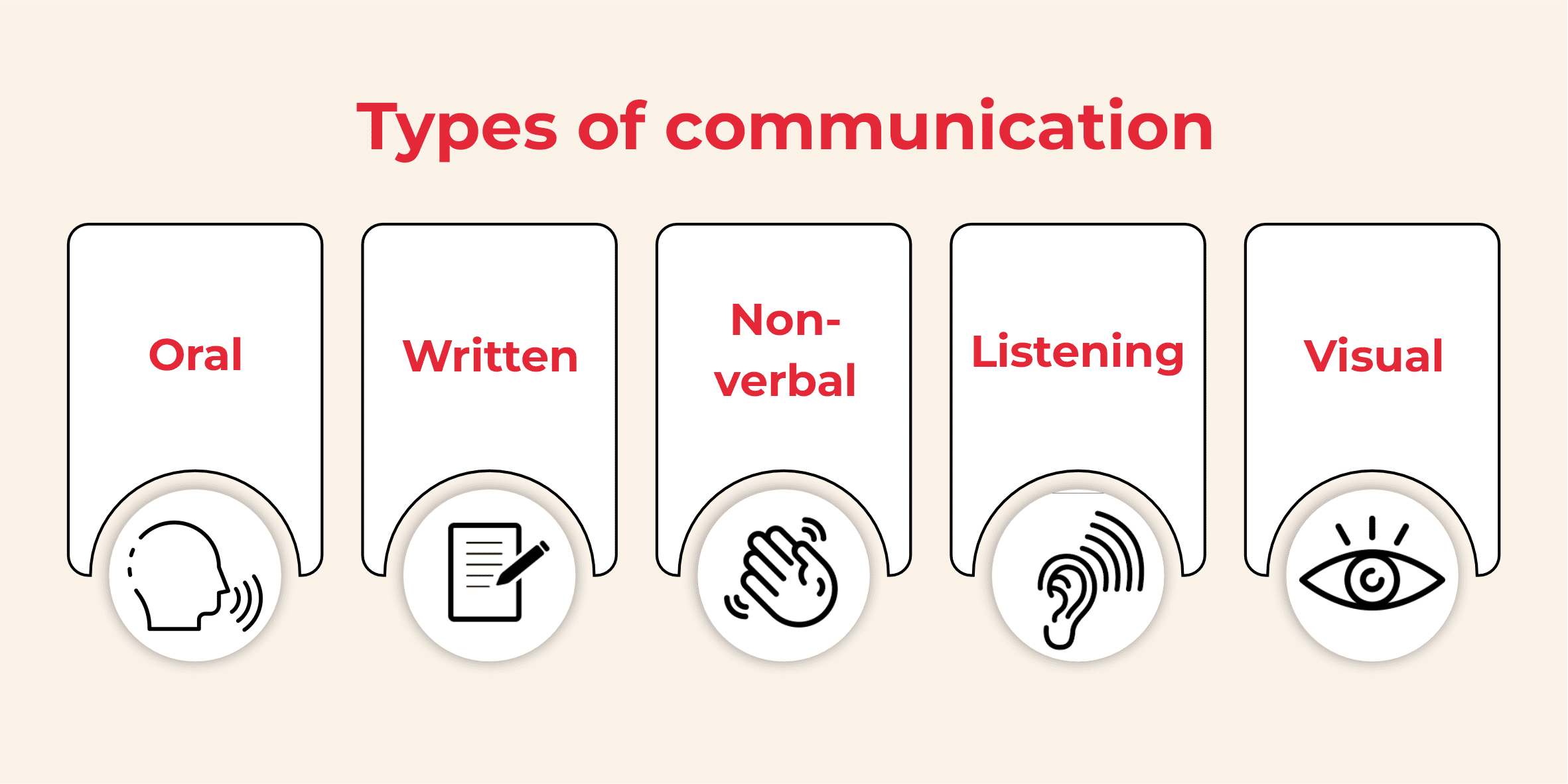 1. Oral communication
2. Written communication
3. Non-verbal communication
4. Listening
5. Visual Communication
Let's explore each type of communication in more detail.


1. Oral Communication
Oral or verbal communication involves communicating through the mouth using spoken words. In this case, individuals talk with each other, either face-to-face, through telephonic conversations or via digital platforms like Zoom and Skype. Different forms of oral communication include speeches, discussions, presentations, lectures, conferences, meetings and interviews.
While some forms of oral communication are informal, like chatting with a friend, others, like meetings and conferences, demand a more formal and serious demeanour. Regardless of the type, the fundamentals of oral communication include the speaker's choice of words and intonation to convey the intended message.
Advantages of oral communication
As one of the earliest forms of human interaction, the advantages of oral communication are:
Disadvantages of oral communication
The downsides of communicating orally are:
Oral communication is often informal and not as organised as written communication, making it less authentic in certain situations.

The lack of organisation and informal nature of oral communication makes it an unreliable mode of communication for many business scenarios.

Effective oral communication requires effective conversation skills on the part of the speaker.

The listeners or audience must be highly attentive to accurately decode the message conveyed orally.

Although oral communication saves time in informal and trivial situations, lengthy speeches and lectures in a formal meeting can be monotonous and unproductive.
2. Written Communication
Written communication involves exchanging any form of written message between or among individuals. While it is still a form of verbal communication, written communication finds expression in written or typed words. Examples of written communication include books, magazines, text messages, e-mails, letters, memorandums, blog posts, reports, proposals, job descriptions, contracts, manuals, bulletins, brochures, postcards and more.
Written communication is the backbone of the business world. When done correctly, written communication leaves a lasting impression on the audience and is one of the most effective communication strategies. Impactful written communication involves careful selection of words, proper sentence construction and the organisation of sentences into meaningful information or message.
Advantages of written communication
Let's look at the advantages of effective written communication:
Written communication is generally permanent and extremely useful in maintaining records.

Written communication provides a ready repertoire of valid references and records.

Written communication is more straightforward than oral communication.

Written communication is more definite, unlike oral communication, where the speaker may refuse to acknowledge their speech or take back their words.

The receiver of written communication generally gets sufficient time to think, act and respond.
Disadvantages of written communication
The limitations of written communication include:
Written communication is time-consuming since significant effort needs to be given to compose a message and send it to the appropriate recipient.

Feedback is not instant in written communication, making written communication unsuitable for emergencies.

Effective written communication requires competence in the language, vocabulary and grammar.

Written communication is somewhat rigid since changes cannot be made easily.

Written communication is not as effective in maintaining confidentiality as oral, interpersonal communication.
3. Non-verbal Communication
Spoken and written words are not the only ways to communicate with others. Cues and gestures such as facial expressions, body language, postures, tone of voice, eye contact and even the way you dress include the different non-verbal ways of communication. Thus, non-verbal communication involves sending and receiving messages without using spoken or written words.
Judee Burgoon (1994) identifies seven types of non-verbal communication: kinesics or body movements, paralanguage, the physical environment and its objects, personal appearance, time, haptics or touch and personal space.
Advantages of non-verbal communication
The advantages of communicating non-verbally include:
Non-verbal cues and gestures complement verbal communication by adding meaning to them.

Non-verbal gestures are effective for communicating with illiterate or specially-abled people.

Non-verbal cues like signs, symbols and hand gestures help express messages faster than oral or written communication.

Non-verbal communication can be more effective than verbal communication since recipients tend to pay more attention to body language, facial expressions and other non-verbal cues.

Non-verbal communication provides more clarity, especially if you are communicating with someone who does not speak your language.
Disadvantages of non-verbal communication
The downsides of communicating non-verbally include the following:
Non-verbal communication is often vague and fails to convey the intended meaning of messages.

The meaning of hand gestures may vary across cultures, causing misinterpretations and misunderstandings.

Non-verbal communication is ineffective for lengthy conversations where one must maintain the flow of dialogue for a prolonged period.

A significant limitation of non-verbal communication is information distortion.

Non-verbal communication is informal and not well-structured, making it unsuitable for formal situations like business meetings.
4. Listening
Mastering the art of listening is an effective communication skill, both in the workplace and in your personal life. Active listening means you give your full attention to the speaker, spend effort understanding what they are saying, reflect, respond appropriately and retain the information for later. Thus, it ensures active participation and engagement of both the speaker and the audience in the conversation.
Active listening skill is something most of us lack with our fast-paced life leaving little to no time and energy to listen patiently. However, active listening techniques like paying close attention to the speaker's non-verbal cues and avoiding interruptions like fidgeting or asking irrelevant questions are effective ways to build your active listening skillset.
Advantages of active listening
Active listening builds trust and nurtures strong relationships, both in your personal life and in the workplace.

Active listening leads to better information retention and helps the listener get a deeper understanding of the subject matter of the conversation.

Active listening is highly effective in conflict resolution. It helps you think from the other person's perspective and encourages you to recognise other people's feelings.

Listening actively makes you more likely to identify problems and ask the speaker for clarification.

Active listening in the workplace gives managers a better understanding of the needs and aspirations of employees and facilitates effective communication with superiors and subordinates.
Disadvantages of active listening
While active listening has advantages, there are limitations too. These include:
One of the biggest challenges to active listening is the disruption the speaker faces while talking or delivering a speech and causing the listeners' attention to breaking.

The listener may get overwhelmed with information and fail to sustain their attention.

Distractions like loud noise or absent-mindedness are significant barriers to active listening.

The listener may be unable to process information or pay attention if the speaker speaks too fast, complicates the speech or does not have good speaking skills.
5. Visual Communication
The fifth type of communication is visual communication, which refers to using visual elements to convey a message. Since visual communication aims to attract attention and educate the audience, effective visual communication must be informative and eye-catching.
Visual communication media typically include infographics, charts, images, animated GIFs, graphs, videos and similar types of content. Regardless of the medium, visual communication effectively conveys relevant data, information and statistics quickly and efficiently. Visual communication includes conferences, presentations, websites, and social media posts.
Advantages of visual communication
The benefits of visual communication are as follows:
Visual communication helps in more effective information delivery than verbal explanation.

Communicating a piece of information visually helps the audience better retention and understanding.

Visual communication is more engaging and attention-grabbing compared to an oral speech or a piece of a written document.

Visual elements like images and videos are better at evoking an emotional response from the audience than a set of spoken or written words.

Using catchy and appealing visual aids like an interesting product video helps brands reach their target market more effectively while reinforcing the brand's image and credibility.
Disadvantages of visual communication
The pointers below highlight the limitations of visual communication:
Visual communication is ineffective for presenting specific topics or subject matter, such as plans, policies, rules and recommendations.

Since visual communication tends to be precise and to the point, it is unsuitable for displaying detailed information.

Visual communication can be expensive, mainly because of the media or channels involved.

Accuracy is essential in visual communication, particularly in charts, graphs and tables. Lack of accuracy leads to the spread of misinformation and incorrect data.