Most of us get to know about new businesses, offers, and deals through emails, advertisements, social media, SMS, and other digital mediums. Since we spend most of our time on the web throughout the day, any eye-catchy item on the internet or our devices makes sure to gain our attention.
Wouldn't it be nice if these eye-catchy elements help your company gain more profit and help expand your business? Incidentally, 75% of consumers took a new interest in digital activities and 21% of those made an online purchase for the first time.
Digital marketing and its strategies help companies in developing their business on digital platforms. Let us dig deeper into this subject through this article and know what is digital marketing strategy.
What is Digital Marketing?
Before we talk about digital marketing, let us find out what is traditional marketing? We all know that traditional marketing means promoting or advertising a brand to connect it to its potential customers offline.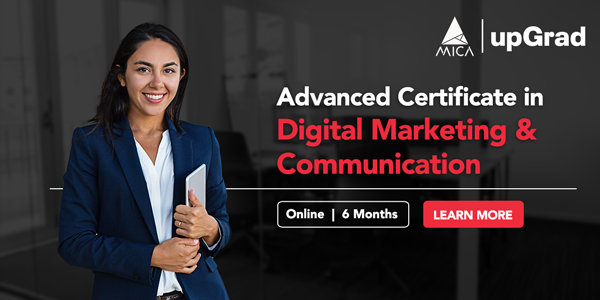 When the mode of marketing is through the internet or different forms of digital communication, then it is known as Digital Marketing. This form of marketing includes advertisements on websites and social media, emails, SMS, Multimedia messages, online brochures, e-pamphlets, etc.
The current digital marketing includes a vast network of channels into which marketers must infuse their brands. Also, advertising on online platforms is far more sophisticated than the channels themselves. Marketers must go deep into today's vast and complicated cross-channel world to identify methods that help create an effect by engaging customers.
To understand the actual potential of digital marketing, you have to increase your brand's recognition, establish yourself as an industry expert, and position your company amongst the top choices in the customer's minds.
Learn digital marketing courses online from the World's top Universities. Earn Masters, Executive PGP, or Advanced Certificate Programs to fast-track your career.
Digital Marketing Free courses to Learn
What is Digital Marketing Strategy?
As the name suggests, the strategies that help businesses meet their digital marketing goals are known as Digital Marketing strategies. In other words, the plan-of-action of a company to reach most of its potential consumers through digital platforms is known as Digital Marketing Strategy.
Channels in Digital marketing are the digital platforms through which businesses connect to their customers. The strategies specify how they will meet their channel lead and sales objectives, as well as how they will manage their budgets for purchase, conversion, maintenance, growth, and service.
Digital Marketing Strategies also focus on how to communicate the benefits of using this channel to boost the brand, as well as how to prioritize the consumers targeted through the medium and the items offered through the channel. An efficient digital marketing plan can assist you in making the best decisions for your business's development. A strategy process model provides a structure for following to guarantee that all critical activities of strategy formulation and execution are included.
Best Digital Marketing Courses Online
How to create a Digital Marketing Strategy?
Creating a digital marketing strategy can be a bit intimidating, as you'll be working on something which needs to garner the attention of different types of customers. You'll have to do a lot of research, try to do various experiments, find out techniques and continuously develop to find the best and most appropriate marketing strategy for your business. In order to make the process clearer and simpler, given below is a 4-step method that you can opt to find the digital marketing strategy which suits your company.
Step 1: Understand your customers and market by doing a thorough research
The first step in finding your marketing plan is to know your targeted audience. Since the customers are the ones the whole strategy aims at, you need to do your best to derive a plan that suits a wide range of customers. You can segregate your customers according to different data points such as age, gender, education, financial condition, purchasing power, geographical location, etc.
Once you analyze your audience, the next part is to find which type of market you're working in. You'll have to determine whether your company is a mainstream one, whether it is working in a developed or developing market, and who your major contenders are. Once you find the answers to these questions, you'll be completed with the first and foundation step of your strategy making.
Step 2: Set your goals
Once you are done with your research, find out what your expectations are from your digital marketing plan. This step of your strategy-making includes setting up your goals. You can include the number of people you are expecting to reach out to, how much profit you will be expecting, how much material you will be selling, and much more with the help of the plan.
Setting clear goals means that your digital marketing plan is simple to track and change. You may also create KPIs for your business. Key performance indicators, or KPIs, are quantitative performance assessments over time for a specified goal. Set objectives that allow for long-term experimentation and growth by establishing clear, quantifiable goals, identifying the KPIs that matter to your brand, and setting goals that will enable long-term experimentation and development.
Step 3: Build your Digital Marketing Strategy
If you're done with the above two steps, it's time to create and implement your digital marketing plan. The most challenging part here is deciding which digital marketing channel to concentrate on. To find the answer to this question, you can start advertising with the help of small advertising campaigns on different platforms.
This will help you in finding out the channel which will suit your company. You can also depend on digital marketing websites that help to create plans and execute them. To engage with customers, you don't need a large advertising expenditure.
A lot of people are also opting for Content marketing. This gives rise to the question of what is content marketing in digital marketing? Content Marketing is the form of marketing where businesses carry out their marketing with the help of content such as blogs, articles, videos, podcasts, etc.
This form of marketing uses SEOs in its content. All you have to do now is develop genuinely helpful marketing content. You can design very effective marketing efforts if you can accomplish that.
Step 4: Development
The last step to your strategy making is development. Leave no stones of development as in the long-term growth, and the data points will change. Changing data points will lead to evolving audiences and markets, so the digital marketing plan must be redeveloped to match the current audience.
Setting specific, measurable goals and keeping track of your progress will make this process of development much easier. You'll uncover components that work and components that don't work with each new extension of your digital marketing approach. So, you'll have to continue improving your strategy in order to get the best results.
Zomato, a popular food-delivery platform, has a solid digital marketing strategy in place. Be it their social media posts, email newsletters, YouTube Ads, and even push notifications, they make sure that every piece of content they publish is relatable to their target audience and encourages them to place an order.
If you're interested in learning more about digital marketing, you can opt for the MBA (Global) with Specialisation in Digital Marketing offered by Australia's top Business School, Deakin Business School (DBS), in collaboration with upGrad. The course provides 1:1 Mentorship with industry experts, career support, alumni status, and much more.
An effective digital marketing strategy will assist you in making the best decisions for your business's success. A strategy process model provides a framework for following to ensure that all key strategy development and implementation activities are included.
The upGrad and MICA PG Certification in Digital Marketing & Communication course take on a holistic approach to digital marketing. By the time you finish with us, one thing is for sure – your horizon of knowledge will expand significantly and you'll learn to think and act like a true digital marketer. With so many perks and benefits, why should you go someplace else?
Popular Digital Marketing Blogs
An evaluation of your digital marketing plan should include a check to ensure that all of your skills are in place to assist your company in managing all of its digital touchpoints. Your strategy aims to lay out the steps you'll take to reach your goal over time, and as long as it does that, you've nailed the fundamentals of developing a digital strategy.