No matter which domain your brand belongs to, it's because of effective digital marketing that has made it seen and heard more online. As the market is getting updated with newer technology in each passing moment, the future of digital marketiang seems complete with more ferocious strategy making and execution. Today, in 2022, we are already observing a paradigm shift in digital marketing statistics representing the efficiency of data-backed solutions and its implementation. 
In the past decade, digital marketing has evolved from a luxury to essential for brands, as these govern your brand's credibility and value. The marketers have gone from following pre-written protocols to developing target-driven strategies that can drive more conversions for your brand.
Brands have observed substantial self-growth in learning about their customers and curating the customer-centric approach. If such a trend continues, the future of digital marketing would soon be entirely technology-driven and focussed on building lasting customer-brand relationships. If you are a beginner in digital marketing and want to gain expertise, check out our digital marketing programs from top universities. 
Let's have a look into Digital Darwinism that can go a long way in defining the course of digital marketing from here.
Role of Artificial Intelligence
Already comprising a significant part in digital marketing by helping in the in-depth analysis of large volumes of datasets, identify focus areas, and more Artificial Intelligence has helped in profound ways for marketers to learn from these precious insights. The future of digital marketing is an amalgamation of Artificial Intelligence-led solutions and data science that would enable brands to make the most of the content-aware ecosystem. 
They are used across several operations for its voice and face recognition, digital assistants, especially by brands like Netflix and Amazon. A self-sufficient ecosystem in itself, marketers need to transform their approach and take sincerely from analyzing customer behavior. AI also helps in understanding the viable environment for higher, personalized shopping experiences.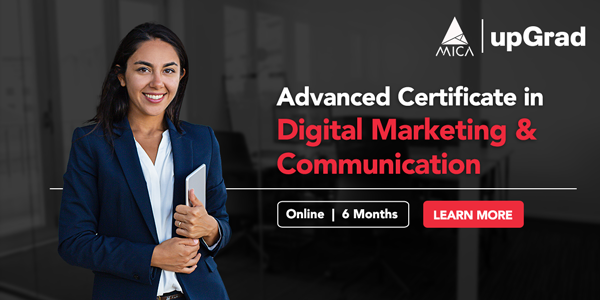 As Artificial Intelligence and marketing come closer, there would be no specific job titles for brands as they can call individuals trained in both a Marketing Intelligence Manager and something similar. The scope of their tasks would increase to particular tech skills and can come with a cross-level specialization and being adept in multiple technologies and automation platforms. 
Digital Assistants would no longer be optional
As with changing digital marketing interfaces, there would be more than 1.6 billion users of virtual assistants by the end of 2020. Therefore, marketers and digital marketing strategies would have to undergo a significant transformation for such voice-based searches and optimize strategies accordingly. Also, it would help marketers understand patterns in their customer behavior and develop actionable solutions because of the use of AI in such devices. 
Embrace Instagram Marketing
With Facebook losing its popularity over the years, newer platforms like Instagram and TikTok would be the new hangout places for millennials and Gen Z, given its neat selling attribute. 
These would help brands to target different, newer demographics every day, thus increasing the overall customer engagement and more on these platforms. The metrics generated on these platforms would hold the utmost importance as these will be limited to the platform's continually changing functionalities. 
Read more: Best ways to use Instagram for Business
Social Media would mean more
Social media would stir a lot of activities, given its full scope and popularity in general. In the future, social media would no longer be a place of networking between school friends and acquaintances; it would be a way for brands to establish a customer-centric relationship with their customers without ads or distractions. 
Even today, not all of us visit social networking websites to talk to people. Sometimes, we also follow individual channels/handles that post enriching videos that help us know more about the current technological or biological update. Such coming together of all elements has made Facebook, Instagram, etc. introduce 'explore' or 'search' categories that help us watch original content without having to move to the newsfeed.
Brands need to leverage such creative methods and come up with subtle advertising strategies to keep their audiences intrigued and come back for more, via insightful content.   
Check out: Social Media Project Ideas for Beginners
Automated Chatbots would be an essential commodity
With AI usage growing exponentially for brands across the world, the chatbots would get more self-aware and able to discern between customer inquiries that need human interference and the ones that can be assisted immediately on itself. Therefore, the customers would also be able to experience quick, seamless online support from their brands in the form of chatbots.
The win-win effect has led many brands to consider advanced chatbot programming for keeping up with their everyday customer requests and help deliver them a gratifying service, round-the-clock. 
In 2020,

according to 80% companies

, they'd prefer having chatbots installed because of their following properties:

24-hour operations without any distractions or huge investments.
Since a single chatbox can handle multiple inquiries at once and develop instant replies, companies don't require manual operation.
Overall, the chatbots would be the future concierge for all your customers and be able to exponentially enhance customer services. 
Read: Chatbot Architecture: Types, Function & User Interaction
Best Online Digital Marketing Courses
Value-based content would be preferred
The sheer importance of good, meaningful content would be sought-after by customers and brands online; and therefore in the future of digital marketing, smarter content development would be crucial for everyone. As Google gets smarter with each algorithm update, brands need to be more aware of the content they put out as it would define their visibility and conversions. 
Also Read: Digital Marketing Tutorial
Customers, in general, would incline more towards custom-made content preferably emailers, smaller blogs, videos that deliver crisp, engaging data about their requirements as well as enrich them in the process. Google would also be closely observing and analyzing the accuracy and utility of your website like a faster loading page, relevant links in order to place it on the Search Ranking Page Results (SERP).
Top Digital Marketing Skills
Conclusion
In the end, the future of digital marketing is abundant with being the moment with your customers across several mediums as the technological advancement would bring brands and customers closer than ever. Even for the coming generations, individuals would seek direct, prominent engagement instead of carnations, making the interaction between brands and customers more thriving and meaningful.
If you wish to explore and become an expert in Digital Marketing, check out MICA and upGrad's Advanced Certificate in Digital Marketing & Communication. Become an expert in social media marketing, content marketing, branding, marketing analysis and PR.
upGrad's Exclusive Digital Marketing Webinar for you –
What's new in Marketing?
Digital Marketing Free courses to Learn
Popular Digital Marketing Blogs
What are the top two trends in digital marketing in 2021?
Digital marketing is a dynamic and constantly evolving space. Trends in 2021 indicate that shoppable posts are on the rise. This is because users are not venturing outside of their homes as a result of the pandemic and are looking for easy and quick online shopping outlets as a substitute to fulfil their needs.

Gaining information via online channels has always been a top usage of the digital space. However, more and more users are not indulging in voice search instead of the conventional modes of typing and searching.
Has there been a change in the scope of digital marketing in the COVID world?
Digital marketing has seen a tremendous spike during the onslaught of the pandemic. India has become the second largest market for internet users pegging the estimated number to reach a whopping 666 million by 2023. An increase in data consumption as a result of several months of lockdown has shown businesses the larger scope of digital marketing channels to reach end consumers when they were cooped up at home.

Therefore, many businesses have capitalised on this opportunity in the COVID world to be more innovative and creative with their digital marketing efforts.
What are the best careers in digital marketing?
Apart from specialising as a digital marketer in general, there are several other core verticals in the domain that requires specialist knowledge. Top areas include Paid Ads, Search Engine Optimization, Social Media Marketing, Analytics, Web and Graphic designers and developers and more.
Ride the Digital Wave