Everyday life before 2020 seems like a blur today. Almost everything as we knew it changed overnight. For brands, the initial reaction was panic and despair. Most marketers wanted to stop spending on advertising. But as some brands would go on to prove, the internet will revolutionize marketing as we knew it in the post-pandemic era.
Brands have switched from offline to online marketing during the Covid19 pandemic. They set out engaging with audiences online and discerned the true potential of digital marketing.

The scope of digital marketing has widened. Marketers will reach out to customers through multiple platforms such as social media, websites, paid ads, influencers, virtual events, games, Artificial Intelligence (AI), Augmented Reality (AR), and Virtual Reality (VR).

Although demand for digital marketing will increase, there's a sizable shortage of professionals. It's time to get equipped with the necessary skills for a flourishing career in digital marketing.
Never before had our generation experienced disruption of life and technology this way. Covid-19 made us acutely aware of the difference between things we needed to survive and those we didn't.
Learn digital marketing courses online from the World's top Universities. Earn Masters, Executive PGP, or Advanced Certificate Programs to fast-track your career.
But the pandemic also brought unique opportunities and new perspectives. With lockdowns in effect, businesses were mounting up losses each day and thought they had no way out. They quickly cut down advertising budgets to save money. But some brands saw this as an opportunity to leap into action and use advertising as a tool to provide value for customers. And they did this through digital marketing.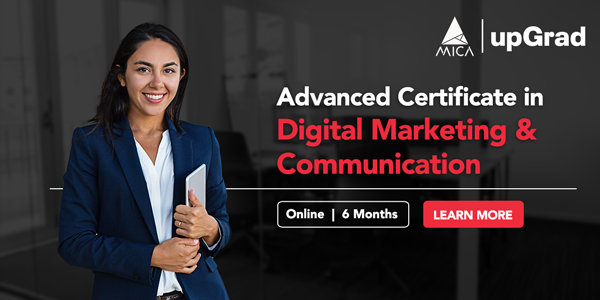 From Offline to Online
Before the pandemic, brands relied heavily on traditional forms of advertising. A study by eMarketer in 2019 revealed that online ads spend surpassed offline for the first time, but conventional advertising still had a significant chunk of the spending pie. This story changed during the pandemic. While budgets for traditional advertising dipped, those for digital marketing grew by leaps and bounds.
Source: World Advertising Research Centre
Why did brands switch?
With social distancing laws in place, people were locked inside their homes. The internet brought with it some respite and escapism. Social media spread timely information and trends to keep audiences busy, OTTs provided unlimited entertainment, video calling enabled work and education to continue in an undisrupted manner, and online shopping provided some much-needed retail therapy.
Brands realized that the pandemic was not the time to step back but forward. They set out engaging with audiences online and discerned the true potential of digital marketing.
Trends in Digital Marketing Post-Covid19
Coming out of the pandemic, customers will have different expectations that brands will have to be mindful of. These are some key post-pandemic trends:
Content delivery will be based on the need and value provided.

Constant observation of changing consumer behavior will be paramount.

Consumers will remember and trust brands who were there for them during the tough times. Staying connected is, therefore, crucial.

Innovation in business processes is more critical now than ever before.

Brands will have to establish multi-channel marketing strategies.

Social media accounts and websites will most likely be the primary touchpoint for brands.
Scope of Digital Marketing Post Covid-19
A multi-channel digital marketing strategy will be of foremost importance in the post-pandemic era. Brands will reach out to customers through multiple platforms such as social media, websites, paid ads, influencers, virtual events, games, etc.
Social Media

will be the principal facilitator of digital marketing and help brands reach millions of customers.

Organic & Paid Search

will drive traffic to websites. SEO will be one of the most important digital marketing strategies post-Covid19.

Email Marketing

will once again gain resonance among customers. Brands will reach out with offers, discounts, and information to stay connected.

Video Marketing

will be the most effective way to engage with customers. Viewing content is preferred over reading due to shorter attention spans.

Data Analytics & Cloud Technology

will enable marketers to make informed decisions and adopt customized strategies.

Artificial Intelligence

will find extensive usage to solve problems, provide entertainment and get queries answered.

Augmented & Virtual Reality

will be employed for a more thoughtful and safer buying experience.
upGrad's Exclusive Digital Marketing Webinar for you –
What's new in Marketing?
Best Digital Marketing Courses Online
Digital Marketing Jobs in demand post-Covid19
Although the digital marketing industry is growing exponentially, there's a sizable gap in skilled professionals to take on these roles. These jobs will be popular post the pandemic.
Social Media Marketer

Digital Media Marketer

SEO Strategist

Content Strategist

Web Developer

Data Analyst

AI Business Developer

AR or VR Developer
In-demand Digital Marketing Skills
Are you ready for Digital Marketing post-Covid19?
Now that you know everything about the future of digital marketing, it's time you equip yourself with the skills that are going to be in demand.
The Advanced Certificate in Digital Marketing and Communication course is offered by two education behemoths – MICA and upGrad. This course will prepare future digital marketers by equipping them with skills that are going to be in demand. If you want to be a part of the unprecedented digital transformation happening now, you can enroll in the course while you're working and learn while you earn.
Conclusion
Covid19 has changed consumer expectations. Today, they don't want to see marketers persuading them to purchase something that doesn't offer value. Brands are understanding this and incorporating the sentiment in their strategies.
Having taken a bite of the digital marketing fruit and realizing the potential it has in store, brands will continue investing in a tech ecosystem to keep the momentum moving. The future is technology, and now is the right time to become a part of this digital onset in marketing.
Digital Marketing Free courses to Learn
Popular Digital Marketing Blogs