While there are many search engines to choose from, Google ranks high in terms of being the search engine of choice. Hence, having a good ranking on Google matters to almost all businesses and pages. But, how can the rankings be made better? There are simple SEO tricks that will help the pages and the site organically attract traffic.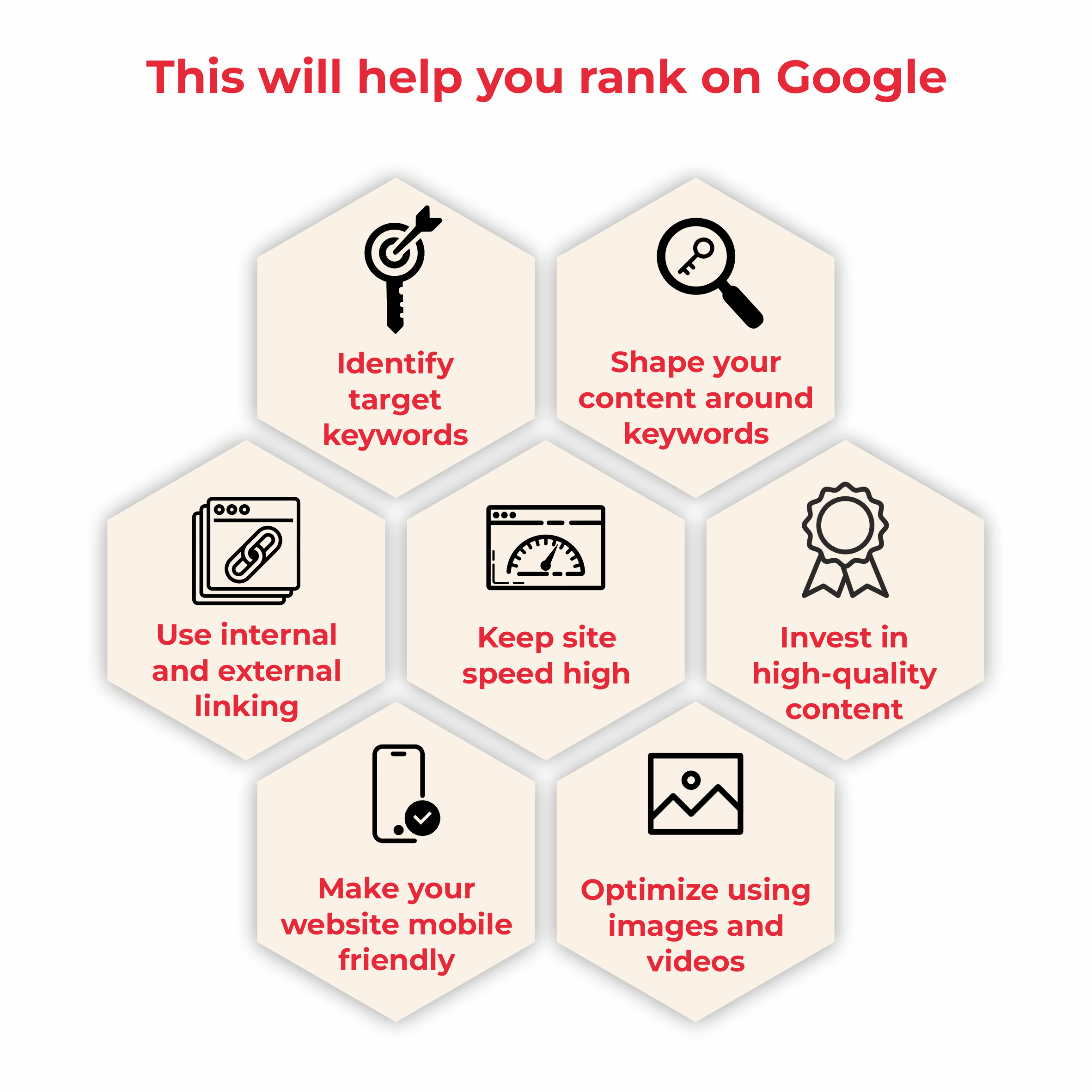 1. Identify Your Target Keywords


The first step toward implementing proper SEO is identifying the keywords. Target keywords help reach the target customers and readers. For this, you need to think like the audience and understand what they appreciate. Instead of having general keywords like 'best coffee shop' or 'roasted coffee beans', consider opting for 'popular coffee shop in (location name)' or 'how beans are roasted'. Since search engines are used mainly for queries, these keywords and phrases will be what the audience will think of when they are researching.


2. Craft Your Content With Your Keywords In Mind


The content should be catering to the keywords, not the other way round. In SEO, keywords are vital. Hence the content should be developed keeping the keywords as protagonists. Tips like mentioning the keyword within the first 150 words of the content, having one or two keywords in the meta description, and having a high keyword density without overstuffing will ensure the content ranks high.


3. Internal Linking


If your website offers products and blogs, you will gain higher with internal linking. People who are looking for specific products often want to research and read reviews. If you have a wellness and health company and write a blog about the benefits of a particular product, proving a link to purchase that product will make readers click and reach the product page. This is internal linking and this has greatly helped businesses to sell more products.


4. External Linking


Hyperlinks or external links are links to pages that are not from your own brand. Marketing strategists predominantly favor external linking. Many popular bloggers are requested to add links to websites that they endorse. So, a beauty blogger would talk about the benefits of sunscreens and then link certain products to their content. This linking helps the audience of that blogger to check out the product. This leads to the generation of leads that can later become sales.


5. Site Speed


The speed at which the page loads also affects the ranking of the site. If a page takes a long time to load due to factors like the presence of videos, images, and advertisements, then Google does not rank that page at the top. This is due to the fact that Google is developed to keep in mind the user experience and user needs. Focusing on factors like minimizing the use of Javascript and CSS, enabling compression, and will help the site speed become better and the page rank higher.


6. Social Signals


The terms like 'viral content' or 'internet sensation' are all examples of proper implementation of social signals. Content is sharable. When content is relatable, the content gets shared and more people forward the same. This sharing and collection of likes make the content rank high. Social signals help the search engine crawlers to collect data about SEO found on the page on the basis of its relevance. Someone wrote an article about cyberbullying and shared the link on social media. The content relevance would make that page be considered to be top-ranking when someone uses the keyword cyberbullying on any search engine.


7. Content, Content, Content!


Content is the key when generating revenue and business growth is priority. Keywords, linking, and site analytics, all become meaningless if the content is not up to the mark. While algorithms and artificial intelligence help with making the site rank on the basis of keywords, it is the content that draws a human being. When you cater to specific content with expert opinions, you draw in more leads. A person looking for ways to repair their wooden deck would want techniques and useful ways, not what a deck is and what wood to consider. This understanding and curating the content to stand out will help your page grow.


8. How to optimize your content


For a page to rank high, the content should be relevant and the on-page SEO to be top-notch. This begins with conducting proper research for relevant keywords, and the gaps in the content about that topic. Working on doing research for the same and curating an authoritative and relevant article will help the content to be considered by the crawling bots. With proper SEO techniques related to title tags, meta descriptions, and redirects, the content becomes optimized.


9. Make Sure That Your Website is Mobile-Friendly


As most of the content is read on mobile phone browsers, ensuring that the website is mobile-friendly draws more readers and organic traffic. If there are two sites that have articles about gardening tools but only one has optimized the site for mobile browsers, then that site will be preferred. Even if the content found on the other page is more relevant, if it is not web browser friendly, it will lose traffic.


10. Optimize Images and Videos


Images and videos add more definition to content. If a topic is about trends and the content is heavy on statistics, then pie charts and graphs will make the content more user-friendly.