Instructors
Learn from India's leading industry professionals and IMT Ghaziabad faculty
Prof. Puja Aggarwal Gulatij
Program Director | Assoc. Professor Finance
Prof. Abhishek S
Associate Professor, IMT Ghaziabad
Prof. Harvinder Singh
Professor Marketing, IMT Ghaziabad
Dr. Richa
Asst. Professor, IMT Ghaziabad
Anirudh Mendiratta
Head Of Operations, Cars 24
Sunil Bharadwaj
Deputy General Manager - Strategy and Supply Chain, Raymond
Shibani Belwalkar
Leadership Coach and Visiting Faculty
Santanu Roy
IMT Professor
Admission Process
There are 3 simple steps in the Admission Process which is detailed below:

Step 1: Application and Document Submission
Apply on upGrad.com and submit your documents.

Step 2: Shortlisting basis overall performance
Our admissions committee will review your profile. Upon qualifying, an offer letter will be sent to you.

Step 3: Enrollment for Access to Prep Content
Make a quick block payment of INR 25,000 to reserve your seat and receive immediate access to the prep content and begin your upGrad journey. Complete balance payment with assistance from our loan partners where required.
Online Program Fee - 1st Year
INR 2,75,000 (incl. of all taxes)
View Plans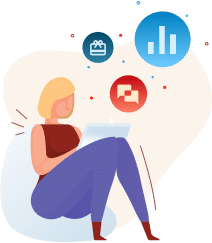 Refer someone you know and receive Flipkart vouchers worth INR 10,000!*
*Referral offer is valid only on the MBS in Entrepreneurship and Marketing