Accreditations
Note that GGU is a member of AALS, not accredited.
Admission Process
There are 4 simple steps in the Admission Process which is detailed below:

Step 1: Complete Application
Complete your application and submit the required details. The Admissions Committee will then review your application - which include your work experience & educational background.

Step 2: Apply for the Scholarship
Send in your SOP, resume, and 3 references to scholarships@goldengateuniversity.com answering "Explain your motivation to joining this program?" and "How do you think the GGU & SF experience will benefit your career?"

Step 3: Get Shortlisted & Receive the Offer Letter
Upon qualifying, an Offer Letter will be sent to you confirming your admission to the course.

Step 4: Block Your Seat
Block your seat with by paying a deposit amount. Begin your journey with Golden Gate University.
Golden Gate University Alumni Work At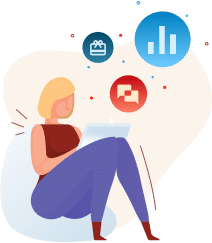 Refer someone you know and receive benefits upto INR 3,000!*
*Referral offer is valid only on the Master of Science in Buusiness Analytics from Golden Gate University.