'Evolution' has been and will always be a mammoth term to properly describe. This is especially true in the case of Digital evolution. So many things have happened in such a short span of time, that even Darwin would be confused! If you sit quietly and think about how digital evolution actually happened, you would be really confused about where to start! Let's break up this evolution into spans of time to understand it.
Just Google It!
The Digital era, if to be considered in a proper way, has started with the advent of Google. Though there were early search engines such as Yahoo!, InfoSeek, AltaVista, Lycos, WebCrawler and others which had made significant strides in the digital evolution of search, the golden years didn't start until Google launched in 1998.

With the birth of today's most popular search engine and development of tools like AdWords in 2000 and content targeting services in 2003, everything changed. After that, search engines started using advanced ranking algorithms and browsing online became more personal. The impact this had on business is immense. Businesses were able to target their buyers and develop strategies based on the search patterns, which led to a whole new way of selling and communicating.
3 Must-have SEO Tools to Explode your Ranks
Social Media, The Colossal Giant
Mark Zuckerberg and his Harvard roommates didn't even know in 2004 that their colossal giant called Facebook would dawn a new era in digital marketing! Social media stopped being a way to just stay connected with friends and started becoming a way for brands to connect with their customers, a place for consumers to lodge complaints, spread news, shop or even influence other shoppers!
Businesses took notice of this and online reputation management became more important overnight. Today, with other social media handles such as Twitter, YouTube, Instagram and Pinterest, with billions of users, targeted advertising and a digital landscape that never sleeps, social media has become one of the most vital parts of any marketing strategy.
SEO Grew
By 2004, SEO had become an essential marketing tool used on a global scale. In the early days, techniques like keyword stuffing, article submissions and link spamming were recommended. But these days SEO is less of a loner and more of an essential cog in a greater machine powered by other strategies and channels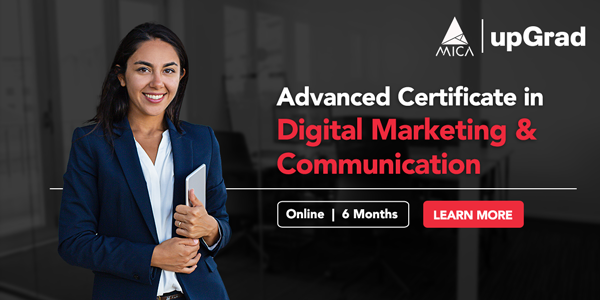 Best Digital Marketing Courses Online
Digital PR!
Since the digital evolution, PR has also broadened its focus. Today a digital PR specialist can find out everything they need to know about a contact before even making a pitch. By working with SEO research and trends, Digital PRs are able to back all of their decisions with data, leading to better targeting and more quantifiable results.
How to Build your SEO Strategy
And just like all good things, this is not where it stops, in fact, this is just a beginning. Digital Marketing is evolving at a rapid pace thanks to the ever-increasing competition and staying ahead means taking it head-on. So, what does the future look like to you?
Learn digital marketing courses online from the World's top Universities. Earn Masters, Executive PGP, or Advanced Certificate Programs to fast-track your career.
Timeline of the digital marketing evolution
The 90s
Archie was the first search engine that debuted in the early 1990s. The birth of SEOs quickly came into the picture. This has been the history and evolution of digital marketing.
The generation of millennials
Various new sites were launched in the 2000s when the economy was recovering from the boom. It was the time when LinkedIn (2002), MySpace (2003), WordPress (2003) and Facebook (2004) were born. Then in the early 2000s, came the text messaging era. This was a significant step in the evolution of digital marketing.
The era of mobile 
The latter part of the decade saw marketing and sales happening using digital media, and the culture of mobile phone apps expanded with the presence of WhatsApp, Facebook, and Instagram. This is how the evolution of digital marketing happened.
Modern times
In today's times, most exchanges and activities happen via digital media. The digital marketing and advertising industry is valued at around 200 billion dollars. The rise of influencers and bloggers has amounted to a big industry, which is likely to grow at a rapid pace. This is how the evolution of digital marketing from the traditional to the modern era has come into place.
Now that we have discussed the digital marketing evolution let's discuss the 5Ds of digital marketing-
Digital Devices

Digital Content Platforms

Digital Data

Digital Media 

Digital Technology 
In-demand Digital Marketing Skills
upGrad's Exclusive Digital Marketing Webinar for you –
What's new in Marketing?
Digital Marketing Free courses to Learn
Popular Digital Marketing Blogs
Why is digital marketing the new norm?
HubSpot says, 'Marketing has always been about connecting with your audience in the right place and at the right time. Today, that means you need to meet them where they are already spending time: on the internet.'

The vastness of the internet allows any individual or business, be it a company like Amazon or your neighbourhood brick and mortar stores, to employ digital marketing techniques to promote their products and services to their target audience. Undoubtedly, this answers the question of why the adoption of digital marketing is growing at a phenomenal pace.
How do you know that your audience is online?
With access to smartphones, internet penetration in India is increasing too. Latest statistics report that Internet users in India are estimated to rise by a whopping 40% by 2023 with an expected subscriber base of 835 million. This is primarily due to the doubling the number of smartphone users between 650 million and 700 million by 2023.

As more and more of your potential consumers log in and spend hours online, businesses too need to organize their marketing tactics by implementing successful digital marketing campaigns to attract their attention.
How does digital marketing work?
To be able to make a decision on which digital channels to employ to promote their products or services, business owners first need to understand how digital marketing works. This can only happen once you have a good grasp of the role of each individual vertical of digital marketing and how they can work together to help you achieve your overall business goals.
What are the major principles of digital marketing?
The major principles of digital marketing are Initiate, Integrate, and Iterate.
What are the levels of digital transformation?
The levels of digital transformation are Business Process Transformation, Business Model Transformation, Domain Transformation, Cultural Transformation, and Cloud Transformation.
What are the C's of digital marketing?
The C's of digital marketing are Content, Correct Channels, and Consistency.
Ride the Digital Wave