The drastic rise of social media is undoubtedly one of the most crucial landmark revolutions of the 21st century. From being merely a platform connecting people worldwide, social media is now an essential business tool that you can no longer ignore. Social media channels like Facebook, Instagram, Twitter, and LinkedIn play a vital role in connecting brands to their target audience, build brand awareness, and create customer-brand engagement.
Social media allows brands to harness the potential of one-to-one relationships while also leveraging the power of one-to-many. With social media, businesses can use highly targeted approaches to reach their prospects and customers in innovative ways directly, that too, on multiple platforms.
And that's not all – social media platforms have empowered customers like never before. Today, customers can voice their honest opinions, promote/demote products, and choose when and where they want to interact with brands. According to Statista, in 2022, around 3.6 billion people worldwide use social media channels, and this figure is expected to grow to 4.41 billion by 2025!
This stat only proves that social media is omnipresent in the digital space and will continue to hold a prominent position in the marketing world for years to come. As an increasing number of businesses incorporate social media into their marketing strategy, the demand for skilled and qualified social media experts is skyrocketing. Learn more about how social media marketing works.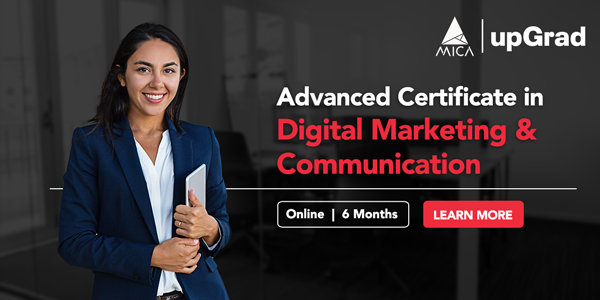 So, if you were thinking about enrolling in a social media marketing course, now's the time!
Why Learn Social Media Marketing?
Given that social media is a potent and influential tool in the digital marketing domain, it makes sense to acquire social media marketing skills. Here are five reasons to learn social media marketing:
Identify your target market and audience – By collecting relevant demographic data (age, gender, location, interests, pain points, etc.) through social media channels, you can identify your product's target market. Not just that, you can also customize your marketing campaigns and strategies according to the collected data.
Create brand awareness – With social media marketing, you can leverage a vast collection of rich media formats like images, GIFs, video, and audio to attract potential customers' attention at the right time. Social media marketing is all about building and extending your brand reach and marketing your product in ways that resonate best with your target audience.
Spark a conversation around your brand – Unlike traditional media, social media channels allow you to converse with your prospects and customers, imparting the much-needed human touch to marketing. You can create engaging social media posts, blogs, videos, etc., to start up a conversation about your brand in the form of likes, shares, comments, and mentions.
Drive more traffic to your site – When used right, social media marketing tactics can drive an increasing volume of traffic to your site and help improve the site's rankings and search engine visibility. This makes it easier for people to find you and visit your website. Naturally, you gain more quality leads that eventually convert into customers.
Reduce marketing costs – One of the greatest benefits of social media marketing is that it costs significantly lower than conventional marketing methods like print, billboards, TV ads, etc. With the smart and appropriate use of social media marketing techniques, you can build a loyal customer base who'll act as influencers for your brand, further spreading word of mouth about your products.
Social media skills are immediately applicable – The best aspect of learning social media marketing is that you can start applying and experimenting with them during the learning process itself. Social media skills promise immediate results and are applicable across many industries, which makes it quite versatile.
upGrad's Exclusive Digital Marketing Webinar for you –
Does B2B Company needs Brand Focus?
Who can benefit from a social media marketing course?
Social media marketing courses are the perfect choice for:
1. Marketing professionals – If you are already involved in the marketing domain, you must upskill and upgrade your potential by acquiring social media skills. A social media marketing course will teach you in-depth about the social marketplace, how to build effective marketing strategies and campaigns, and how to track and analyze your marketing campaigns' performance.
2. Small business owners – Social media marketing can be a powerful tool for small businesses that are already constrained by area and budget. Small business owners can use free social media tools and analytics to craft innovative marketing plans to reach their target customers, attract new clients, promote products, and grow their business in a short span. Social media marketing makes it considerably easier to manage and track marketing efforts without incurring hefty marketing costs.
3. Social media aspirants – This goes without saying that if you are amazed by social media's power and want to learn how to make the best of it, social media marketing is the ideal way to go. Whether you are a new graduate or are looking for a new turn in your career, a social media marketing course can bring forth a host of exciting opportunities for you.
Must Read: 15 Social Media Marketing Techniques
Learn Social Media Marketing: The upGrad Advantage
Anyone who wishes to build a successful career in the field of social media marketing or is looking to boost their professional value must check out upGrad's free social media marketing course. This free, online social media marketing course is offered under upGrad's upStart-Priceless Learning initiative.
This free learning program aims to help aspirants learn the nitty-gritty of social media marketing and apply them in real-world scenarios. When you choose upGrad, you are sure to enjoy the numerous benefits that it extends to learners – one-on-one mentorship, live interaction sessions and lectures, industry-relevant content and learning resources, and a certificate of completion – all free of cost!
upGrad's social media marketing course is a four-week course that will cover two core aspects of marketing:
1. Fundamentals of Marketing
This module will inform you about the evolution of marketing and teach you how to create successful marketing strategies for business growth. Apart from this, you'll also learn the basics of Marketing Communication and Digital Marketing.
Also Read: How to build successful career in Social Media Marketing?
Best Digital Marketing Courses Online
2. Social Media Marketing
As the name suggests, this module exclusively focuses on teaching learners about social media marketing. It will help you understand the nuances of the social media landscape. You'll learn how to build and implement social media strategies, perform competitor research, track and monitor key metrics, create and run ads on social media platforms like Facebook, Instagram, etc.
Social media marketing is no rocket science – all you need is a willingness to start and the right guidance. At upGrad, learners can take advantage of being trained by top mentors and industry leaders, totally free of cost!
In-demand Digital Marketing Skills
What Job Roles Can You Pursue After a Social Media Marketing Course?
Once you earn certification from a social media marketing free online course, you will become eligible for the following job roles:
Social Media Coordinator
Pursuing a free social media marketing course is an ideal way to become a social media coordinator. A social media coordinator boosts customer engagement on social media platforms and company accounts. These coordinators conduct research on their target consumer base to create relevant and engaging content. Social media coordinators are also responsible for interacting with users who comment on company postings and profiles. They communicate and answer queries on the organization's behalf.
Social Media Specialist
A social media specialist collaborates with advertising, marketing, and content teams to generate social media postings for their target audience that include interesting text and graphics. These specialists perform market research as well as firm social media performance analysis to uncover marketing strengths and limitations. Social media specialists create strategies to boost marketing performance, including forming partnerships with social media influencers and other well-known content creators.
Brand Manager
A brand manager creates a brand image for a business, product, or individual via marketing and promotional initiatives. The use of social media is largely involved in creating a positive brand image. These managers assess a brand's objective in the context of its target demographic to make creative decisions that enhance customer engagement and brand exposure. To design creative approaches for building a consumer following, brand managers perform research on consumer habits, wants, and needs.
Digital Marketer
The online courses for social media marketing will also help you become an efficient digital marketer. Digital marketers focus on digital advertising in the form of press releases, ads, website design, social media posts, and more. These marketers are required to curate elaborate strategies after analyzing their target audience.
Moreover, they will have to constantly monitor the campaigns and improve them to increase customer engagement. Digital marketers are primarily responsible for shaping the brand image in front of the target market. Therefore, they often need to create proposals and reports for brand communication and concepts.
Content Curator
A content curator is in charge of researching and gathering text, photos, videos, and other visual content for scheduled posts related to the brand. These curators examine content trends and target consumer patterns to predict high-performing and engaging content that allows a firm to keep its present audience while obtaining new viewers. Content curators plan posts based on their research during ideal hours on various social media platforms and other digital platforms.
Social Media Manager
A social media manager implements the strategies developed by the team. Moreover, they are required to oversee the operations and performance of a business across different social media channels. They are also required to perform adequate research to develop strong social media campaigns.
They are responsible for aligning the identity of the brand with its social media strategies and campaigns. Additionally, social media managers are responsible for boosting traffic and maximizing engagement on different platforms.
How to Start
To join our machine learning online course free, follow these simple steps:
Choose the course you want to join
Register
All the courses present on our upStart page are available for free and don't require any monetary investment. These courses help you kickstart your learning journey and get acquainted with the fundamentals of such complicated subjects.
Sign up here to join our free machine learning course today.
If you have any questions or suggestions, please let us know through the comments. We'd love to hear from you.
If you want to learn more about digital marketing, and build a career, consider the upGrad and MICA PG Certification in Digital Marketing & Communication course take on a holistic approach to digital marketing. By the time you finish with us, one thing is for sure – your horizon of knowledge will expand significantly and you'll learn to think and act like a true digital marketer.
You can also check out upGrad and IIT-D Executive Management Programme in Strategic Innovation, Digital Marketing and Business Analytics . IIT Delhi is one of the top institutes in India and also one of the oldest IIT's and is always excelled in giving highly industry-relevant courses, Now IIT Delhi has partnered with upGrad to get these top IIT Delhi courses online.
With so many perks and benefits, why should you go someplace else?
Digital Marketing Free courses to Learn
Popular Digital Marketing Blogs