It's effortless. All you need to have is a little flair for writing and a little knowledge of Photoshop and your status has to be 'online' always. Simply put, on paper, this is what it takes to be a social media marketer. The popular perception is social media marketers spend their days just 'playing' on various social media marketing channels; quite in the same way, an individual scrolls through the endless newsfeeds of interesting information and engaging updates from their 'friends'. If you are a beginner in digital marketing, and want to gain expertise, check out our digital marketing online courses from top universities.
With the advent of social media and organisations aiming to build a robust online presence, the industry of digital marketing has seen a huge spike. The market is projected to expand at a CAGR of 17.6% from 2021 to 2026, reaching an estimated value of USD 807 billion (Source).
There are various reasons why marketing is a good career. One of the important reasons is how marketing allows brands to leverage their business by doing good marketing. Marketing aids the business in reaching its customers and give a personalised touch.
Another reason that makes marketing a good career is its highly rewarding nature. On average, a marketing manager earns 7.4 lakhs per annum (Source). This figure could vary, guided by various factors like location, skill sets, experience, type of company, etc.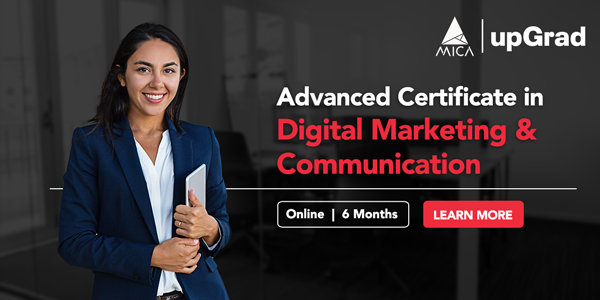 There are various job roles in the marketing field that the professional can choose to pursue. Some of those job roles are mentioned below-
Marketing Coordinator

Marketing Manager

Marketing Consultant

PR Manager

Social Media Marketer

Brand Manager

Marketing Specialist

Marketing Analyst

Chief Marketing Officer
These are some of the broader spectra of jobs mentioned above. There are various types of job roles available in marketing; for example, there are diverse types of social media marketing jobs available in the market, such as social media manager, social media marketing intern, PR Manager, SEO marketing, etc.
Professionals apprehensive about how to get into social media marketing must be clear of various skill sets which they should be well versed in. Some of those skills are mentioned below-
Communication

Creativity

Social media technical skills

Content creation

Flexibility

Project Management

Marketing

Networking
Best Digital Marketing Courses Online
Best Digital Marketing Courses Online
However, what if you are serious about it? What if you want to mint money out of social media marketing? The truth is, it is as complicated as any other career and is pretty demanding as well. No doubt, social media marketing is a growing field and offers endless opportunities, and the demand for social media marketers is also high. Nowadays almost anybody and everyone terming themselves as social media experts and competing for open spots. If you are thinking about building a career in social media marketing, you have to adhere to some rules.


Let's start with some common myths about social media marketing as a career:
Myth #1: Social media marketing is easy.
No, it's not. It requires creativity, attention to the detail, data analysis, proper research and above all patience.
Myth #2: Social media marketing is treated as an experiment.
No, it should not. It requires long-term strategic planning and focus.
Myth #3: Social media marketing is objective rather than subjective.
No, successful and engaging campaigns can't be built on instincts or sheer guesswork. Social media campaigns have to be data-driven and made on objective results.
upGrad's Exclusive Digital Marketing Webinar for you –
Consumer Segmentation from Demographics to Psychographics

Myth #4: Social media marketing doesn't require institutional knowledge.
Wrong. Every discipline has some basic rules, basic guidelines, which need to be learned. Social media marketing is no exception.
In-demand Digital Marketing Skills
In-demand Digital Marketing Skills
Now let's put the focus on the six steps to building a successful career in social media marketing:
1. Be A Voracious Learner
Social media marketing as an industry is incredibly fast-growing and extremely competitive. Every day you have to learn a new trick and unfold a new chapter. A social media marketer needs passion and desire to succeed.
Some tricks of learning social media marketing are strategy building, consistently posting, relatable content creation, etc. These types of marketing tricks would allow the marketer to create content that is engaging and can connect a bond with the user.
Unless and until the user cannot relate with the content you are producing, the traffic will remain slow. Moreover, no matter how good the content is, if there is no consistency in posting, it will not result in any good for the brand.
How Mobile Marketing Is Quickly Eclipsing Desktop Marketing?
2. Educate Yourself
The formal qualification is something which will build the sub-structure on which the superstructure of a successful social media marketing career can be formed. There are several short courses offered by universities and other institutes. You can educate yourself through online classes. Attending conferences, seminars and lectures dedicated to social media marketing can also be a great learning experience.
A strong social media reputation is not a fluke rather, there are always well-thought strategies behind it. Those technical skills would come in handy at the time of actual work as they are the foundation of any critically thought out ability.
Some of these technical skills are mentioned below-
SEO

SEM

Data Analysis

Content Creation

Strategic Thinking

Paid Search

Email Marketing

UX Designing

Video Marketing
What's the Best Type of Content to Drive Conversions?
3. Always Stay Updated
Be a regular visitor to major digital marketing sites and social media influencers. Remember, major players such as Google, Facebook and Twitter regularly tweak their paid advertising platforms and algorithms. So you have to be a thorough vigilante.
Digital Marketing Free courses to Learn
4. Learn the Industry Jargons
A social media marketer should know the digital terminology such as SEO, PPC and SEM to analyse different digital media campaigns and understand what strategies worked and what didn't.
For example, SEO stands for search engine optimisation. It is used to increase the inbound traffic to the website. Increasing traffic is not the only purpose; rather, improving both the quality and quantity of the traffic is the primary purpose.
SEM stands for search engine marketing. This digital marketing strategy is used to enhance the website's visibility on search. This visibility enhancement also has a technical name known as search engine result pages (SERPs).
PPC stands for pay-per-click. As the name suggests, advertisers must pay a fee each time their ads are clicked upon. They are buying the visitors to the website.
5. Be A Nerd
A career in social media marketing is often perceived to be quite glamorous, but the truth is, it should be more data-driven and technical. Basic knowledge of HTML and graphic design would help you stand out.
HTML is known to be the foundation of various marketing tools. It helps in integrating codes into marketing campaigns. It also aids in the customization of web pages, web layouts, tracking of user behavior, etc. Having technical expertise is also a robust way of how to get a job in social media marketing.
6. Build Your Brand
If you want to be successful in social media marketing, your online presence should be robust. If you're going to show your client that you are the right person to build their company's social media visibility, then you need to show that you have already built your brand.
Must-have Ingredients of Every Link Building Campaign
Engagement on different social media channels is now a top priority for most companies. They want to know how best to use Facebook, Twitter, LinkedIn and other sites to build their brand and gain market share. Social media, as a business tool, is a relatively recent development. So, the employers may struggle to find new employees with a proven track record. Also, that, in turn, will help professionals in this field with an edge. If you are serious enough to build a career in social media marketing, keep the pointers mentioned above in mind and utilise the opportunity that lies in front of you.
If you are curious to get into the world of digital marketing, check out MICA & upGrad's Advanced Certificate in Digital Marketing & Communication. Become an expert in email marketing, social media marketing, content marketing, branding, marketing analysis, and PR.
Popular Digital Marketing Blogs