It's effortless. All you need to have is a little flair for writing, a little knowledge of Photoshop and your status has to be 'online' always. Simply put, on paper, this is what it takes to be a social media marketer. The popular perception is, social media marketers spend their days just 'playing' on various social media marketing channels; quite, in the same way, an individual scroll through the endless newsfeeds of interesting information and engaging updates from their 'friends'. If you are a beginner in digital marketing marketing, and want to gain expertise, check out our digital marketing online courses from top universities. 
However, what if you are serious about it? What if you want to mint money out of social media marketing? The truth is, it is as complicated as any other career and is pretty demanding as well. No doubt, social media marketing is a growing field and offers endless opportunities, and the demand for social media marketers is also high. Nowadays almost anybody and everyone terming themselves as social media experts and competing for the open spots. If you are thinking about building a career in social media marketing, you have to adhere to some rules.


Let's start with some common myths about social media marketing as a career:
Myth #1: Social media marketing is easy.
No, it's not. It requires creativity, attention to the details, data analysis, proper research and above all patience.
Myth #2: Social media marketing is treated as an experiment.
No, it should not. It requires long-term strategic planning and focus.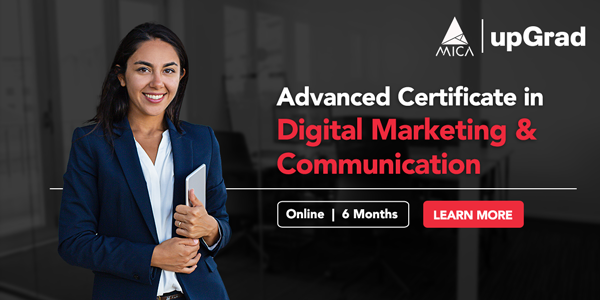 Myth #3: Social media marketing is objective rather than subjective.
No, successful and engaging campaigns can't be built on instincts or sheer guesswork. Social media campaigns have to be data driven and made on objective results.
Myth #4: Social media marketing doesn't require institutional knowledge.
Wrong. Every discipline has some basic rules, basic guidelines, which needs to be learned. Social media marketing is no exception.
How Mobile Marketing Is Quickly Eclipsing Desktop Marketing?
Now let's put the focus on the 6 steps to build a successful career in social media marketing:
1. Be A Voracious Learner
Social media marketing as an industry is incredibly fast growing and extremely competitive. Every day you have to learn a new trick, unfold a new chapter. A social media marketer needs passion and desire to succeed.
2. Educate Yourself
The formal qualification is something, which will build the sub-structure on which the superstructure of a successful social media marketing career can be formed. There are several short courses offered by universities and other institutes. You can educate yourself through online classes. Attending conferences, seminars, lectures dedicated to social media marketing can also be a great learning experience.
What's the Best Type of Content to Drive Conversions?
3. Always Stay Updated
Be a regular visitor of major digital marketing sites and social media influencers. Remember, major players such as Google, Facebook and Twitter regularly tweak their paid advertising platforms and algorithms. So you have to be a thorough vigilante.
4. Learn the Industry Jargons
A social media marketer should know the digital terminology such as SEO, PPC, SEM to analyse different digital media campaigns and understand what strategy worked and what didn't.
5. Be A Nerd
A career in social media marketing is often perceived to be quite glamorous, but the truth is, it should be more data-driven and technical. Basic knowledge of HTML and graphic design would help you stand out.
6. Build Your Brand
If you want to be successful in social media marketing, your online presence should be robust. If you're going to show your client that you are the right person to build their company's social media visibility, then you need to show that you have already built your brand.
Must-have Ingredients of Every Link Building Campaign
Engagement on different social media channels is now a top priority for most companies. They want to know how best to use Facebook, Twitter, LinkedIn and other sites to build their brand and gain market share. Social media, as a business tool, is a relatively recent development. So the employers may struggle to find new employees with a proven track record. Also, that, in turn, will help professionals of this field with an edge. If you are serious enough to build a career in social media marketing, keep the pointers mentioned above in mind and utilise the opportunity lies in front of you.
If you are curious to get into the world of digital marketing, check out MICA & upGrad's Advanced Certificate in Digital Marketing & Communication. Become an expert in email marketing, social media marketing, content marketing, branding, marketing analysis, and PR.
How to become a successful social media marketing manager?
Social media marketing is an evolving career option and there is no fixed curriculum to study social media marketing. You need to learn the skills of social media marketing on the job, by constantly educating yourself on the evolving trends, experimenting with different content types, analysing audience behaviour and being data-driven, and at last, you need to be curious about the subject.
What are the five core pillars of social media marketing?
The first pillar is social strategy- it includes your goals, the social media platforms you will be using, and the type of content that will be used to attract the audience. The second pillar is planning and publishing- reaching out to maximum potential customers on social media. The third pillar is listening and engagement- analysing the feedback and resolving issues. The fourth pillar is analytics and reporting- how the posts have performed and its impact. And, the last and fifth pillar is advertising- reaching out to maximum users and the target audience through displaying ads on social media.
Why is social media marketing important for businesses?
For businesses, it is important to be present where their customers are. As the internet now plays a key role in everyone's life nowadays, businesses cannot ignore its potential.
Through social media marketing, it helps businesses in improving the SEO ranking of the website, connect with customers, improve brand loyalty, increasing traffic to the website resulting in increased sales and brand awareness. Also, social media marketing is a cost-effective way of advertising strategy.
Ride the Digital Wave