The prime ingredient for social media marketing is a good plan or a strategy. Without a proper social media strategy, social media planning of just posting content could go to waste. You need to understand your target audience, your goals, and the need of your customers to achieve the results you want on social media. If your goal is to increase your brand awareness and grow your brand through social media, a social media marketing strategy is crucial.
What Is Social Media Marketing?
Social Media Marketing is the use of social media to promote or market services and products. It is the process of creating tailored content that can promote the products of a company by driving engagement. Social media marketing helps businesses make consumers understand their product by connecting with their customers and audience better. It is very beneficial to business growth if you make an excellent social media marketing strategy. The marketing success largely depends on it as it amplifies your ability to find your target audience and create unique experiences that make them happy and satisfied. 
Learn digital marketing courses online from the World's top Universities. Earn Masters, Executive PGP, or Advanced Certificate Programs to fast-track your career.
What Is Social Media Marketing Strategy?
A social media marketing strategy is a brief summary of the plans and goals you wish to achieve on the social media platform. It helps you guide your social media planning in the right direction and determines your failure or success. The more concise and specific the plan is, the more effective it will prove to be. A broad or lofty marketing strategy is often not attainable – the aim is to build an actionable social media marketing plan. This post will guide you through the process of making a successful social media marketing strategy.
How To Make A Social Media Marketing Strategy?
1. Set goals that align with your business needs and objectives
The first thing you must do for creating a winning social media marketing strategy is to set S.M.A.R.T. goals. S.M.A.R.T. goals help you recognise actionable goals and objectives. This leads to more chances of success, real results, and a better Return on Investment(ROI). These goals should be:
Specific

Measurable

Attainable

Relevant, and

Time-bound
The second most important thing is tracking your metrics like engagement, conversion rate, and click-through rate. While the number of followers, number of likes, etc., are easier to track, they aren't exactly reliable.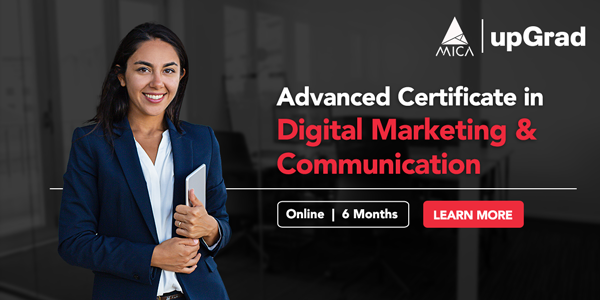 Different goals and uses should be tracked for different networks. An example of this can be to use LinkedIn, Facebook, and Instagram for measuring your success metric. On Facebook, it will be measured by cost-per-click or CPC, on Instagram through Instagram Story views, and on Twitter through click-throughs. Your overall goals of marketing should make sense through your social media goals.
Some of your social media goals could include:
Increasing awareness about your brand

Generating more sales and leads

Growing your brand's consumer base

Driving more traffic to your website

Enhancing community engagement
2. Research and know your target audience
The two things you need for this step of your strategy are to create audience personas and gather data. The key to a successful social media marketing strategy is knowing your audience and what they wish to see. This will help companies create content that will be liked by the target audience and ensure that these social media followers turn gradually into customers. Age, interests, location, average income, job title, etc., should be known by the company to target the right persons. This is where the second important thing comes into play. Gathering data helps in being aware of a ton of important and valuable information about customers, like their age, where they live, and how they interact with your products on the social media pages. This gathered data helps the company refine its strategy to target audiences in an improved way.
One of the best examples of this is the Jugnoo App (an auto-rickshaw service in India) that used the information they received from Facebook analytics to lower their cost by 40% on each referral. They were able to achieve this by learning that 90% of their customers who engaged in referring the app to other people were aged between 18 to 34 years old, and 65% of them were using Android devices.
3. Know Your competition
Since most companies now use social media for marketing, the chances are that your competitor is doing so as well. You need to conduct a competitive analysis to understand the competition you are facing and where you excel, and where you lack. This will help in also understanding the level of products being marketed in your industry and set out your social media planning accordingly.
You can focus on social media where your competitor is less active instead of taking them over from the platforms where they are dominant. For example, if your rival company is active or dominant on Twitter and puts little to no effort on Instagram or Facebook, those are the platforms to which you want to direct your efforts.
You also need to use social listening and find out the competitor's handles, names, keywords, what they're offering and sharing, and what customers are saying about them. This intel will help your company avoid the marketing strategies or campaigns that don't sit well with your target customers.
4. Conduct a social media audit
Find out about the trends that are working out and what are not, who is engaging with your company, and take notice of your social media presence in comparison to the competitor. This information or intel gathered will help you improve in ways you can't imagine. It will help you know if people visit your social account, how they use your page, and is the page helping you achieve your goals.
The audit helps realise the purpose of your social media presence better and will help you decide whether it's worth keeping or not. You should also look out for imposter or fake accounts using your product or company name during your audit. These fake accounts can be harmful to your brand.
5. Set up a good account and keep improving its profile
Decide on which social media platform or network you want to use and develop a unique strategy for each. Facebook and Instagram outrank email in communicating better with customers, so it's best to start there. Once you've chosen a social network to focus on, create a great profile and keep improving it constantly. Fill out the fields properly and include keywords that people could use to search your business online. Branding consistently by using images and logos is something that will make your profile more recognisable.
6. Find Inspiration
Find inspiration from people's favourite pages and accounts on social media and analyse why people enjoy swallowing them and what makes people engage in them by sharing and liking. Consumers can also be a part of your inspiration. You can look at what your target audience is interested in online, what they're talking about, and what they want and need. You can even directly ask your consumers about the service and product they expect from you but only do this if you're committed to delivering what they ask for and follow through continually.
7. Create a Social Media Calendar
A social media content calendar is essential to plan out specific times for sharing content to get maximum results. Sharing the content anytime will not serve your purpose. Although spontaneous engagement is essential, this calendar must also highlight the time spent by the company interacting with its customers.
You can set your schedule for posting online by listing dates and times which you prefer to publish different types of your content on different channels. It will help you plan all your activities related to social media. This will ensure that your posts spaced out in an organised manner.
The content strategy and mission strategy for different social accounts of your company must reflect in the calendar. This ensures that everything posted helps the business to grow and achieve its goals. This will also ensure the right content mix. The 80-20 rule should be followed to generate maximum leads, where 80% of the posts inform, entertain, or educate the audience, whereas 20% promote the brand directly.
There is also a rule of thirds that can be followed wherein:
One-third of the content should promote the business, generate leads, and earn profits.

One-third of the content should share stories and ideas from leaders of your industry and company.

One-third of the content should be personal interactions with the consumers.
8. Constantly evaluate and adjust your strategy accordingly
The social media marketing strategy you use is a highly significant document for the company and the business it carries out. Getting right on the first try is highly improbable, and you need to constantly track your results and implement new plans accordingly. You may notice in time that some strategies don't work as wished while some work much better than anticipated.
Even if you analyse data from each social media channel, you still need to keep track of social visitors by using the UTM (Urchin Tracking Model) parameters. This will help track people as they move through your page and website and will help you determine the plans and posts that generate the most traffic on your website.
You also need to constantly re-evaluate the strategy you improve the data usage. You can use the data to test different campaigns, posts, and strategies and decide which one works best for you. Constant testing helps refine strategies in real-time between the ones that work and those that don't.
Surveys are a great help in determining the strategies that worked and how well they worked. Email lists, followers, and account or website visitors should be surveyed to find out if their needs are being met and their expectations being fulfilled. You will have to, however, make sure to deliver on what they tell you to improve.
Why Is Upskilling Important?
There are several reasons why upskilling of the social media marketing team is required. This should be done to:
Perfect your social media approach

Stay current with SEO Techniques

Optimise (PPC) Pay Per Click Strategy

Put content value first

Measure and Report ROI
Apart from why upskilling is important you also need to know that when upskilling is necessary. These instances include when:
You are getting poor results even after putting a lot of effort into social and digital media.

You have started missing new business opportunities.

You have become out of touch with your customers or target group.

You are falling behind your competitors.

Search engine results don't display or show your company or business.
If you see any of these signs, it means that your social media marketing staff requires upskilling by completing courses like the Advanced Certificate in Digital Management and Marketing by MICA or any similar courses.
How To Become An Expert?
To become an expert in social media marketing that are several things that might help. Some of them are:
Learning from trusted sources
An Advanced Certificate in Digital Management and Communication can help graduates and professionals gain more expertise and knowledge in the area. These are several courses available online on online learning sites that can help any person looking to upskill in social media marketing strategy. With Covid-19 wrecking havoc across the globe, online courses are the best bet and the safest way to learn and gain expertise in the desired field.
Start building your own community online
Every company is going to look for a social media manager that has their own strong following as it is an indicator that you don't just preach, but you act as well. It will reflect that you can make a strong reputation for the company and help their marketing budget. So, start putting your ideas into practice and try several tactics to follow and track your results.
Use different tools for managing client accounts
As a social media manager, you'll have to keep working and improving your writing skills, videography skills, photography skills, and graphic design skills. It will be a part of your job to create content in various forms even after becoming a professional. If you're a senior, you will get a team to work under you and develop content, but you still need to be well-versed in every form of content to lead the team under you properly.
There are several online content creation tools you can take help of, like Photoshop, Premiere Pro, Canva, and Illustrator. There are also other tools that you need to be familiar with that will help you organise your workflow, measure the effectiveness of your campaigns, and schedule posts on different platforms. These include Buffer, Trello, Google Docs, Evernote, Buzzsumo, Google Analytics, and WordPress. If you don't know how to use these tools, it's high time you start learning to use them to become better at your job.
Keep your eyes on your goals
The main purpose of a social media marketer is to know the ins and out of all media platforms. You don't just have to use social media regularly to boost your following, but you also have to grow the social media presence of the company and convert those likes and flowers into loyal customers. This way, you'll get measurable results for your company and clients. Remember, a social media marketing expert has to focus on his role as a social media marketer and not just a social media expert. This doesn't exactly mean that you have to keep pushing hard sales methods and span your users. You need to understand the technique of generating traffic on the companys' sites and generate real interest in customers regarding their products and services. Conversions are way more important than just traffic.
Commit to ongoing education
You have to keep educating yourself through online resources and certifications. There are tons of books on social media you can learn from. There are many certifications as well that will offer way more expertise and help than just books. You can look up certifications and courses on sites like upGrad and keep enhancing your knowledge and boosting your career.
Best Digital Marketing Courses Online
Conclusion
Social media is a fast-paced domain where new networks are emerging every day and going through substantial demographic shifts. With this, your business and industry are also bound to go through several periods of change with them. This means that your social media marketing strategy and social media planning should be impeccable and should be adjusted periodically as needed. It will help you stay on track, but you should make changes in it regularly to reflect your new goals, plans, and tools. While forming and updating your social media strategy, work together as a team and use your accounts to generate maximum leads for your business.
In-demand Digital Marketing Skills
upGrad's Exclusive Digital Marketing Webinar for you –
How Marketers can enable Sales for Success?
Digital Marketing Free courses to Learn
Popular Digital Marketing Blogs
What is social media marketing?
Social media marketing refers to the process of using social media as a platform to market goods or services and helps achieve other goals. Social media provides you with a platform to increase brand awareness of the products and services offered, increase engagement, etc.
What is a social media strategy?
A social media strategy is the framework of your social media goals, the intended course of action to achieve the goals and the metrics you intend to use to measure your progress.
What is the best way to make an effective social media strategy?
1. Set goals: What is it that you would like to achieve through social media marketing? Goals can help you evaluate whether you are on the right path to success and will help in measuring your Return on Investment(ROI). Your goals should be Specific, Measurable, Attainable, Relevant and Time-bound. Follow these goals with concrete metrics that will help you track success.
2. Identify your target audience: Identifying the right target audience and other parameters like their location, how they interact with your brand, etc. will provide you concrete data on the content you need to create and the strategy you need to develop to target the right audience.
3. Competitor analysis: A competitor analysis will help you understand the strengths and weaknesses of the competitors in your industry. Understanding where your competitor lacks can help in developing your own social media strategy.
4. Keep improving profiles: Once you have identified the platforms you would like to capitalize on, define a separate social media strategy for each social media platform. Once you have defined a strategy, keep improving your profile and work towards achieving the set goals.
5. Find inspiration: Find inspiration from different avenues and consider incorporating strategies that can help you in achieving your social media goals.
6. Create and stick to a social media calendar: A social media calendar is a planned and disciplined approach to delivering content. It ensures that content goes live at an appropriate time to generate the best results.
7. Re-evaluate strategy: Analyze performance metrics from the different social media platforms to understand what is working and what isn't. This data can help in refining your strategy from time to time to ensure that you are still on the right track to achieving your goals.
Ride the Digital Wave