Like every other industry, Digital Marketing continues to evolve and grow with the invention of new technologies. In today's world, Digital marketing is brimming with steadily increasing opportunities, and every business wants to make the most of these opportunities since they are aware of the impact that it can create. 
We live in a digital age. We have reached a time when millions of users are available on several social media platforms and have seamless access to the internet. The majority of the future customers are now present in cyberspace, hence, it has become critical for every business to tap into this segment and devise marketing campaigns to target these users. There are innumerable young students who are now showing keenness in getting themselves educated in digital marketing's main concepts. They are desirable in the eyes of prospective employers and can grab high paying jobs.
What is Digital Marketing? What are its Benefits?
Digital Marketing refers to the practice of promoting your products and services through multiple online channels in order to reach out to your targeted customers. The main objective is to create awareness of your brand and its products among the users available on the internet. 
Digital marketing offers several benefits over traditional marketing. Earlier, businesses relied on offline marketing avenues, such as billboards, radio, TV, newspapers, direct mail, phone calls, brochures, promotional print materials, and many others. With the advent of digital marketing, businesses have shifted their marketing strategies and budgets towards digital marketing. The amount of reach that is offered by digital mediums surpasses that which is provided by traditional or offline mediums.
Radio or newspaper ads are effective in the case of local consumers; however, if you want to market your business globally, digital marketing is your best bet. They are even more cost-effective in comparison to the traditional avenues. There are about 3.5 billion social media users – nearly 45 per cent of the global population, which gives us a fair idea of the potential reach of digital marketing.
With these profound benefits and possibilities, digital marketing will eventually take over traditional marketing entirely. People are becoming more tech-savvy, tech-dependent, and are very often using smartphones, tablets, and laptops, which gives digital marketing an edge when it comes to marketing to younger generations.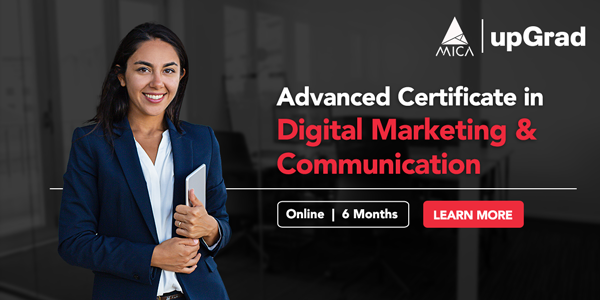 Everyone is aware of the vast number of opportunities that digital offers, but how many are aware of its history and origin? In the current times when Digital marketing is all over, if you go in retrospect, you would realise that the history of Digital marketing dates back to the early 1800s. 
History and Evolution of Digital Marketing
The 1980s
During the 1980s, several innovations and milestones were achieved. The first personal computer was started by IBM in 1981. In 1986, American National Standard Institute (ANSI) embraced SQL as a standard, and in 1989, the storage capacity of the computers was increased to 100MB. All these innovations caused the computer system to get progressive enough so that it could store information about the customers. 
During the 1980s, companies started to realise that it is important to build customer relationships, and not just push the sale of the products. The marketers started database marketing and indulged in limited practices for certain customers. Businesses started maintaining databases of their customers, prospects, and business partners. 
As a result, the customer management company, ACT launched the database marketing software in the market. These marketing automation solutions encompassed several features, including campaign management, marketing analytics, sales automation, resource management, and content strategy optimisation.
These digital databases completely changed the paradigm of the buyer-seller relationship. Businesses started storing their customer data and tracking their purchases. Additionally, the introduction of private computers and client frameworks revolutionised the marketing landscape and eliminated manual efforts.
The 1990s
When 'Archie', the first search engine was launched, Digital Marketing came into the picture. At that time, the internet was being used to search for the required information, but it did not allow the user to share information over the web. 
When HotWired purchased banner ads for their advertising in 1993, it was the first step towards digital marketing. With the advent of search engines in 1994, when Yahoo was launched, businesses started with Search Engine Optimisation (SEO) to gain higher search engine rankings. Several smaller search engines were also launched in the year 1996. 
1998 was a glorious year for Digital Marketing since it marked the launch of the most popular web-based search engine – Google, which forever changed online business dynamics. Moreover, Microsoft also launched MSN, and Yahoo launched Yahoo! web search the same year.
During the 1990s, the Customer Relationship Management (CRM) tools were at their peak and were being extensively used by many organisations. This software tracked every interaction happening between the existing and prospective customers. 
With vendors offering Business Intelligence tools & solutions in the late 1990s, CRM was tremendously improved. As a result, more sales, marketing and service applications were being offered by the vendors. When the internet started gaining popularity in the late 1990s, storing enormous amounts of customer data online became possible, which further intensified the contention. Now the businesses had heaps of customer data but did not know how to use it the right way. This problem was resolved with the introduction of SaaS Companies in the market. 
The 2000s
In the year 2000, the dotcom bubble burst, the smaller search engines were closed down, and the social media site – SixDegrees.com was also shut down. This gave plenty of opportunities to the bigger giants to expand their footprints in the market. The number of internet users in 2002 went up to 558 million.
With Web 2.0, people became more active internet users, rather than passively viewing the content. Users started interacting with businesses and other users. Consequently, the information flow increased and a number of new digital channels were being used by digital marketers. Then, the professional social networking platform – LinkedIn came into being in 2002, which worked as an excellent medium for business professionals to connect with each other.
The year 2003 brought with itself the first social networking site – MySpace. WordPress was also launched the same year. Businesses started realising that all these new websites and platforms are opening up new advertising and promotional avenues. Companies focused more of their marketing efforts on social media and increased their social media budgets in 2012.
Google went public and Facebook went live the same year. YouTube came in 2005 and introduced video marketing to the world. In the mid-2000s consumers changed their buying behaviour as they started researching the product online before finalising the transaction. This made it difficult for sellers to fathom the purchase behaviour of their customers. Marketing automation solved this challenge. It helped marketers in market segmentation, initiating multi-channel campaigns and delivering customised content. 
In the year 2006, Microsoft launched MSN Live Search to compete with Google and Yahoo and simultaneously, Twitter – a microblogging and social networking service were launched.
Cookie was another turning point in the evolution of digital marketing. Earlier, they were used to record user habits, however, with time their usage changed, and now they are used by marketers to track, personalise, and save information about each user's session. This helps in tailoring the promotions and marketing efforts according to the individual's tastes. 
Best Online Digital Marketing Courses
What Does the Future Hold for Digital Marketing?
On the basis of current trends, we can make certain predictions on what the fate of Digital marketing might look like. Digital marketing has come a long way, and it is sure to go a long way in the future. The use of Artificial Intelligence technologies will likely be more pervasive. Chatbots are also being increasingly used for customer engagement.
Voice search has been soaring in popularity and it is expected to keep rising. Digital marketers need to keep an eye out for emerging trends, new technologies, and search engine algorithms to keep up with their customer's inevitable adoption of these technologies and practices. 
Top Digital Marketing Skills
Conclusion
Knowing where it all started and how it has been important to find your way forward. This is no different in marketing. Understanding the history of digital marketing is critical in figuring out how to best leverage these emerging technologies.
Digital marketing not only benefits businesses but also provides individuals with promising career opportunities. Countless people are building their careers in Digital marketing, and the demand for digital marketing institutes is rising. 
Has learning about Digital marketing history piqued your interest in learning more about the different advancements in this field? Check out our PG Certification course in Digital Marketing and Communication with specialisations in Social Media and Content Marketing, Branding, Marketing Analytics and Public Relations. 
upGrad's Exclusive Digital Marketing Webinar for you –
What's new in Marketing?
Digital Marketing Free courses to Learn
Popular Digital Marketing Blogs
What is the history and evolution of digital marketing?
The first personal computer was launched in 1980. Digital marketing in the 1990s evolved with the launch of the first search engine 'Archie' and has been on an upswing ever since. With the going live of Facebook in 2012, companies started increasing their digital marketing budgets. The next few years witnessed a series of developments that included the invention of wearable technology, predictive technology, etc. Companies have started capitalizing on the power of Artificial Intelligence to provide them insights into consumer behaviour.
What does the future hold for digital marketing?
Digital marketing is evolving and is only expected to soar in the future. Artificial Intelligence is being used by companies to track consumer behaviour and gain valuable insights that can help them make business decisions. There has been an increase in the use of Chatbot technology and voice search to provide customers with a better user experience.
What are the pros of opting for digital marketing over traditional marketing?
According to statistics, approximately 3.5 billion people around the world use social media. This number amounts to more than 40 percent of the global population. Some of the advantages of opting for digital marketing include: digital mediums provide a wider reach as compared to traditional mediums, it is cost-effective as compared to traditional mediums, every detail of consumer behaviour can be tracked more easily as compared to traditional mediums, etc.
Ride the Digital Wave
upgrad and mica's pg program in digital marketing and communication

Learn More