Marketing is a dynamic industry, and the pace of change we are witnessing in this industry post-COVID is phenomenal. In the current market scenario, the traditional marketing platforms such as newspaper, magazines and television are losing their sheen with each passing day. As more and more audiences are switching online, global businesses find it easier to reach out to their prospective customers. As a result, the digital marketing industry is witnessing a steady boom in job creation, and India is one of the primary beneficiaries.
Learn digital marketing courses online from the World's top Universities. Earn Masters, Executive PGP, or Advanced Certificate Programs to fast-track your career.
Indians are very well poised for a full-scale boom in the digital arena – it is a massive market for online selling and social media platforms coupled with a vast employable workforce to exploit that market.
Will Digital Marketing Spend Continue to Increase?
To understand the scope of digital marketing in India, we must understand a few demand drivers that will continue to attract new and established businesses to manage and increase their online presence. There is a swarm of marketers bombarding digital marketing strategies on online users. These marketers will continue to compete for the diminishing attention span of their target audiences. This alone should fuel the digital marketing boom in the long run, along with a few more factors discussed below: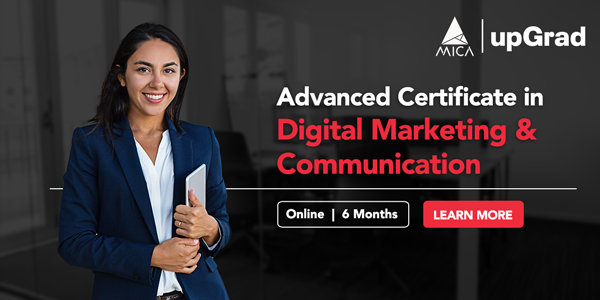 Online data analysis has made it easier to target audiences based on their demographics. Simultaneously, advanced digital marketing courses enable marketers to better target individuals by analysing their online behaviour.

Social media platforms have allowed low-cost advertising to become a reality. Even search-based pay-per-click models are continuing to prove cost-effective.

Smartphones are a non-negotiable part of our daily lives, facilitating easy and real-time targeting of ad campaigns for users 24/7.
Why Choose a Career in Digital Marketing?
When you choose a digital marketing career, you get exposed to broader interaction, analysis and learning that traditional marketing may not offer. A digital marketing career has the aptitude to quench your desire to succeed and thrive. It has excellent long-term prospects, and all you need is the passion for accomplishing in this field and becoming a successful digital marketer.
As a growing and highly demanded profession, digital marketing will help boost your personality as you will meet numerous people from various walks of life. Constant interaction will also grow your confidence, enhance your communication skills and develop interpersonal relationships.
Since Digital Marketing is a profession that has gained a lot of prominence in the past few years, the pay is better than other traditional economies and job profiles. Individuals with the right work approach and skills can negotiate their way and grab a better package for themselves than most candidates in other fields.
Also, as every industry moves towards digitalisation as we speak, one can get a better job profile in the chosen industry. Companies such as Google, Facebook, among others, are eagerly looking for fresh and new talent in the emerging and expanding digital market.
Who Can Become a Digital Marketing Manager?
Digital marketing is a complex field requiring varied skillsets and qualifications for different processes. But there are a few qualities that every digital marketer should possess:
The ability to maintain healthy relationships with clients, colleagues, and also subordinates.

In-depth understanding of basic finance to develop and follow marketing budgets.

Excellent creative skills to create top-notch social media, SEO, email and other digital marketing campaigns.
The digital marketing industry has a massive appetite for skilled analytical minds to make sense of user data and exercise insights for boosting conversions.
What Skills Should a Digital Marketing Manager Have?
Digital marketing positions at a managerial level demands individual abilities, competencies, and a variety of skills to successfully carry out the role and responsibility. While most soft skills come naturally to candidates with a propensity towards marketing, some hard skills and abilities can be developed or acquired with time and practice.
All these skills together help a digital marketing manager to administer a team of young marketers and each individual in the capacity of a digital marketer. As a manager for digital marketing for a company, your roles and responsibilities would include Some of the most crucial soft and hard skills that can be beneficial for a digital marketing manager are as follows:
Data Analysis
Digital marketing doesn't even go halfway without data analysis. You can support your marketing strategy and know if your efforts are paying off by analysing web traffic, conversions, click-through rate, engagement, along with all key performance indicators that matter in the actual digital marketing. A good digital marketing manager also knows how to distinguish between a coherent KPI and a vanity metric.
SEO
Search engine marketing is one of the most popular digital marketing strategies that can help your company rank higher in Google search results. With the right SEO skills, a digital marketing manager gets extra miles in reaching out to a vast target audience.
Copywriting
'Content is King' sounds clichéd, but nothing deviates digital marketers from this fact yet. As a digital marketing manager, you can hire copywriters, content writers and editors to churn out crisp marketing collateral copies, but nothing replaces the skill of a marketer to create an SEO incorporated copy when in need.
upGrad's Exclusive Digital Marketing Webinar for you –
Watch our "Webinar with Q&A Session on Digital Marketing"
Client Management
Client management requires interpersonal skills that inspire, engage and influence the client. When a digital marketing manager can develop a relationship with the customer and resolve conflicts quickly, it leads to customer satisfaction. You can hone your client management skills through better interaction, engagement and experience.
Social Media Skills
Social media skills in this digital era are as influential as people skills once used to be. When people communicate from behind the screens, a digital marketing manager without social media skills is simply incompetent and practically unqualified to do his job successfully. This skill set will help you carry out social media marketing at large and enhance your company's digital reach. Paid social media marketing is the newest digital marketing trend that a digital marketing manager must master.
Conversion rate optimisation, PPC, email marketing, mobile optimisation, omnichannel marketing, collaboration and basic designing are a few more skills that can help you establish yourself as a successful digital marketer.
Best Digital Marketing Courses Online
What Does a Digital Marketing Manager Do?
A digital marketing manager leads various digital campaigns for the company they work for so perceptibly. They must have a good grasp of various tools and strategies to organise an enriching and well-laid campaign. Further, they create and maintain the social media presence of the company or organisation. Social media is a crucial tool in today's world that helps us reach out to a broader yet targeted audience digitally and build brand recognition.
Digital marketing managers are also responsible for assessing the campaigns and their response, evaluating the campaigns' success, and manoeuvre better marketing strategies. SEO optimisation and advertising campaigns are also administered and supervised by Digital Marketing managers. They often brainstorm new and vivid ideas to make their campaign stand out from their competitors.
Digital Marketing Manager Salary in India
Data source: Digital Vidya
Digital Marketing Manager Career
Before we delve deep into digital marketing management salaries, it is important to understand multiple parameters that influence your pay scale, including your qualification, digital marketing certification, work experience, practical and analytical skills, organisation and, of course, location. For a candidate with 2-3years of hands-on experience in digital marketing, the industry often offers a managerial level post based on their exposure level in the previous job position and the candidate's skill set.
Career growth in digital marketing is exponential for highly skilled candidates with an appetite for learning and upgrading with each step forward. The profession offers numerous opportunities to enhance your skills with scope for instant gratification.
Digital Marketing Manager Salary In India
As Digital Marketing Manager, you will be responsible for campaign planning, implementing, and managing digital platforms' marketing strategies. This also includes analysing metrics and identifying the latest trends using relevant tools. The DM Manager also guides, trains, and manages a company's digital marketing team along with marketing strategy execution. With ample experience and the right qualifications, bagging a management level position in digital marketing also requires excellent analytical skills.
While the starting salary of digital marketing managers in India is INR 312,131, with 4-8 years of experience, your salary can go up to INR 710,016. On average, digital marketing managers earn around INR 545,173 while also receiving bonuses and profit sharing.
Also, some skills pay higher than the market average, including Search Engine Marketing (SEM), Digital Marketing, Online Marketing, and Data Analysis.
In-demand Digital Marketing Skills
Digital Marketing Salary According to Job Roles
The digital marketing manager salary in India can vary hugely depending on the job titles and the job roles. For example, a digital marketer specializing in SEM and SEO would have a different salary than one specializing in content strategy or social media marketing.
Here are the average salaries under digital marketing, based on the job title and job roles:
Digital Marketing Manager
A digital marketing manager devises a marketing strategy according to the business goals to establish a brand's digital presence online. Their role encompasses ad campaigns, email campaigns, and more. They supervise the work of their team, collaborate with other departments, and work on multiple marketing projects at once to drive the success of the organization online.
The average salary of digital marketing manager in India is INR 700,000 per year. A fresher will usually start as a digital marketing executive, move on to becoming a digital marketing analyst and then, in about 3 to 4 years, will gain enough experience to work as a digital marketing manager.
SEO/SEM Specialist
A digital marketing manager has to work with search engine optimization (SEO) and search engine marketing (SEM) techniques to boost the digital marketing efforts of a company. These two marketing tools undeniably hold some of the most important posts in today's online world. Basic SEM and SEO knowledge is important for all digital marketing managers.
A digital marketer can specialize in SEO and SEM to become an SEO/SEM specialist. Their job includes supervising paid campaigns launched on search engines. They also work on the display ads published on Google. Researching market trends, monitoring ad campaigns, searching keywords, and collecting data are a few of their job duties.
The average digital marketing manager salary in India per month of one specializing in SEM is INR 42,000. The salary of an SEO specialist is INR 30,000.
Email Marketing Specialist
If you work as an email marketing specialist, your main job would be to create and launch marketing campaigns via email. An email marketing specialist uses a customer information database, creates newsletters, identifies the target audience, develops email marketing campaigns, increases conversions, reduces unsubscribes, monitors campaign performance and works on optimizing it to reach email marketing objectives and goals.
The average base salary of an email marketing specialist is INR 471,000.
Social Media Manager
With the rise of social media platforms, a customer's main exposure to any brand or business is through social media websites like Facebook, Instagram, Twitter, and more. The job of a social media manager has gained massive significance in the last 10 years.
A social media manager handles the company's social media handles. Their job includes:
Creating a budget

Developing social media campaigns

Designing a marketing strategy

Creating a content strategy and scheduling when the content will be published on the handle
They monitor the comments, messages, and interactions between the brand and the audience. A social media manager collaborates with other departments, such as content or design, to ensure the brand's online communication has consistency. They aim to create engaging and interactive content that increases the audience engagement rate, increasing their reach and visibility.
The average yearly salary of a social media manager is INR 350,000.
Top Digital Marketing Course To Pursue
PG Certification in Digital Marketing and Communication
upGrad has designed this PG Certification in Digital Marketing and Communication in partnership with MICA, formerly known as Mudra Institute of Communications, Ahmedabad. It is a year-long online program covering a wide range of industry-specific Digital Marketing topics like Social Media and Content Marketing, Branding, Marketing Analytics and Public Relations. On course completion, students are awarded dual credentials from MICA and Facebook.
Digital Marketing Free courses to Learn
Conclusion
Your success in any field is a subjective perception of your performance and various other physiological, psychological, intellectual and environmental factors. The figures mentioned above and data are too rough and can vary based on these factors. Along with required qualification and work experience, atoned skill sets that include creative thinking, ability to persuade, presentation skills and desirability play a significant role in deciding the success you achieve in any profession, including digital marketing.
The upGrad and MICA Advanced Certificate in Digital Marketing & Communication course take on a holistic approach to digital marketing. By the time you finish with us, one thing is for sure – your horizon of knowledge will expand significantly and you'll learn to think and act like a true digital marketer. With so many perks and benefits, why should you go someplace else?
Popular Digital Marketing Blogs