Introduction
Are you a blogger who has just started writing or thinking about launching a blog? Or are you an entrepreneur who has just set up a new venture? Whatever you may do or wish to become – at this day and age – your website is your identity. The look and feel of your website will define you. And if your success depends on the public, then you definitely need to create an awesome website. If you are a beginner in digital marketing marketing, and want to gain expertise, check out our digital marketing programs from top universities.
But creating a great website is just half the battle won. You have to know more about your website visitors, the pages they are viewing, and the time they spent on your website. Without these answers, you won't be able to attract an audience or enhance your business.
What is Google Analytics?
Google Analytics is a powerful web analytics platform developed by Google. It allows you to measure your website's traffic and understand your visitors better. The tool gives you a clear picture of how your site is performing by collecting the necessary data about your site. It then analyzes the data and produces reports.
You will be able to answer the following questions from these reports –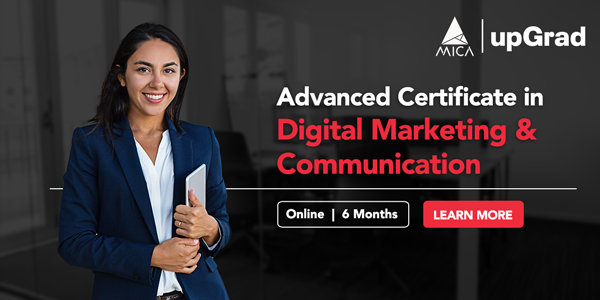 Number of visitors on your page

Which websites do these visitors come from?

Which pages on your site do they view and the links they click on

How do they interact with other elements on your site?

How long do they stay on your site?

When do they leave your site?
Using all this information, you can tweak your site to maximize its performance. That is why Google Analytics is used by more than 30 million websites around the world.
Google Analytics is, of course, not the only one provides data. Also, you can check out some alternatives to google analytics.
Google Analytics Data Processing
Google Analytics first separates the data collected from your site into two parts – users and sessions.
User data– This data is unique for each visitor. A unique user ID is created for each visitor. If they visit the site again, they are easily recognized by their ID and tracked. If the visitor accesses your site using the same device, they will be logged in as returning visitors.
Session data – This data defines the amount of time a visitor spends on the site. The time is tracked from when the user first enters the site until he or she leaves it. Sessions data consists of the user actions and pages visited on the site. This lets you understand user behavior that is critical for analyzing your site's performance.
Now it's time to get to the next section of this "Google Analytics for Beginners" guide – account setup.
Read: Digital Marketing Ultimate Tutorial
How to Set Up Your Google Analytics Account?
The first step towards your analytics journey begins with creating your account. Before setting up your Google Analytics account, you need to have a Google account. So, create an account first.
Sign Up
If you already use Gmail and Google Drive, you need not worry. Visit the Google Analytics official webpage to create your Google Analytics account. Click on "Start for Free". Then you will be redirected to a page where you will see three easy steps to set up your account. Click on the "Sign-Up" button.
You will then be taken to a page where you need to enter basic information about your account. These will include your account name and data sharing options. Then you have to choose what you want to measure, such as your website or your Android/ iOS applications.
The final step is mentioning the site you want to track, which in this case is your personal website. Enter the URL or link of the website in the space provided. This URL will be linked to your Google Analytics account. Later on, Google will allow you to add up to 50 sites to track!
Click on the "Create" button to initialize your Google Analytics account. You will get your Tracking Code for the site you mentioned for tracking. This code is used by Google Analytics for collecting data about your site's visitors.
Steps to get the tracking code –
Visit the "Admin" section

Under the Property column, select "Tracking Info"

Click on the "Tracking Code" option to get a box where you will find your required code. Copy it and keep it for future use.
upGrad's Exclusive Digital Marketing Webinar for you –
What's new in Marketing?
Adding Tracking Code
The next obvious step is to add the tracking code for your website. You have to add this code to every page of your website. If you have developed the site using HTML, then open the file and go to the <head> section of the code. Then create a <script> tag and paste the code there.
If you have a WordPress website, you can install a Google Analytics plug-in. This will allow you to easily place your tracking code to all the pages of your site.
After adding this code properly, your website will start tracking data for you. But there are other things you need to set up.
Setting-up Site SearchSetting-up Site Search Tracking enables you to find out how the visitors are using your website's search function. Through this, you will come to their preferences and choices.
The steps to set up Site Search are –
Visit the "Admin" section

Go to the "Views Column" and click on the "Views Settings" option

Click on the "Site Search Tracking Toggle" button to enable it

After setting it ON, enter your search query in the "Query Parameter Box"

Click on the "Save" button
Also read: SEO Salary in India
Setting-up Goals
We now have come to another important part of this "Google Analytics for Beginners" guide, which is setting up the goals for your site. This feature helps you monitor website traffic better.
Follow these steps for goal setting –
Visit the "Admin" section

Go to "Views Column" and click on "Goals". Then click on "New Goal"

Then under Goal Setup, you can use a Template or Customize your own goal

Under Goal Description, give a name for the goal. Then choose any one of the types that Google Analytics allows.

The final step is mentioning the details of the goal in "Goal Details".
Best Digital Marketing Courses Online
Google Analytics Reports
If you followed the "Google Analytics for Beginners" guide till here, your account is up and running. Now, you will be able to understand your website's performance through various reports that will be generated by Google Analytics. As a beginner, you must know the basics of some of these reports –
Real-Time report

– This provides information about active users, such as the most active pages.

Audience report

–This includes information about location, interests, age and gender of users.

Acquisition report

– This includes information about the sources your traffic is being generated such as social media platforms and websites.

Behavior report

– Provides you information about page views, bounce rates, searched keywords and session durations.
If you are preparing for a digital marketing interview, and want to learn more about Google Analytics, check out our Google analytics interview questions and answers guide.
In-demand Digital Marketing Skills
Conclusion
We have reached the end of our "Google Analytics for Beginners" guide. As you continue tinkering and playing Google Analytics, you will learn more about its use. You will begin understanding your customers better and use your website to its fullest potential.
If you want to explore and become an expert in Google Analytics, SEO, Digital marketing, check out MICA and upGrad's Advanced Certificate in Digital Marketing & Communication. Become an expert in content marketing, social media, branding, marketing analysis and PR.
Digital Marketing Free courses to Learn
Popular Digital Marketing Blogs