Email marketing is a digital marketing technique that delivers email promotional or instructive messages to the masses. It is an efficient marketing approach that may aid firms in acquiring the trust of their target market, generating traffic to their website, and making a profit. This blog will discuss 'what is email marketing', how it works, and why it is an essential tool for any marketer.
What Is Email Marketing in Digital Marketing?
Email marketing is a direct digital marketing technique that uses email to communicate with potential customers, boost brand awareness, establish customer loyalty, and promote marketing efforts. A powerful marketing channel, it can assist in making customers aware of your current items or offers by integrating them into your marketing automation efforts. Email marketing may help you create a relationship with your audience while driving traffic to your blog, social media, or anywhere else you wish.
Benefits of Email Marketing
Here are some advantages of email marketing:
Personalisation:

Your material can be highly tailored to your audience's demands. You can establish segmented lists based on region or interaction levels, and your emails might include variants such as alternative graphics or subject lines to boost engagement.

Increased Sales:

Email marketing can genuinely enhance your sales as well.

59%

of marketers think email is their top source of ROI, and marketers who employed segmented lists experienced a

760%

boost in income. Email marketing allows you to educate your audience, increase traffic, conduct surveys, give updates, make announcements, etc.

Cost-effective:

Email marketing is easy to automate, and it's cost-effective. Once you build up your list, establish your offer, and create your email, it automatically delivers it to your target list. You may engage with your audience and create new consumers while focusing on other business areas.

High ROI:

Email marketing has the highest ROI (return on investment) of all forms of marketing, averaging roughly

$36

in return for every $1 spent.

Targeted:

You can reach out to those who have willingly opted to receive emails from your firm. This means you reach an interested audience and can keep them from hitting the unsubscribe button.

Measurable:

This gives you the metrics to see your campaign emails' performance. These insights can help you change your strategy and improve your campaigns.

Increased Brand Awareness:

Increases brand awareness and keeps you top of mind with your consumers. Your subscribers will grow familiar with your products, services, and company as a whole, as you'll always be in their mailbox

Flexible Design:

It provides flexible design, meaning you can build aesthetically appealing emails that reflect your brand and engage your audience.

Shareable:

It is shareable, meaning subscribers may forward your emails to their friends and family, extending your reach.

Scalable:

It is scalable, meaning you may send emails to a small or large audience, depending on your business needs.

Permission-based:

Being permission-based, you can only send emails to people who have opted-in to receive them. This ensures that your emails are not labelled spam and that you are reaching a receptive audience.
Join the Advanced Certificate in Digital Marketing and Communication from MICA to learn about numerous marketing channels and develop a comprehensive grasp of digital marketing tools and tactics.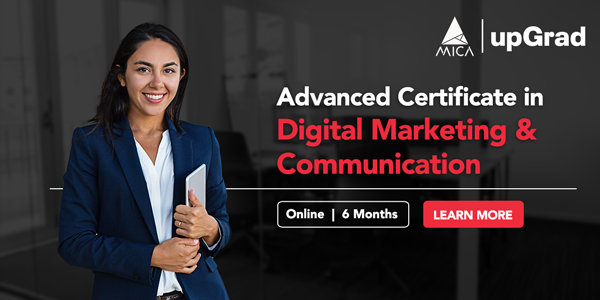 Drawbacks of Email Marketing
Organisations should carefully examine their email marketing strategies to target the right people with exciting and appealing content to address the below-mentioned drawbacks:
Size

– Emails have size constraints, which makes adding huge files or photographs challenging.

Spam

– Sending too many promotional and spam email messages might frustrate readers and lead to individuals unsubscribing from your mailing list.

Competition

– It is highly competitive due to its popularity, with businesses often attempting to reach and engage the same people. This may make it difficult for your emails to stand out in crowded inboxes.

Engagement

– It might be less interesting than other kinds of marketing, such as social media or video marketing.

Design

– Technical skills are necessary for email creation and sending, which might catch organisations lacking these talents on the back foot.

Cost

– Even though it is frequently seen as a cost-effective strategy for interacting with customers, there are still expenses associated with email marketing campaigns, such as the cost of email marketing software and the time required to create and distribute emails.
How to Market Through Email Marketing
To perform email marketing effectively, follow these steps:
Select a source of email marketing services:

Using automation, expert templates, and monitoring tools necessitates collaboration with an email marketing service provider.

Define your target audience:

Understand your target audience so that you may adapt your email marketing to their demands and interests.

Gather email addresses for your email marketing list:

Create your email list by gathering contacts from numerous sources, such as website sign-ups, social media admirers, or in-person events.

Set objectives:

Determine your goals for email marketing, whether they aim to boost brand awareness, generate contact, retain leads, or drive sales.

Craft eye-catching content:

Create email content that is entertaining and valuable to your readers. Employ a consistent business design and eye-catching visuals.

Automate your email campaigns:

Use automated technologies to streamline your marketing efforts. Set up automatic emails for welcome messages, abandoned shopping notes, and tailored suggestions.

Keep track of and measure your progress:

To analyse the performance of your email marketing, track crucial metrics, including open rates, click-through rates, and conversions. Use this knowledge to fine-tune and improve your future efforts.

Comply with email marketing regulations:

To guarantee you're sending emails in line with the law, acquaint yourself with email marketing constraints such as the CAN-SPAM Act.

Improve regularly:

Analyse and alter your email marketing plan depending on facts and feedback. Test multiple subject lines, content formats, and CTAs to boost your success.
Check out our free courses to get an edge over the competition.
How To Build an Email Marketing List
Here are some tactics for building a high-quality email list that produces sales:
Quality:

Always obtain comprehensive information from real individuals instead of purchasing email lists. Spam accounts, bots, and abandoned email addresses do not make transactions.

Relevance:

Target only those who are interested in your products or services. Otherwise, leads will unsubscribe as immediately as they join.

Quantity:

After completing the previous two goals, you can build your email list and broaden your reach to include new or larger audiences.

Create unique email content:

If your emails are enjoyable, educational, and helpful, recipients will eagerly await them and are more likely to share them with their networks. This helps you gain exposure and obtain additional subscribers.

Use social proof:

Showing many people have already subscribed to your email list builds trust, instils FOMO (fear of missing out), and tempts new people to sign up.

Offer incentives:

Offer value to your subscribers, such as a discount or free content, in exchange for their email address.

Gamify your signup forms:

Make the signup process fun and engaging by adding games or quizzes to your forms.

Segment your audience:

Divide your email list into smaller groups based on demographics, behaviour, or preferences to create more personalised and effective email campaigns.

Remove inactive subscribers:

Regularly check and remove subscribers who do not engage with your emails or have not in a while to keep your list interested and prevent your emails from being marked as spam.

Have a strong Call to Action (CTA):

Make sure your CTA is clear and compelling and appears in multiple places on your website and social media platforms.

Personalise:

Use personalisation to make your emails more relevant and engaging to your subscribers.

Use Multiple Social Media Platforms:

Promote your email list on multiple social media platforms to reach a wider audience.
Learn digital marketing courses online from the World's top Universities. Earn Masters, Executive PGP, or Advanced Certificate Programs to fast-track your career.

Importance of Email Marketing for Businesses
Email marketing is important for your business for several reasons.
Customer acquisition and retention:

It is the primary driver of customer acquisition and retention. It is more likely to encourage purchases when compared to social media marketing.

Cost-effective:

This cost-effective method allows you to connect with and engage your target audience affordably.

Building customer trust:

Increase customer trust and give your business more personality by emailing your customers frequently.

Real-time communication:

You can send emails at their convenience to keep your customers informed and interested.

Versatility:

Using a single channel, email marketing enables you to complete multiple jobs. You may use it to inform your audience, drive more visitors, conduct polls, offer updates, make announcements, and more.

Brand development:

Email marketing helps you build your brand. It allows you to consistently show up in your customers' inboxes, keeping your business at the top of their minds.

Reaching a target audience:

Email marketing is most successful for customers considering your goods or services, making it a great tool for promoting your business.
Popular Digital Marketing Blogs
Examples and Forms of Email Marketing
Understanding 'what is email marketing with example' is crucial for any business. Various marketing emails can be used to engage with customers and promote products or services. Here are some examples:
New Content Announcement Email:

This type informs subscribers about new content, such as blog posts, articles, or videos.

Product Update Email:

These emails update a product or service's new features, improvements, or releases.

Digital Magazine or Newsletter:

Newsletters or digital magazines provide curated content, industry news, and updates to subscribers.

Event Invitation:

These emails invite recipients to attend events, webinars, conferences, or workshops.

Dedicated Send:

A dedicated send is an email sent to a specific group of people for a specific purpose, such as a special offer or promotion.

Welcome Emails:

These emails are sent to new subscribers or customers to welcome them and provide information about the brand or product.

Promotional Emails:

Promotional emails are used to promote products, services, or special offers to customers.

Newsletter Emails:

Newsletters provide subscribers with regular updates, industry news, and valuable content.

Lead Nurturing Emails:

These emails are designed to nurture and guide leads through the sales funnel with targeted content and offers.

Survey Emails:

To improve products or services, survey emails gather feedback, opinions, or customer data.

Milestone Emails:

Milestone emails celebrate important milestones with customers, such as anniversaries or achievements.

Abandoned Cart Emails:

These emails are sent to customers who have added items to their cart but still need to complete the purchase, encouraging them to complete the transaction.

Re-engagement Emails:

Re-engagement emails are sent to inactive subscribers to encourage them to re-engage with the brand or product.

Thank You Emails:

Thank you emails express gratitude to customers for their purchase, loyalty, or engagement.

Product Feedback Emails:

These emails ask customers for feedback or reviews on their recent purchases or experience.
Best Online Digital Marketing Courses
Conclusion
With a focused email list offering helpful content and using automation, businesses can develop deep relationships with their target audience, increase sales, and achieve long-term marketing success. Firms may make the most of this low-cost marketing medium by sending efficient emails and monitoring email marketing analytics.
upGrad offers an Advanced Certificate in Brand Communication Management from MICA. The programme is meant to give industry-relevant training in brand communication. The curriculum includes subjects such as marketing strategy, analytics, SEO, and SEM to help individuals upskill in digital marketing.
FAQs