Introduction
Customer retention is one of the quintessential elements for any business to thrive. Regardless of how innovative a product is or how efficient services a company provides, it is next to impossible to scale without the support and loyalty of the customers. Therefore, all companies come up with several strategies to increase their customer base.
However, what follows is tons of customer data that needs to be stored and managed efficiently. Manually managing such a large amount of data is a tedious task. It also leaves plenty of room for errors. In such cases, customer relationship management (CRM) tools or software comes in handy for businesses with a vast customer database. It enables companies to cater to their clients efficiently and also enhances customer service quality.
What is Customer Relationship Management?
Customer relationship management (CRM) is a broad term that describes a strategy or an approach towards the customers. It can also be understood as software or a tool that allows companies to store customer data, record customer patterns, and analyze consumer behavior. It enables companies to reach out to their potential customers and also maintain the loyalty of the existing ones.
In simple terms, customer relationship management is a blend of strategies, approaches, and technology that serves as a bridge between the sellers or service providers and the customers. It allows companies to extract, store, manage and interpret customer data to formulate marketing and sales campaigns and reach out to their customers.
The two essential purposes of CRM are to improve the relationship with the present customers and attract new ones and boost sales and marketing. Plus, CRM helps companies interact with their customers, understand their needs, take constructive criticism, thereby gaining trust and generating revenues.
Why is Customer Relationship Management Necessary for Companies and Businesses?
With cutting-edge competition in the market and several businesses offering similar services and products, customer satisfaction has become all the more necessary.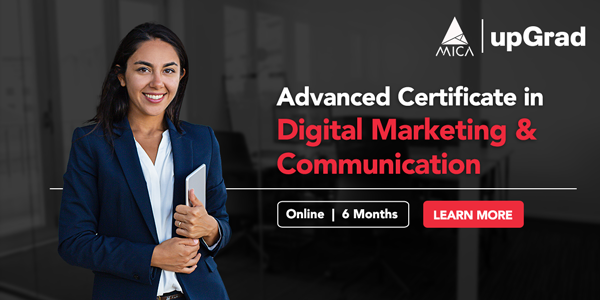 No business can survive without customers. Therefore, customer relationship management is indispensable for companies and firms. CRM helps the company gain the loyalty of existing customers and focuses on converting leads or potential clients into actual customers. It helps to boost the sales of the company.
CRM platforms enable companies to store customer data such as their details, payment modes, purchase details, and other relevant information in one place. It allows them to deliver quick, smooth, and efficient customer services and resolve customer grievances.
CRM also facilitates cost-reduction. With CRM, the companies can streamline their operations and customer services and cut down irrelevant costs.
upGrad's Exclusive Digital Marketing Webinar for you –
What's new in Marketing?
What Are the Career Opportunities In Customer Relationship Management Industry?
With the growth in the digital revolution, all companies would have to sooner or later adapt to customer relationship management software and would need to hire employees for the same. Therefore, a career in customer relationship management has plenty of opportunities today and in the future.
The CRM industry is scaling at a tremendous speed. The global CRM industry is expected to grow to $15 billion in 2021 and will likely touch $80 billion by 2025. These figures explain that there would be no shortage of opportunities in the CRM sector in the coming years. The requirement for skilled employees would grow big-time.
CRM Industry offers a lucrative career with plenty of career opportunities. However, a lot of people are confused about the designated roles in this field. So, let us understand what roles you can take up when you step foot into the CRM industry!
1. CRM Developer-
CRM developers are software engineers who build a CRM platform. They ensure that all the CRM functions work smoothly. CRM developers are also responsible for constantly updating the CRM platform with contemporary features. The average annual salary of a CRM Developer in India is INR 6,00,000. 
2. CRM Architect-
A CRM Architect is responsible for planning, conceptualizing or designing, and implementing CRM strategies and procedures with the help of various tools and applications such as Salesforce, API, VisualForce, and others. This role requires coding and programming skills. The average annual salary for a CRM Architect in India is around INR 19.7 lakhs. 
3. CRM Administrator-
Unlike CRM Developers and Architects, CRM Administrators need not possess technical skills. A CRM administrator's role entails managing the extensive customer database, preparing reports, and managing dashboards. The Administrator is also responsible for keeping a record of all the contracts entered into between the company and its customers and all other transactions and communication from time to time. 
The CRM Administrator ensures that the customer database is up to date at all times. He also finds any defect or fault in the data and might have to train the employees and familiarise them with CRM software.
To apply for the position of CRM Administrator, you must have leadership qualities and shall demonstrate ownership of the work undertaken. It is also beneficial to possess the know-how of MS-office. The average annual salary of a CRM Administrator in India is INR 3 lakhs.
4. CRM Data Analyst-
Companies collect their customer's data to understand consumer behaviour and plan their sales and marketing campaigns accordingly. This is primarily the job of a CRM Data Analyst. He is responsible for interpreting the data such as the products purchased, customer reviews, and preferences. The CRM Analyst then analyses consumer behaviour and prepares reports related to customer patterns. This helps the sales and marketing team reach out to potential customers and generate revenues. 
CRM Analysts must have a background in Marketing and Business. A lot of companies hire candidates with a bachelor's degree in marketing or business. The ideal candidate needs to have strong reasoning and critical analysis skills. In addition, he should possess the know-how of customer relationships and services and should also be able to operate database software.
The average salary of a CRM Data Analyst in India is INR 4 lakh per annum. 
Best Digital Marketing Courses Online
5. Marketing Strategist-
A CRM Marketing Strategist is at the forefront while dealing with customers. When the CRM Analyst submits his reports and suggestions, the CRM Marketing Strategist develops and implements marketing and communication strategies to interact with the customers. He also handles PR, promotions, and managing all modes of communication such as social media, emails, or SMS.
The CRM Marketing Strategist also maps out campaigns to identify and attract new customers. A CRM Marketing Manager should be familiar with various marketing tools such as MailChimp, HubSpot, Google Analytics, Chatbots, Tableau, and more.
The average salary of a CRM Marketing Manager in India ranges between 12 lakhs to 26 lakhs annually.
6. CRM Consultant-
The job of a CRM Consultant is to manage the overall CRM process. The consultant guides the employers and other stakeholders related to various CRM functions. He is responsible for finding any scope of improvement in customer support services.
A CRM Consultant suggests the integration of new applications to enhance the working of CRM software. An ideal candidate must possess strong analytical and problem-solving skills.
The average salary of a CRM consultant in India is INR 9 lakhs annually.
In-demand Digital Marketing Skills
How Can You Build a Successful Career in Customer Relationship Management?
Customer Relationship Management is a growing field. Employers are on the lookout for candidates with technical and leadership skills who can take up challenging roles. For holistic development and skill learning, it is advisable to take up specialized courses that will help you learn in-depth about CRM and will also help you learn practical skills.
Following are the must-have skills to build a career in the CRM industry.
Leadership skills

Strategy and analysis

Communication

Project Management

Customer Service

Marketing
The online Digital Marketing program offered by upGrad is one of the best ways to learn the nitty-gritty of business and administration and acquire relevant skills for jobs in the CRM industry. Along with a degree, you will also receive a specialization certificate in marketing from upGrad. Moreover, you get an opportunity to learn from more than 700 industry experts on upGrad. It will help you know about real-life situations and the practical applicability of skills.
Digital Marketing Free courses to Learn
Conclusion
Ever since the pandemic, schools, colleges, and universities have been closed indefinitely. This has led to a lot of confusion and uncertainty among students. At times, freshers also lack skills, due to which they get fewer job opportunities. In such cases, it is beneficial to enroll yourself in online courses that offer specialization in Marketing. The online courses from upGrad provide real-time learning through hands-on projects and live sessions with industry experts. If you want to build a career in the CRM industry, such programs will help you learn relevant market skills and open many job opportunities for you.
Popular Digital Marketing Blogs
Is it necessary to have a technical background to secure a job in the CRM sector?
No, it is not necessary to have a technical background. You can apply for the position of CRM Administrator, Consultant or CRM Analyst. However, a basic knowledge of software and tools is an added advantage.
Do employers look for MBA graduates for CRM jobs?
No, it is not necessary to have an MBA degree to apply for CRM jobs. A lot of companies hire freshers with a bachelor's degree in business and administration or engineering.
Can Artificial Intelligence technologies replace CRM jobs in the future?
No, the CRM industry is expanding fast. Even if the companies use AI technologies, they would still need employees to understand consumer behaviour and develop creative marketing campaigns.
Prepare for a Career of the Future