Digital marketing is almost a necessity in today's connected marketplace. It is also one of the most lucrative careers out there. According to a 2018 IMAI report, online advertising in India was set to grow 30% year-on-year.
If you are aspiring for one of the best digital marketing jobs in India, the salary package is not the only factor. Career growth, job security, and reputation make a career attractive.
With the government's 'Digital India' push and startups breaking new ground, the entire ecosystem is likely to experience another boost. We listed the top 10 highest paying digital marketing jobs in India. This list is updated and irrespective of your work level, beginner/entry-level or middle level, these will help you decide the direction you want to go in next.
What is Digital Marketing?
According to Gartner, a global research and advisory firm, digital marketing involves applying a set of techniques, technologies, and information for the following purposes:
Creating new products and services

Entering new markets

Creating processes to engage with people (including influencers and buyers) dynamically

Targeting, acquiring and retaining customers
Therefore, digital marketers perform a range of functions in an organization. And in today's job market, the type of job positions available are equally rewarding as they are diverse. Now, let us describe what these different career options entail. We have also mentioned the starting salaries and average remuneration (as estimated by the top job search sites like Indeed, PayScale, and Glassdoor) for all the job titles. If you want to know about the highest paying digital marketing jobs, this article may help you. 
So, here's a look at the highest paying jobs in digital marketing.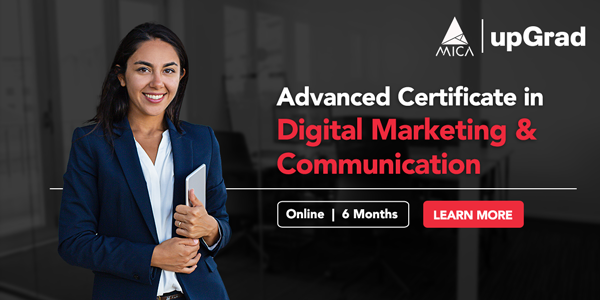 Highest Paying Digital Marketing Jobs in India
Digital marketing is one of the most in-demand fields amongst the youth. Here are some types of jobs in digital marketing that will help you grow your business –
1. Digital Media Managers
This marketing role is concerned with designing multi-channel campaigns to raise awareness about and driving the adoption of a brand, product, or service. Digital media managers are also responsible for deciding the brand's digital strategy and messaging. 
First, they assess the business in terms of its paid, owned, and earned media strengths. Then, they utilize multiple channels like pay-per-click ads, Google display ads, website/blog, social media presence, online reviews, etc. Every one of these avenues brings unique capabilities to the table, such as brand awareness, customer preference, and trust. 
If we look at the specifics, digital media management primarily aims at the twin goals of customer acquisition and lead generation. If you want to climb the corporate ladder, check out our digital marketing courses to upskill yourself. This field requires people with an analytical mind who can benchmark performance and forecast results in keeping with the nuances of consumer behavior. 
2. Pay-Per-Click Managers
These marketing professionals enhance PPC campaigns using budgeting, keyword selection, copy improvement, comprehensive search strategies, etc. PPC managers are expected to handle various ad types, such as Google Display, Bing ads, and other paid search engine advertising. 
All in all, they implement strategies for their clients and support initiatives that contribute to achieving the intended goals. The demand for PPC managers and the salary making it one of the highest paying digital marketing jobs in India.
Annual salary: Rs 10,48,883
3. SEM/SEO Specialists
Search Engine Marketing (SEM) involves techniques like search engine optimization or SEO, pay-per-click, and paid advertising. As an SEM specialist, you would be tasked with ensuring that when your target prospects look for a particular thing online, they see your organization in the top results. The excessive & growing demand makes SEM/SEO specialists, land on one of the highest salary digital marketing jobs in India
You would also manage online campaigns and update the websites to drive search results (for example, blogs and RSS feeds) to establish a viable business case for SEM expenditure. It has always been one of the best digital marketing jobs in India, and dealing with money – yours and others – is the stuff of dreams.
Annual salary: Rs 360,098 (entry-level) and Rs 975,000 (mid-senior level)
4. Content Strategists
As one of the highest paying digital marketing jobs, In an increasingly digital world, the issues of unnecessary clutter and short attention spans also hamstring the marketing efforts. Today's consumers spend a lot of time online, but they are too busy and spoilt for options. So, a well-thought-out content strategy can prove to be a valuable asset. Hence, it is not surprising that such roles are among the highest paying jobs in digital marketing. 
Several organizations, which are serious about tailoring their strategic objectives to match the customer needs, hire content strategists for the job. It is the duty of these to attain the much-needed brand visibility and reach and find that intrinsic link between content and SEO. Here are a few tasks that they perform for the companies:
Conducting content audits

Creating style guides

Populating event calendars

Curating high-quality content 

Developing a compelling copy for the brand
To undertake the above responsibilities, content strategists need to be innovative, systematic, and well-organized. They should be able to identify relevant topics for content generation and then execute the plans to engage the target audience. 
Annual salary: Rs 6,92,498
5. E-commerce Specialist
One of the highest paying digital marketing jobs worldwide, E-commerce has emerged as a cost-effective solution for retailers over the last few years. Since there is no requirement for physical space, a significant portion of the overheads can be saved.
Most big brands use the omnichannel approach, where traditional marketing efforts are supplemented with an e-commerce presence. But in the face of COVID-19, all businesses have had to rethink their approach. It is one of the highest paying digital marketing jobs in the market today. The excessive & growing demand makes e-commerce specialist land on one of the highest salary ecommerce specialist jobs in India
E-commerce specialists are adept at optimizing product pages with proper descriptions and button placements. With this, they improve the customer experience and increase conversions. They also collaborate with cross-functional teams (sales and marketing) to set lead generation and sales targets. 
Annual salary: Rs 3,00,000 (starting); Rs 10,86,571 (mid-career)
6. Brand Marketing Expert
With the growing online presence of both consumers and businesses, it is becoming increasingly important to invest time and money in digital brand building. Companies can no longer escape unsatisfactory product reviews and poor customer service. Moreover, digital media provide tremendous opportunities for storytelling and engagement. An organization's narrative (on its website and social media platforms) speaks to its targets about its values.
Thus, it is the job of brand marketing professionals to utilize their creativity to stimulate the emotions of your target pupils and influence them to make a purchase. To perform these duties, they must possess an eye for detail, along with excellent communication skills. A powerful brand that can persuade and gain your prospects' trust is one that aligns with the overall vision and business strategy. 
Annual salary: ₹10,77,700
7. Social Media Marketers
Social media marketing is all about designing strategies to promote brands and implementing campaigns to boost audience engagement on social networking platforms. Nowadays, businesses prefer to hire individuals who specialize in managing such online efforts. If the brand does well on social media, it can pace up the website traffic. Email marketers are another type of content marketers who assist in similar activities of promotion and lead generation. In addition to being one of the highest paying digital marketing jobs in India, it is also a fast-paced one.
In high-growth companies, you can advance to higher seniority levels, starting from posts like social media or email marketers. One such role is that of the Communications Manager, one of the highest paying jobs in digital marketing. 
Annual salary: Rs 3,42,814
Best Digital Marketing Courses Online
8. Digital Project Managers
As the title suggests, these individuals pull an entire project together, taking it from the initial concept to execution. Digital marketing managers of IT companies and project managers/team leaders of marketing agencies enjoy a competitive compensation package in India. Typically, candidates with a postgraduate degree and relevant professional experience are hired for this senior position. The excessive & growing demand makes digital product managers land on one of the highest salary digital marketing jobs in India
As a digital project manager, you would be expected to demonstrate effective communication and time-management skills. You would be responsible for setting goals, timelines, and milestones for various projects. So, having sufficient working knowledge of software like Trello, Basecamp, Asana, etc. would be necessary. These tools enable project managers to centralize all communications and keep track of tasks. Besides, you would need to build a sound understanding of methodologies like SCRUM and Waterfall. 
Annual salary: Rs 12,24,490
9. Marketing Analysts
Marketing analysts use analytics tools and report various market metrics to facilitate the success of organic and paid campaigns. Market research and analysis lies at the heart of their work in any organization. It has always been one of the best digital marketing jobs in India, and dealing with money – yours and others – is the stuff of dreams. Strong quantitative skills, statistical prowess, and data visualization experience are a must for them. We have summarized some of their job specifications below.
Design and conduct in-market tests (also, interpret their results)

Generate strategies for data tracking

Organize performance-related data from different sources (social media, web analytics, paid media, etc.)

Identify opportunities for marketing optimizations and give recommendations
Annual salary: ₹4,63,560
In-demand Digital Marketing Skills
10. Visual Designers
The visual appeal of your site and digital brand plays a significant role in attracting customers. The excessive & growing demand makes visual designers land on one of the highest salary digital marketing jobs in India. Businesses need experienced visual designers who are fluent with Adobe products and have basic web development proficiency. Now, let us look at their job responsibilities:
Create brand experiences across several consumer touchpoints

Execute design projects, taking them from research/sketch phase to the high-pixel visual deliverables

Work with other teams to align business objectives with the proposed creative solutions

Design digital materials like landing pages, email banners, presentations, reports, ad creatives, etc.
Generally, visual designers and UX/UI developers create an online portfolio to showcase their proactive brand storytelling capabilities. With adequate experience, they can become creative directors, again one of the highest paying jobs in digital marketing. 
Annual salary: Rs 6,83,744 (Visual designer); Rs 12,43,026 (Creative director)
How to get a digital marketing job that pays high?
The desire for up-and-coming digital marketers is gradually increasing in India today, so much so, that it has become one of the highest paying jobs in the country. With an increase in demand, the number of people opting for this career option in hopes of getting into the top companies hiring digital marketing in India is also increasing. With so many people in the field, it is important for people to stand out amongst their competition and land their dream job. The market may be flooded with talented digital marketing professionals competing for different types of jobs in digital marketing, however, here are some tips that will help you stay ahead in the game –
To master digital marketing, you should first learn and develop the skills you intend to master. Candidates' most valuable asset is their depth of knowledge.
Invest time in strengthening your managerial skills. Candidates with great coordination skills, teamwork skills, and clear communication skills are often offered high-paying jobs. Taking on-the-spot decisions is extremely common in digital marketing jobs, so having a presence of mind is essential. You may also be asked questions from different genres in a digital marketing skills assessment test.
To work in any company as a digital marketing professional, you must have smooth software skills.
Discover the job openings at your dream companies, and then apply for them. In order to get noticed among the many applications they receive for digital marketing jobs, make your job application emails creative.
Build connections with others in similar fields on LinkedIn and develop a strong digital presence. Additionally, employers can view your work through a personal website to determine whether your skills match their requirements and if they fit with their company.
These tips can help you get a well-payed job in the industry even if you are a fresher.
Digital Marketing Free courses to Learn
Top Skills and Industries
Some skill sets are standard across all digital marketing jobs. These include consistency, time management, attention to detail, leadership, and innovation. More specifically, aspiring digital marketing professionals should try to fine-tune their capabilities in:
Search engine: Google Keyword Planner, Google Trends, Google Adwords, SEMrush, Google Webmaster Tools

Content marketing: Grammarly, Buzzsumo, HubSpot, Copyscape

Social media: Facebook, Instagram, Twitter, Hootsuite, Buffer, Sprout Social

Email marketing: MailChimp, PutsMail, Aweber 

Web development: MySQL, HTML, Google Analytics, SEO

Web analytics: Adobe SiteCatalyst, Optimizely, Crazy Egg, Moz, Clicky
Advertising, IT Services, Software, and Education Management are the leading industries that recruit digital marketing talent in India. Major Indian cities like Delhi, Mumbai, and Bengaluru are the hubs for digital marketing recruitment. The remuneration offered to candidates varies based on the job location. 
How to Make Sure Your Skills Are Advanced?
There are skills that you will require as a digital marketing professional. Here are some ways in which you can boost your skills –
Stay up to date with the latest trends
Technology is something that keeps on evolving. At any given point in time, they can be new digital marketing trends that are taking over and can help your business grow. Digital marketing professionals, you must make sure that you are aware of all the developments made in this field. Apart from this, you must also develop a better understanding of the latest strategies.
Boost the skills you already have
In the corporate field, every digital marketing professional must have soft skills and hard skills. The soft skills include creativity and the power to influence, while hard skills include the ability to make a profit on the marketing investments made by clients. You must have the confidence to present these skills to your clients and win their trust.
You may have mastered these skills, but the main taks is to implement them in real life and get some good results. The best way to do that is to keep learning via a mentor or seniors. Work on brands with professionals who are already acing in this field.
Best companies for digital marketing jobs in India 
The best companies for digital marketing jobs in India offer a lot more lucrative opportunities to candidates than the growing brand names in the market. Here is a list of some of the top companies hiring digital marketing in India –
Accenture
Amazon
Fuel Online
Lounge Lizard
Brolik
WEBITMD
WebFX
Conklin Media
Silverback Strategies
Thrive Internet Marketing
The Future of Digital Marketing in India
The scope for digital marketing is limitless in the current global context. So, it is no surprise that the highest paying digital marketing jobs in India show inclination towards individuals who continuously update their skill sets. Your critical thinking abilities, married with awareness about the latest market trends, can set you apart from the crowd.
India is an emerging economy with an internet user base of 560 million people. Digitization enables brands to meet the customers where they are, i.e., on places like social media platforms. Facebook, Twitter, Instagram, and even YouTube, are contributing to impressive business growth in both small and big markets. With this perspective, let us see what the future scope of digital marketing in India is.
The total number of internet users would reach 666 million by 2023 (Source:

Statistica Digital Market Outlook

)

Compared to most countries in Europe and Latin America, India's approach to digital marketing is seemingly progressive. Several mature brands have reported better results from going online (Source:

Google-BCG study

) 

The Indian internet marketing industry would be worth USD 160 billion by 2025 (Source: Goldman Sachs)

Digital marketing spending by companies would rise to Rs 25000 crore by 2021, resulting in the creation of lakhs of jobs in the sector (Source:

Dentsu Aegis Network

). 

E-commerce market would be valued at USD 98.4 billion by 2023 (Source:

Global Data

)

Digital marketing jobs secure a place among the 15 leading career options in India (Source:

LinkedIn

)

Finding talent is a bottleneck for many businesses, and there is a shortage of people who fully understand the intricacies of digital marketing (Source:

Kstart & Yourstory report

)
The above points illustrate the business relevance of leveraging digital media in today's technology-led environment. However, it remains to be seen whether the pandemic would force traditionalists to finally venture into the online space and try out new avenues to reach the target audience. 
upGrad's Exclusive Digital Marketing Webinar for you –
Webinar with Q&A Session on Digital Marketing
Snapshot of the current digital marketing landscape
Dr. Philip Kotler, who is regarded as the father of modern marketing, defines marketing as an exchange process that satisfies the needs and wants of customers. The sustainability of this process depends on the strategies adopted in the face of changing business environments. In the current pandemic situation, this very fact has come to the fore once again. Most of the efforts regarding need identification, product development, customer reach, and retention with loyalty have had to move online. So, the scope of digital marketing is only going to expand.
These are the top 10 highest paying digital marketing jobs in India. Digital marketing is shaping the industry as we know it. In this article, we described the responsibilities and salary range of some of the highest paying jobs in digital marketing
With the above information, we observe that the career options in digital marketing are diverse, ranging from copywriter to social media manager to e-commerce specialist to analytics expert to creative director. Moreover, such digital marketing positions come with an average compensation of Rs 8 lakh a year. If you want to go for a career in this field, you can choose from the following paths:
Start with an undergraduate degree with any specialization and earn an online certification in digital marketing. Keep updating your skills with free subscriptions to online resources and create a blog/website to land an internship or an entry-level job

Complete your graduation, followed by a specialized postgraduate degree in digital marketing and communication. Then, capitalize on your internship projects/network/industry exposure to secure a job in your chosen domain
Being aware of the highest paying digital marketing jobs would help you in fine-tuning your preparation strategy. It would be best to pay attention to the skill requirements and keep track of the major recruiters in your preferred field. So, spot your area of interest and climb the professional ladder!  
If you wish to explore and become an expert in Digital Marketing, check out MICA and upGrad's Advanced Certificate in Digital Marketing & Communication. Become an expert in social media marketing, content marketing, branding, marketing analysis and PR.
Popular Digital Marketing Blogs
What is the best field in digital marketing?
The digital domain is expansive and is constantly evolving. Therefore, it will be hard to point towards a specific area within digital marketing and demarcate it as the best. Those who are seriously interested in pursuing a career in this space must have a clear understanding of what really attracts them to this field and if they have the skills and capabilities to match the demands of the role.

That said, some of the digital marketing verticals that draw in people include SEO and SEM, Email Marketing, Social Media Marketing, Content Creation, Data Analytics, Bot Development, Graphic Design, Website Development and more. Being passionate about any one of these fields within digital marketing will help you to decide the niche that you should pursue as a profession in the long run.
Do digital marketers have a promising future?
Businesses are slowly moving away from conventional marketing towards digital. The primary reasons for this are the cost effectiveness of the platform and the availability of trackable metrics, data and insights. Needless to say, the demand for specialists in the field of digital marketing is only skyrocketing across the globe. The scale is heavily tilted towards the demand and not enough skilled professionals to fill in the gap.

That said, if you are indeed considering breaking into this field, then you may consider developing these niche skills in digital marketing that can lead to a promising and prosperous future.

1. Mobile digital strategy and planning
2. Marketing automation with data analytics and reporting
3. Social media research and insights
4. Website design and optimization
5. Content marketing and search engine optimization
5. User experience and user interface design
Is digital marketing a good career choice?
The last decade has witnessed an upsurge in demand for trained and certified digital marketing professionals as a result of internet penetration to every corner of the globe. Every business today looks to establish some online presence that they can scale in the future. Plus, you have several brands which are simply conducting their business through online channels.

A career in digital marketing gives traditional marketers the option to upgrade and diversify their skill sets. It also gives them the opportunity to be creative and experiment with campaigns and communication on a frequent basis.

Simply put, digital marketing is a great career option because:

1. It allows individuals from different educational backgrounds and careers to start afresh
2. The space is constantly evolving thus creating a demand for trained professionals
3. Demand is greater than the supply of professionals

With a rise in the demand for digital marketing, trained and experienced professionals in this space have also become quite sought after. Hence, it is understandable that the average pay packages for digital marketing professionals have skyrocketed in the last 5 years.
Ride the Digital Wave