Summary:
In this Article, you will learn about top 10 highest paid jobs in India in Commerce field.
| Highest Paid Jobs in Commerce | Average Salary per Annum |
| --- | --- |
| Chartered Accountant | ₹789,396 per year |
| Investment Banker | ₹952,752 per year |
| Chartered Financial Analyst | ₹689,703 per year |
| Certified Public Accountant | ₹706,944 per year |
| Actuary | ₹972,899 per year |
| Cost Accountant | ₹548,004 per year |
| Professional Accountants | ₹248,912 per year |
| Retail Manager | ₹581,199 per year |
| Company Secretary | ₹412,665 per year |
| Personal Financial Advisor | ₹374,861 per year |
Read more to know each in detail.
In India, we follow a rigid form of the education system – dividing it into Science, Commerce and Humanities fields. While most of these fields indirectly complement each other, we are conditioned to believe that only students in the Science field get the most opportunities and lead comfortable lives and still some people believe commerce jobs don't give you financial security, which is not true. Commerce stream jobs can provide financial security when you take the right path. There are a good amount of highest salary jobs for commerce students. Check out our free courses to get an edge over the competition.
If you take up commerce, which is essentially a field that deals with accountancy, money, monetary source, investments, etc, you can have a wonderful 'comfortable' career as well. Several of the highest paying jobs in India for commerce students have helped people from the commerce field lead a luxurious and comfortable life for themselves.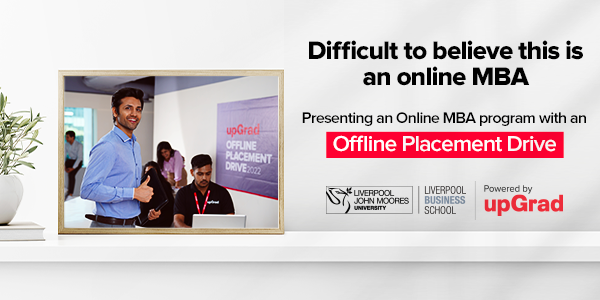 Read: Top 10 Highest Paid Jobs in India
The top two things that determine a good job for an individual are job satisfaction and salary. Both of them are related in unique ways. Job satisfaction refers to working conditions like hours, colleague interaction, etc. It is also about whether your skills or talents are being employed in the right direction for the company or not.
You can also consider doing our Management Essentials Bootcamp if you are interested.
Along with the working conditions and skill utilization, job satisfaction is heavily dependent on the salary. If the pay is good, then you are more willing to provide an extra bit of work whole-heartedly as you believe that your skills are being valued properly.
Hence, the combination of both salary and job satisfaction ensures a comfortable life. Commerce jobs have the benefits of both. There are several highest paying jobs in India for commerce students where one can be satisfied mentally and financially. Clicks to read if you are specifically looking for careers after b.com. Let's check the best courses after 12th commerce with high salary in India.
Is Commerce Beneficial for a Promising Future?
Are you fascinated by the evolving prospects of commerce and looking for the most efficient way to safeguard a future filled with professional accomplishments? Commerce might be the key. This post will explain why the commercial environment might provide a fantastic avenue for students to choose their futures and readily embrace prospective job choices. Given the rapid growth and evolution of technology, the future of commerce is likely to be one of dynamism and innovation, bringing up enticing courses after 12th commerce with high salary for those willing to adapt and succeed. Students that start on a path within the sphere of business position themselves to capitalise on these chances and pioneer the vanguard of this rapidly developing sector.
Significance of Commerce Education
Commerce education is a great advantage for those wanting to pursue business and finance careers. These courses after 12th commerce with high salary provide students with foundational information and abilities in banking, investments, taxation, personal financial management, and others. Aside from that, it focuses on supporting individual growth, developing leadership skills, and polishing critical problem-solving approaches required for navigating complicated scenarios offered by technology disruptions or rapid shifts in global economic patterns.
Graduates who pursue commerce courses after 12th commerce with high salary are more prepared to enter today's ever-changing employment market. This readiness originates from a thorough grasp of financial literacy, accessible and inclusive to people from all walks of life. As a result, graduates receive access to attractive job possibilities in various booming industries. Finally, this endeavour adds to a nation's economic development, driving long-term success on a larger scale.
Benefits of Commerce Education
Pursuing a commerce education provides a myriad of various job opportunities. Opportunities exist in finance, accounting, marketing, human resources, taxation, banking, and other fields. This diverse profession offers several work opportunities.

In addition, commerce education teaches the skills to launch and manage a successful business venture. It prepares individuals for business by cultivating creative and strategic thinking.

Commerce

courses after 12th commerce with high salary

teach students how to manage funds and assets effectively, allowing them to make informed financial decisions. This programme includes accounting, taxation, and wise investing methods, laying the basis for a profitable life.

A business education also teaches practical skills like financial accounting, taxation, effective communication, and business strategy. These abilities will serve as cornerstones of success in one's future job.

The business education curriculum includes essential aptitudes such as leadership, teamwork, critical thinking, and problem-solving abilities. Obtaining certifications such as CA, CMA, or CS also gives you a competitive advantage while looking for work.

The journey through commerce school provides students with the necessary skills and information, making them good candidates for various employment opportunities. Furthermore, it lays the groundwork for subsequent studies, such as earning a Master of Commerce or MBA, which can lead to even more lucrative career opportunities. Commerce

courses after 12th commerce with high salary

is important for national economic and social prosperity.
Key Subjects Covered in Commerce Education
Commerce education is critical for students who want to flourish in the ever-changing and competitive business environment. Commerce education, which covers a wide range of disciplines from accounting to entrepreneurship, equips students with the necessary knowledge and skill set to succeed in several courses after 12th commerce with high salary.
Mastery of financial management, legal frameworks, marketing techniques, and entrepreneurial concepts is necessary for everyone embarking into the business world. Students gain invaluable skills by immersing themselves in commerce-related disciplines, allowing them to comfortably negotiate the subtle dynamics of the business realm.
Featured Program for you: Business Analytics Certification Programme
Top Highest Paying Jobs for Commerce Students in India
Let's discuss the highest salary jobs for commerce career options in India.
1. Chartered Accountant
If you are someone from the Commerce field, you are most likely to know about the Chartered Accountancy professional course. The Institute of Chartered Accountants of India or ICAI is a statutory body which designates a person as a chartered accountant after they have gone through a series of examinations and internship. It is one of the most popular commerce stream jobs. As a CA, they can handle the important accounts of a company and ensure that the finances are properly recorded and calculated.
Taking the role of a Chartered Accountancy is one of the highest paying jobs in India for commerce students and it is a dream of most commerce students to become a CA. As a starting salary, one can expect to get around Rs. 7 to Rs. 8 lakhs per annum as a CA. It is one of the highest salary jobs for commerce students.
This value increases when a CA gains more experience. However, the CA exams are said to be one of the toughest and so, many students stay away from it. While preparation requires immense hard work, this commerce job does pay off at the end and the fewer the attempts, the better the pay.
How to Become a CA?
Becoming a CA is a challenging journey that might take years to accomplish amid other professional courses after 12th commerce. Candidates must start by attaining a graduation degree from the commerce stream. One can also apply for CA foundational course after the 12th, but most people prefer completing graduation before going for CA. After applying for a foundation or Intermediate course, a candidate has to go through several other stages to bag the position and several other job opportunities after 12th commerce courses list with salary.
2. Investment Banker
As mentioned earlier, students of commerce studies and deal with finances. Hence, they are deemed as individuals who can present the best take on how any company or common person can handle their money or savings. The role of an investment banker is to provide financial advice and recommendations to different companies and firms so that they can optimally make use of their money and reach their financial goals. It is one of the highest salary jobs for commerce students.
Investment bankers usually work in financial institutions in a capital market advisory role to corporations and government bodies. Being of the popular commerce stream jobs, the main responsibility is to raise capital for clients in capital markets and offer a host of other financial advisory services. They assist companies and organizations in important and complex financial matters and also help decide the pricing of different financial instruments.
It is with the help of investment bankers that most companies develop their long-term and short-term financial plans.
How to Become an Investment Banker?
Such commerce job opportunities after 12th demand more experience than the number of degrees. Hence, work on your professional endeavors. Start with a graduation degree from a recognized institute in the commerce stream. Apply for a master's in the subject specialization. Obtain different skill-based certifications and diplomas to strengthen your career further for jobs after 12th commerce. Work under renowned institutions through internships and jobs and slowly proceed towards your dream of becoming an investment banker.
Also Read: Career Options For Commerce Students
3. Chartered Financial Analyst
Chartered Financial Analyst is one of the highest distinctions in the investment management discipline. CFA is one of the highest paying jobs in India for commerce students with an approximate salary of around Rs. 6 to 7 lakhs per annum. CFA is one of the globally recognized commerce jobs and a CFA engages in several roles – wealth management, equity, and fixed income analysis, credit analysis, etc.
To obtain the CFA designation, candidates must pass three levels of exams covering different fields of study, including such as economics, accounting, money management, security analysis, and ethics. Also, candidates must have a bachelor's degree along with a minimum of four years of relevant work experience. If you are a CA, then you can have an advantage in the CFA examinations, since you will be offered several exemptions.
Chartered Financial Analysts can find work opportunities at banks, insurance companies, investment firms, financial securities firms, and even MNCs. Being one of the popular commerce stream jobs, the primary job of a Chartered Financial Analyst is to identify good investments for their company and also bad investments that their clients should avoid.
They gather data from multiple sources and analyze it to assess the returns and risks associated with different investment vehicles. CFA is one of the highest paying jobs in India for commerce students with an approximate salary of around Rs. 6-8 lakhs per annum and one of the highest salary jobs for commerce students.
How to Become a Chartered Financial Analyst?
The journey to becoming a chartered financial analyst starts with enrolling in the CFA program, a three-part exam equipped to test the fundamentals of investment, financial advisory, and wealth management. Gain as much professional experience as possible to strengthen your resume and land job opportunities.
4. Certified Public Accountant
CPA is similar to Chartered Accountancy, but it is conducted by the American Institute of Certified Public Accountants or AICPA. Hence, CPA has a global appeal. Aspirants who desire to earn the CPA designation must possess a bachelor's degree in Business Administration/Finance/Accounting and complete 150 hours of education. All candidates must pass a four-part exam.
CPAs conduct financial statement audits and offer a wide range of attestation services to give a 360-degree view of the financial health of organizations. They offer advice to corporate bodies and families on taxes and financial planning. CPAs can bag different positions in public and corporate accounting hierarchy and climb all the way up to executive positions like the Chief Financial Officer (CFO).
A CPA handles taxation, auditing, reporting, and accounting processes of certain clients and corporations. It is one of the best commerce stream jobs which can give you financial security. You need to have a Business or Accounting degree to get enrolled for the CPA exam and then, you have to pass the exam. A CPA can get around Rs.7-9 lakhs per annum and one of the highest salary jobs for commerce students.
How to Become a Certified Public Accountant?
Completing professional courses after 12th commerce, a graduation degree is necessary to win CPA eligibility. The role of Certified Public Accountant requires candidates to obtain CPA certification and 150 hours worth of work experience to earn the CPA license.
5. Actuary
An actuary is a very respectable title for professionals. Actuaries are individuals who assess the risks involved in the insurance industry. The risks include property loss, disability or other probable that could impact the company. They are experts in risk management who use their mathematical skills to estimate the probability of future events and to predict their financial impact on their clients and businesses in general.
Actuary is one of the best commerce stream jobs and since it is mostly in the analytical field, a student of actuary should have a background in Economics, Business Administration, Finance, as well as have a background in Mathematics.
A career in Actuary is not only diverse, but it is also highly rewarding. While investment banks, insurance companies, and other financial institutions employ many full-time actuaries, Actuaries can also work independently and act as consultants for a variety of businesses/organizations. However, as an Actuary, your career will not be limited to merely financial institutions. Since all areas of business have potential risks, Actuaries can find job opportunities in non-financial domains like real estate, healthcare, etc.
An actuary can get a minimum salary of 9 – 10 lakhs per annum making it one of the highest salary jobs for commerce students.
How to Become an Actuary?
Becoming an Actuary is a lengthy process in India, requiring students to acquire more than commerce stream knowledge. Candidates must have PCM with commerce as their preferred subject, with a graduation degree in Bcom, statistics, Maths, or Actuarial Science. Aspirants must go through Actuarial Common Entrance Test (ACET) to become an Actuary and attain other jobs after 12th commerce.
6. Cost Accountant
Cost Accountant is one of the top commerce jobs list in India. The two core goals of cost accounting are profitability analysis and budget preparation. Cost Accountants are financial specialists who help in making budgets, managing costs and assets of a company and evaluating the performance of a company. They are generally employed by manufacturing firms.
Cost Accountants determine the actual costs associated with manufacturing a product/service and delivering the same to the final customer. For this purpose, they scrutinizing all of the associated expenses within the supply chain and identify which products/services, processes, and departments are the most and least profitable.
Essentially, Cost Accountants are responsible for gathering, validating, analyzing, and communication data to facilitate financial transparency and optimize processes. They are part of an executive team and help in building the financial plan for the company and reports for stakeholders and tax authorities. The salary of a fresher in Cost Accountant is around Rs. 5 lakhs per annum.
How to Become a Cost Accountant
Like any other commerce jobs list after 12th, cost accountancy requires a basic graduation degree in the relevant field. Candidates can later apply for ICMAI examinations that comprise Foundation, Intermediate, and Final exams. They must clear all exam stages and come reinforced with a few years of work experience to become a Cost Accountant.
7. Professional Accountants
Apart from Chartered Accountants, commerce students can take up the field of Professional Accountants. Professional Accountants help with the accounting, taxation and with compliance and reports. They should have a working knowledge of accounting software like SAP, Tally and advanced Excel. Professional Accountants have to create and maintain accurate financial records for businesses and individuals. They also perform audits and financial statement analysis.
Professional Accountants may either find employment in an accounting firm or they can establish their independent practice. Professional Accountant job is one among the well-paying commerce jobs in India. The salary is approximately set at Rs. 3 lakhs per annum.
How to Become a Professional Accountant?
A professional accountant requires significant work experience besides 10+2 and graduation from the commerce stream. Candidates can apply for master's in accounting, certification courses, or diploma courses to strengthen their skill set.
8. Retail Manager
Retail Managers help in the management of supermarkets as per the terms of the business. Basically, a Retail Manager's job is to run a retail outlet/store successfully. They may require a degree in Retail Management.
Retail Managers supervise and manage every aspect of the day-to-day functioning of retail outlets, including sales, staff, inventory, and resources management. Retail Managers must have an awareness of brand and marketing philosophy. They must use clever marketing strategies to persuade customers to purchase products from the store. They may get a salary of about Rs. 5 to 6 lakhs per annum.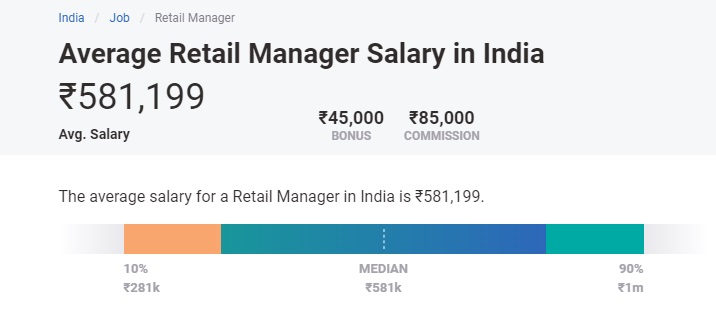 How to Become a Retail Manager?
You can attain a retail manager position by graduating from the commerce stream and extended certification or diploma in retail management. Internship opportunities can further strengthen your resume.
9. Company Secretary
A Company Secretary plays an important role in the company by ensuring that the company is running as per the statutory and regulatory requirements. Company Secretary (CS) is one of the principal posts in a company or an organization. They act as the moderator between the stakeholders and the board. A Company Secretary is responsible for making legal filings like tax reports, account information as well as reports of annual earnings. CS is one of the preferred commerce jobs in India.
CS is undoubtedly a highly promising course after 12th commerce with high salary. The Institute of Company Secretaries of India (ICSI) offers complete training to aspirants who want to pursue CS. Company Secretaries can expect a hefty salary of Rs. 4-6 lakhs per annum.
How to Become a Company Secretary?
Which job is best for commerce students? Candidates after the 12th commerce stream can enroll in the foundation ICSI course, while graduate candidates can apply for the intermediate ICSI course and prepare for the different examination stages.
10. Personal Financial Advisor
A personal Financial Advisor is a person who helps clients with their financial objectives, retirement savings, pensions, insurance, and management of debts. Financial advisors generally require a degree in Finance, Accounting, Business, Mathematics, Law, etc. They can get an expected salary of around Rs. 4 lakhs per year.
Also visit upGrad's Degree Counselling page for all undergraduate and postgraduate programs.
These were some of the highest paying jobs in India for commerce students. There are other diverse jobs that many commerce students can take up. With the right experience and skills, these jobs can also be turned into the highest paying jobs in India for commerce students. Some of them are:
Financial Examiner

Sales Manager

Investment Analysts

Management Analysts

Budget Analyst

Finance Manager

Auditor

Accounts and Finance Executive

Business Consultant

Risk and Insurance Manager

Stock Broker

Statistician

Relationship Manager

Corporate Banking Executive

Credit Control Manager

Corporate Controller

Management Consultant

Treasurer and Finance Officer
How to Become Personal Financial Advisor?
Becoming a personal financial advisor requires candidates to complete their basic educational qualifications through the commerce stream. Specialization in a finance-related stream will be preferred, so opt for the course wisely. Attain at least a year or two of experience under a reputed company to start practicing as a personal finance advisor. Surf through after 12th commerce courses list with salary to find your best matches.
Job-Oriented Courses
It is clear that you need to go through a few courses if you wish to excel in the Commerce field and get one of the highest paying jobs in India for commerce students. Most of the commerce stream jobs require on-the-job experience and some skills sets to help you grow. At upGrad, we deliver several courses that could enrich your career and help give credence to your skills. Some of the courses in upGrad offers are:
Product Management Certification Program: The product management program can help you become a product manager or an assistant marketing manager even without an MBA. In the product management certification course, you will be able to build product roadmaps, engage in product analysis and use data science for product marketing and analytics as well.
PG Certification in Digital Marketing and Communication – In today's world, digital marketing is ruling the marketing scene. With the help of this course, you can dive into the world of digital marketing by understanding the fundamentals of marketing, dissecting the different digital marketing channels and understanding how social media and content marketing work.
PG Program in Management, Specialisation in Sales and Digital Marketing – If you want to be a sales manager and integrate digital marketing channels and tools into your marketing philosophy, then this program is a great way to start. In this course, you will learn about the fundamentals of marketing, different marketing channels, distribution and strategic management, etc.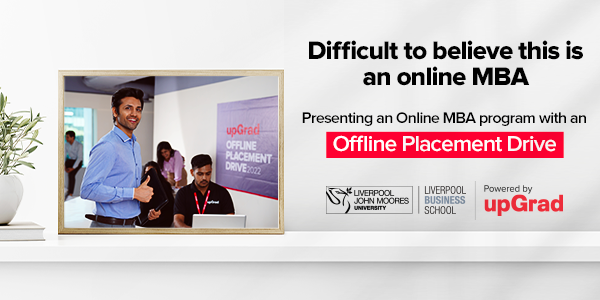 At upGrad, we have mentored thousands of students from across the globe for different courses and careers. Checkout our degree courses offered by upGrad in association with top universities for motivated students like you looking for state-of-the-art BBA courses after completing their 12th.
Featured Program For you MBA From Golden Gate University.
Our Top Management Programs & Articles
Conclusion
These are the top 10 highest paying commerce job opportunities in India – that will help you grow financially / that will be in demand. The commerce field has many areas which any student from the commerce field could explore. However, since most of these commerce stream jobs require high amounts of skill and immense ability to take on responsibilities, it is essential that a student brings relevant experience in the job.
That's why to get one of the highest paying jobs in India for commerce students, it would be necessary to go through the right channels and go through the right courses. With upGrad, you can take the best courses and fulfil your dreams. Learning the right skill, upskilling regularly helps you find the highest salary jobs in the commerce field.