The concept of modern Product Management first took shape at Procter & Gamble in 1931. The company wanted to become a brand-centric organisation, which called for more collaboration, transparency, and accountability in the workplace.
Neil H. McElroy—the man behind the idea—also worked as an advisor for the founders of Hewlett Packard. Product Managers at HP became the voice of the customer internally. They brought decision making closer to the consumers, contributing to sustained business growth.
The Japanese philosophy of Kaizen, or continuous improvement, also added a new perspective to product management tasks. Here, the emphasis was on involving all employees, improving productivity, and making processes more efficient. Today, the product manager job description includes a touch of all these aspects.
The following section includes the responsibilities and requirements to help you understand the role better. You can use the information to fine-tune your job preparation strategy and identify the areas you need to upskill.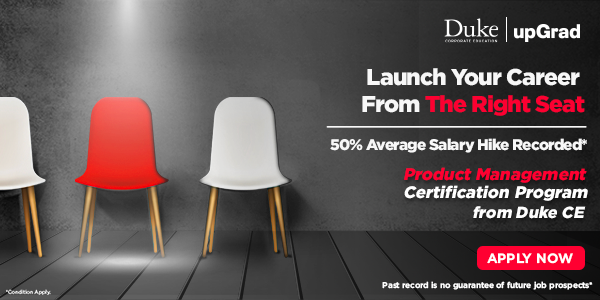 Check out our management courses to upskill yourself.
Product Manager Job Description
1. Role Summary
Product managers function as mini-entrepreneurs in the organization, taking responsibility for a product, managing IT and non-IT operations, and building brands from the ground up. They use their practical know-how to provide vision and direction to cross-functional teams and roll out products aligned with the company strategy.
Moreover, this role involves executing several product lifecycle processes, such as product and market research, competitive analysis, product planning, and positioning, roadmap development, requirements management and communication, and product launch.
2. Responsibilities
Investigate and develop a deep understanding of customer experience.

Generate new ideas to fill gaps in products, improve customer satisfaction, and grow market share.

Create buy-in for the product vision with internal and external stakeholders instead of pushing ideas and causing resistance.

Prepare a comprehensive product strategy, including a roadmap and strategy for pricing and positioning.

Translate the chosen strategies into detailed requirements and prototypes for testing.

Analyze the scope of activities and prioritize tasks based on business and customer impact.

Propose overall budget to accomplish goals, given the resources and timelines.

Set pricing to meet the revenue and profitability targets and present regular revenue forecasts.

Work collaboratively with engineering and other functional teams to deliver the product.

Achieve a quick time-to-market with optimal resources.

Prepare sales tools and collateral; brief and train sales staff to get the desired results.

Supervise product launches alongside top executives, Public Relations (PR) teams, and product management team members.

Evaluate consistency of promotional plans with product line strategy.

Ensure that the intended branding messages are conveyed effectively to the target audience.

Act as a product evangelist, increasing awareness about the product and its features.

Visit customers and clients to solicit feedback on the product and services.

Represent the company at client meetings, product demonstrations, launch events, conferences, etc.
Learn Digital Marketing Course online from the World's top Universities. Earn Masters, Executive PGP, or Advanced Certificate Programs to fast-track your career.
Explore our Popular Management Courses
3. Educational Qualifications
A Bachelor's degree in Computer Science, Engineering, or related fields.

A postgraduate or equivalent qualification in Product Design, Engineering, Product Management (Preferred).
4. Desired Experience
Overseeing elements of the entire product development lifecycle.

Managing cross-functional teams effectively in a matrix organization.

Delivering superior product marketing strategies and sales training.

Working as a product developer, online advertiser, SEM specialist, or a non-managerial product role.

Applying technical knowledge in software development and web technology careers.

Documenting business cases, technical requirements, high-level use cases, revenue, ROI etc.

Solving complex, practical product problems and getting the job done.
5. Required Skills
Domain Knowledge

Functional Skills

Industry Knowledge

Communication Skills

Innovation Orientation

Business Acumen

Self Confidence

Networking

Customer Orientation

Data Analysis

Product Design

Multitasking and Time Management
With this, we have given you a summary of a standard product manager job description. Let us now look at the current and prospects for this role in India.
Top Management Skills to Learn
upGrad's Exclusive Product Management Webinar for you –
How to craft GTM Strategy for a Product?
Scope of Product Manager Careers in India
Product managers establish a mission, vision, and strategy for a product. And their work doesn't stop there. They are closely involved in bringing the product to life. This way, they guide a product from conception through design and into its market release. Whether it is an IT firm or a non-IT company, product managers guarantee the success of product lines and services. They are the wind beneath the wings of any offer a business puts out for the customers.
Additionally, product managers continually strive for improvement in products. They work closely with other teams and departments, including Research & Development, Engineering, Manufacturing, Marketing and Sales, and Customer Support. Such a focus is essential to meet customer expectations in today's highly competitive market environment.
It is, therefore, not surprising that a 2019 survey listed Product Management Courses as one of the most promising jobs of the year. The demand for the position has only gone up since.
The Indian IT industry, especially in

B2B software products

, is witnessing a consistent demand for product leadership roles.

Rising

digital adoption

across business sectors, prompted by the pandemic, further accelerates product management career paths.

Emerging technologies like Big Data, Cloud, AI, and IoT are opening new avenues for product managers in the Industrial Revolution 4.0.
It is clear from the above points that product managers will not be obsolete anytime soon. They will be earning much more than engineers soon. According to Payscale, the average product manager salary is ₹17,41,318 per year.
Our Top Management Articles
Here are the estimated pay grades according to the number of years of experience:
Less than one year (Entry-level): ₹9,00,000 per year

1-4 years (Early career): ₹13,00,000 per year

5-9 years (Mid-career): ₹17,00,000 per year

10-19 years (Experienced): ₹21,00,000 per year

More than 20 years (Late career): 29,00,000 per year
Upskill for Continued Career Growth
If you are looking to kickstart your career in project management, gain a promotion, or advance to a high-paying job, upGrad's Post Gradute Certificate in Product Management can help. This online course has global recognition from Duke Corporate Education and provides personalised mentorship from industry experts.
The curriculum includes everything from product roadmaps and user research to prototype development and product analytics. Hands-on exposure to digital tools (for example, Excel, SQL, Google Analytics), industry projects, and dedicated placement support are other distinguishing features of the program. You can also specialize in an area like Growth Product Management, Data Science, and Digital Transformation.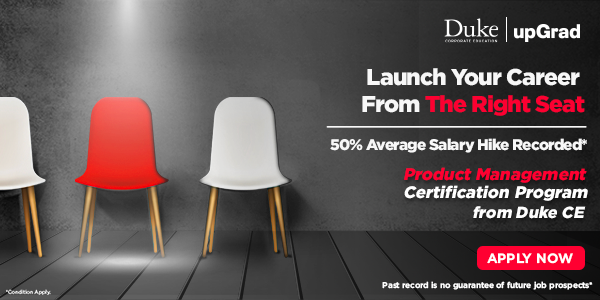 Depending on your profile, you can go on to occupy the following designations in an organization:
Associate Product Manager

Technical Product Manager

Product Marketing Manager

Senior Product Manager

Director of Product

Product Owner

Chief Product Officer
Now that you have studied all the constituents of a product manager job description, you can pursue these career tracks with clarity and focus!