Over the years, Business Analysis has emerged as a core business practice in the enterprise and IT sectors. It pertains to understanding the changing business needs, evaluating the impact of such changes, identifying and analyzing the requirements and documenting the same, and facilitating communication among all the stakeholders involved. This is essentially what Business Analysts do.
Business Analysts act as a bridge between an organization's IT and Business domains and contribute actively to its profitability and sustainability. Since traditional methods no longer suffice for catering to the dynamic needs of the complex business environment, Business Analysis comes to the rescue. With their expertise, agility, and drive for innovation, Business Analysts guide enterprises in improving their processes and quality of products/services while ensuring the timely dispatch of client deliverables.
Check out our business analytics free online courses
What does it take to be a Business Analyst?
The fundamental job responsibility of a Business Analyst is to elicit, analyze, and validate the change requirements for business processes, information systems, and policies and to communicate them with all stakeholders. Entailing all these critical responsibilities, there is ample business analyst scope in India.
They interact with both the business partners and users to understand how data-driven changes to business processes, products/services, and software/hardware can enhance efficiencies and add value to the organization.

They work in close collaboration with the IT and Financial reporting teams to design and implement new business models to support the proposed business decisions and to establish initiatives/policies to improve productivity and to optimize costs.

They identify an organisation's business goals and problems and create lucrative solutions. Their excellent problem-solving skills suggest a high

business analyst average salary.

They understand and gather business requirements from stakeholders and clients.

They proactively offer feedback on a software application's design and employ the innovative features that a business requires. This is another reason behind accelerating

business analyst salary

in leading organisations.

They assess the functional and non-functional requirements in a corporate.

They organise regular meetings with clients and stakeholders to discuss business concerns and derive solutions.

The

scope of business analyst in India

is increasing because they are experts at ensuring that business solutions are aligned with the client's requirements. Also, they validate a project's status through user acceptance testing.

The

business analyst average salary

is admirable in many small and large-scale organisations. This is because they can document and build data visualisations to deliver all the project outcomes.

They analyze what's financially and technologically feasible for the company.
Read: What is business analytics – Its Career scope, Salary & Job Roles.
According to Robert Half Technology, the job description of a Business Analyst includes:
Creating detailed business analysis and drafting problems, opportunities, and solutions for a company.

Defining business requirements and reporting them back to stakeholders.

Budgeting and forecasting.

Planning and monitoring.

Variance analysis.

Pricing.

Reporting.
Although a Business Analyst need not have an IT background, he/she must have a basic understanding of how IT systems function. What they need is a strong and in-depth understanding of the business domain. Prior experience in forecasting, budgeting, and financial analysis are highly commendable. Apart from this, it is beneficial to be well-versed with the regulatory and reporting requirements.
While for entry-level Business Analyst job roles, a bachelor's degree in Business Administration/Management/Information Technology is enough, mid-level and senior-level positions often demand a master's degree in business analytics or any other related fields.
Learn best MBA courses from the World's top Universities. Earn Masters, Executive PGP, or Advanced Certificate Programs to fast-track your career.
The Evolving Role of Business Analysts in the Age of Digital Transformation
1. Digital Transformation and Competitive Landscape
Rapid changes in the business landscape make digital transformation essential for staying competitive. Organizations are adopting digitalization strategies to keep up with market demands.
2. Impact on Business Analysts
Digital transformation has reshaped the role of business analysts. Traditionally, business analysts are focused on process improvement and requirements gathering.
3. Navigating Technological Advancements
Modern business analysts now face the challenge of understanding complex technological advancements. These advancements include artificial intelligence, machine learning, and data analytics.
4. Understanding Technological Tools
Business analysts must possess a strong understanding of tools like AI, ML, and data analytics. They need to bridge the gap between business needs and technological capabilities.
5. Leveraging Data-Driven Insights
Business analysts have a new responsibility: leveraging data-driven insights. These insights are crucial for driving innovation and strategic decision-making.
6. Adapting Skills for Data Extraction
As part of their role, business analysts must adapt their skills to extract meaningful information from data. This skill is essential for providing valuable insights to guide decision-making.
7. Aligning with Digital Transformation
The recommendations provided by business analysts should align with digital transformation initiatives. They play a pivotal role in guiding organizations through technological changes.
8. Enhancing Organizational Innovation
Business analysts contribute to organizational innovation by incorporating technology-driven insights. They help identify opportunities for process optimization and product/service enhancement.
9. Holistic Role of Modern Business Analysts
Modern business analysts act as intermediaries between business objectives and technological possibilities. They combine their traditional expertise with a tech-savvy approach to maximize organizational growth.
10. Continual Learning and Adaptation
To excel in the digital era, business analysts must embrace continual learning. Staying updated with the latest technological trends is crucial for their effectiveness.
Business Analyst: Who Are They?
Business Analysts are experts holding specialization in the BI or Business Intelligence sector. They operate as an intermediary or link between an organization's business and IT departments, intending to boost its profitability and viability.
Today, companies pay a good business analyst salary to make improvements to the company's goods, services, and level of quality using their expertise.
Business Analyst: What Do They Do?
A business analyst's main responsibility is communicating with business executives to learn how data-driven decisions might increase organizational effectiveness.
Business analysts evaluate organizational processes, grasp numerous business requirements, and give concepts, suggestions, and reports to help management understand the state of the company.
Ultimately, they implement business ideas that are technically and financially feasible for the organization. But given that the business analyst salary in India is more than the industry standard, they need to take on a lot of roles and responsibilities.
So, now go over each of these professions' distinct tasks and duties.
Analyze the business procedures to determine the needs

Determine what needs to be improved, then take action.

Analyze the operational procedures to develop optimisation ideas.

Keep up with the most recent technological developments.

Automate the business's current procedures.

Outline and make your suggestions on how to make these systems better.

Share your ideas and ambitions with the company's various divisions.

Work with the business's IT department and the clientele.

Gather information and data from different stakeholders to create useful reports.

Maintain resource allocation and cost-effectiveness.

Implement updated business procedures.
Becoming a Business Analyst: How To Proceed?
The steps listed below must be followed in order to master business analytics and become a business analyst:
Obtain a business-related bachelor's degree or an MBA.

Obtain analytical job experience and develop your reporting and documentation skills

Get practice using different business analytics tools

Obtain work experience working on numerous projects for your sector

Acquire expertise in Microsoft Word, Excel, Outlook, and other programmes.
Business Analyst Salary in India
The salary of a Business Analyst in India depends upon several factors like company size and reputation, job position, location, education qualifications, and experience. Usually, reputed companies like TCS, Amazon, Accenture, Deloitte, etc., pay higher salaries. Then again candidates hailing from reputed institutes/b-schools earn more than their counterparts. This holds true for work experience as well – the more your experience, the higher will be your market value.
Our learners also read: Learn business analytics free!
Salary scale – Popular companies in India
Tata Consultancy Services (TCS), Accenture, Computer Sciences Corporation (CSC), and Capgemini offer the are some of the top companies with the highest salary packages for Business Analysts. While the average annual salary at Accenture is Rs. 7,04,965, Capgemini and TCS offer around Rs. 7,03,178 and Rs. 696,132 respectively. HCL, Wipro, and CSC fall on the lower end of the salary scale with the average annual salary standing around Rs. 5,21,246, Rs. 5,79,188, and Rs. 6,02,435, respectively.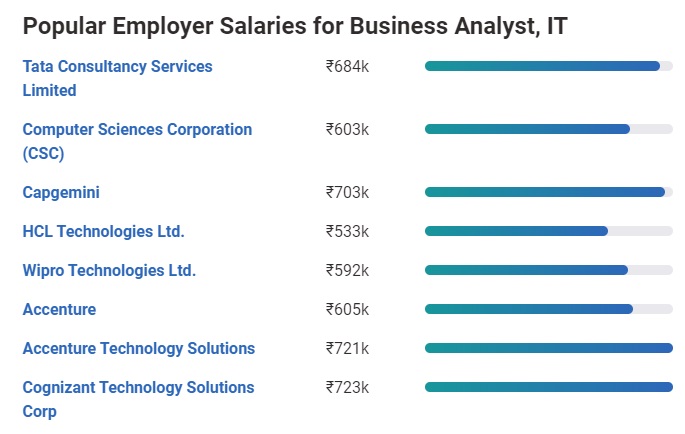 Salary packages of reputed e-commerce platforms like Amazon are also great. In India, the average annual salary of a Business Analyst at Amazon ranges anywhere between Rs. 3,28,484 – 17,83,171, with senior-level roles earning the higher end of the salary scale.
Also read: Business analyst career path and professional roles.
upGrad's Exclusive Business Analytics Webinar for you –
How upGrad helps for your Business Analytics Career?
Salary scale – Experience Level
Generally, the salary packages for entry-level roles remain anywhere between Rs. 3,50,000 – 5,00,000. For instance, the average annual Business Analyst salary (including tips, bonus, and overtime pay) at the entry-level in IT with less than 1-year experience is around Rs 3,59,807. However, the Business Analyst salary for those having 1-4 years of experience can earn an annual compensation of Rs 5,27,712.
The salary level increases as experience increases. While a Business Analyst having 5-9 years of industry experience can earn around Rs. 8,30,975, a Senior Business Analyst, with over 15 years of experience, can easily make Rs 12,09,787. Going further, the salary increases up to Rs. 16,54,946.
Salary scale – Location
Salary packages also differ considerably according to location as well. For instance, Business Analysts in Pune and Bangalore earn around 17.7% and 12.9% more than the national average. Noida (8.2% less), Chennai (5.2% less), and Hyderabad (4.2% less) record the lowest level salaries.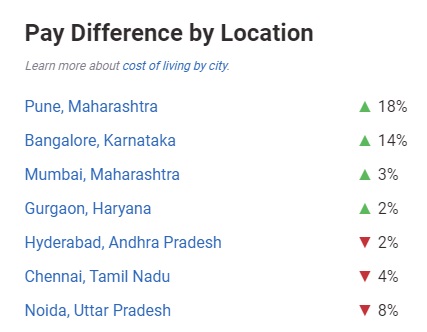 Owing to the significant scope of business analyst in India, it is imperative to determine the most influencing factors. One of the most dominating factors that influence business analyst entry level salary is location.
Not only do senior business analyst salary in India, but many fresher business analysts possessing exceptional skills can get an admirable salary, for instance, business analyst salary Bangalore is comparatively higher than in any other place. So, the entry level business analyst salary is great for skilled freshers in prime locations.
The average business analyst salary Bangalore is Rs.9,00,000 per annum. Moreover, the average additional cash compensation to be added to a business analyst salary in Bangalore is Rs.1,00,000, with a range of Rs.50,000 – Rs.2,57,400. Candidates aiming to obtain higher packages can rely on business analyst salary in Bangalore.
Many leading companies on the lookout for business analysts offer outstanding salaries. The companies offering great business analyst salary Pune:
2COMS Consulting Pvt Ltd

Ikya Human Capital Solutions Pvt Ltd

Zensar Technologies

Orange Business Services
All these companies carefully recruit business analysts based on skills and experience and ultimately offer the most suitable business analyst salary Pune.
The business analyst salary Hyderabad depends on many factors and one of them is the type of employer. List of companies that provide outstanding business analyst salary Hyderabad:
Zensar Technologies

Clarity Consulting

Uber

Tech Mahindra

Orange Business Services
The business analyst salary Chennai significantly relies on the employer profile. List of employers providing excellent business analyst salary Chennai:
Ikya Human Capital Solutions Pvt Ltd

Zensar Technologies

Orange Business Services

Tech Mahindra
When it comes to business analysts' remuneration based on location, you must consider business analyst salary Delhi. Here is the list of companies renowned for offering superb business analyst salary Delhi:
Top companies for Business Analysts in Delhi
Amazon.com

Zensar Technologies

HCL Technologies

Tech Mahindra

Orange Business Services
Being one of the megacities, the business analyst salary Mumbai must be considered. Names of a few of the prominent companies that provide outstanding business analyst salary Mumbai:
Ikya Human Capital Solutions Pvt Ltd

2COMS Consulting Pvt Ltd

TrueTech Solutions

Zensar Technologies
The Intersection of Business Analysis and Agile Methodology
Agile methodology has revolutionized project management by emphasizing flexibility, collaboration, and incremental development. This approach aligns well with the responsibilities of business analysts.

Agile encourages continuous communication and collaboration between cross-functional teams, which mirrors the business analyst's role as a stakeholder liaison.

Business analysts often play a crucial role in agile projects by translating high-level business objectives into actionable tasks, facilitating user stories, and ensuring that the developed solutions meet the evolving needs of the business. Their ability to quickly adapt to changing requirements and provide valuable feedback makes them integral to the success of agile projects.

This integration of business analysis and agile methodology improves project outcomes and highlights the versatility and importance of business analysts in modern project environments.
Business Analyst Salary Based on Skills
Your skills as a business analyst can vary based on the industry and domain. However, possessing a range of skills yields a good business analytics salary of fresher business analyst salary in India.
Here is a table representing the average business analytics salary in India for people with different skill sets. The amount will vary depending on your region and expertise, but this is the base average compensation for these job roles.
| | |
| --- | --- |
| Skills of a Business Analyst | Average Salary Per Year |
| Requirement Analysis | INR 6,59,932 |
| Microsoft Excel Expert | INR 5,57,736 |
| Business Analysis | INR 6,31,572 |
| Project Management | INR 5,93,715 |
| SQL | INR 6,47,341 |
As you can see, the salary of a business analyst in India will rise in direct proportion to the number of talents you learn. For this reason, it is crucial to improve your IT skills.
Moreover, remember that a fresher business analyst's salary in India increases progressively as they gain more experience and upgrade their skill sets.
Business Analyst Salary Based on Industry
The industry you work in will also have an impact on your business analyst salary so it is essential for you to know business analyst job description salary beforehand. Here is a detailed summary of the annual salaries of salary of business analyst in India you might anticipate. Dependent on the sector you decide to work in.
| | |
| --- | --- |
| Industry | Average Salary Per Year |
| Financial Services | INR 8,10,000 |
| Hardware and Networking | INR 7,30,000 |
| IT Consulting and Services | INR 7,00,000 |
| Internet | INR 8,40,000 |
| Manufacturing | INR 7,00,000 |
Explore our Business Analytics Programs from World's Top Universities
Demand for Business Analysts in India:
The business analyst demand in India is high for skilled candidates who can manage their data and predict market opportunities. Generally, small-scale and mid-size companies in India recruit business analysts to make better monetary decisions and optimize cost. So, they provide a deserving business analyst salary who can adopt many roles, including budget management and resource allocation.
You can gauge the accelerating business analyst demand in India from the fact that there are many leading firms hiring business analysts in India. These firms are Accenture, Tata Consultancy Services, Amazon, Flipkart, Deloitte, Ernst & Young, etc. Based on surveys carried out by LinkedIn, the average salary of a business analyst annually in India is approx. INR 13.5 lakh with salaries varying from INR 5.3 lakh to 22.1 lakh.
India perceives the use of cutting-edge technologies for streamlining business processes. Several firms in India use technologies like machine learning, data analysis, deep learning, artificial intelligence, etc. Moreover, business analysts use data analysis tools to have better forecasts and this is one of the reasons for the extensive business analyst scope in India.
The Covid-19 attack has caused a lot of market interruption in India and worldwide. Many firms are finding it difficult to survive and gradually comprehend the requirement for skilled business analysts to predict risks and opportunities.
India is a developing country and many businesses are transitioning. The demand for business analysts is accelerating due to the need for data management and forecasting abilities.
In addition to analytical jobs, business analysts can do various tasks. They can work as project coordinators, mediators, etc., whenever required. India's dearth of skilled business analysts has opened doors to diverse job roles.
Key Skills Required for Business Analysts:
If you are planning to become a business analyst in India, these are the keys skills you must know:
1. Technical Skills:
Learning certain key technical skills can promise a decent entry level business analyst salary. Business analysts must know SQL (Structured Query Language), Microsoft Office, Microsoft Visio, etc. In addition, freshers can have a well-paying business analyst entry level salary if they are fluent in software designing and business model designing tools. They also need to collaborate with the IT team and share business objectives with them.
2. Financial Planning Skills:
Business analysts must ascertain that all the resources are assigned within the organization's financial budget. They should also learn how to assist clients in having better commercial decisions.
3. Analytical Skills:
They must be well-versed in data analysis and statistics. Usually, they are tasked with managing big data to discern key insights. Moreover, they must have forecasting skills to accelerate their career graph. Employers prioritise analytical skills, which are a must for senior business analyst salary in India.
Read our Other Articles Related to Business Analytics
4. Problem-Solving Skills:
They must possess interpretation skills to understand the risks. One of their major responsibilities is risk identification and management.
5. Communication skills:
They must effectively convey stakeholders' expectations to the employees. Moreover, they need to conduct meetings and brainstorming sessions regularly. So, communication skills are vital.
The Future of Business Analysis: Emerging Trends and Opportunities
As technology continues to advance and business environments evolve, the field of business analysis is poised for further transformation. Several emerging trends are shaping the future of business analysis:
Advanced Analytics and Predictive Modeling
Business analysts increasingly use advanced analytics techniques to predict trends, forecast outcomes, and drive proactive decision-making.
The integration of artificial intelligence in business processes is changing how analysts gather and interpret data, enabling faster and more accurate insights.
Blockchain and Data Security
With the growing importance of data security and transparency, business analysts are exploring how blockchain technology can enhance data integrity and streamline processes.
Customer-Centric Analysis
Business analysts focus on understanding customer behavior and preferences to guide product and service development.
As these trends gain momentum, business analysts must stay adaptable, continuously update their skill sets, and embrace technological innovations to remain valuable organizational contributors.
To conclude, Business Analysts have a decent pay scale in India. Companies across both IT and e-commerce sectors pay excellent compensation to deserving candidates who can add value to their organization. Apart from the regular educational qualifications and work experience, having advanced Business Analysis certifications also helps in bagging jobs that offer high-level salaries.
If you are keen on upgrading your career with an Executive MBA course, upGrad is offering MBA from Liverpool Business School. The program has been designed to stand at par with the best on-campus Executive MBA programs across the globe.
Learn Business Analytics Courses online from the World's top Universities. Earn Masters, Executive PGP, or Advanced Certificate Programs to fast-track your career.