The arrival of the Internet was the next big leap in the evolution of technology, which consequently brought a cascade of technological advancements and rapidly changed the professional ecosystem. For many, this was the dawn of new opportunities.
The age of the internet nourished many global giants like Google, Facebook, Amazon, Apple, and Samsung. The economy witnessed prosperity and people lived more conveniently than past generations. Those who understood and accepted the new world thrived; however, those who couldn't, died in the turbulent current.
Today, the internet is a battleground for many start-ups and small businesses competing for attention, which is the currency of their growth and expansion. In the global market, finding leads is tough, and it is a complete dimension in itself. So, to make the job easier and more effective, firms hire Digital Marketers.
Learn digital marketing courses online from the World's top Universities. Earn Masters, Executive PGP, or Advanced Certificate Programs to fast-track your career.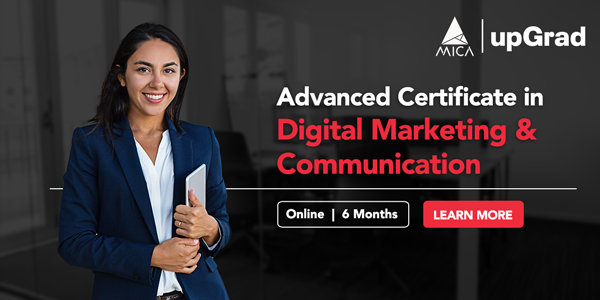 What do digital marketers do exactly?
They prepare elaborate marketing strategies and campaigns to facilitate sales of the products and services, manufactured and provided by a firm, respectively. They have a clear understanding of various digital tools and social media platforms at their disposal. It can be said that digital marketing is the lifeline of every business in existence.
For this reason, there is a high demand for digital marketers all around the globe which translates to a lucrative career option for many professionals and freelancers. In the past year, the effective demand for digital marketers was 59%, followed by the demand for creative services which was 43%. The average salary of a digital marketer is $66,206 per year in USA, in India, it averages around ₹5,15,000 and goes up to ₹10,00,000.
(Sources: digitalmarketinginstitute.com, payscale.com)
What is the Role of Digital Marketing Courses?
As stated earlier, digital marketing includes various aspects like SEO, SEM, Google AdWords, Facebook Ads, Instagram Ads, Twitter Ads, Copywriting, Google Analytics, Email marketing and more. A digital marketer needs to stay up-to-date with new trends and tools to market clients' or employers' services effectively and efficiently. That is why good digital marketers are very hard to find, and this is where digital marketing courses fill the gap.
A digital marketing course offered by prestigious institutes provides an excellent supply of workforce to meet the effective demand. They not only teach all essential bits about digital marketing but also train the aspirants for the field. The institutions select teachers who are either active in the field or veterans. These instructors are well-versed with marketing strategies and campaigns using various tools and platforms to their advantage and instructing the aspirants.
Apart from experienced instructors, the assignments are very practical and prepare aspirants for the field. Some institutes design live assignments that include an actual budget for an established client. Furthermore, they even offer an opportunity to train under industry leaders!
To increase the credibility of their certification, the institutes prepare the course in partnership with major corporations like Facebook and Google. The duration of these courses lies between 3 months to 1 year depending on their modules.
When it comes to selecting a digital marketing course, an aspirant should always look for its credibility and application. A course purely based on factual knowledge should be avoided. It will be viable to consider one's own budget and the difference of value received and the cost paid.
If the aspirant is just curious and wants to explore the field, there are courses on Udemy and Skillshare which are cost-effective and should prepare you for a job. If the aspirant on a low budget then he or she should take the same route and consider doing internships and eventually rise on the ladder of success.
upGrad's Exclusive Digital Marketing Webinar for you –
What's new in Marketing?
Best Digital Marketing Courses Online
Now, when it comes to expensive courses, they are essentially a 'short-cut' to a high paying job in major firms. The institutes which offer such courses often have elite hiring partners, and they provide mock interviews with hiring managers that increase the odds of their selection.
The difference between a cost-effective course and an expensive one is of time, the former will require more time for a lucrative job and the latter will require less time. This is because all an aspirant has to do is just focus on training and learning. On the other hand, after pursuing a cost-effective course, an aspirant has to look for a job or has to start from a low paying one.
Learn more: Digital Marketing Tutorial: A Step-by-Step Guide To Become an Expert
In-demand Digital Marketing Skills
What qualities are required to be a digital marketer?
An aspirant should have good strategic thinking and data analysis and interpretation skills. Digital marketing is all about understanding the market conditions which is only possible through data analysis. Like in any profession, a composed mind and quick thinking is necessary.
Teamwork plays a very crucial role; therefore, an aspirant should have good social skills and a decent understanding of human behavior, which lies at the core of digital marketing. As the trends in digital marketing keep changing, one should have a flexible mindset to assimilate new information to adapt.
We wish luck to aspirants wanting to establish a flourishing career in digital marketing. However, they should always keep in mind skills, talents and courses do make a difference but ultimately — it's hard work that decides the winner.
What skills are required to be a digital marketer?
Data Analysis
The tool is handy for gathering and functioning with user data. It becomes relatively easier to measure the data using data analysis as a method. Constant updation of the database allows the users to get rid of unwanted data. If you are figuring out how to start a career in digital marketing then you must begin by working on acquiring these skill sets.
Creation of content
The core of digital marketing is content generation. The aim of any digital marketer is not only the creation of digital marketing but also the creation of quality content. The content which is to be put on social media must be SEO-friendly and engaging. If you are figuring out how to start a career in digital marketing with no experience, then beginning with learning about content and different types of content should be your key to getting started.
SEO and SEM
The algorithm of Google and other search engines is always evolving. Therefore, Search Engine Optimisation and Search Engine Marketing become the key players. Digital marketers need SEO and SEM to support their digital marketing ventures. SEO and SEM help professionals push their content to the right target audience. If you are learning about how to start your career in digital marketing then you must have definitely stumbled upon SEO and SEM and their importance already.
Communication
Having only the knowledge of technical skills and not knowing how to communicate your ideas effectively is not going to work. Digital marketers are required to be working with various people who are involved in the process. And for that, they need to be not only good speakers but also good listeners along with various other communication styles.
If you are curious to get into the world of digital marketing, check out upGrad & MICA's Advanced Certificate in Digital Marketing & Communication.
Digital Marketing Free courses to Learn
Popular Digital Marketing Blogs