The world was already going digital at a fast pace. The coronavirus pandemic made the transition to digital even faster. Digital marketing is one of the sectors that has the unique distinction of being positively affected by the pandemic. Businesses across various sectors are turning their focus to digital marketing in these unprecedented times. And, in doing so, they have realized the true potential of digital marketing.
It is also natural that a large number of youths are considering digital marketing as a career choice. But, becoming a digital marketer is easier said than done. There are no college courses, to say, that provide you with a degree or diploma in digital marketing.
You have to undertake digital marketing courses privately to learn the fundamentals of digital marketing. There is an abundance of courses on the internet that provide certification and qualification for digital marketing. But, how do you choose the right one? Is a single course enough? What is the qualification for digital marketing?
What are the other digital marketing prerequisites? You might have asked yourself the same questions. In this blog, we provide you with an easy to understand digital marketing prerequisites guide that we hope will help answer your questions.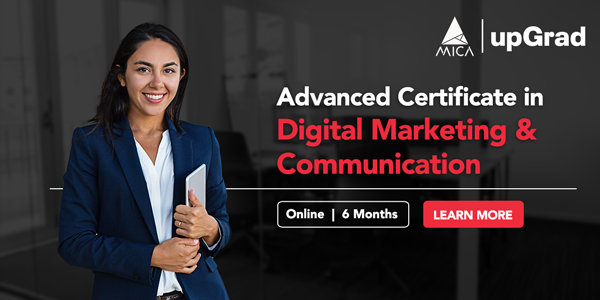 Also Read: Digital Marketing Interview Questions
Get the Necessary Education, to Begin With
As mentioned earlier, you can't get a degree in digital marketing from a college. But, it is preferable if you complete at least your bachelor's degree. There are no such prerequisites for digital marketing in terms of educational qualification.
But, according to us, a BBA degree will be the right choice. A BBA course will help you become aware of basic marketing concepts. This knowledge can help you grasp concepts related to digital marketing. As different digital marketing sounds and feels from traditional marketing, they both are the branches of the same tree.
Your end goal, as a marketer, whether tradition or digital, is to ensure that the products get the right exposure. Thus, it is recommended that you have prior marketing knowledge as a stepping qualification for digital marketing. This will ensure that you will quickly understand concepts in your digital marketing syllabus and promise you smooth sailing through the course.
Learn digital marketing courses online from the World's top Universities. Earn Masters, Executive PGP, or Advanced Certificate Programs to fast-track your career.
Get a Micro-credential Certification
To begin your digital marketing academic journey, you can choose a micro-credential certification focusing on a particular niche in digital marketing. You can choose from multiple courses, such as the ones offered by upGrad.
Make Use of Your Social Network
The internet can become a very powerful tool, if used correctly, to progress professionally. To keep abreast of the latest in the world of digital marketing, you can connect with experienced professionals in the fields via LinkedIn.
Read their blog posts, check on their other activities, and have a conversation with them if possible. We also recommend that you attend their webinars, conferences, and interactive video sessions. This will help you gain immense invaluable knowledge that can benefit you as a digital marketer.
Another way to leverage the power of the internet is to connect with your friends and their colleagues in the digital marketing space so that you can keep yourself updated with new trends or job opportunities in the field.
Best Digital Marketing Courses Online
upGrad's Exclusive Digital Marketing Webinar for you –
Consumer Segmentation from Demographics to Psychographics
Get an Advanced Digital Marketing Certificate
The next qualification for digital marketing that you can pursue is an advanced certification. You can undertake a specialist course in SEO, SEM, or email marketing. An advanced certification course can help you gain advanced knowledge that can come useful while applying for a job, seeking a promotion, or if you're looking for freelance opportunities.
You will be able to analyze the client's digital marketing needs better and plan even better strategies that can help them get a better ROI. Your clients will keep returning to you, ensuring consistent growth professionally and financially.
Top reasons why digital marketing is important
Focus on the prospects who are likely to make a purchase
While marketing on TV, billboards, pamphlets, and so on. It becomes hard to figure out who has seen the ad; the measurability depends on limited factors such as the typical readership of a magazine, etc.
But while doing digital marketing, the brand can directly aim at its target audience, and the advertisements can become highly specific to enhance engagement. One of the digital marketing prerequisites would be to do extensive market research.
Cost-effectiveness
The media of digital marketing is much more cost-effective as compared to other marketing channels. Digital marketing allows users to track down precisely what is working and not working. Moreover, the method of digital marketing gives control of where and when to spend the money. This eliminates unnecessary expenditure. One of the prerequisites for digital marketing would be to identify the channels where the target audience is highly active and strategise the channels accordingly.
Allows competing with the bigger brands
Those organisations which are small and are just starting out may find it difficult to compete with the bigger brands over the traditional channels and media. The more prominent brands might have the capital to invest in huge marketing, but small businesses don't. Digital marketing can even out the playing field, as small businesses can leverage the technique for their maximum benefit. There are various prerequisites to learn digital marketing which people who are starting can avail benefit from.
Increase traffic
Digital marketing is both measurable and helps to increase website traffic. The analytics can, and the algorithms can be measured ensuring that the numbers are achieved that boost sales and lead generation. Moreover, the efforts taken in digital marketing help in driving traffic to the website, which again is helpful in sales and lead generation. The prerequisite for a digital marketing course would be to get acquainted with the standard terms and conditions before starting to venture into it.
Must Read: Digital Marketing Tutorial
In-demand Digital Marketing Skills
Learn, Learn, and Learn
One of the most important prerequisites for becoming a digital marketing specialist is your passion and desire for the field. You can become one of the most successful professionals, irrespective of the field if you genuinely love what you do.
And, the same goes for digital marketing. Keep reading blogs, newsletters, journals, or watch thought leadership or tutorial videos on digital marketing to keep increasing your knowledge about digital marketing on your own. As we mentioned, there is no qualification for digital marketing, nor is there an academic course, yet digital marketing is a leading professional choice at the moment.
The field is only expected to grow. So, keep yourself well-informed about the latest happenings in the field by doing your own research and learning on your own.
Choosing the right course and qualification for digital marketing and having the right skills can mean the difference between being one among the many digital marketers in the market and becoming a digital marketing specialist. You decide!
Digital Marketing Free courses to Learn
Popular Digital Marketing Blogs
If you wish to explore and become an expert in Digital Marketing, check out MICA and upGrad's Digital Marketing Certificate Program. Become an expert in social media marketing, content marketing, branding, marketing analysis and PR.