This is a Guest Blog by Sakhee Dheer, head of Digital Marketing, Facebook (Asia Pacific).
Digital and Social have changed the way people make decisions.
Whether it is seeking product reviews, expert opinions, recommendations or following your favorite brand updates; making purchase decisions and forming an educated opinion has never been so easy.
With myriad advertisements vying for our attention across all social platforms, each click seems to increase the understanding of our likes and serves us with more relevant content and ads.
Companies like Netflix and Amazon have pioneered this thought process and other marketing platforms must follow suit to provide a similar experience.
In this environment of personalization, where traditional methodologies of segmentation cease to exist, it is complex for marketers and leaders to articulate and build small and unique segments. This has not only started putting pressure on resources across content creation and marketing execution but has also made measurement more difficult.

It is getting tougher to get your audience's attention and reach them amid so much competition, to capture their attention and time.
50+ Digital Marketing Tips from India's Marketing Wizards!
Let's talk about 'Content.'
It is an era of micro-moments and if we are not reaching our audience with specific, wow-worthy content we will lose out on limited time and the attention that we do have.
Content should have a purpose and personality aligned to what the brand stands for.
Neither does one type of content fit all formats and channels nor will it resonate with all your audiences. Understanding what your brand stands for, what language your audiences respond to and the uniqueness of every platform & channel will help you build an emotional connection with your audience.
Once you have your consumers' and target audience's attention, they are all yours. Even if for a brief moment, you have their attention.
As far back as 1996, Bill Gates predicted that content would be king and everyone who is able to leverage it as an asset will propel the Internet forward as a marketplace of ideas, experiences, and products. There is no doubt content is king today but can content stand alone?

The Ultimate Guide to Micro-Influencers – Gifographic
This brings me to discuss 'Platforms.'
If content is the king, platform is the queen.
If your awesome, purposeful and helpful content reaches only 2% of your target audience, you have left a lot of money on the table.
Building great content takes a lot of effort and resources, and if you are not able to maximize delivery with regard to your content, you are missing out. That's where Platforms come in – they allow you to effectively share your content.
Every social media platform is unique and offers a different type of audience; each engaging in a unique manner. Understanding who you want to target, and where to reach them, is critical to the success of your content distribution strategy.
Design-Thinking in Marketing: Some Ideas and Tools to Ace the Process
Goibibo and Facebook: a short case-study
Brands can no longer afford a single channel strategy and should aim to have a presence wherever their audience is, irrespective of the size of audience – quality is what matters. For example, on Facebook, you can easily define and build your target audience to reach people who matter most to your business.
Goibibo.com used Facebook to reach their target audience on a massive scale driving 15x app installs in just 3 days. Effective and timely use of the Facebook platform, coupled with deep insights about their audience behavior on the platform, helped goibibo deliver great results. Similarly, Garnier Men successfully used Facebook to segment and target its audience with Facebook ads so as to not just enhance brand awareness but also increase direct sales.

Understanding unique tools each platform provides and the context of people on these networks will allow you to build a tailored content-strategy that ensures maximum reach, message recall and business impact.
How to Make Facebook Ads Work for B2B Marketing
There are many other digital marketing operations platforms for content-management, marketing automation, inbound marketing etc, that work wonders to streamline execution and allow you to get the maximum impact from your content and delivery strategy. Your uniquely tailored content and aligned distribution plan will help you build the right connections with your audience and get your message right on top!
How can I give my content more personality?
It is a fundamental principle that your content marketing strategy must keep your readers engaged. Just by creating content that is full of personality, you can do so. Some ways in which you can achieve this include telling a good story or adding a relevant anecdote to your content, keeping the content as real as possible, trying to elicit an emotional response, using good formatting to ensure the content is pleasing to the eye, including fascinating facts, writing just as you would speak and lastly, understanding your target audience and their persona before creating content.
Is social media content a one-size-fits-all deal?
Well, no! A common mistake most brands make is that they post the same content on Facebook, Instagram and Twitter. While it can be difficult to write for every platform, when you do so, you can stand out. For example, if you write two paragraphs for Facebook, you cannot copy-paste the same on Twitter because of the character limit. Hence, social media content isn't a one-size-fits-all deal.

To create quality content, first you must figure out who's listening (are they an older audience or millennials?), next you need to create content that will match with your audience's interests. If you appear too pushy, they might unfollow you. For your brand to stand out, creating custom, tailored content is key.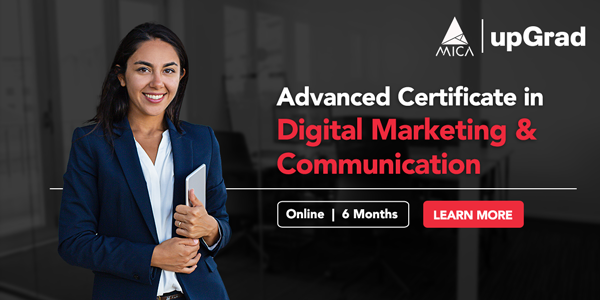 How to create a content distribution strategy?
You can't just write great content and have it lying in some folder of your laptop. You need to put it out there so that it is heard and seen. Even before you create your content, you need to evaluate your distribution options. To achieve desired results, you don't need to put your content everywhere. Instead, you need to put your content in places where your target audience is active. For example, if most of your users are on Instagram, create content specific to that platform. This includes documenting a content marketing strategy by leveraging on data-driven insights. Once you've written and published your content, you cannot expect your audience to magically find it. That's when you need to amplify it.
Learn digital marketing courses online from the World's top Universities. Earn Masters, Executive PGP, or Advanced Certificate Programs to fast-track your career.
Featured Programs for you – Advanced Certificate in Digital Branding & Advertising from MICA
Ride the Digital Wave
UpGrad and MICA's PG Program in Digital Marketing and Communication
Learn More