Introduction to Career in Digital Marketing
Before we dissect the pros and cons of going into a career in digital marketing, we should take a brief look into the evolution of marketing and start from the apex of it. If you are someone from the 90s or early 2000s, you probably remember those wonderful TV advertisements.
A few of them were really inspiring, while many of them were a bit cringe-inducing. Digital Marketing field, also known as online marketing, is an evolving marketing discipline that helps a brand connect with potential customers over the internet and increase its reach for a better business opportunity. It helps in creating feasible brand awareness and also helps in potential client and stakeholder acquisitions of the concerned organizations.
Digital marketing fields as a course are very lucrative and provide a plethora of job opportunities to aspirants who seek a future in this particular field. For people curious to know is Digital Marketing a good career, diving deep into learning more about it can help shed some light on it!
Digital marketing field has been providing a swathe of job opportunities nowadays. It helps in making a lucrative career for the aspirants and helps them have a very satisfying life. Currently, the average salary of a digital marketing manager in India is about Rs. 5.6 LPA. It is a very lucrative field of work where one can have room for improvement and can help in making a feasible living. Therefore, a particular course with proper classes giving an adequate work opportunity can change the entire dynamic of the learning procedure.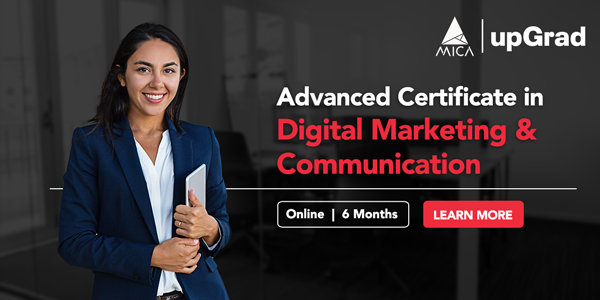 However, most of them had an objective – they were designed to make you aware of a product and try to influence you to buy it. Companies spend huge chunks of money for advertising and marketing their product – it's their way to attract new customers and enlarge the customer pool. You might have already guessed that marketing is highly dependent on consumer trends. So, now, where does digital marketing come in here?
Need for digital marketing
Try to recall the last time you actually sat before a television set for a prolonged period. Most of you may not remember it. That's because, with the internet and easy streaming of TV shows, people have shifted from television sets to the Internet. With this change, companies have also shifted from traditional advertising to digital marketing – bringing advertisements to your mobile or computer screen.
Read: Digital Marketing Project Ideas and Topics for Beginners
Digitalization in marketing techniques has evolved and is still a rapidly changing evolving discipline. The Digital Marketing field is vast and encompasses several methods of making brand awareness. Let's read about the feasible career in Digital Marketing in India, which will upgrade your overall knowledge on the entire subject.
However, since the internet is almost endless, digital marketing has to deal with a lot of skills and roles so that you can cut through the competition. It has become a very lucrative option and the demand for digital marketers is increasing. The Digital Marketing field thus helps in creating a dynamic existence in the global online market and increases the chances to get better clients altogether. Hence if you think that is Digital Marketing a good career option, you can definitely look towards the market turnovers and the employment opportunities that come in this field for you when opting for a career in Digital Marketing in India.
What is digital marketing?
Before going into the ways to forward your career in digital marketing, let's first understand the concept – what is digital marketing? Just like traditional marketing, in digital marketing, a company has a product that they wish to sell, and hence, they try to engage customers, introduce the product and try to close a sale.
This principle also helps in creating massive brand awareness online, which will further help to widen the horizons of business. The Digital Marketing field is the key to success for the future endeavors of the organization to widen its horizons effectively. The field is evolving and has been really helping to expand the market structure as a whole.
Since companies are trying to engage customers by using the immense power of the internet, they have to employ several people in different roles and with specific skill-sets to help with this purpose. Digital marketing is quite versatile and creative in nature. As a marketing professional, you might come across these fields in digital marketing:
Video and audio production

Mobile Marketing

Search Engine Optimization (SEO)

Search Engine Marketing (SEM)

Interactive Technology (like AI)

Social Media

Content management and curation

Marketing automation

Web Design

Web Development

Copywriting and editing

Analytics

Business and marketing strategy
As a fresher, you do not require training in all of these but you have to master at least two or three of them. However, if you take up the role of a manager, you might have to know a couple of these.
Also read: Digital Marketing Salary in India
upGrad's Exclusive Digital Marketing Webinar for you –
Webinar with Q&A Session on Digital Marketing
Which skills are in most demand?
It's clear that digital marketing is taking the world by storm. Most companies are moving towards digital marketing and since marketing is an integral part of any company, the demand for digital marketers is quite high. Let's turn our attention to a few statistics to get an overview of this demand. It has been estimated that about 93% of all online activity begins with a search engine.
To rank in a search engine, you have to ensure that the content is made SEO-friendly. If we are talking about businesses that sell products, then statistics show that 80% of Americans make one online purchase at least every month. So, for a business to thrive, one needs a basic understanding of digital marketing.
In 2017, digital advertising, content strategy, social media, and content creation were considered the most in-demand skills. As per the LinkedIn Digital database by David Rosales, it has been found that with the evolving discipline of Digital Marketing in 2022, Copywriting is one of the best subsets or branches of the Digital Marketing field which has helped in creating a plethora of job opportunities for people.
The average salary of a Copywriter is around Rs.3.3LPA. Hence, this is one of the feasible job opportunities for aspirants who have just finished their courses in Digital Marketing fields. You can also look for job opportunities in the field of SEO and Social Media Marketing which rank second and third in this field, respectively.
If you specialize in skills like SEO and SEM which can make a business more profitable, then you can easily land a high-paying job. Along with the usual content creation, you will also need to analyze patterns since content marketing is dependent on traffic. You can analyze the patterns and design your work in a way that it drives more traffic towards your work.
Who is digital marketing for?
When you are deciding on a career in digital marketing, you might be wondering – Am I fit for this career? Well, digital marketing has something for almost all people. If you are someone who enjoys coding, then you can easily get a spot as a web developer. Nowadays, even AI is being used to help with Interactive Technology.
Plus, data science can be used to identify customer patterns so data scientists can be of great help in digital marketing. For creative souls, digital marketing has a pool of work. Writers can go for content creation and management. Graphic designing and video editing are also an important sector in digital marketing. Read more about the digital marketing skills you need.
However, since marketing is a dynamic field, if you enter it, you need to learn constantly. You have to be proactive and curious as well as understand how businesses work. The more adaptable and skilful you become, the better are your chances to move up the ranks in the digital marketing field.
Besides, there are other lucrative opportunities to work on that encompass the discipline of Digital Marketing. Data Analysis is also one of the most lucrative fields to work for someone with a degree in Data Sciences. Project Management is another popular career in Digital Marketing that helps in creating an adequate opportunity to work. If you have a degree in Management and Leadership, then this job is really lucrative for you. It helps you to keep tabs on different projects online and make a chart of how to finish a particular project in a given period of time.
Best Digital Marketing Courses Online
Why should you choose a career in digital marketing?
Digital marketing is a wide field and there are plenty of avenues which you can go down if you engage in it. If you want to learn something every day, you can even move up the ranks and become a manager. However, there are several other reasons why digital marketing can be a profitable venture for you:
Advantages
1. Utilization of skills: In the modern world, companies are looking for people with soft skills. If you are someone from the middle-income bracket and have some digital skills under your belt, then you can upscale yourself by learning more skills, especially in this area. Planned learning of skills can eventually take you forward in your future expeditions.
2. Versatile field: In many different fields, if you have already taken a specialization, it becomes difficult to shift your path. You might have to go through extensive training. However, with digital marketing, very little training is required for you to make the required switch. In most cases, digital marketing fields have something for everyone. You can build up on your existing skills and learn new skills on the job.
3. Evolving industry: When a person is looking for a job, they also search for job security. Hence, they would often go to an evolving industry which may not go through a possible emergency shutdown. Digital marketing is quite new in that aspect and it is always growing. If you are eager to learn and improve, there's always something around the corner.
Since there are several roles to fill up when you are in this industry and different creative marketing strategies that you can develop, digital marketing will not only place you in a secured field but also help you invest yourself completely in the industry. Check out the digital marketing roles blog post to learn more about the various career options in digital marketing.
4. Earnings: Digital marketing jobs are in demand and so, there is a lot of opportunity for you to negotiate your remuneration. One of the best things about digital marketing is that you do not have to be in-house to work. You can also work as a freelancer or remotely. If you have the experience or the skill and if you can show your achievements, then you can negotiate and get your desired salary in this field. In India, the different roles in the digital marketing field have separate salary slabs. An approximation of the per annum salary of each chief role is:
| | |
| --- | --- |
| Role | Salary in Rupees |
| Digital Marketing Manager | 4 lakhs to 10 lakhs |
| SEO Manager | 3 lakhs to 7 lakhs |
| SEM/PPC expert | 3 lakhs to 5 lakhs |
| Web developer/designer | 3 lakhs to 6 lakhs |
| Social Media Manager | 3.5 lakhs to 7 lakhs |
| Content Writer | 2.5 lakhs to 5 lakhs |
5. Creativity: Digital marketing is a very creative discipline. Unlike many technical professional fields, digital marketing provides an opportunity for many creative people. There are jobs in writing, designing and audio and video production. Plus, developing marketing strategies, solving problems and finding ways to engage audiences require creative solutions as well.
6. Training as you please: It has already been established that digital marketing is a field where you need to learn new skills to keep going up the ranks. However, the best part is that you can train at your own pace and within your own comfort level. If you are working as a freelancer or engaged in a work-from-home contract, then you can learn in your own home.
You can take up online courses to help you with your skill training. You can even volunteer to build a website or a blog and engage in social media management of your personal page. It will help you to create an amazing portfolio for yourself. Plus, most of these skills do not require a lot of financial investment from your end too.
7. Working in a diverse environment: It is not a mystery that networking really helps, especially when it comes to professional growth. When you enter the digital marketing field, you have the opportunity to expand your creative side since you will be meeting a lot of different people with different skill sets. By working with different people, you get a chance to not only learn from them but also get a new direction in life, like understanding a new skill which will enrich your portfolio further.
In-demand Digital Marketing Skills
Disadvantages
Like most other disciplines, digital marketing has its cons too. Some of the cons of digital marketing are:
1. Regular learning and flexibility – Ongoing learning in digital marketing can be both a pro and a con for this field. While learning new things is always beneficial, the extremely dynamic nature of digital marketing can make learning a bit hectic. You may have to stay on your toes as you try to understand the trends and learn something new. You also have to be flexible and change your methods frequently based on the changing trends of the market.
2. High competition – Like any other field, digital marketing has a lot of competition. However, since this field is quite creative in nature, the competition increases even further. As a digital marketer, one of your chief goals will be to rank your page or website on Google and make it come up on the first page. Hence, you will not only be competing with other top pages, but also with several blog pages and websites. The competition is on a global scale making it even more difficult to breakthrough.
Learn more: Digital Marketing Tutorial: A Step-by-Step Guide To Become an Expert
How to start your digital marketing career?
You are probably wondering how you can start your digital marketing career. Since digital marketing requires a lot of transferable skills, a nice place to start is by learning a few skills useful for digital marketing. Honing your skills can set you on the right route down your career in digital marketing.
If you have a degree or a skill in web development, marketing management, designing and copywriting, then you already have a few skills which can be used in digital marketing. A good way to boost your exposure is by creating your personal brand and building a portfolio to develop your own digital presence.
When you create your brand, you are most likely going to try to stay on top of the trends. This will help you understand how trends work and you will get a lot of information about trends like AI or virtual reality. Try to understand how these trends can bring a change in the marketing department.
Keep your Facebook page or other social media pages consistent with your skill set so that they will adequately display your skills publicly. Remember to advertise yourself. You can join Facebook groups of similar interests or start your blog on Medium.
Next up, you can take a proper course or career path to give your skill a proper accreditation. While degrees, diplomas and certificates are not always mandatory in the digital marketing field, it can give you a huge boost in the long run. Here are a few career paths that one can take to boost your career in digital marketing:
Digital Marketing Free courses to Learn
Conclusion
A career in digital marketing is highly lucrative if you play your cards right. You need to keep your learning spirit active and you should always aim high. Never be complacent when you are opting for a career in digital marketing – you will always have room to improve.
A digital marketing career is dynamic with new job opportunities popping by every day. It helps to keep us on our toes and therefore presents a new window to work on a daily basis. There are also several courses in the Digital Marketing field that are growing by the minute. Do check out which related digital marketing career is suitable for you and aim to fly high!
If you are curious to get into the world of digital marketing, check out upGrad & MICA's Advanced Certificate in Digital Marketing & Communication.
You can also check out Certification in Digital Marketing from IIT Delhi. IIT Delhi is one of the top institutes in India and also one of the oldest IIT's and is always excelled in giving highly industry-relevant courses, Now IIT Delhi has partnered with upGrad to get these top IIT Delhi courses online. They have a variety of other programs like Machine Learning, Executive Management Programme in Strategic Innovation, Digital Marketing and Business Analytics etc.
Popular Digital Marketing Blogs