India is currently the second-largest online market in the world. With increasing mobile connectivity and internet penetration, the digital space is likely to experience a dynamic growth in both urban and rural regions: The number of internet users is estimated to reach 974 million by 2025. And this is excluding the possibilities that lie beyond the national border. 
In this article, we will look at some of the up and coming areas where digital marketing is gaining traction globally. We will cover the fundamental subjects and skillsets of MBA Digital Marketing, connecting the curriculum with the career avenues. Whether you are a fresh graduate, an entrepreneur, a sales professional, or a communication manager, the following list will help you make an informed decision about your higher education. 
MBA Digital Marketing Syllabus
Before we begin describing different subjects included in an MBA Digital Marketing course, let us give you a brief about the primary skill sets they emphasize.
Content Marketing: SEO, SEM 

Branding & Communications

Marketing Analytics
In-demand Digital Marketing Skills
Typically, the MBA digital marketing syllabus engages students in such lectures, activities, and projects that develop the above skills. This helps you prepare and qualify for a wide array of jobs. Here are some examples of prospective roles: 
Content Manager

Social Media Manager

SEM Manager

SEO Specialist 

Digital Brand Manager

E-commerce Analyst

Marketing Strategy Professional
A recent LinkedIn study indicates that digital marketing careers are among the leading occupations in India, especially since digitization has picked up in the country.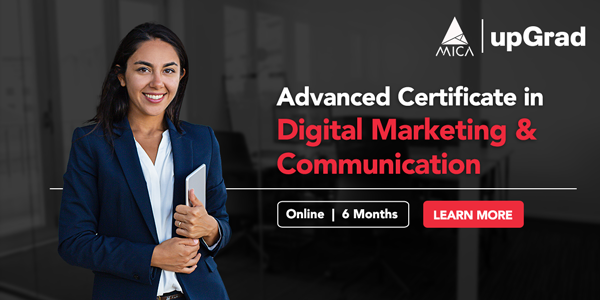 Now that we have brought you up to speed on the relevance of a postgraduate degree in digital marketing, here are some specific aspects of the curriculum. 
1. Fundamentals of Marketing
Like any other MBA course, the learning begins with introducing some basic business concepts: the principles of marketing, types of marketing channels, customer centricity, CRM, etc. These topics are taught with a special focus on the evolving digital landscape, including the operation of online communication channels like e-commerce, chatbots, digital ads, social media, and so on. 
At this stage, the program should also break down certain key themes like content and video marketing, SEO, SEM, link building, influencer marketing, referrals, online advertising, and pay-per-click. The next step typically takes you through the activities and tasks within these building blocks of digital marketing. 
2. Practical Aspects of Digital Marketing
The practical modules generally focus on teaching some leading techniques of digital marketing. This encompasses building a web presence, running a brand's social media account, optimizing the website content for better search engine results, nurturing online user leads, and much more. Many programs take up specific tools like Hub Spot, Facebook ads, and Moz in class to give the theoretical foundation with a more hands-on approach. 
If you are interested in pursuing only a few areas of the vast digital marketing domain, you should go for a course with specialized tracks. Consider the above exercise as a refresher for that in-depth training. Your choice would largely depend on where you are in your career journey.
If you are looking to upskill and apply for managerial positions or thinking of transitioning from traditional marketing into the digital arena, you can check out the online PG Certification in Digital Marketing & Communication offered by MICA, a leading B-school in India. 
upGrad's Exclusive Digital Marketing Webinar for you –
Watch our webinar on "What's new in Marketing"
3. Marketing Analytics and Strategy
As a manager, formulating plans and strategies for your brand is one of the most crucial parts of your job. You have to obtain a 'big picture' view of the business or brand, evaluate the success of promotional campaigns, and then recommend the way forward. And the solutions are hard to arrive at without the knowledge of marketing analytics. 
Therefore, MBA digital marketing syllabus should provide an inside look into the platforms currently being used in the industry. These may include Google Analytics (to track and report website traffic) or tools like Firebase (to develop quality apps, grow the online customer base, and increase profitability). 
You can also choose a specialized program that gives you a deeper perspective on marketing analytics. Such MBA courses usually cover data integration, exploratory data analysis, predictive analytics, and tools like Excel, MySQL, CleverTap, etc. 
4. Digital Branding & Communications
In a highly-competitive business environment, brand communication plays a critical role in building and sustaining customer relationships. It takes place every time someone from the target audience—a potential customer—interacts with a brand.  
Any business aims to present such visuals and content that capture interest and keep users engaged. From the logo to website layouts to newsletters and other marketing collaterals, the branding needs to be consistent and effective. Therefore, MBA digital marketing syllabus equips future managers with these capabilities. 
The standard coursework has sub-topics like brand positioning, user engagement, and branding with respect to international markets. Some institutions of study may also cover elements of copywriting, graphic design, and video creation. You should give preference to programs that impart in-demand industry skills via class activities, projects, and real-life case studies. 
5. Social Media Marketing 
Social media has emerged as a significant subfield within the online marketing ecosystem in the last few years. The attraction of social networking platforms is expected to multiply in the coming years, in India as well as abroad. 
Furthermore, today's consumers are active and aware. They can view the online presence of a business with a single click on their smartphones, tablets, or laptops. If the brand doesn't seem credible on its online communication channels, they are quick to jump to conclusions about its image and customer experience. And that is why modern organizations pay attention to how their vision is reflected across digital mediums. 
Anyone handling posts and managing conversations on Facebook, Instagram, Twitter, LinkedIn or any other channel needs to be well-versed with the good practices, algorithms, and technicalities to avoid any grave errors. 
Best Digital Marketing Courses Online
Conclusion
If you are interested in venturing into social media management as a full-time job, you can select a specialization in the second phase of your digital marketing course. Such immersive learning pathways facilitate experiential learning for using Instagram, Hoot Suite, etc. 
Beginners can sometimes feel lost in the decision-making process, while mid-career professionals may not know the benefits of particular learning areas within marketing, which are essential for leadership roles. In any case, it is best to educate yourself about these things before you commit your time and money.
It is also advisable to pick accredited degrees, for example, the Global MBA (Digital Marketing) offered by Deakin Business School & MICA. This program gives personalized offerings to candidates, depending on their experience and requirements. 
With this, we have explained the major components of a standard MBA digital marketing syllabus. We recommend that you use these insights to evaluate your career trajectory, matching your interests and needs with the right learning program! 
Digital Marketing Free courses to Learn
Popular Digital Marketing Blogs
Why is digital marketing important?
As both brands and customers have moved online, the competition has shifted from offline to online space and brands are spending hugely on increasing their online presence.
This is where digital marketing helps you to stay in the game and ahead of the curve. Some of the benefits of digital marketing are:
1. It is cost-effective and faster than the traditional form of marketing. A business can reach out to the targeted audience quickly and at a lesser cost.
2. It provides a better ROI as you have a high conversion rate and you can run a marketing campaign properly around the targeted audience effectively
3. It increases your brand visibility and also helps to build brand reputation.
4. All your competitors are doing it
What are the important subjects covered in digital marketing?
Apart from the basic introduction to digital marketing, the core subjects include- search engine optimization, search engine marketing, social media marketing, email marketing, mobile marketing, e-commerce marketing, introduction to web analytics and website data analytics, content strategy, paid ads optimization strategies, competitor and website analysis, planning and creation of websites.
What is the difference between search engine optimization (SEO) and search engine marketing (SEM)?
Both SEO and SEM are important marketing techniques to attract the attention of users to your website. SEO is a basic and most important way to improve the ranking of your web page in the organic and non-paid search engine result page (SERP). It includes techniques like on-page SEO, off-page SEO, and technical SEO.
On the other hand, SEM is a part of SEO but it differs as it uses paid tactics to get at the top of the SERP. The techniques include setting up and optimizing ads, also known as the pay per click (PPC) technique, creating campaigns around key keywords.
The only difference between the two is the speed. SEO is organic and takes time to show results in the Google SERP, whereas through SEM, you can achieve results quickly and get a better ranking in the SERP and user attraction.
Start your Digital Marketing Journey Today