Today, social media is an infinitely powerful tool that brands and businesses can leverage to establish themselves and widen their horizons. But how many businesses are effectively using it is the question. Having a presence on popular social media channels and posting content is not enough. Social media is insanely vast and dynamic.
So having a streamlined strategy is vital. Interestingly, at least 90 percent of marketers say that social media marketing has boosted their brand's exposure. So it is not difficult to imagine the sheer value you can drive when there is an effective social media marketing strategy. A concrete social media marketing strategy is your key to achieving success on different online publishing channels.
What is a social media marketing strategy?
Marketing on social media involves connecting with your customers and potential customers worldwide, boosting sales, generating more leads for business, and enhancing your brand's recognition. A social media strategy is like a blueprint that covers everything you need to do to achieve your business goals through social media. It is a result-oriented plan that charts out actions and helps you measure success categorically so that your business attains maximum advantage from social media marketing.
Enroll in a Digital Marketing Certificate course online from the World's top Universities to fast-track your career.
Why do you need a social media marketing strategy?
The right social media marketing strategy helps you connect instantly with your target audience, offering them a better understanding of your brand. Because your first impression can be your last impression, you need to understand exactly how to project it on social media in the shortest time. 
While this seems to be an overwhelming task, it becomes streamlined once you have a social media marketing strategy in place. It not only benefits your business by generating more leads but also opens up avenues for innovation, content creation, optimization of marketing expenses, better engagement with your target audience, and finally, boost revenues. And with an effective social media strategy, you can also stay ahead of your competition.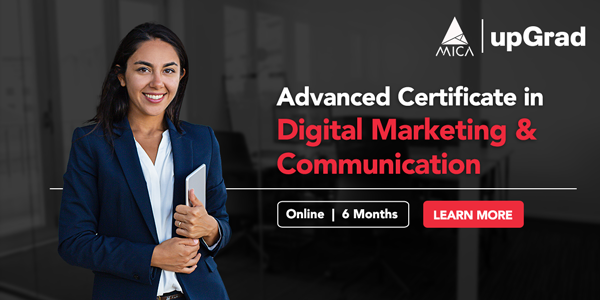 How to create a strategy for social media marketing?
Step 1: Set your goals and metrics clearly
Unless you exactly understand what you wish to achieve by being active on social media, you will never know which direction to move. Whether it is to earn more revenues or expand your customer base, you must clearly set out your targets and metrics.
You can define your goals using the SMART framework, which is –
Specific –

The more precise your goals are, the better and clearer your

social media strategy

will be. Consequently, your expectations will also be clear and proportionate. 

Measurable –

With measurable goals in view, you will be able to appraise your success better. For instance, if you aim to gain 200 new Instagram followers every month, but that is not happening, you can modify your strategy to achieve better results.

Attainable –

Quite obviously, you should set realistic goals in sync with your business resources. Keeping unattainable targets that are disproportionate to your resources will never lead you anywhere.

Relevant –

Your goals must be relevant, i.e., closely aligned with your objectives. You need to have a clear picture of how your marketing goals will influence your business objectives.

Time-bound –

There must be realistic deadlines set for every stage.
Step 2: Study your target market or audience
If your business has been there for some time, you already know your target market. However, if you are not too sure, you need to segment your audience based on common behaviors and demographics. And then research and learn more about them. Detailed specifics about your targeted audience base helps in shaping an effective social media content strategy.
You can create audience personas to devise a more specific social media strategy for each segment. Consider parameters like interests, age, location, language, spending potentials, and preferences to create these personas and choose appropriate social media platforms. 
Proper research of your target audience will help you make informed decisions. You will better understand what your audience expects to see and what you need to share with them on social media.  
Digital Marketing Free courses to Learn
Step 3: Study your competitors
Competitor analysis is vital for understanding the whereabouts and performance of your competitors on social media. Researching your competitors will help you gain insightful data like which social media strategy is proving beneficial for them and which is not. You can identify competitive keywords and which competitors are gaining the highest SEO rankings for those keywords. You can even identify all the other brands in your niche that your target audience follows.
After analyzing your competitors, performing a SWOT analysis will offer a clear picture of your strengths, weaknesses, opportunities, and threats. But make sure not to copy your competitors. Instead, you can monitor user comments and reviews on their pages to identify customers' pain points and try to bridge those gaps through your services and products.
Popular Digital Marketing Blogs
Step 4: Choose your platforms to advertise on
While creating a social media marketing strategy, you must remember that each platform comes with its own dynamics and nuances. Not all of your target audience will be present on all the channels. Also, it might not be possible to include each and every social media channel in your strategy out of the hundreds available today. Besides, one kind of content might not be suitable for all platforms.
For instance, not all who are present on Facebook are active on LinkedIn. And both of these channels serve different purposes and encompass different niches of audiences. So it is crucial to choose the right ones for maximum engagement. Try to be specific when you target your social media strategy for different social media channels – it should ideally be a balance of audience demographics and your business objectives. 
Step 5: Develop relevant and engaging content
When you know which social media platforms to focus on, creating appropriate content becomes easier. You need to develop content that is not only compelling but also enjoyable. Also, your followers must be able to share them easily with others in their network. Whether it is a Facebook post or a tweet, or an image, 'shares' and 'likes' can reveal a lot about the psychology and preferences of your target audience. You will understand what makes them happy and what they are looking for.
Brands like Oreo, Dove, Mercedes, Nutella, Airbnb, etc. keep their audience engaged through different types of campaigns either to promote a new product or leverage a big festival to offer sweet discounts and make more sales. 
Make sure to create relevant and high-quality content to make your social media marketing more effective.
Step 6: Advertise your posts
With over 4.5 billion active users on social media across the globe, you need to advertise your posts to get noticed. The golden rule is to reserve 20 percent of the time for content creation and the remaining 80 percent to promote it.
The best way to boost visibility and engagement is through paid advertising on social media. In fact, 68 percent of marketers consider paid advertising a highly crucial part of the overall marketing strategy. 
Frequent evaluation of the performance of your social media marketing strategy, based on the steps discussed here, will help you fine-tune it for better outcomes. Analyzing your results regularly will help you identify and improve your strategy and drive improved results in the long run. 
If you want to ace social media marketing skills, you can sign up for the MBA (Global) with specialization in Digital Marketing program offered by Deakin Business School (DBS) in Australia, in association with upGrad. The highlight of this program is that it offers dual credentials from DBS and MICA upon successful completion.
Best Digital Marketing Courses Online
Q1. Is MBA in Digital Marketing a good choice?
Yes, certainly. Gone are the days when digital marketing was just an important fragment of overall marketing – today, it is an essential aspect of marketing for businesses to thrive in a steeply competitive market. And currently, there is a huge demand for professionals who are trained and possess adequate knowledge in Digital Marketing. However, there is a shortage of knowledgeable Digital Marketing professionals, for which the demand-supply gap remains, making it a career option that is highly rewarding.
Q2. Is Global MBA worth it?
A Global MBA program is advantageous for the global or international perspective that the program offers to aspirants. It creates opportunities to acquire hands-on skills while working in an international setting, grooms and sensitizes students for multi-cultural workplaces and communication. A Global MBA is ideal in offering exposure to working as a team with peer diversity, which ultimately shapes them into better professionals and makes them ready for the global market.
Q3. What is the average salary for Digital Marketing managers?
The role of digital marketing managers is considered to be among the most lucrative and highest-paid jobs in the world today. Even though many people still feel that digital marketing has not totally substituted traditional marketing, it has definitely overtaken it in prevalent times. Digital Marketing managers with an MBA degree earn about 7-8L per annum on average.
Ride the Digital Wave