Digital marketing is one of the fastest-growing industries today, and it has immense significance for any business aiming to reach a larger audience. Digital marketing efforts will only yield results when your business reaches a wider audience and successfully creates customer awareness. Considering all digital marketing strategies, the cost incurred to implement each, and other factors can help you choose the best one for your business.
Cost per mile (CPM) is a pricing model in digital marketing used by leading businesses to determine the best pricing model for increasing their customer base. CPM in digital marketing is an advertising pricing model where the Latin word 'mile' means a thousand.
What Is CPM Digital Marketing?
CPM meaning in digital marketing, relates to a marketing term and a pricing model. It denotes the price of 1000 advertisement impressions, the average amount you pay to run 1000 advertisements on a single web page. It means CPM asserts the cost you must pay every thousand times the internet browser loads your advertisement.
CPM in social media marketing is one of the most popular pricing models for online advertisements. The method is based on impressions, a metric to calculate the number of views on an online ad or its engagement on social media platforms. Such impressions are popularly known as 'ad views'. Businesses pay a set amount for every thousand ads to the website owners to create more audience engagement with their business.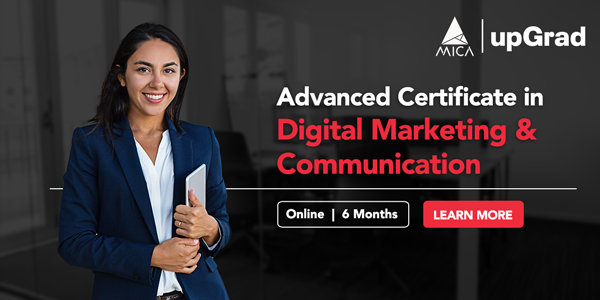 An impression in the CPM structure counts how many times the ad has been displayed on a particular website, but it does not have any insight into whether the ad was clicked upon. To measure the percentage of viewers who clicked on a particular advertisement, the representation of click-through rate (CTR) is used.
Generally, advertisers use CTR to assess the success and effectiveness of the CPM model. However, CTR is not the only way to determine the impact of an advertisement because an ad that a reader views but does not click on may still have an effect.
Read on to learn all about cost per mile in digital marketing, its formula, how it works, its advantages, and so on. Check out the Advanced Certificate in Digital Marketing and Communication from MICA to gain insight into trending digital marketing strategies.
Advantages of Using CPM in Social Media Marketing
CPM in social media marketing has some major benefits to offer, as stated below:
Increasing brand awareness
A company can raise its brand and product awareness by using the CPM price model for its advertisement campaigns. This is because a significant portion of the prospective buyers may view the advertisement, which increases the probability that prospective customers may view the company's website or stores physically.
Potential customers tend to have questions regarding the products and services of the company, which allows sales professionals to describe the product's features effectively. Product awareness is enhanced among potential consumers, turning them into regular buyers. It has also been observed that customers trust such brands and products that deliver reliable commercials.
Increasing sales conversions
Sales conversion is the process of turning leads into actual customers. It is the key aspect of earning revenue and increasing the customer base for the brand. A potential customer directly contacts one of the company's sales representatives to learn more about the product and to decide whether to purchase the product or avail of the service. This cycle frequently occurs throughout the sales process, converting leads into customers.
CPM can increase conversion in two major ways. First, CPM in social media marketing generates more leads, automatically elevating the conversion rate. Second, by creating a lead repository, companies can identify their target audience with greater accuracy, ultimately resulting in increased sales conversion.
Increasing marketing efficiency
CPM is highly beneficial for enhancing the marketing efficiency of any business. Companies that lack revenue can use the CPM technique to save extra costs. Using the CPM formula in digital marketing, organisations can select the least expensive and most effective marketing solution that best suits their needs.
To produce more effective advertisements and save money, the company needs to balance its objectives and expenditure on advertisements. Shifting focus from social media marketing to running ads on various web pages, for instance, both approaches can lead to 1000 viewers. Social media marketing is much more expensive than web page advertisements.
Calculating CPM in Social Media Marketing
To calculate CPM in social media marketing, there must be adequate data on the ad campaign of such a business or application. The data shall include the total cost incurred for the ad campaign and the total number of impressions received.
To calculate CPM, divide the total cost incurred for the ad campaign by the total number of engagements or impressions. The consequent result of the division is to be multiplied by 1000. The final value then derived will be the CPM rate for that particular ad campaign.
The CPM formula in digital marketing is as follows:
CPM= 1000* Campaign Cost/ Impressions
The CPM in social media marketing formula lets users derive the result easily. You can better understand the calculation of the CPM rate with the help of the following example
For instance, if the total cost incurred in a particular campaign is ₹200 and receives 2000 impressions, then the CPM for that particular ad would be ₹100.
(₹200 / 2000 impressions) * 1,000 = ₹100
Learn digital marketing courses online from the World's top Universities. Earn Masters, Executive PGP, or Advanced Certificate Programs to fast-track your career.

Define CPA and CPC
CPA
CPA stands for cost per action, one of the most effective pricing models aiming to generate user actions. However, the user action is estimated in a broader sense, and it need not necessarily be a purchase. The user actions can be subscriptions, conversions, installs, etc., that can be evaluated independently.
The cardinal principle of the CPA pricing model is that the advertisers only pay when the user takes some action, and the publisher gets paid only when a conversion takes place. It is a cost-effective pricing model that generates high-quality engagement, which is great for attracting advertisers. CPA is best suited for immediate action, such as the one required in affiliate marketing.
The formula for CPA is:
CPA= Campaign Cost/ Conversions
CPC
With the cost-per-click pricing model, the advertiser and publisher decide on the revenue only when a user clicks on the ad, regardless of the times it has been shown. CPC campaigns only perform well in the middle of the marketing funnel. At this point, the users are well acquainted with the products, and the CPC advertisements will further enhance customer engagement.
The CPC pricing model lets advertisers ascertain how many users have clicked on their ad. The cardinal principle in the CPC model is that the publishers only get paid when users click on their ads. The CPC model suits industries like finance, trading, etc. The most prevalent CPC ad types include images, text ads, Instagram adverts, promoted tweets on Twitter, video ads, ads for stores, etc.
The formula for CPC is:
CPC = Campaign Cost / Number of Clicks
Evolution of CPM
Cost per mile (CPM) is originally a French term meaning 'cost per thousand' in English. The original version of CPM is "Coût pour mille impressions", an appropriate statistic from the media industry.
CPM was originally used in the media industry to measure content monetisation for the advertisements that ran on television or were displayed in print media. In the 20th century, advertisers used CPM to calculate the cost of advertising for print media such as magazines, newspapers, brochures, and TV. The main objective was to derive the value of an ad by evaluating 1000 viewers or readers of the ad on the TV or print media, respectively. This is because there was a lack of data research about the audience in numerous media outlets.
Cost per mile in digital marketing emerged later when various social media platforms and websites on the internet started growing in popularity. Nowadays, the CPM metric is still prevalent, but the rise of social media platforms and the online business model have changed how CPM is used. Before online advertisements, there was no effective and reliable means to confirm the number of viewers or readers who viewed or read the ad.
Check out our free courses to get an edge over the competition.
What Makes a Good CPM?
Good CPM is a subjective concept and depends upon the objectives of a particular advertisement campaign. Let's understand this with the help of an example!
For instance, the average CPM for advertising platforms is ₹5. If you strike a deal for a CPM of ₹4.25 and you achieve the desired objectives that you intend to achieve through that particular advertisement campaign, in such a scenario, this may be considered a good CPM.
In another scenario, if you strike a deal for a CPM of ₹7 and all the desired goals from the advertisement campaign are accomplished, even if you have paid above the industry average CPM, it can still be considered good. This is because it helps to achieve your target objectives and leads to more conversions.
Therefore, the bottom line is that no benchmark can correctly evaluate the performance of CPM. A good CPM primarily helps you achieve your target objectives through the advertisement campaign, incurring expenses within the industry's reasonable limits.
Popular Digital Marketing Blogs
Companies That Use CPM
Some of the most popular CPM ad networks for publishers are enumerated as follows:
Publift

BuySellAds

Google AdSense

Propeller Ads

Adcash

Exponential (Formerly Tribal Fusion)

Conversant Media

UberCPM

Adbuffs

Media.net
Best Online Digital Marketing Courses
Conclusion
Various digital marketing tactics have emerged in recent years, improving upon earlier strategies or introducing new ones. One such technique is cost per mile, which has proven increasingly effective. Many companies prioritise business concerns related to product development and supporting sales and do not want to spend more time and money analysing and researching marketing trends. In such cases, CPM does the job for them.
Digital marketing solutions exist in multiple facets and features. If you want to brush up your knowledge and learn what CPM stands for in digital marketing to gain in-depth knowledge of digital marketing tactics, including CPM, consider signing up for upGrad's Advanced Certificate in Brand Communication Management from MICA. It will help you stand out in the marketing industry and become well acquainted with the marketing techniques required to establish a successful career.
FAQs