Reaching over 2.5 billion internet users every day, GDN or Google Display Network is the reigning figure in the realm of online advertising. Google Display Network (GDN) is a collection of websites and apps aligning with Google to display ads to their users. The network includes over 2 million websites and apps, utilised to reach over 90% of global Internet users. It is one of the largest advertising networks in the world, which can help you reach your advertising goals within a very specific time. Knowing your way through its best practices can help you beat your competitors in the game!
Learn digital marketing courses online from the World's top Universities. Earn Masters, Executive PGP, or Advanced Certificate Programs to fast-track your career.
Let's decode everything you need to know about Google Display Network.
History of GDN
The history of GDN goes back to 2003 when Google introduced the Google AdSense program. AdSense enabled website owners to display ads on their sites and earn money from clicks on those ads. This was the beginning of the Google Display Network as we know it today. In 2007, Google launched the DoubleClick Ad Exchange, which led advertisers to purchase ad space on websites and apps in the GDN programmatically, further simplifying the process for interested parties.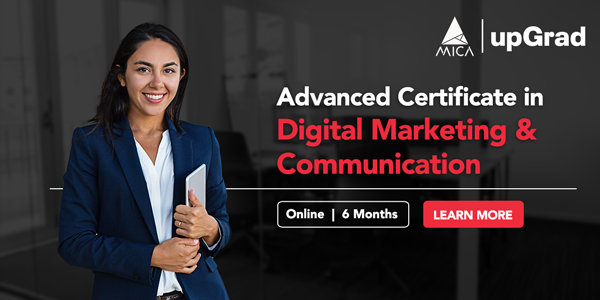 In 2010, Google combined AdSense and DoubleClick Ad Exchange to create the Google Display Network. This allowed advertisers to use one platform to create and manage display ads on a wide range of websites and apps. Since then, Google has continued to expand and improve the GDN, adding new features and targeting options to help advertisers reach the right audiences and achieve their marketing goals.
What is Google Display Network?
Advertisers use the GDN or Google Display Network to reach a broad audience and execute various marketing goals. These include increasing brand awareness, promoting products and services, and driving sales and conversions. Advertisers can use the GDN to create and display a variety of ad formats, including text, image, and video ads. They can also use the GDN to target audiences based on demographics, interests, and digital behaviours. Additionally, the GDN offers measurement and reporting tools to help advertisers track campaign performance and make adjustments to ensure optimum performance.
Importance of GDN
The Google Display Network (GDN) is crucial for several reasons. Let's look at the most significant ones!
Reach
The GDN is one of the largest advertising networks in the world, reaching over 90% of global internet users. This allows advertisers to reach a large and diverse audience, enabling them to achieve a wide range of marketing goals.
Targeting
GDN provides a wide range of targeting options, including demographic, geographic, and interest-based targeting. Advertisers can use these options to reach specific audiences and increase the relevance and effectiveness of their ads.
Ad formats
GDN offers a variety of ad formats, including text, image, and video ads. This allows advertisers to create visually appealing and tailored ads for their target audience, increasing the chances of user engagement with the ad.
Flexibility
GDN can be used to achieve various marketing goals, including increasing brand awareness, promoting products and services, and driving sales and conversions. This flexibility makes GDN a valuable tool for many businesses and organisations.
Measurement and Reporting
GDN provides measurement and reporting tools to help advertisers track the performance of their campaigns. This allows them to make adjustments to optimise their results and ensure that they are reaching the right audience and achieving their desired results.
Integration
GDN can be integrated with other Google products such as Google Analytics, Google Search Ads, and Google Tag Manager to further strengthen user campaigns. Integration of GDN with other applications allows advertisers to track their campaigns and make data-driven decisions for their advertising strategy.
Cost-effective
GDN allows advertisers to reach their target audience at a lower cost than traditional advertising methods. This makes it a cost-effective solution for small businesses and startups.
Programmatic buying
GDN allows advertisers to buy ad inventory programmatically, using data and automation to target specific audiences. This allows for highly efficient and impactful ad campaigns, reducing the need for manual intervention.
Overall, GDN is an effective advertising tool for businesses of all sizes, as it allows them to reach a wide audience, target specific segments, and measure their campaigns' results.
GDN Banner
GDN banners are typically image-based ads that marketers can display in a variety of sizes and shapes. GDN banners can promote products, services, or brand awareness. The use of GDN banners is a popular choice among advertisers as they are visually appealing and can be used to capture users' attention. Additionally, GDN banners can be customised to fit the layout of a website or app, making them an effective way to reach users on various platforms.
Creating GDN Ads
Advertisers can create GDN ads in a few different methods. The most common method is to use Google Ads, a platform for creating and managing ad campaigns. Advertisers can create text, image, or video ads and choose where to display them. Google Ads allows advertisers to target specific demographics, interests, and actions, making it a powerful tool for reaching the right audience.
Google Display Network API extends another method of creating GDN ads, which allows advertisers to programmatically purchase GDN inventory and target specific audiences using data and automation.
Third-party ad platforms such as DoubleClick and AdSense also enable advertisers to create and manage GDN ads. These platforms provide additional tools and features, such as advanced targeting options and reporting capabilities, that can be used to create more effective campaigns.
Targeting
One of the vital benefits of the GDN is the ability to target audiences. Advertisers can display ads to specific demographics, interests, or behaviours. For example, an advertiser can target ads to women aged 25-34 who are interested in fashion and beauty products. By targeting specific audiences, advertisers can increase the relevance and effectiveness of their ads, resulting in higher click-through rates (CTR) and conversion rates.
Measuring Success
Measuring the success of GDN campaigns is crucial to ensure that the ads reach the right audience and achieve the desired results. Advertisers can use Google Analytics to track the performance of their GDN campaigns. This includes click-through rate (CTR), conversion rate, and cost-per-acquisition (CPA). These metrics can be used to evaluate the performance of different ad formats, targeting options, and placements to make adjustments and improve the campaign performance. Google Ads provides detailed reporting on the performance of GDN campaigns, including metrics such as impressions, clicks, and conversions, further assisting in tracking and maintaining success rates.
One significant aspect of measuring the success of GDN campaigns is tracking offline conversions. For example, if an advertiser is running a GDN campaign to promote a sale in their physical store, they can track the number of customers that visit the store and make a purchase as a result of seeing the ad. This can be done using tools such as call tracking and in-store tracking.
Best Practices to Get the Most Out of GDN
Like with other tools, you need to know some of the best practices to follow in order to make the most of the tool at hand. Here are a few such tips that you must keep in mind while exploring advertising on GDN:
Use high-quality images and videos
Advertisers should use high-quality images and videos that are visually appealing and relevant to the ad's message. This will help capture users' attention and increase their chances of clicking on the ad.
Use ad extensions
Ad extensions enable advertisers to incorporate more information in their ads, such as business location, phone number, or site links. This can help increase the ad's visibility and make users more likely to click on it.
Best Online Digital Marketing Courses
Test different ad formats
Advertisers should test diverse ad formats, such as text, image, and video ads, to see which ones perform best for their campaign.
Top Digital Marketing Skills
Optimise for mobile
The GDN reaches a significant number of users on mobile devices, so advertisers should optimise their ads for mobile to ensure that they look good and function correctly on these devices.
Digital Marketing Free courses to Learn
Conclusion
Leveraging Google Network Display's assistance to fuel your marketing campaigns can significantly impact your brand for good. All you need is an engaging creative campaign and the right GDN tools to implement your thought-out strategies. GDN can be a precise way to increase brand awareness, drive website traffic, and ultimately increase sales, so make sure to utilise it to its fullest!
If you are interested in learning more about the optimum utilisation of Google Display Network, Advanced Certificate Course in Digital Marketing and Communication offered by upGrad can be an excellent pick! Fueled by the MICA School of Ideas, this course covers various aspects of digital marketing and communication, including GDN and other advertising platforms, to fuel your growth as a professional digital marketing expert. Enrol now to kickstart your journey with upGrad!
Popular Digital Marketing Blogs