You must've heard the term digital marketing here and there. It has become a buzzword recently. And why wouldn't it?
Digital marketing has evolved drastically with time. And the internet has expanded considerably too. As a digital marketer, you'll have to promote businesses over the internet.
All the online ads you see, the content you read, and the images you see online are in one way or another related to the work of a digital marketer.
Just like this, we'll be discovering a few other reasons as to why digital marketing career choices are great for you.
Digital Marketing: What is it?
The methods and techniques you use to promote a product or service online, will fall under digital marketing. Just like traditional marketing, it's main goal is to attract an audience and generate leads.
Digital marketing has many domains including social media, search engines, email, etc. With time, the complexity and importance of digital marketing roles have also increased.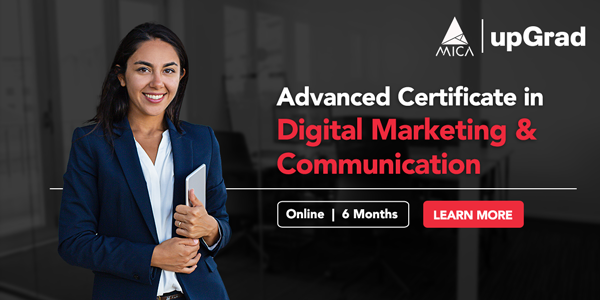 It's an ever-evolving field so the techniques that were effective a few years back might not be useful today. As a digital marketer, you'll be using multiple tools and techniques to promote businesses. 
Learn more: Digital Marketing Tutorial: A Step-by-Step Guide To Become an Expert
What are the Career Opportunities in Digital Marketing?
As we mentioned earlier, digital marketing is a broad sector with a variety of sectors present in it. So, whether you're a creative person or a technical one, you'll find something for yourself in this field. 
Here are some of the prominent digital marketing skills and their roles:
Search Engine Optimization
Google receives around 60,000 searches per second every day. People search on these platforms to get answers. And with the help of SEO, you can make sure that when they search for something related to your website, they find it. 
Businesses are focusing on SEO to get more traffic for their websites. If your audience is huge, then you can have more customers as well. 
SEO depends on multiple factors such as the loading speed of the website, keyword optimization, etc. As an SEO manager, you will have to identify the reasons why your website is performing poorly SEO-wise and fix the same. 
SEO takes time to show results but a better rank in SERPs can help in strengthening the brand and generate more awareness. 
Social Media Marketing
Social media platforms are a gold mine for digital marketers. Take, for example, Facebook, which has around 2 billion monthly users. Other social media platforms also have millions of users all across the globe.
These platforms let the marketers go where the audiences are. They can communicate with their prospects directly and create thriving followings for their brand. For example, Wendy's is famous for its witty Tweets. 
As their tweets get popular among Twitter users, their brand popularity also increases. This way they are able to stay in touch with their customers and offer a better experience to the same. 
Digital marketers have to perform such tasks and manage the social media presence of their clients. 
Content Marketing
Content marketing refers to the creation and promotion of valuable content for the audience. It helps in establishing trust in the audience and attracting new visitors. 
All the content you see online, whether it's a blog article or a YouTube video, is a result of content marketing. Brands are able to help their prospects by solving their real-life problems through high-quality content. 
As a digital marketer, you'll have to plan, create and promote the content for different brands. You'll also have to identify which form of content would be perfect for the company as well as which platforms would suit it the most. 
Content marketing is mainly popular among B2B marketers. Blogs of various companies including Outbrain and Neil Patel are great examples of content marketing. 
This role requires creativity and a clear understanding of the brand's requirements. 
Email Marketing
Companies use email marketing for both outbound as well as inbound marketing. They release ads on emails to reach customers where they are. And they create email newsletters for turning followers into customers.
As a digital marketer, you'll have to increase the number of newsletter signups, create compelling content for the newsletters and convert the subscribers into customers. 
Email is still one of the most powerful online tools for lead generation. That's why companies are so dependent on email marketing. You will also have to make yourself familiar with different email marketing tools such as MailChimp. 
The above were only a few of the many sectors present in digital marketing. Each of them helps a brand in a unique way and as a digital marketer, you will have to master them. 
Reasons to choose a Career in Digital Marketing:
Everything is getting digitalized. Companies in all sectors are focusing on developing a robust online presence.
And for that purpose, they are hiring digital marketers. In digital marketing career growth is also fast. That's why so many people are opting for a career in digital marketing.
Here are a few other reasons why you should study this skill:
High Demand for Digital Marketers
Around 69% of companies were going to hire more marketers, according to a report by Marketing Hiring Trends.
The report also found that there is a considerable gap between the supply and demand of digital marketing professionals. The demand stood at around 59%, but the supply was only 19%.
It means companies are dying to hire digital marketers. And learning an in-demand skill never hurts. It only means that you can get better-paying jobs with more security after learning such a highly demanded skill.
Digital Marketing Free courses to Learn
Great Growth Prospects
Digital marketing skills will keep seeing an increase in demand in the near future. Why?
And that's because the digital economy is growing 10x faster than the offline economy.
There are many reasons why digital marketing skills will keep rising in demand. Companies know how beneficial the internet and digital platforms are. Digital marketing lets them reach a wider audience, scale their business further, and generate more revenue.
Setting up a business online, running ad campaigns, developing content strategies are a few of the tasks a digital marketing expert does to provide such results.
But without trained digital marketing professionals, they can't do these tasks. That's why the demand for these skills will continue to increase.
upGrad's Exclusive Digital Marketing Webinar for you –
Webinar with Q&A Session on Digital Marketing
Start Your Own Business (or Promote the Existing One)
Digital marketers have ample knowledge of multiple online tools and platforms. They can start websites, create products, and sell them to the targeted market.
If you study digital marketing skills thoroughly, you can start an online business yourself if you want. Or, you can even become a digital marketing consultant and start a freelancing business.
For people wanting to become entrepreneurs, learning digital marketing is imperative.
You'd be able to reduce the costs of your business's promotion, target the right audience, and measure your progress better with the help of this knowledge.
Best Digital Marketing Courses Online
Get Better Pay
Want to increase your salary? Start learning digital marketing.
As we mentioned earlier, there is a massive demand for digital marketing professionals. Because of the high demand, the pay for digital marketing roles is also high.
You can get better roles in the organization because of your expertise, which can help you enhance your salary.
Digital marketing managers earn around 5 to 10 lakh per year. Social Media Managers earn about 6 to 8 lakh rupees per year, as well.
Wouldn't a pay raise be amazing?
Easy to Start a Career
If you want to become an engineer, you will need to get a degree in engineering. If you want to become a pilot, you will have to go to aviation school and get a license.
But if you want to become a digital marketer, you will only need to practice the essential online marketing techniques, create a portfolio, and you'll be good to go.
You don't need to get another degree or go to college to start a career in this field. Entering the sector is quite easy.
Plus, the digital marketing community is amicable and full of amazing people. So, if you ever have a question, you can ask around or look it up online, you'll find an answer.
If you want to start a new career, digital marketing would be a great choice.
Full of Variety
Were you using WhatsApp in 2011? Or were you using Google Assistant to look up stuff in 2015?
The answer would most probably be no.
These examples show how fast the internet changes. It changes every year, and these changes aren't negligible, they're the opposite. And digital marketers have to adapt themselves to these changes constantly.
So they are always learning new stuff and mastering new techniques. If you're looking for a field that is full of novelty and variety, then you should go for digital marketing.
In-demand Digital Marketing Skills
A Technical and Creative Field
Digital marketing requires a unique combination of both creativity and technical knowledge. You'll be writing eye-catching headlines for ad campaigns, and you'll also be checking the analytics of the campaign.
Because this field is vast, it has a variety of sections, each of which requires a unique skill set. For example, a content marketer should know how to write amazing blog articles. On the other hand, a social media marketer should know how to run a great promotion campaign.
Popular Digital Marketing Blogs
Conclusion
The career opportunities in digital marketing are plenty; you get to choose what you want to become. If you are curious to get into the world of digital marketing, check out upGrad & MICA's Advanced Certificate in Digital Marketing & Communication
What are the best career opportunities in Digital Marketing in 2022?
Digital marketing is a growing career option in India as well as globally. According to LinkedIn, Digital Marketing Specialists are among the top 10 most in-demand job roles. The top 13 Digital Marketing career opportunities include Digital Marketing Manager, Search Engine Optimizer, Social Media Manager, Email Marketeer, Content Writer and Marketer, Search Engine Marketing Specialist, SEO Specialist for Voice Assistant, Paid Media Specialist (PPC, Google AdWords), Data Analyst, Web Developer, Digital Marketing and Automation Expert, Content Creator for AR-VR 4 and Copywriting
What are the top in-demand digital marketing skills in 2022?
Digital marketing is an evolving industry and has undergone rapid changes in recent years with the rise of new technologies, platforms, and changing marketing scenarios. The top 5 in-demand digital marketing skills in 2022 are Search Engine Optimisation, Video Production & Marketing, Data Analytics skills (that include Google Analytics, Tableau, Sprout Social, Google Tag Manager, SQL), Product & Graphic Designing and Social Media Marketing. As a fresher, mastering 2-3 skills will help you to boost and kickstart your career in digital marketing
What are the digital marketing career progression, salary, and industry trends?
The career progression in digital marketing is quite rapid and one experiences a steep growth curve. Within a decade of starting, one can reach the top of the ladder. Your initial years should be dedicated to learning and most of the digital marketing aspirants start as an intern. It is the period where you will get hands-on experience of working with different tools in a real environment. Following working as an intern, you will be promoted as a Digital Marketing Executive, where you will explore different digital marketing verticals and specialize in any one vertical. Within a couple of years, you will become a Digital Marketing Manager- Lead Specialist depending on performance. The role of Chief Digital Marketing Manager will take up to 8-10 years of experience. You also have the option to start a digital marketing agency or work as a freelancer. According to Payscale, the average salary of a Digital Marketing Manager in Bangalore is Rs 6,70,578 per annum.
Ride the Digital Wave