In the present competitive market, higher education is one of the most crucial determinants for a successful career. For instance, having a Master's degree or an MBA degree not only increases your professional worth but also makes you eligible for senior-level job roles. However, anyone aspiring to pursue higher education knows how challenging it is to choose a specific course or a specialization stream. Usually, they are caught up between a massive confusion:
"Should I go for MBA or opt for a Master's degree?"
To address the MBA vs Master's debate, we need to look at both of these advanced degrees objectively and make a head to head comparison between the two.
What is an MBA degree?
MBA stands for Master of Business Administration. It's a general, multi-faceted, post-graduate level degree. It is multi-faceted because it covers many different areas of business, including accounting, finance, marketing, HR, sales, management, IT, and much more. Consequently, it focuses on imparting students with technical, managerial, and leadership skills required to run a company successfully. Generally, there are three different types of MBA programs: full-time, part-time, and executive MBA programs.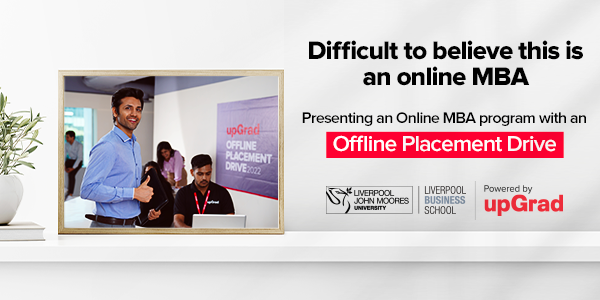 What is a Master's degree?
A master's degree is also a post-graduate level degree that is focused on imparting mastery over a particular field/subject. This is the primary difference between an MBA and a Master's program. While an MBA course aims to train candidates as professionals having overall mastery over the various domains of business administration, a Master's degree allows students to gain skills related to a specific subject. Master's degree courses are usually full-time courses.
Checkout: Best Online MBA Courses in India
Before we dive into the MBA vs Master's debate, here are three questions that need serious consideration while deciding on your next academic milestone:
1. What are your career goals?
Career goals are a major deciding factor in the MBA vs Master's debate. Once you have a clear understanding of your long-term career goals, you can choose an MBA or Master's program, whichever aligns best with your career goals. For instance, whereas MBA is more inclined towards areas associated with business administration and management, a Master's course covers individual specializations, ranging from humanities and natural sciences to data science and business analytics.
Read: Career Options After MBA
2. What do you expect from the course?
The second factor influencing your decision are your expectations from a post-graduate program. You need to figure out what you wish to accomplish with your degree and what skills are you looking to gain. So, if you are willing to gain overall business management skills, an MBA course is a clear choice, while if you wish to acquire niche skills, a Master's degree is ideal for you.
3. How much time are you willing to invest?
While the duration of both MBA and Master's degree courses is two years, you must figure out how much time and effort you can afford to invest in your higher education. For instance, for working professionals, online MBA or Master's courses are best since they give the flexibility to learn at one's convenience.
Get online MBA programs from the World's top Universities. Earn Masters, Executive PGP, or Advanced Certificate Programs to fast-track your career.
MBA vs Master's degree – Which one to choose?
While both Master's and MBA degrees are excellent choices for career development, each taking on a unique approach to career advancement. Master's degree programs are designed for aspirants who want to attain an advanced degree before entering the job market. Hence, you will hardly require any work experience for enrolling in a Master's course.
Since a Master's degree covers a wide range of individual specializations, it allows students to expand on the knowledge and skills gained at the undergraduate level and become a trained expert in a specific area of study. The course curriculum aims to aid the development of analytical and technical skills.
Although an MBA is also a Master's degree, as the name suggests, it solely focuses on business administration, and hence, takes a more holistic approach towards the same. An MBA degree is ideal for aspirants who are looking for advancing their careers towards managerial or leadership-centric roles in the industry. The course curriculum focuses on helping students develop leadership and management skills required for running a business.
Unlike Master's degree programs, MBA degrees highly value professional experience. So, if you have even one to two years of work experience, your MBA experience will be very enriching. Since an MBA course curriculum includes multiple business disciplines, it offers a broad and comprehensive view of business administration & management. This is why an MBA program is a perfect fit for those who aim to enter the domain of entrepreneurship, general management, and executive leadership.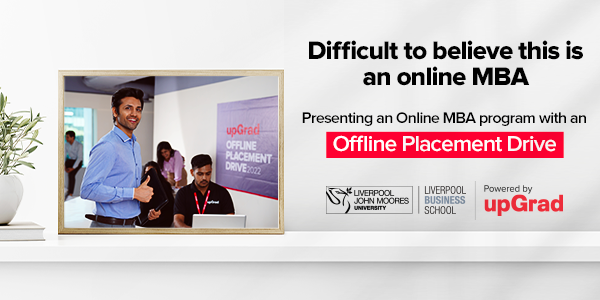 Also Read: Top 7 Career Options After MBA Business Analytics
Wrapping up
We hope this article helps clear your concerns regarding MBA and Master's degree courses and makes it a little easier for you to arrive at a concrete decision!
If you are keen on upgrading your career with an MBA Degree, upGrad is offering an MBA in Digital Finance & Banking in collaboration with the Jindal Global Business School and the Jindal School of Banking & Finance. The program has been designed to Future-oriented content suited for those working in or aspiring to work in finance across domains. Be a JGU alumnus and take advantage of continued engagement and networking with the world of academia, policy, and industry