At the core of any technology-based company is its product or an array of products. The product is developed by a bunch of engineers when a group of smart individuals together identify an issue that can be solved with an offering that doesn't exist in the market. The engineers, of course, are not alone in ideating and creating such products. 
More often they are guided by product managers who have a vision of how the product should look, feel, behave – and eventually drive the revenue of the company. But wait, what does a product marketing manager do, then? While the product management vs product marketing confusion isn't new, the whole idea behind roams around a simple question: "Who owns the customer experience?"
The answer to this question will define how the company sees the functions distributed among Product Managers and Product Marketing Managers. While a B2B organization will give more emphasis to their Product Managers to work with clients and deliver an experience that will ensure customer stickiness, a B2C organization may leverage more priorities with the Product Marketing Manager to drive engagement with end-users, which will provide more business. 
But, we digress. Let's take a step back and first understand how product management vs product marketing is traditionally defined and what roles do they perform. 
Check out our management programs to upskill yourself.
What is Product Management?
A tech company can be broken down into a set of products that it offers to its customers. Whether these customers are other businesses (B2B customers) or end-users (B2C customers), the product being offered is driven by a few things.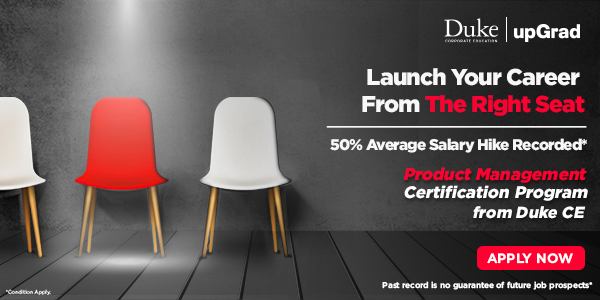 Firstly, the product is the first in trying to solve a known issue or solving it in a way that is more efficient than the competition. A Product Manager lays down the roadmap of the development for such products right from its conception, development, testing, and eventual roll-out.
What is Product Marketing?
You may have the world's best product with you but it will be quite useless if your customer base is unaware of it. This is where the Product Marketing side comes in. They can tell the story of the product in the most effective manner while enabling the sales team of your organization with creative ideas to showcase the unique selling points of your product.
Let's further break product management vs product marketing scenario down and understand the core differences.
The Spectrum of Work & Responsibilities
We can analyze the image above from the two ends. On one end are the engineers, who are creating the product using their skillset and on the other end are the customers who are buying the finished product. But, on both ends, there is tactical work (or tasks) involved, while in the middle where there may be an overlap of tasks for the two groups states the reality.
Most of you will be able to pinpoint now how product management vs product marketing fits into this spectrum. However, let's not leave anything to assumptions: the left side of tasks, where working with engineers is involved, is the task of a Product Manager. Whereas, the right-sided list of work activities are the purview of a Product Marketing Manager. 
Now that we've broken it down to a simpler list of activities, let's look at the finer points.
Explore our Popular Management Programs
upGrad's Exclusive Product Management Webinar for you –
How to craft GTM Strategy for a Product?
Distribution of Workload in the Spectrum
Let's look at the two ends of the workload spectrum individually to gain a deeper understanding of the product management vs product marketing muddle.
On the Engineering side, a Product Manager typically builds a roadmap of how a product should solve certain issues, how the user experience should be, and then organizes the distribution of tasks within the engineering team. 
Since working with developers usually involves more technical know-how as well as a clear understanding of the product's capabilities, the Product Manager is the go-to individual to get a holistic understanding of how a product works precisely, what technology it relies on, and what potential functionality is possible for a future release. 
Study Product Management Courses online from the World's top Universities. Earn Masters, Executive PGP, or Advanced Certificate Programs to fast-track your career.
What about the Product Marketing Manager? Since he's working on the tactical end of the customer-facing spectrum, his role is going to be shaped by what the customers using the product are going to look for. 
Thus, his/her focus will be more on looking at available digital tools to market the product to an audience who wants a solution to a pressing issue. Therefore, creating ad campaigns with the know-how of what works with which audience, is essential. Along with other skills that will help the sales functions of the organization.
Top Management Skills to Learn
Read about: Product Management vs Project Management
So, who manages the strategic end? 
This is where there can be the most overlap of both functions. In some cases, the Product Manager, who has laid down the roadmap of the product, knows the shortcomings of the competition and knows what could be a future requirement. However, there might be some other cases where a Product Marketing Manager, working closely with customers, has a healthy amount of feedback direct from the user base, to drive the future releases and build a go-to-market strategy driven by his own research. 
At times, there is a healthy amount of collaboration between Product Managers and Product Marketing Managers to jointly manage the strategic functions of product development. There may also be overlap with both functions trying to build their own strategic roadmaps for the product to succeed, but this tends to happen only when the two functions have different approaches to the same issue and reach a deadlock.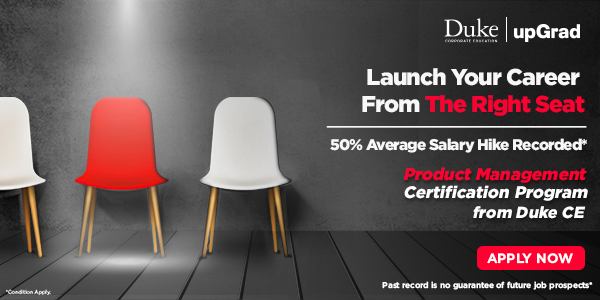 Check out: Product Management vs Business Analyst: Which Should You Choose?
Our Top Management Articles
Which One is For You?
This is a tough one. After all, Product Management vs Product Marketing isn't an easily distinguishable function within an organization. Also, it differs vastly from one organization to another, and one manager can lead the other as well. Although understanding market requirements and crafting a story that can drive up user base are core requirements for both. 
The rest of the requirements vary, but if you're more technically inclined, you should pursue Product Management. In contrast, if you know how to sell a story, then you're already halfway to becoming a Product Marketing Manager. The best way to do so is to introspect about your goals and gain the required skills and qualifications. 
In conclusion, both form a sturdy pair, ensuring the long-term success of a company. If you're interested to become a great product manager, you need to demonstrate qualities of leadership, check out the Post Graduate Certificate in Product Management for it is you who'll guide your team towards the path of success
Is a product marketing manager the same as a marketing manager?
The roles of product marketing managers and marketing managers have different ranges and scopes. The product marketing manager primarily focuses on the entire customer funnel, while a marketing manager focuses on specific aspects such as customer engagement. A product marketing manager needs to be involved in in-depth research, understanding roadmap influence, product design. The marketing manager takes care of creative ways to engage users and ensure their satisfaction with the brand. While there are many differences in roles played by the product marketing manager and marketing manager, it must be borne in mind that they are not always exclusive to each other. Depending on the organization and industry, they might have to perform overlapping activities.
How much does a product marketing manager earn?
The primary role of a product marketing manager is to generate demand for the product. This is generally done through marketing campaigns and effective communication. They are in charge of formulating marketing strategies that captivatingly convey the features and benefits of the product to the users. Product marketing managers are also responsible for leading marketing teams, branding, product positioning and messaging, and many other critical tasks. In India, product marketing managers earn anything between INR 6 lakhs to 32 lakhs, with the average being INR 15 lakhs per year. The salary will depend on factors like work experience, skillset, and location.
What is the highest-paid marketing job in India at present?
A career in marketing is one of the most fascinating and rewarding jobs in today's times. As an industry, marketing has emerged as one of the trendiest and most rewarding sectors at present. It is the main support system of corporate companies heavily investing in marketing strategies to get the maximum value and returns on investment. Some of the highest-paid marketing jobs in India today are those of management consulting, digital marketing, content strategist, social media marketing manager, and product marketing manager, among others.
Become a Successful Product Manager‎