Introduction
The invention of technology has, no doubt, simplified the way we work. But, on the other hand, it has introduced cut-throat competition in the business world where every company seeks to make maximum profits with minimum investment.
Thus, a competitive business environment calls for the development of robust management processes. Product management and project management are two such crucial organizational doctrines that are often used interchangeably but, in essence, are quite distinct.
Product vs. Project 
Before we understand the distinction between product management and project management, we must know how a product differs from a project. 
A product is anything that is designed to create continuous value for customers and is offered to a market for satisfying the customers' needs and requirements. Products are permanent until they are decommissioned. A product's lifecycle consists of multiple stages – conception, development, introduction in the market, its management, and continual evolution up to the time it serves the needs of customers. Learn more about the career of product management.
A project, on the other hand, is a temporary venture undertaken for the creation of a particular product or service. Depending on the product to be delivered, a project has a specified time frame within which it is initiated and completed. In contrast to a product that evolves with customer needs, a project carries a clear definition of what needs to be delivered.
Role of product managers and project managers 
Based on the evolutionary trend of the needs of customers, a product manager aims to create a product with maximum value through the management of the entire product lifecycle. Some of their roles and responsibilities include: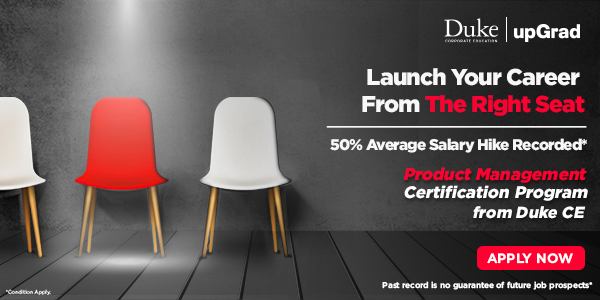 Setting the product vision while prioritizing the requirements of the product and the customers

Control of the budget, sales, and marketing

Maintaining relations with customers and stakeholders
Now the question arises why you should take a product management course? So here is the answer, Project managers are responsible for overseeing and managing product development to ensure successful product delivery within a fixed scope, budget, and deadline. Balancing cost, time, and quality to maintain the scope of the project is the biggest challenge a project manager faces. Their roles include: 
Timely identification and mitigation of potential risks 

Setting deadlines, budgets and appointing employees

Managing the scope of the project, tasks, infrastructure, materials, and reports

Learn more about the roles and responsibilities of product managers.
Check out our management programs to upskill yourself.
Differences between product management and project management 
Product management and project management are quite different. Product management deals with the processes of planning, forecasting and marketing of a product or service throughout all the stages of the product lifecycle.
Since products do not have a fixed list of targets, the product managers have no specific background. They need to adapt to new challenges, hard skills they need to develop and learning throughout the product development process. Individuals undertaking product management should have extreme flexibility and the ability to work across various teams and functions.
upGrad's Exclusive Product Management Webinar for you –
How to craft GTM Strategy for a Product?
Project management, on the other hand, involves the achievement of the goals of a specific project by implementing methods, processes, knowledge, and experience. Project managers require technical expertise in particular disciplines and have sector-relevant backgrounds.
Projects have pre-defined targets, and managers should be competent to meet the goals. Also, project managers are expected to have an efficient and systematic approach to scheduling and managing the project.
Similarities between product management and project management 
Despite the differences between product management and project management, there is much in common between the two management processes.
1. Both processes demand a scientific approach based on solid foundations. In other words, the planning, decision-making, designing, and execution processes in either discipline require a carefully planned strategy and vision.
2. Time and money are valuable resources for both product and project managers. Optimization is a crucial requirement in the product management process and entails that time and money are spent judiciously to achieve maximum product value while creating new streams of revenue. While project managers work in better-resourced circumstances, they have the added responsibility of balancing time and money without compromising the quality of the project outcome.
3. Both the product manager and project manager have to lead their respective teams and ensure optimum performance. 
4. Both the management processes are similar in terms of adaptability and find application in multiple industrial sectors.
Explore our Popular Management Programs
Is it wise to overlap the two roles? 
Having understood the roles, responsibilities, similarities and differences between a product manager and project manager, let us see why overlapping the two positions could be problematic.
1. Product management is an externally oriented and requires handling of technical issues, interacting with clients, guiding the sales team in customer interactions, attending events, and more. These activities occur outside the office, making it difficult to manage internal functional processes that a project manager handles.
2. Each of the two roles demands a unique set of skills. Project managers are trained to manage issues like scheduling deadlines. On the other hand, a product manager might not possess the requisite skills to determine the timeline of tasks and projects, leaving him or her at the mercy of the developers.
Our Top Management Articles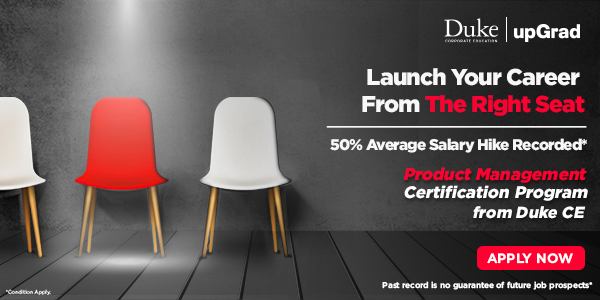 3. If the project is complicated, has a prolonged timeline, and involves employees from different departments, it becomes overwhelming for a single person to manage both the product and the project.
Study Product Management Courses online from the World's top Universities. Earn Masters, Executive PGP, or Advanced Certificate Programs to fast-track your career.
Summary
Product management and project management are mostly similar, but understanding their differences is what creates a successful product. While the former focuses on external issues, the latter deals with internal requirements like time and budget.
Our Top Management Articles
In conclusion, both form a sturdy pair, ensuring the long-term success of a company. If you're interested to become a great product manager, you need to demonstrate qualities of leadership, check out the Post Graduate Certificate in Product Management for it is you who'll guide your team towards the path of success.
How is the project manager different from the delivery manager?
The project manager takes care of project execution, planning, and improving project tasks and processes. They are well-versed with the general and technical aspects of the projects they are appointed to supervise. So project managers have to be suave with technicalities to oversee projects and also possess effective communication and people-management skills to handle different teams. Project managers work closely together with delivery managers but have clearly separate responsibilities. The primary responsibility of the delivery manager is to enhance the quality of deliverables and assure customer satisfaction, acquire more clients, and strengthen the existing customer base.
How is the role of a project manager different from that of a program manager?
Projects are time-bound undertakings and, therefore, temporary. These come with short-term goals, budgets, costs, resources, and timelines. Programs consist of several such projects that are mostly interconnected. A program comes with a longer timeline and aims to attain a long-term business target, fulfills strategic benefits, and drives growth and revenues. A program manager defines the program strategy, evaluates its impact on the business, and oversees inter-team collaboration. A project manager oversees the execution of individual projects that are part of one program. Their role is more tactical, the focus being the functional aspects of projects.
What is the role of the service delivery manager?
As the name suggests, service delivery means the delivery of services to the customers of a company. It includes project management, monitoring progress and key performance indicators, ensuring reliability, managing budget, and taking care of the overall quality of services delivered. So, the service delivery manager in an organization is the key person responsible for all these aspects; they are in charge of ensuring client satisfaction through the services of the company. The specific roles of the service delivery manager can vary depending on the kind of organization. However, irrespective of the industry, they need to cultivate positive and profitable relationships with their teams as well as the clients of the company.
Build Cutting-Edge Products