While the demand for software developers and data scientists continue to hold the baton on the business and IT world, there is emerging a new wizard of the business world – Product Manager. It is true that relevant data backed by data science technology and tools are the foundation for developing innovative products, but these alone are insufficient for marketing and product management, that is, reaching the product to the target audience.
As more and more companies have come to realise this gap between product creation and product management and marketing, they are placing increasing emphasis on hiring talented product managers who can take charge of the entire product management operations.
Today, product management has emerged as one of the highest paying jobs in the industry. While the 2017 Salary Report of Hired maintains that product management is the highest paid job position in the tech industry across the US and Australia, a SEEK report states that at present, product management jobs come with an average salary of over $100,000!

Do you know what this means, people?
It means that there's never been a better time to start off a career in Product Management. Product management jobs give you the opportunity not only to collaborate with teams and talented minds across an organisation, but they also allow you to create pioneering products in the process. If you are someone who's passionate about building innovative products that can take customer satisfaction to the next level, then UpGrad's Post Graduate Certificate in Product Management is just what you need to kickstart your career in Product Management.
Read: Scope for Product management jobs and career transition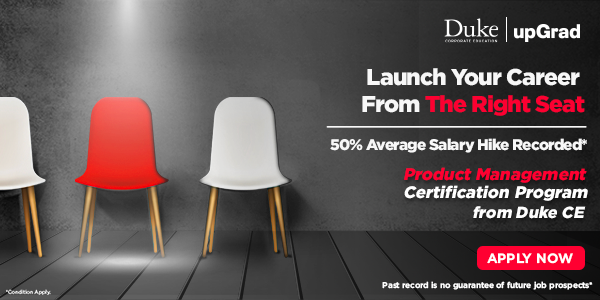 Don't believe us? We'll give you 3 reasons why you should learn Product Management with us!
1. Get Mentored By Seasoned Product Managers – The Best In The Industry!
We believe in educating students at the hands of only the best mentors, and hence, we've brought together a panel of seasoned industry experts and instructors who can introduce students to the world of product management. Moreover, they can also arm students with the practical knowledge required to take on the world after they graduate.
Our instructor panel includes renowned industry experts such as Anshumani Ruddra (Chief Product Officer- Cuemath) Anish Tripathi (VP, Design) of Media.net, Mangesh Dalvi (Sr. Manager, Product Management) of Amazon, Suchir Agarwal (Product Manager) of Amazon, Ankur Sharma (Sr. Director of Product) Goibibo and Vishwesh Jirgale (Principal Engineering Manager – R&D) of Microsoft, to name a few.
Check out our business management courses to upskill yourself.
Explore our Popular Business Management Courses
2. Learn From Practical Application
As we mentioned above, at UpGrad, we believe in encouraging students to learn through practical experience. So, we first introduce them to our well-curated collection of industry case-studies and then assign projects to them to solve. By applying theoretical knowledge imparted to them by our instructors, students are required to solve industry projects including Goibibo Booking Platform, Zomato Technology Platform, Furlenco Customer Loyalty Product, and Market Size Estimation for a hyperlocal company. Solving such industry projects will give them enough knowledge about how things work in the industry and what approach they should take to tackle specific business issues.
Furthermore, during this course, students also learn to work with tools like Google Analytics, Mixpanel, Balsamiq, and Invision.
Our Top Management Articles
3. Avail One-on-One Mentoring & Career Support
During the five months of the course, students can take full advantage of learning from trained professionals and industry experts by interacting with them during the learning sessions. Apart from training and mentorship, our industry experts and instructors also provide helpful feedback to students on each of their industry assignments. This feedback is extremely crucial as it will help students assess their strengths and weaknesses.
upGrad's Exclusive Product Management Webinar for you –
How to craft GTM Strategy for a Product?
We extend a helping hand even after the course is over. Our dedicated career support team helps students build their resume and search for job roles that'll suit the areas of interest and specialisation of each individual student. Not just that, our career support team also helps students prepare for Product Manager interviews and apply for promising job profiles in Product Manager. What's more is that, upon completion of UpGrad's Post Graduate Certificate in Product Management, students will receive a certificate from UpGrad displaying their core skills and performance across the various parallels of Product Management.
Though the course commences on August 2018, we'll conduct an exclusive Preparatory Sessions for students where you will get started with your Product Management learning experience and understand the skills required to become a Product Manager.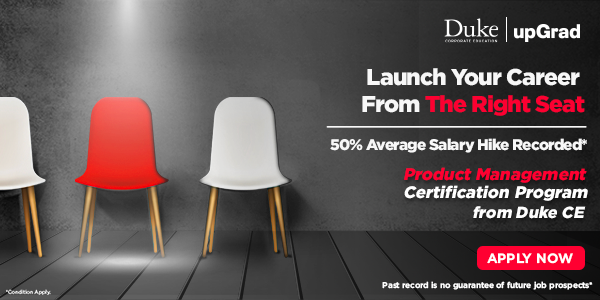 A Complete Guide to a Career in Product Management
Top Essential Management Skills to Learn
Study Product Management Courses online from the World's top Universities. Earn Masters, Executive PGP, or Advanced Certificate Programs to fast-track your career.