Introduction
Before merging product management and data science in a single topic, it is essential to understand that both these are separate domains and verticals. But data science is acting on product management, making it the interdisciplinary field – Product Management for Data Science.
It is so because professionals are using various data science algorithms and methodologies in operation systems. With the exponential growth of product management for data science, we can see remarkable growth in the role of data science product manager.
There are even startups that are fueled with data analysis services for product management as well as provide services through their latest data science products and applications. Let us now understand both the terms Product Management and Data science separately before understanding Product management for Data science. 
Product Management and Data Science
Product Management in a firm, enterprise, or organisation is responsible for setting product visions, strategies for business enrichment, road maps to establish goals and drive execution. Product managers can accomplish this through a series of product life cycles. At the highest level, the product manager (PM) in an enterprise is directly responsible for the product success and the growth of the product in the market.
On the other hand, Data Science is a domain that merges domain expertise with programming skills blended with the abilities of statistics and mathematics to derive meaningful insights from data. Data science practitioners implement machine learning (ML) algorithms and data analysis algorithms to numbers, texts, images, and other multimedia files to extract and predict data.
Through this technique, data analysts and data scientists can derive meaningful data and predict future goals in a tabular or graphical format. That, in turn, allows analysts to produce insights that then business users can render into tangible business value.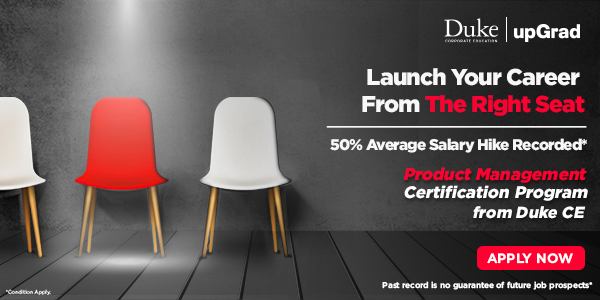 Also Read: Product Management Process: 6 Steps To Bring Your Next Best Product
Check out our management programs to upskill yourself.
1. Data Science to Plan the Product Road Map
Companies are collecting an enormous amount of information about the different clients and product users to crunch it and predict how likely a user is to buy a product. Using that knowledge, companies can craft a marketing message and calibrate precisely where to supply more products or where they need a modification.
It is the role of the product managers or senior product managers not only to entail coordination among various team members but also to organise his/her work with data scientists. Product management for data science allows data analysts to extract insights for products' peculiarities, feedbacks, and recommendations. 
Product management for data science empowers the control of products using data science concepts, where the product owners can have conversations with the user data to find better perspicacity and influence on how to set the product pricing and how to take the product to market.
Data science product managers work closely with product engineers to administer the road map based on the calculated analysis. Product managers are also responsible for establishing the overall path of product growth, their development stages, as well as align & regulate products with the companies' goals. But it is apparent that the specifics of products will depend on the type of industry and the data itself. 
Read: Product Management vs Business Analyst 
2. Bridging Applied Data Science with Business Stakeholders
The work of product management for data science is not so distinct from general product management work, but most of the plans and cases depend on a data-driven approach. But data science product managers should not solely focus on the data but also be involved fully in tapping business stakeholders. They need to understand the customer and figure out customer issues with changes in the product and its delivery.
Product managers working with data science should know about the product life cycle with machine learning concepts to come up with a developed model i
n case the existing one does not work as per expectations. For managing a product, the product managers do not need core data science concepts, but they should understand how to leverage data science concepts to solve product-related problems. 
Explore our Popular Management Programs
3. The Data science Complexity
Implementing data science applications to predict insights about different enterprise products is not the same as traditional software that does not need to be re-trained with time and change in data.
That is where the department needs a person with relevant expertise to manage the entire product lifecycle and work in agility as per the recommendations and customer feedback. An expert product manager with data science skills can project a timeline for delivering a series of small data science extracts first before the product rollout in the bigger market.
A good product manager will highlight the acumens of various competing product demands, prioritise features, and jot down the overall business strategy for the product. Once the data scientists or data analysts extract the evaluation metrics to plan the outcome of the product delivery, it is the work of the product manager to demonstrate their decisions and highlight their goals to the business stakeholders and other team members.
Learn data science courses from the World's top Universities. Earn Executive PG Programs, Advanced Certificate Programs, or Masters Programs to fast-track your career.
Top Management Skills to Learn in 2022
upGrad's Exclusive Product Management Webinar for you –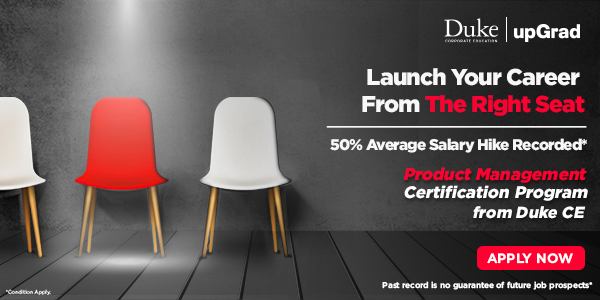 How to craft GTM Strategy for a Product?
Conclusion
It is the overall responsibility of the product management head to manage the development of the product on time and with better accuracy. For developing such business strategies, accomplishing fast delivery of products, product managers use scrum or similar software development methods.
But when it comes to data science and machine learning implementations, it requires a significant amount of experimentation, which might eventually take time. But almost every organisation is incorporating the trend of using data science with product management for more reliable results.
Our Top Management Articles
If you are highly intrigued by what you read, you can enroll in the Post Graduate Certificate in Product Management offered by upGrad. The certification program delivered by experts will help you kickstart your career to be a successful product manager.
Q1. What does data science include?
In this digital era, data science holds the key to unlocking the infinite potentials contained in user data. Essentially a subset of artificial intelligence, data science is a vast field that consists of multiple subjects like statistics, artificial intelligence, data analysis, and various other scientific methods that are required to extract insights from data. It includes practices such as data aggregating, cleansing, preparing data for analysis, and handling information to carry out advanced analysis of data. Data science generates insights and uncovers trends that businesses can utilize to formulate better strategies and make informed decisions that help them generate higher revenues.
Q2. How is data science related to product management?
Both data scientists and product managers form decisions based on insights derived from data and then use definite metrics to evaluate the outcomes of their decisions. While a product manager must define and understand the success of a product or its feature, a data scientist uses metrics to determine the results of experiments. However, both are accountable for their decisions and explain to stakeholders and other teams involved. Data scientists and product managers should have a business focus, be technically competent and creative, and communicate with different organizational hierarchies and product teams, from application developers or engineers to product designers.
Q3. What does an AI product manager do?
An AI product manager is a product management expert who is responsible for the development, planning, launch, and success of solutions or products that employ AI, deep learning, and machine learning. In short, they supervise and own the development and launch of AI products. AI product managers are generally involved in projects dealing with products that are entirely dependent on AI or non-AI products that come with AI-enabled solutions. They might also be involved in consultancy regarding the development and implementation of AI-powered solutions. For these, AI product managers do not need in-depth technical knowledge but some basic understanding of subjects like algorithms, machine learning models, and statistics.
Plan your Career for the Future.