From Google to Microsoft, from Freshworks to UrbanClap, most technology firms have adopted successful product management strategies. To achieve such heights, software product firms should have talented product managers for growing their businesses. 
Importance of Product Management In Software Firms
The world is increasingly moving towards a product-enabled services model. Whether its global technology giants like Google and Microsoft or startups such as Freshworks or UrbanClap, most successful firms have rolled out products that solve customers' problems in many ways. This trend has further gained pace with the rising adoption of subscription-based SaaS (Software-As-A-Service) model by enterprises as a cost-effective measure to pay as they use.
In this perspective, companies have to continually innovate in the product space to stay relevant in the competitive technology market. However, the product development process requires constant feedback from customers, but it also requires an effective marketing strategy that will drive the demand. Therefore, product management is the most critical aspect of the success of a product. 
Read: A complete guide on product manager career path
Importance of Product Management
The entire lifecycle of a product- since inception to disposal-requires active management. As developers of a software product are mostly technical experts with little exposure to clients, product management experts act as bridges between clients and technology firms.
Check out our management programs to upskill yourself.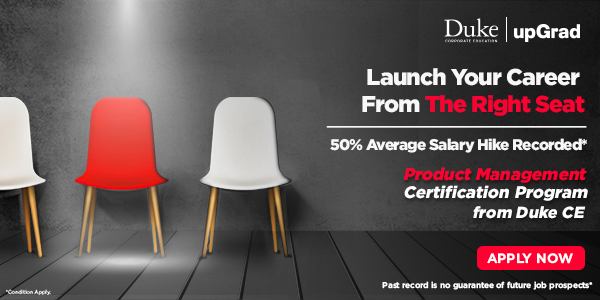 1. Understanding customers' requirement
Product management helps in gauging the changing needs of customers. As product managers regularly interact with existing customers and are on the lookout for new ones, they usually get to know the pain points first and give the product development team the lead for a new product. Their deep involvement with clients enables them to provide timely feedback to the development team about the existing products. This leads to an improvement in product features with increased customer satisfaction.
2. Developing an adequate business model
The go-to-market strategy is a critical element for ensuring the product's success in this hypercompetitive technology market. Even the right products can fail without effective product marketing. So, product managers take the feedback from the sales team, which is spread across various geographies, to devise an adequate go-to-market strategy with the right product positioning for ensuring success. Product managers also help create the right business model for getting a good return on investment throughout the product's life cycle.
3. Skilling strategy
Product managers help devise the right training strategy for both sales and product teams to drive demand for the product. As customers' needs change with time, organizations fine-tune their sales strategy accordingly with the help of product managers. Even product managers give critical inputs on future skill sets that will be in demand, which help the management to align their skilling and hiring plans.
4. Creating a product roadmap
Software products usually have short shelf lives. Therefore, every technology company should have a clear roadmap for products to stay relevant in the long run. Product management helps attain this objective as product managers help the management devise a clear blueprint in product space, which leads to carve-out of funds for research and development.
Explore our Popular Management Programs
5. Timely support services
Product managers take feedback from clients and give it to the support and maintenance of team members. This leads to a vibrant support environment for the clients with early resolution of problems. As a satisfied customer usually gives more business or refers the vendor to other clients, it leads to more business opportunities for the technology firm.
As product management is critical for any software product company's success, demand for product managers has seen a steady rise. Typically, a product manager works closely with marketing, sales, design, and engineering teams to make the product a success. Given such demand, the ed-tech firm, upGrad, offers a product management course to professionals, which imparts necessary skill sets to be a good product manager.  
Read: Product Management vs Product Marketing: Which One Should You Choose
upGrad's Exclusive Product Management Webinar for you –
How to craft GTM Strategy for a Product?
Post Graduate Certificate in Product Management
upGrad, the ed-tech company with a range of courses around deep technology domains, offers a six-month-long Post Graduate Certificate in Product Management imparts students with required skill sets to build a product roadmap after going through the needs of customers. The course also teaches the nuances to do a prototype before launching the product in the market.
Top Management Skills to Learn in 2022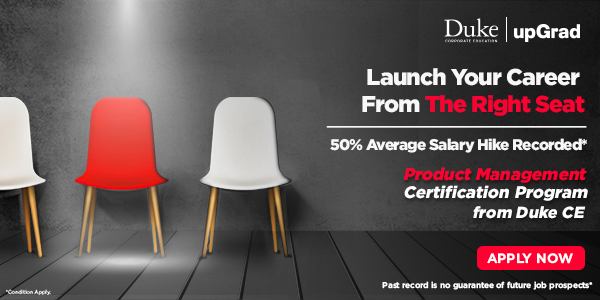 The product management course has been designed in collaboration with Duke Corporate Education (CE)- the not-for-profit arm of Duke University- and is being taught by faculties drawn from Duke CE, Microsoft, Google, Amazon, Hotstar, Goibibo, BookMyShow, Freshworks, and UrbanClap among others. Students pursuing this course receive active mentoring from industry leaders for practical knowledge.
Conclusion
As emerging technologies such as artificial intelligence, machine learning, and big data make deep inroads into our daily lives, the usage of product-based services is likely to rise. This will lead to increasing demand for product managers in the market, and upGrad's product management program can help professionals cash in these new opportunities. In a way, a product manager directs the company on a competitive path in the future.
Our Top Management Articles
Study Product Management Courses online from the World's top Universities. Earn Masters, Executive PGP, or Advanced Certificate Programs to fast-track your career.
If you are highly intrigued by what you read, you can enroll in the Post Graduate Certificate in Product Management offered by upGrad. The certification program delivered by experts will help you kickstart your career to be a successful product manager.
Q1. What does a software product manager do?
The software product manager is responsible for heading and managing the entire software application management department. They are in charge of tasks such as planning and monitoring critical to developing the best quality of software applications. Software product managers are also responsible for overseeing and supervising the software application's goals, expectations, specialization, and structure. They also need to be involved in steps such as ideation and product strategy formulation, along with management of software releases and implementation of feature enhancements. They have to combine their product management expertise, project management, people management, and product marketing skills.
Q2. Can a fresher get hired as a product manager?
Over the past few years, there have been rising numbers of freshers being recruited for the role of product manager. But this trend is chiefly observed in the case of startups that are looking for fresh minds to play the part of product managers. Startup companies mainly look for candidates who possess strong analytical and problem-solving skills and have sound knowledge of different aspects of the marketing domain. They must also have outstanding communication skills and be motivated players who are also driven and conscientious. As product managers, they also have to interact and deal with different external and internal stakeholders of the organization.
Q3. How is product manager different from product owner in Agile?
In the conventional software development models like waterfall or iterative, the product manager owns the product roadmap and represents the client during internal team meetings. But in the Agile environment, the product owner is responsible for holding meetings with the stakeholders, grooming the backlogs, answering the development team's questions, and others. They are the ones who need to ensure that the sprint deliverables are readied as per schedule. Sometimes, these responsibilities are appointed to the product manager, i.e., they play the role of the product owner. But whether they play overlapping roles or not totally depends on the organization and its product lines.
Build Cutting-Edge Products