Developing a product from scratch requires inspiration, innovation, and knowledge, but the key to success is a powerful product strategy. Here is a 4-step  guide to product strategy that can help your product development while ensuring you are always on track! 
Often, product developers and teams feel like they are doing a lot of work, but things still don't go anywhere. This can be primarily due to a lack of planning or product plan not being appropriately communicated to each stakeholder. This is where product strategy comes into play, as it helps each team member focus on their respective roles without losing track of the larger goal.
Product strategy is the backbone of the entire development and design process, as it helps communicate what the team is building, who the end-user is, and what they are going to use the product for. This understanding of product usage and delivery helps create a strategic vision for the organization and keeps everyone involved on track. Thus, a guide to product strategy is the first step to product management in the IT industry.
So if you are looking for a guide to product strategy for your organization, here are a few easy steps to help you charter unknown territories with the right goals:
Steps to Create an Ideal Product Strategy
1. Know your customer and include their feedback in your requirements
A successful product strategy correctly identifies who the target customer is and what they are looking for. The guide to product strategy will usually start with requirement gathering as the first step. However, before the requirements are identified, it is also essential to understand who the customer is and what they are looking for.
So before you start planning your product strategy, start by talking to your prospects. This can involve the marketing team and needs the product manager to be directly involved.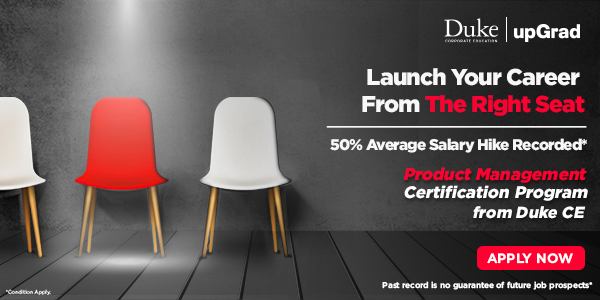 Product managers could involve other stakeholders like the executives, advisors, and other members who are experts in the industry to provide inputs. While internal brainstorming is in process, ensure your organization provides the correct details to you by validating customer feedback and expectations.
Go out and talk, or listen, to what your users are telling you. Get all the resources and market research, insights from top leadership, and set expectations before you begin the process of strategizing the right approach.
Read: 7 Steps To Create a Solid Product Management Strategy For Your Business
Explore our Popular Business Management Courses
2. Identify the right technologies and tools
Once you have determined the requirements and set the goals, it is time to create an overarching vision of how the end product will be. Think of all the features and outcomes that you wish to generate and create a roadmap accordingly. For the IT industry, this involves identifying the right tools, resources, and technologies that will be the base of your product.
Start by looking at the industry's key trends and some of the standards that need to be implemented in your product. While you are identifying the right set of tools, perform a thorough analysis of why the technology is chosen, the value it will add, and if there is a better approach that you can take. With each technology and platform have chosen, the end product will be radically different, so it is important to envision it initially. 
3. Define product goals with immediate and long-term plans
After your product's high-level vision is finalized, and you understand the tools and technologies being used, get working on goal setting for your product development. Start by prioritizing your overall product requirements and start breaking them up into logical steps.
upGrad's Exclusive Product Management Webinar for you –
How to craft GTM Strategy for a Product?
For example, think of the functionality that needs to be built, the enhancements that can be added later, or which functionality will require dependencies. You need to determine clear goals and set timelines for each of the tasks, which is not an easy job!
Product managers should strategize using powerful industry-recognized frameworks, like:
ICE score model
RICE scoring
Weighted Score method
This is one of the most critical steps in your product strategy that often gets ignored.
Also Read: How to create a Product Management Strategy
Top Essential Management Skills to Learn in 2022
4. Execute, Design, and Build your product
And now, it is time to start the actual work on your product development. Product managers are crucial not just for creating plans that have a higher chance of success but also for implementing it for the organization. Project management in the IT industry can help in planning and execution, but the product manager is directly responsible for any activity once the implementation begins.
Allow your teams to work on development but make sure you are testing and fixing any bugs while you are at it. Create plans that are flexible enough to mitigate risks and have already created a strategy for this stage.
While you are progressing on your product development, make sure you check-in periodically to determine progress, identify roadblocks, and escalate any issues timely. A successful product strategy is agile and makes the right updates when things are not going your way.
Study Product Management Courses online from the World's top Universities. Earn Masters, Executive PGP, or Advanced Certificate Programs to fast-track your career.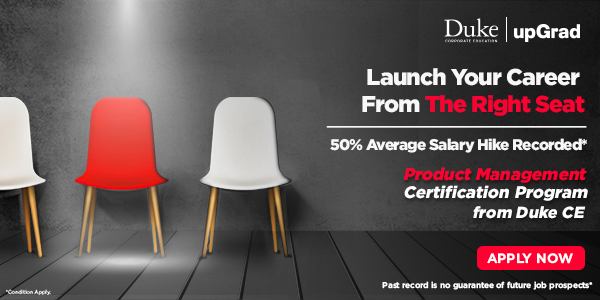 Our Top Management Articles
Conclusion
Product strategy is extremely critical in today's time, as organizations are dealing with increased demand, rising adoption of new technologies, and the need to manage all these on limited budgets. Guide to product strategy can help mitigate risks and execute timelines while ensuring the company focuses on building the right features and tools that are the customer's needs.
So before you start development, take a step back and assess your product strategy while ensuring regular check-ups with the team to ensure everything is on-track and working optimally.
Does this guide to product strategy sound like something you'd love to work on? If you want to explore a career in managing product strategy and execution, you can enroll in the Post Graduate Certificate in Product Management offered by upGrad. The
What is the role of product managers in the industry?
The role of a product manager in the industry varies depending on the company, but they are typically in charge of the product's planning, development, and execution. This includes collaborating with other departments to ensure that the product fulfills the company's objectives and is delivered on time and within budget. They are in charge of ensuring that the product is successful and fits the customers' needs. The ability to think strategically and have a thorough understanding of the business are essential characteristics for a product manager.
How do I become eligible for the role of a product manager?
A product manager is in charge of overseeing the development and launch of a product; thus, prior expertise in a similar capacity is essential. If you don't have product management expertise, you might qualify for the position if you have experience in a related industry such as marketing or business development. To design a successful product, you must have a thorough understanding of product development and marketing. You must create a product that satisfies market demands and then market it to potential buyers. You're in charge of leading a group of people through the product development process. You must also communicate successfully with both internal and external stakeholders and be able to examine data to establish a product's success.
How fast can I learn product management?
This question has no conclusive solution because it is dependent on the individual. Some people can acquire the fundamentals of product management in as little as a few months, while others may need a year or more. The most important thing is to concentrate on learning the fundamental concepts and then apply them in a practical setting. It all depends on your dedication and time management capabilities.

certification program delivered by experts will help you kickstart your career to be a successful product manager.
The program provides step-by-step learning to help you manage your schedule and learn on the go. This means you can continue your current job and complete your certification to help you transition successfully into the role or scale-up in your current role to help your organization deliver optimum products and manage delivery efficiently.
Build Cutting-Edge Products