Wondering what is the range of Product Manager Salary in India?
Are you a product manager? Or are you planning on transitioning to this role?
Then this article is for you.
We'll discuss the salary of product managers in India and find out what it is. You'll also find out what this job is about and what skills help one in getting a good salary. You will find out the average product manager salary in India.
If you have the required skillset and are ready to keep yourself updated, your career as a Product Manager is expected to keep growing onwards and upwards. This line stands true especially when we consider that a product manager salary in India is directly or indirectly dependent on how upskilled and updated they are.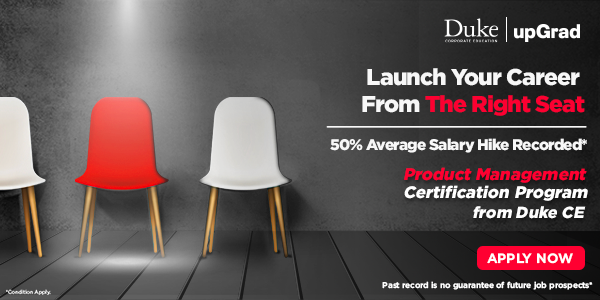 This way you'll be able to find great jobs in this sector easily and advance your career accordingly.
We are sure, this must-have sparked a will to become a Product Manager within you! Let's take a look at who exactly is a Product Manager and what is a typical Product Manager salary in India?
Your Pace- Your Place- Thats why we are here
What is Product Management?
It is precisely what it sounds like – complete management of the product delivered. Now, it is to be remembered that the term 'management' is a subjective term, relative to its context. In light of product management, it means a field in an organization that manages the lifecycle of a product. Right from the idea conception to building marketing strategies – product management involves everything that one can find about a product until it's running actively. Because of the demand, product manager salary in India is one of the highest.
Check out our management courses to upskill yourself.
Key Responsibilities of Product Managers
Product managers' job description outlines the following responsibilities:
Setting out the product vision, roadmap, and strategy.
Specifying the research needed to gather market information for determining and representing the needs of customers.
Providing insights and perspective on product portfolio planning.
Reviewing product specifications and requirements and evaluating new product ideas.
Working in liaison with marketing, sales, engineering, and support to ensure the fulfillment of business case goals and customer satisfaction.
Gauging market competition by comparing competitors' products with those of the company.
Calling on customers with field salespeople to evaluate sales call results and assessing product market data.
Defining the objectives for product marketing communication.
Preparing short-term and long-term forecasts, reports, and analyses on product sales.
Determining product pricing based on market research data and reviewing production and sales cost.
Recruiting and training employees for product management staff.
Top Management Skills to Learn
Qualifications Required to Become a Product Manager
To pursue a career as a Product Manager in India, you'll need to meet certain criteria, including holding a degree in fields like management, business administration, computer science, engineering or marketing. Additionally, a practical background of 2 to 5 years in product design, testing, or development is essential. Familiarity with tools such as Google Office and Microsoft Excel, along with associated software, is also expected.
What are the skills required to be a product manager?
To make your career to grow as a Product Manager and earn the highest possible product manager salary in India, you need to have update yourself with:
#1 Strategic Thinking
After setting the product's goals and key initiatives, the product manager needs to realize the higher-level vision. This starts with asking the right questions and then understanding the market and competition.
#2 Excellent Oratory Skills
Keeping a lot of people in the loop, adjusting their language as per the audience – from customers and sales personnel to marketing and finance – product managers coordinate with both the internal and external stakeholders throughout the product life cycle. This requires a higher level of expertise in multiple fields.
A product manager has to be a collaborative leader. He must be able to work with teams. A product manager is a leader of the product. He needs to associate with varied functional groups. When it comes to backlogs as well as stakeholders, it is a task of a product manager to focus on both and appease both.
upGrad's Exclusive Product Management Webinar for you –
How to craft GTM Strategy for a Product?
He needs to be confident, assertive, and able to communicate with internal and external stakeholders efficiently. So, there are opportunities galore for product managers, and the indispensable nature of their jobs ensures that project manager salary in India is quite elevated.
#3 Neat Negotiation Skills

As discussed earlier, a product manager works with teams, both internally and externally, of varied domains. Tech, Marketing, Sales, HR – the product manager is generally found shaking hands with each of them. Since he's the manager, he needs to get work done. To get that done efficiently requires good negotiation skills.
#4 Analytical & Resourceful

Product managers are valued for their meaningful analysis, problem-solving with holistic approaches. These mini-CEOs can guide the direction of content, UI, development, marketing, as well as visualize the outcomes at both macro and micro scales.
How to Get Started in Product Management?
To begin your journey in product management, enhance your foundational knowledge by exploring essential concepts like product life cycle, development processes, management principles, and roadmap creation through resources like blogs, books, and podcasts. This immersive approach will lead to a stronger understanding of product management, setting the stage for structured learning. This phase of introspection will help you assess if product management aligns with your goals and desires.
How can Product Managers Increase Their Salaries?
Initiating a conversation about the product manager salary Bangalore is appropriate when your employer begins to witness the positive impact of your contributions and observes a surge in customer engagement. If you're effectively achieving your objectives and goals, seeking an improved product manager salary in India is certainly justified.
Consider the following strategies that can help enhance the negotiation regarding the product manager salary:
Thorough Preparation
Before entering product management salary negotiations, dedicate time to thoroughly research industry benchmarks and your own accomplishments.
Approach with Respect and Empathy
Approach the discussion with a respectful and compassionate demeanor, acknowledging the complexities involved in getting good product management pay after placement.
Salary Range Presentation
Rather than presenting a single figure, propose a range of salary of product manager in India that reflects your value and the industry standard.
Be Prepared for Rejection
Even if you believe your proposed increase is reasonable, be mentally prepared for the possibility of rejection, and remain open to further discussions.
Why are Their Salaries Higher?
One might question the reasons behind the higher product manager salary in Mumbai and wonder if this trend is merely a passing fad, potentially leading to a corrective shift. However, it's important to consider several influential factors that contribute to the average salary of product manager in India. The current salary landscape for PMs is not merely a fad; instead, it reflects a nuanced blend of dynamics within the industry. Furthermore, projections indicate that PM salaries are likely to continue their upward trajectory, reaching even higher levels.
Limitless Leverage
In the past, labor resulted in direct output, but with capital and technology, leverage emerged, enabling workers to achieve 10 to 1000 times more. Product Managers benefit from leverage in industries with significant workforce costs, justifying higher salaries for their expertise. Leverage multiplies their impact, skills, and decisions. Today, we live in an era of vast leverage, where work is easily replicated, granting autonomy and immense potential for personal and widespread influence.
Demand-Supply
With India rising as a global hub for product innovation, e-commerce, and pioneering technology unicorns, a substantial surge in demand for various product-related roles is imminent. This demand will encompass positions such as Product Managers, Software Developers, Testers, User Experience specialists, and more.
Institutional Hierarchy
It's important to recognize that while some product roles may involve individual contributions, especially at the senior levels, they carry substantial strategic responsibilities, positioning individuals within the middle to upper echelons of the organizational hierarchy. As a result, Product Manager roles are seldom entry-level positions, given the intricate blend of strategic decision-making and impactful contributions they entail.
Top Management Skills to Learn
#5 Practicing Empathy
As a product manager, you need to be at ease as you meditate through varied skill sets like data analysis, communication, the psychology of the users, market research, etc. At each step, you'd need to understand and weigh down the opinions of the stakeholders and the customer's requirements.
#6 Amazing Attention to Detail

A good product manager can spot the possibilities where others would have seen it as nothing more than a wasteland.
#7 The "fight, not flight" outlook
To be a successful product manager, you need to have the conviction to say NO many times instead of succumbing to the scenarios. As products are built with limited resources, time, and a barrage of ideas, the product managers are inherently tied to the success of the products and can deliver more than anyone else.
#8 Long-sightedness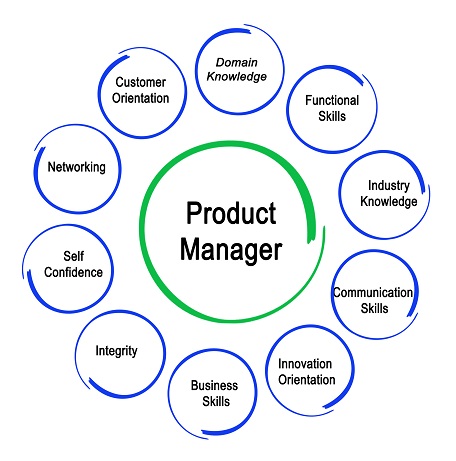 A good product manager can forecast the approximate benefits of the product and could easily do so by applying past experiences and leveraging comparable benchmarks. They also help to measure interest once projects are launched and factor those learnings into future prioritization and forecasts.
#9 Passion for products
A product manager is essentially required to be fond of products. They are needed to be able to recognise greater products with a go. Besides, they should be efficient enough to let one know what the customer will like and what will be disliked by the customer.
Moreover, they must be capacitated to learn the loopholes in a product and go through them. They must know the strategies to scale up a product continuously. A product manager who is utmostly passionate regarding a product shall ever be able to lead his team for its further development.
#10 Understanding The Consumer
A better product manager should be capable enough to understand the consumer's demands. In addition, he should draw empathy to consumers; after all, a product is meant to sell to the consumer. So, a product manager must be efficient enough to understand and cater to the demands of the consumers, which will facilitate the development of a loyal as well as larger consumer base.
A product manager must communicate to the consumers, must go for an interview or survey with them, and gain deeper insights. This will contribute to developing the product and make it worthy to the consumers based on their demands. The probability of meeting a consumer is enormous.
Therefore, a product must take the necessary steps to resolve consumer issues. The said act on the part of a product manager will contribute to reaching the target customer at a wider scale.
#11. Execution
A product manager, as mentioned earlier, is a leader of the product and is essentially required to tie up with numerous functional groups that are working to reach the final end. Henceforth, he must possess those qualities and the ability to execute or ship products confidently. An efficient product manager is supposed to do every possible thing that is at the base of achieving success.
Prerequisites for Product Management
Source
According to HBR, "any aspiring product manager needs to work on their core competencies" to make a great PM. However, there's more to it than it appears at the surface. We'll go through each of them in details:
Our Top Management Articles
First, the eligibility criteria
You need to have a relevant bachelor's or master's degree in Business Administration, Computer Science, Finance, Engineering, Economics or Marketing to start strong.
You would also require ample field experience for at least 3-5 years in the process of product development, strategy-building, testing or any level of product designing.
You should be comfortable in making and translating data reports in Microsoft Excel, Google Sheets, and other related software.
You need to have excellent time management skills, should be able to work best under pressure, and handle tight deadlines.
Know more: Key skills of product managers
Second, the creative side of things
Now, when we say a product manager to be a wizard, it means they need to have higher creative abilities and a keen mind to keep up.
Therefore, you must be adept at making detailed competitive reports from scratch, discern marketing strategies according to scenarios, and much more.
You are comfortable in building/providing insights to product roadmaps for any of the product development stages or understand the fine lines of resource allocation.
Third, the emotional quotient you'd need
Perhaps, one of the most underestimated skills in the field of product management is the ability to build a repertoire with your clients.
In-depth understanding of practical interpersonal skills that can be useful for ideation to delivery and marketing of a product.
Believing in building symbiotic relationships with your clients/business owners by the right body language.
Knowing how to handle challenges in a fruitful way, as well as keep the team motivated at the same time.
Take hurdles efficiently and derive approach around them while conveying effective communication across all channels.
What is the Average Product Manager Salary in India?
According to PayScale, the average salary of product managers in India is ₹1,669,290 per annum. Although the average product manager salary in India is around 16 lakhs, it can go up to 30 lakhs per year with experience and added skills.
Even the starting pay is quite high for this role.
You can expect to earn somewhere around 7-8 lakhs per year when starting out. And when you add profit sharing to the mix, you get an additional 50,000 to 1 lakh added in your pay.
Factors Affecting Product Manager Salary in India
The four main factors affecting the Product Manager Salary in India are:
Company – The company that you work for will have a direct impact on the salary you get.
Experience – The more experience you have, the better is the ability to understand the roadblocks and provide quick solutions for bugs. A combination of experience and company will get salaries and positions that help create a mark.
Location – In the coming years, location is all set to play a smaller role in the salary you can expect. But, even then, location will continue to have an impact on the salary you can ask for and get from a prospective employer.
Skills – The important skills you have, the better is the ability to understand. Location is all set to play a vital role in deciding the machine learning salary in India.
In the following points, we have broken down the various factors which affect your salary.
Product Manager Salary in India: Based On Company
The demand for these professionals is high in the market and many companies pay handsome amounts for this role. That's the primary reason product manager salary in India is quite high. The ever increasing demand.
The role of a product manager is crucial to the success of an organization because they oversee the development as well as the performance of the software product the organization relies on.
Big organizations pay generously to their managers while small companies also offer competition to them.
For example, Citibank pays its product managers an average of Rs. 17 lakh per year while HDFC Bank was found to pay around 9 lakh for this role.
On the other hand, IBM India pays around Rs 20 lakh to their product managers. SAP pays a similar amount to their product managers. Other tech companies also pay around 20 lakh for this role.
List of few top companies and their salary range from Payscale:
Product Manager Salary in India: Based on Location
Apart from the employer, your location will also have a huge impact on the product manager's salary in India, you get as a product manager.
It has been found that product managers in Bangalore earn 17% more than the national average.
Other cities that offer better pay for this job are Pune and Chennai. New Delhi was found to be the worst major city in this regard as the average pay is around 28% less than the national average.
What is the Production Manager salary?
Curious about the right production manager salary? Professionals have recognised varying salary numbers across the nation when it comes to production manager or associate product manager salary in India.
Product Manager Salary Chennai: It is mentioned worthy that the product manager salary Chennai is ₹9 LPA.
Product Manager Salary Delhi: It should be highlighted that a product manager salary Delhi is ₹6.7 LPA.
Product Manager Salary Hyderabad: Experienced professionals across the nation have observed product manager salary Hyderabad to be around ₹9.5LPA
Product Manager Salary Pune: A product manager salary Pune is that of ₹9.4 LPA
Product Manager Salary in India: Based on Experience
The more experience you have the higher your pay package will be. So, let us break down product manager salary in India, depending on how many years of experience you have in your bag –
Let's see how a product manager's salary in India varies based on experience.
Entry-Level Product Manager Salary in India
The average entry-level product manager salary in India is ₹1,102,000.
Mid-Level Product Manager Salary in India
The average mid-level product manager salary in India is ₹1,679,068
Experienced Product Manager Salary in India
The average experienced product manager salary in India is ₹2,008,430
Let's see how gradually the product manager salary in India increases by experience:
Product Manager Salary in India: Based on Skills
As we mentioned earlier, one of the most important factors which determine the salary of a product manager is the skill.
You must've noticed in the job description how diversified and challenging this role is. Due to its dynamic requirements, this role requires one to have mastery of several different skills.
The most skills among product managers include Product Management, Financial Planning and Strategy, Product Development and People Management.
Make sure that you have these skills to get better pay as they help you get above-average salaries.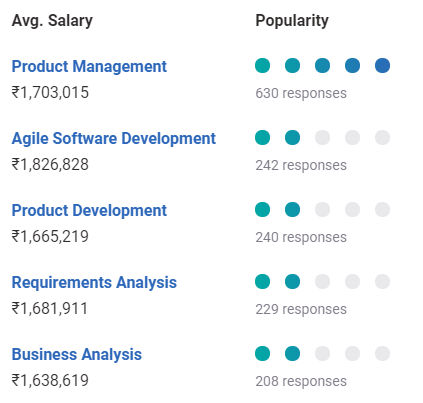 Other skills that are necessary for a product manager to have are Requirements Analysis and Agile Software Development.
Product Manager Salary in Other Countries
Product Manager salary is The US: $108,642
Product Manager salary is The UK: £48,170
Product Manager Job Description
Product managers are vital for the growth of a company. It's a versatile role that requires the person to wear many hats.
But what does a product manager do?
Well, a product manager has to develop products, do market research, figure the product's specifications, pricing, and its requirements.
He or she also has to figure out the time it'll take to create the product, how it will be marketed and what are the potential products they can develop.
Product development is a rigorous task and it requires the product manager to perform a variety of tasks.
Here are the primary tasks a Product Manager does:
Choosing the Product
In most cases, a company has several potential products to work on. It's the responsibility of the product manager to choose which one would be the right fit according to the market's condition and requirement.
The manager will have to assess the market, develop analyses of the product's ROI (return-on-investment), and handle the inventory turnover.
Assessing the Competition
No matter how good your product is, if your competition is doing something better, it won't succeed.
That's why assessing the competitors' products and marketing strategies is also a responsibility for a product manager.
He or she has to analyze the marketing campaigns and the product of the competitors to understand their USPs and figure out how his or her company can offer a better solution.
Manages the Team
A product manager also has to manage the team handling the product. He or she is responsible for the recruitment, orientation, and training of the employees.
As a product manager, you'll also have to make sure that your team has the latest skills and is familiar with the requirements of the market.
So a product manager also conducts workshops and training sessions for the staff.
Study Product Management Courses online from the World's top Universities. Earn Masters, Executive PGP, or Advanced Certificate Programs to fast-track your career.
Who Is An Associate Manager?
An associate manager secures a junior position to that of a product manager. An associate manager learns under working as a product manager. He is guided and mentored thoroughly by a product manager. There is much scope for securing jobs as an associate manager in India.
Job Roles Of An Associate Manager In India:
An associate manager has a number of tasks to perform. Those are listed below:
Collection of product data

Conducting customer research

Gathering information and aligning them with the objectives of a business

Coordinating external and internal stakeholders

Development of features of products

Working on product development strategies
What Is An Associate Product Manager's Salary In India?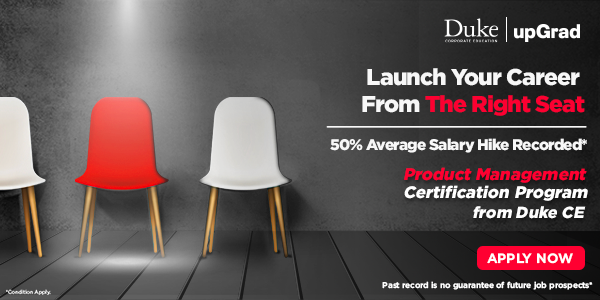 There is a lot of scope in India to develop a career as an associate product manager, and the associate product manager salary in India is quite lucrative. Despite this, the first question that swirls around one's mind is what is an associate product manager's salary in India. An associate product manager salary in India on average in a year is 16.2 LPA.
Concluding Thoughts
There is a lot of demand for product managers in the industry. Companies need to deploy more and more software products to survive in this market and they can't do so without talented product managers.
We hope you liked our article on Product manager salary in India. These numbers above are not set in stone. The real influencer of your salary is the skills you have, the mastery you have attained over them, and how quickly you grow and make the company grow as well.
The salary statistics also show that product managers will continue to be in demand for the coming years. If you are curious to learn how to build a product roadmap through user research, prototyping and product analysis, and more, check out Duke Corporate Education & upGrad's Post Graduate Certificate in Product Management.