We all know by now that a business degree doesn't just help you land the job of your dreams but also effectively makes you a more evolved social and professional being. A master's in business administration is very different from any other higher course you pursue as it tests out your inner strengths and abilities as well.
An MBA teaches you to think critically, to express your ideas coherently, to be a better team-player, deal with high-stress situations, predict oncoming challenges, and of course, teach you to delegate right. It sounds overwhelming because on many levels it changes who you are as a person, and helps you master valuable skills you need in the workforce along with getting you a job with high paying salary.
The following article will talk about the various MBA skills that you can improve and answer your question, what do you learn in an MBA?
Benefits of MBA
Before delving into the various MBA skills that you can achieve with the right MBA program, let's take a look at what are some of the benefits of earning an MBA degree and what do you learn in an MBA.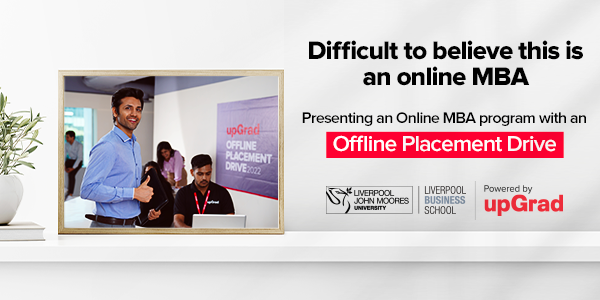 Lucrative Salary
One of the most important reason why an MBA has become so popular in today's world is because of the lucrative salaries that it offers. Job security and high packages are the two most sought-after ingredients for a successful career. Studies have revealed that the average income of a person with an MBA degree is much higher than someone with a Master's degree.
Learn How To Start And Grow A Business
MBA degrees are especially valuable for entrepreneurs since they present a real-life scenario of how businesses operate. MBA professors with real-life experience can tell you all about what are the things that you need to avoid or what things you should invest in if you want your business to grow and be successful.
International MBA Programs
International MBA programs are an excellent way to gain a new perspective on how a business operates in foreign countries. You get to witness various work cultures, as well as the mindset of the business leaders of other nations. However, while choosing an international MBA program, you should always keep a few things in check. You must always look out for programs that suit your needs the best and the cost of living in a foreign land.
Flexibility
The advance of digitization has brought along with it several advantages. One such, perhaps, is the online MBA programs. If you already have a job yet want to earn an MBA degree, you can refer to the various online MBA programs available in the market. They are extremely flexible, and you get to study at your own pace. Furthermore, another advantage of online MBA programs is that the cost is much lower than offline ones.
Invaluable Skills an MBA Degree Helps You Improve
If you aspire to manage a team of your own or to own and sustain your own business, some of the skills you learn at B-school will be the key to your success, because they will shape your work ethic and your professional strengths. So, before you sign up for an MBA, read up on all the important professional skills a business degree equips you with:
If you are wondering what does an MBA teach you, then refer to the below-mentioned list, which highlights all the skills you can improve with the right MBA program.
Read more: 6 Reasons Why Entrepreneurs Need an MBA
Strategic thinking and analysis
A critical analysis is one of the biggest traits a business degree will help you master; in fact, you will get a sense of this when you're studying for your MBA. The ability to analyze and take stock of information, numbers, and data and using it to solve broader problems is essentially what a business degree teaches you.
This, in turn, makes you a thorough taskmaster. A good candidate can predict and assuage a situation even before it occurs, this is possible only through impeccable analytical skills. An MBA degree will help you with the much-coveted skill of foresight; this will help you in consultancy jobs or management positions or even in talent acquisition where you will have to evaluate other candidates based on their strategic thinking.
The reason why an MBA puts analytical thought before any other trait is because it is a sustainable method, by creating one critically thinking individual, a degree is also paving the way for bringing in more people who share effective thinking abilities.
Communication skills
It is unanimously acknowledged that communication skills are not just essential for a stable work-life but are crucial for every aspect of social living. In the last few years, more and more business schools are leaning towards helping their candidates hone their communication skills.
This is because companies are now looking for visionaries and individuals who can open up newer avenues of networking, but a visionary also has to be able to express his ideas and articulately communicate his vision to his superiors and his team.
When it comes to delegation, communication skills are absolutely key; as a manager, you should be able to explain your expectations to your employees and also create a transparent communication system with your subordinates. An MBA is designed to help you with good communication skills because they also go a long way in boosting your future company's morale, which at the end of the day, is a milestone for productivity.
Networking right
Networking is no longer a soft skill and is extremely key when it comes to a well-rounded business degree. Your network of business acquaintances, industry experts, alumni peers, and financial analysts will help you succeed in every aspect of your professional life. An MBA effectively helps you perfect your networking abilities to make you a more competent collaborator.
Your superior networking skills will also fetch you better job offers, as the industry has a lot of scope for network-driven success. Several people have, in fact, landed a great job solely because they networked with the right people at the right time. At the end of the day, it is a learning tool that will help you throughout your academic and professional life and there's no degree better than an MBA to hone it.
Toughing out high-pressure situations
An MBA equips you to deal with stressful, disorienting situations without losing your cool; experts agree that a business degree fine-tunes the level of confidence one has on themselves to get over a certain challenge. As an MBA student, you will learn how to multitask and also newer ways of creative solutions.
Remember a business degree also makes you a better innovator, so you can help your potential employer get over any particular financial or corporate challenge, however big or small. This is also where a sound strategy-making skill comes into play as you can help your superiors with an in-depth understanding of a problem.
Professional pragmatism
There's a difference between being a practical person and actually applying said practicality when it's needed the most. When you're managing or working with a team of people who are also working under pressure it is very important for you to be pragmatic about every solution you come up with.
It's not enough just being level-headed or realistic, but you also have to be smart enough to bring that sense of reason and balance to professional management and decision-making. A business degree empowers your sense of logic and deftness, which makes you a better multi-tasker; so you can actually exercise no-nonsense practicality when it comes to making big decisions.
Time management
Perhaps the most important skill in today's hard-nosed corporate world – time management is actually the skill which can make a world of difference between you and the next guy. When you're studying for a business degree you are handling several crucial things at once, and scheduling and prioritizing becomes very essential.
This skill will serve you the most once you have actually landed a job and are aspiring towards a healthy balance between different aspects of your job. For people who aspire to be in executive managerial positions, poor time management skills can cost you your job and also wreak havoc on your mental health.
Learning how to balance several things at once while still making time for yourself also helps you understand your own limitations and gives you a perspective on your own abilities.
Decision-making
You may think you are a good decision-maker and are able to make the right call at the right time, but it's a different ball game once you have to do it on the job. Your decision-making skills are what defines you as a boss and a manager; since a business degree enables you to think analytically, it also teaches you to look at all the merits of a situation or a person before you make a final call.
Even in the curriculum of some of the leading business schools, you'll find programs that have been designed specifically to hone and test your decision-making skills and your presence of mind. Learn more about decision making skills.
Leadership
Remember a good leader is also a good team player; your employees or people who you manage are on your same side and you all share the same agenda. This also means you all will work towards the same goal, and thus will have to help each other out. A business degree teaches you the ropes of collaboration and team-playing.
It teaches you to adapt better and trust your co-worker and future subordinates. Remember good leadership is also about delegating right and knowing your team's strengths and weaknesses, and that's only possible if you're a competent team player.
Learn more: 4 Key Differences Between Leadership and Management
Gathering And Using Data
In today's world of technology, data and analytics play a huge role in understanding customer behavior, identifying the current market trends, and learning the ROI of marketing efforts. All this information is further used to make a well-informed business decision. Unfortunately, knowing how to gather data properly, and then make use of the collected data remains a challenge for many business leaders. That is why MBA has become such a huge necessity in this technology-driven world. The right MBA program will teach you all the necessary skills required to gather and analyze the data, which is then used to generate useful insights.
Technology Savviness
Technology savviness is yet another benefit that you get to enjoy from the right MBA course. MBA courses expand your horizon and give you exposure to some of the latest technological developments, including Machine Learning, and Artificial Intelligence, among others. Furthermore, MBA graduates also get to learn all the nuances of how to use technological tools such as Microsoft Excel and Python, which can then be utilized for performing certain important tasks such as analysis and reporting.
Hopefully, this has answered all your questions about what does an MBA teach you. For people, who feel that their career progress is slow compared to others, the right MBA program can actually help to give that much-needed boost to their careers. You will be able to systematically understand all the business operations and meet the increasing demands leading to better career opportunities.
Wrapping Up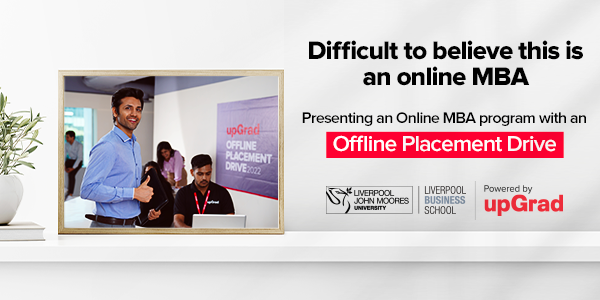 If you are keen on upgrading your career with an Executive MBA course, upGrad is offering MBA from Liverpool Business School. The program has been designed to stand at par with the best on-campus Executive MBA programs across the globe.
And the cherry on top – upGrad's excellent flexible and interactive learning and evaluation systems allows you to balance your personal and professional life in a hassle-free manner. Check out for more information & let our student counsellor help you with your questions.
Learn MBA Courses Online from the World's top Universities. Earn Masters, Executive PGP, or Advanced Certificate Programs to fast-track your career.